In Episode 3 of Oro Tech Talks, we're keeping up the pace set by previous episodes. We're giving developers more guidance and backing it up with examples to meet real-world business objectives.
As customer expectations rise and businesses are forced to deal with more data, it becomes challenging to offer personalized search experiences.
The search experience can either make or break the B2B customer experience. Like consumers, B2B buyers gravitate to the search bar, and based on search results, will leave with either a positive or a negative impression of the brand. This webinar will explore the technology behind search, how to work with Oro's search functionality and the possibilities for customization.
In this Oro Tech Talk titled Advanced Search with Elasticsearch, we explore Oro's search capabilities powered by Elasticsearch, fuzzy search, search boosting, synonym management, and customization.
Oro Tech Talks Episode 3: Advanced Search with Elasticsearch
Our third episode in the series titled Advanced Search with Elasticsearch will take place on Thursday, June 30 at 9:00 am ET / 3 pm CEST. You'll leave with the knowledge of Oro's search system and capabilities, including ways to customize and tailor the system for multiple use cases. The session will cover the following topics:
Fuzzy search

Synonym matching

Search boosting

Search customization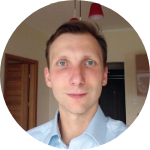 Yevhen is an architectural adviser and project lead at Oro with more than 12 years of experience with numerous PHP frameworks, including over 10 years of eCommerce experience. He is responsible for product development and leading the direction of Oro's eCommerce solutions. He is an experienced trainer and brings with him a wealth of knowledge and hands-on experience in software design, distributed systems, and agile software development.
Yevhen Shyshkin, Architectural Advisor, Project Lead, Technical Trainer,
Oro Inc
Vote for the Next Episode
Oro Tech Talks is designed by developers for developers, so we're focused on what matters to you. We'll collect your votes and feedback for future episodes deciding on the next episode.
The result is a webinar that you'll want to attend.
Save Your Spot!
Why register? Aside from learning from professionals, you'll participate in discussions and a question and answer period.