A version of this post was initially published on CMS-Connected
Gartner maintains that the digital commerce market, defined as the buying and selling of goods and services using digital technologies, will continue its upward trend next year and beyond.
Not surprisingly, the biggest driver of this trend is the COVID-19 pandemic, which has propelled the digital commerce market beyond what was previously thought possible.
Gartner's senior research director Sandy Shen stated that customer behavioral changes, such as shopping online and becoming more health- and safety-conscious, will be long term.
In the business world, organizations across all industry verticals are prioritizing eCommerce adoption, which drives vendors to offer new solutions, support, and pricing models.
This year's Magic Quadrant for Digital Commerce 2020 is out, and Gartner evaluated the 15 most prominent vendors in the rapidly growing eCommerce space. Gartner's report aims to make the research and selection process for digital commerce platforms easier by considering implementation, post-implementation support, time-to-market capabilities, and other criteria.
OroCommerce a Niche Player in 2020 Digital Commerce Magic Quadrant
According to Gartner, a Niche Player typically addresses a market that is specific in scope as defined by the industry. Thus, Niche Players offer cost-effective solutions relative to their capabilities and are in a position of growth in their market. Niche Players can:
Boast significant technology, implementation, and service partners.

Offer a more narrowly focused approach, such as a B2B focus.

Tend to be newer companies on a path to rapid growth.
[Source]
Listed in this group is OroCommerce, a top B2B-specific eCommerce solution that delivers robust B2B, B2C, and marketplace capabilities at affordable price points.
Oro, Inc., the company behind OroCommerce was founded in 2012, so gaining a spot in Gartner's revered Digital Commerce Magic Quadrant so early into the product's launch is commendable.
The product was recognized for numerous strengths, including:
Seamless integration between eCommerce and CRM

Out-of-the-box flexibility with future-proof architecture

Support for B2B2C, DTC, Marketplace, and other selling modes

A diverse customer base that spans many industries

International reach, localized interfaces, and storefronts
In the interview with Motti Danino, Oro's Chief Operating Officer talked with CMS-Connected's Ellie Somfemelean about what this news means for Oro, how OroCommerce differs from its competitors, and how they see themselves in the future.
Oro has been named as a Niche Player. How do you feel about it?
Gartner's Magic Quadrant celebrates the top players in the digital commerce space, and Oro's inclusion cements our position at the very highest echelons of our industry. 
It's an honor to be Niche Player this year, and this recognition reaffirms the reality that many vendors focus on B2C eCommerce and treat B2B as an afterthought. We eschew this approach for a truly unique B2B focus, and many manufacturers, distributors, warehouses, and B2B sellers choose us as the go-to solution for moving online.
The decision to put our weight behind B2B is backed by the fact that many enterprises look for B2B eCommerce functionality to optimize their sales process, manage orders effectively, and offer customers a better experience.
What makes Oro's products different from the competition?
We've taken a completely unique approach for the B2B eCommerce tools market. Many of our competitors introduce B2B features, but their offerings repurpose or work around what they've built for their B2C capabilities.
Oro develops eCommerce tools that are custom-built for the unique needs of B2B, and manufacturers, distributors, and wholesalers of various sizes and complexities have. We also offer a host of features that allow businesses to meet demanding customer expectations.
We offer out-of-the-box features like advanced discovery, product recommendations, access permissions, personalized pricing, and much more. We also have robust workflow automation engines that manage external and internal processes. Our native CRM integration, extension marketplace, and open-source nature makes us a solution ideal for any eCommerce need.
What do you think about Gartner's 'cautions' about Oro?
Gartner is right that Oro is a smaller and more specialized company, but we see it as a strength. It allows us to focus on B2B and meet the highly complex and unique needs of business sellers. What's more, we accommodate other selling models with ease – not only B2C but B2B2C and B2B marketplaces.
It's also important to realize that many market research firms choose to focus their attention on B2C eCommerce and not B2B eCommerce, which is expanding rapidly. In fact, B2B eCommerce is now a 6.6 trillion dollar industry, and that rate of growth is astonishing.
Where in the Magic Quadrant will Oro be next year?
We're working hard to be the best, most flexible, and adaptable B2B, B2C, DTC, and marketplace eCommerce software in the industry. Our architecture and features are designed to make us an ideal choice for any B2B scenario, allowing brands to scale with confidence, enter new selling models, and capture new markets.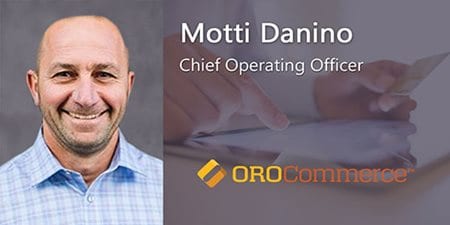 "Winning a place on Gartner's Magic Quadrant shows that we're on the right track, and in next year's edition, I'm confident you'll see increasing recognition that when it comes to flexible, full-service digital commerce, OroCommerce is the platform to watch." – Motti Danino