We announced the release of OroCommerce Beta 1 version yesterday during our first Community event, Oro Momentum. This is another significant milestone on our road to deliver a disruptive B2B eCommerce platform. Over the past several weeks we  have demonstrated the product to businesses and our Core Solution Partners. The excitement we have seen further validates our disruptive position in the market. As you will see, the OroCommerce Beta 1 already includes many of the features a B2B business must have to execute a successful eCommerce strategy. Below are some of the main highlights of the beta release.
Corporate Customer Accounts
With OroCommerce you can easily create customer accounts and user records for your customers. The accounts can be grouped together and organized to reflect the organizational structure of your large customers. You can create as many levels of business units, teams, departments, local offices and international branches as needed under each corporate account. Also many user management functions can be delegated to selected employees of your customers. For example, you can allow them to manage individual user records, create logins for new employees, manage roles and permissions of other users, manage global and individual address books and other information they have on file.
Price Lists
OroCommerce provides a price management tool that can be used to create and maintain multiple price lists, with a virtually unlimited number of price points and price tiers in multiple currencies. You can make selected price lists available to individual customers, customer groups, and websites.  The possibilities for customization become almost endless!
Catalog Management and Personalized Catalogs
With OroCommerce users can easily optimize the catalog management interface for themselves based on their daily tasks and responsibilities. They can select what information should be included in the data grids, and what attributes, price lists, currencies and prices tiers they need to see.
OroCommerce also gives users the ability to create and manage custom, personalized catalogs according to the needs of specific customer groups or even individual customers.
Quote Creation and Order Management
The built-in quote creation tool can be used by the sales personnel to create customer proposals. It supports custom pricing, shipping estimates and inclusion of extra offers that are not normally available in your catalog.
The order management system allows to see the orders submitted by your customers and create new orders. You can also edit the contents of the existing orders, override prices and shipping cost, apply different payment terms and provide additional discounts.  This functionality makes the job of quote creation and management simple and intuitive for sales professionals.
Store Front-end
OroCommerce features a template-based default frontend theme with a customizable design that allows to easily brand the user experience. Various self-serve functions can be enabled on the store frontend based on the merchant preferences. Multiple catalog views allow to optimize user experience for different usage scenarios, combining the best of B2C user experience with B2B flexibility and flows.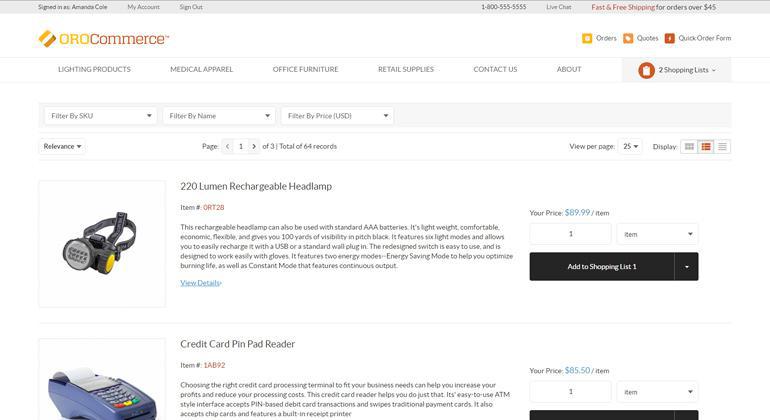 Quick Order Form and Shopping Lists
The quick order form allows customers to work on large orders in an efficient manner using search by product SKUs and names, or import their purchase lists into the system. Customers can work on multiple orders simultaneously and they can easily switch between different shopping carts or start new orders at any time.
Payment Terms and Credit Card Processing
OroCommerce comes with a pre-built PayPal integration that allow merchants to accept all major credit and debit cards and use their own merchant accounts for payment processing if necessary. Merchants can also enable payment terms for selected customers.

Customizable Workflows and Checkout Experience
OroCommerce checkout is a fully configurable workflow-based process that can be customized in different ways. The checkout experience can be optimized independently for B2B and B2C customers, and it can be easily augmented with additional steps based on the requirements of individual corporate customers.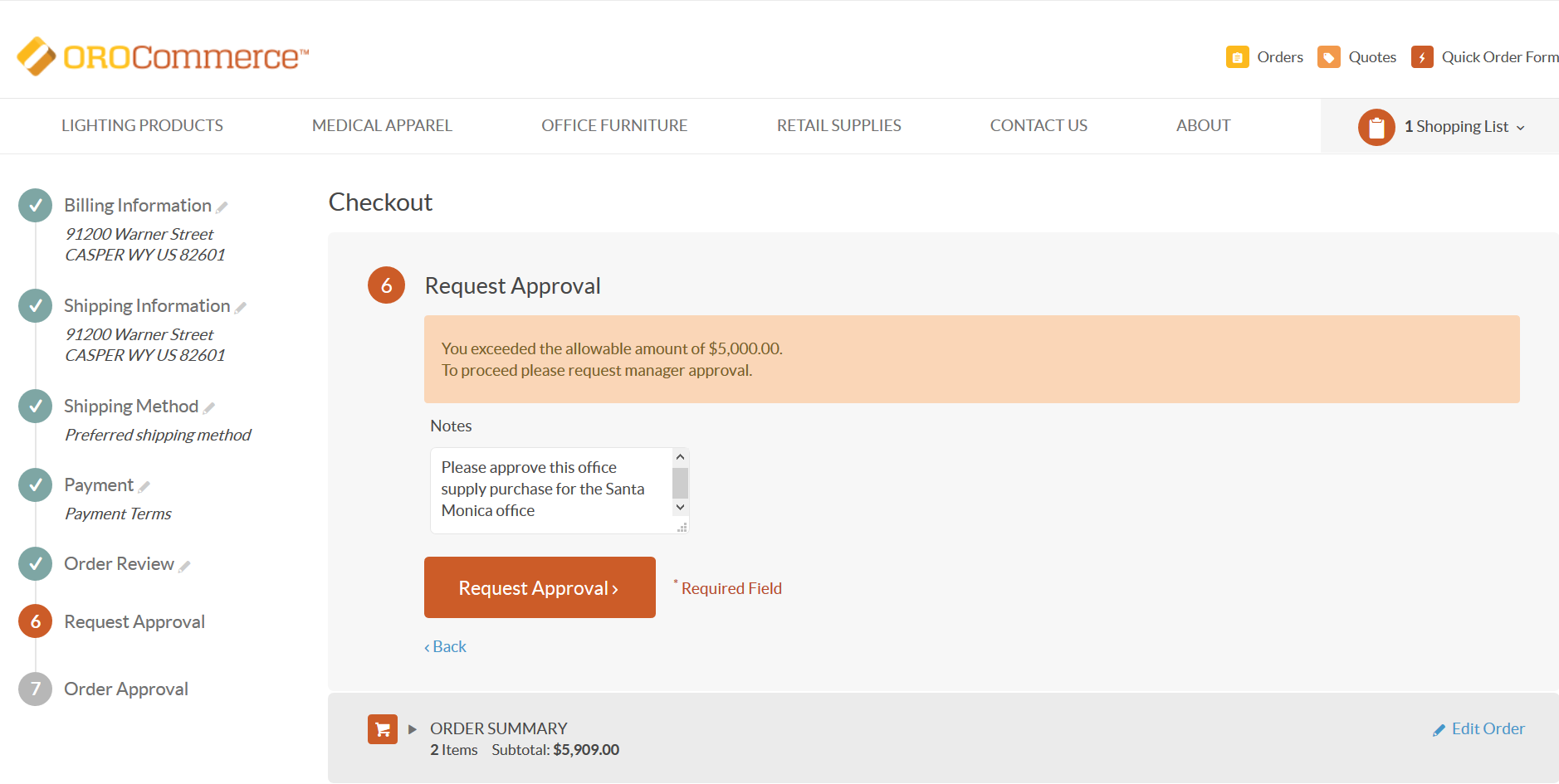 We will soon be bringing you even more exciting news about OroCommerce capabilities and will continue to release additional beta versions until we release the GA version by the end of 2016! For now, download OroCommerce and follow these instructions to install the Beta release, or simply try the public demo.
As always, we would love to get feedback along the way through either GitHub, email, or the OroCommerce forum.
Join our community and become a part of the B2B e-commerce revolution!