Created just for our European audiences, the OroCommerce Business Training course is just around the corner! 
It's designed to help Oro partners and customers configure their stores, manage their products, customers, content, pricing, checkout, and much more.
Don't miss this opportunity to take your knowledge to the next level!
What is the EMEA OroCommerce Business Training?
In this EMEA edition of OroCommerce Business training, learn from OroCommerce experts how to configure, manage, and effectively use OroCommerce.
The training begins with an introduction to OroCommerce, its system architecture, and general configuration. Then, we'll take a deeper dive into managing various components such as:
Organizations

Customers

Products

Pricing

Transactions

Shipping and Payments

Taxes

Web Catalogs

Workflows
This is an instructor-led session in a group setting, providing you with the opportunity to learn from others, collaborate, and get all your questions answered.
Who Should Take This Training?
This training program is ideal for Oro solution integrators (SI) partners and Oro customers who want to learn about Oro's features and how to use them effectively. It will also benefit marketing, sales, project management, and business analytics teams and help them increase productivity in their work.
For example, SI partners will find out how to leverage Oro's capabilities like multi-vendor features for supporting multi-vendor eCommerce, ordering workflows to craft the desired ordering experience, or payment methods for streamlined checkout.
Additionally, Oro customers will learn how to use Oro's business hierarchical capabilities and organizational types to match their own company structure. They'll also better understand B2B roles, such as administrators, purchasing managers, and buyers, and using roles and permissions to perform work more efficiently.
When Does It Take Place?
The course is scheduled from June 12-16, 2023, from 9 – 15 CET. Each session will be 6 hours long, with a 1-hour break in between.
Don't delay, as registration for the course closes one week before the start date.
Secure Your Spot for OroCommerce Business Training EMEA on June 12th, 2023
Who Should Take This Training?
EMEA OroCommerce Business Training is designed for different roles like:
Marketing managers who oversee the company's marketing communications, content management, and user engagement initiatives.

Sales managers who manage product listings, pricing, and the ordering process. 

Project managers responsible for implementing features for customers.

Business analysts and operational managers focused on data analytics and business performance.

Digital commerce managers responsible for managing the overall user and customer experience.
What Are the Prerequisites?
To attend the session, you must install a virtual machine with the Oro application demo. You can install either:

What Will You Learn?
You will get an in-depth understanding of the OroCommerce back office and storefront. You'll learn how to set up, configure, and use OroCommerce effectively in your work.
One of the main benefits of attending is that you'll become familiar with all of OroCommerce's out-of-the-box functionality. This means you'll learn how to use its features, adjust and configure some of them, and apply best practices to optimize your workflow.
Here's what's included:
Records in Oro
People and Businesses. We'll introduce you to organizations and business units in Oro and how they interact with each other. We'll also talk about the different participants in Oro and what their roles are.

Transactions. We'll talk about ordering, checkout, and payment transactions in Oro. You'll learn how these processes work and how you can apply them to your business.

Products. We'll explain how products are organized and managed in Oro, which will enable you to create and manage product catalogs.
System configuration
We'll explore OroCommerce's architecture and main website elements for a deeper look into how they work together to support the platform's functionality. 
Preparing to go live
Products
Learn about OroCommerce's master catalog capabilities, including product attributes, localization, and customization options. We'll also talk about product permissions, visibility, and search options.
Customers
Manage customer entities such as groups, users, user roles, and more. Learn to configure customer hierarchies, manage relationships, and assign customer groups to price lists and payment terms.
Pricing
Explore complex pricing structures and working with price lists, attributes, and rules. Discover different promotion strategies and learn to manage coupons, taxes, and inventories.
Shipping and payments
Understand built-in payment methods, manage configurations and transactions, customize checkout behavior, and set up payment and shipping rules.
Taxes
Apply different tax rules, rates, or exemptions. Learn to work with different business entities and customer groups to meet tax requirements.
Web Catalog / Master Catalog
Learn how to effectively import and organize the products you sell by configuring their categories, visibility, and accessibility options.
Content
Customize standard themes and layouts of the storefront. Explore the content manager, directory structure, asset management tools, and more.
Practical components
Leverage Oro's robust workflow capabilities to automate various back-office functions like quote management, approval, and checkout functions.
Miscellaneous features
We'll discuss how you can manage your leads and marketing communications with OroCRM, Oro's CRM solution, including its templates, notifications, and other features.
Business case analysis, Q&A
We'll finish off with an example of a business case and a question-and-answer period.
Who Is the Trainer?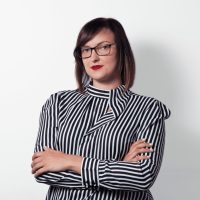 With years of experience in OroCommerce and project management, Kate is proficient in all aspects of delivering complex projects for clients. Kate has worked with customers across various industries and has gained a strong understanding of their diverse needs. Her collaboration with development teams has also given her an in-depth knowledge of Oro's technical capabilities and how they can be used to meet business requirements.
Kate Yanshyna, Trainer,
Oro Inc
Sign Up Now!
Spots are limited and filling up fast! Reserve your seat by signing up.
OroCommerce Business Training EMEA Course
June 12-16, 2023
9 – 15 CET