Through our experience, we recognized that the world of B2B online Commerce needed a quantum leap. Just as we did with OroCRM, we wanted to create a groundbreaking, Symfony based open-source application that would help companies streamline operations, lower their costs, and compete in a dynamic market. For the last several months, we have been working on a product that will do just this. Today, we are excited to give the world early access to the OroCommerce project.
We have made the OroCommerce development version code available on GitHub for individuals and companies who wish to gain access. We will be regularly updating this repository until the official public Alpha release is available later this year. This will allow an early look into our new architecture and the ability to follow our progress at a code level. As always, we would love to get feedback along the way through either GitHub, email, or the OroCommerce forum.
Please note that the public repository on GitHub contains snapshots of our current development branch and thus the features described below are not complete, there may be minor glitches and inconsistencies. As there is still a lot to be done, we have multiple teams working on different features simultaneously, meaning some integration issues should be expected at this time. However, we are excited about introducing this project to our community and beginning to receive input.
Let's begin by taking a quick look at what you can play with. Please do not forget to check the changelog on GitHub for all changes and addendums to this list.
Please download OroCommerce and follow the installation instructions to have your application installed first. For more information, please refer to the following links:
After the installation is finished, you may log in to the administrative interface by appending /admin/ to the URL of your local installation and using the credentials you specified during the installation. You can also create a customer account by simply clicking on the Registration link. From there, you can explore the features that will be available to customers of a business using OroCommerce
Administrative UI
If you have previously used our open-source CRM system or a 3rd-party application that was built on our business application platform, Oro Platform (see the list), you will find all the same flexible, configurable, and convenient admin features right out of the box.
Corporate Account Management
With OroCommerce, you can easily create customer accounts and user records for your customers. The accounts can be grouped together and organized to better reflect the organizational structures of your large enterprise customers. You can specify as many levels of business units, subsidiaries, or international offices as necessary under each corporate account, then configure permissions of individual customer account users depending on their role in the organization. You can also appoint selected employees of your customers to perform user management functions within their organizations.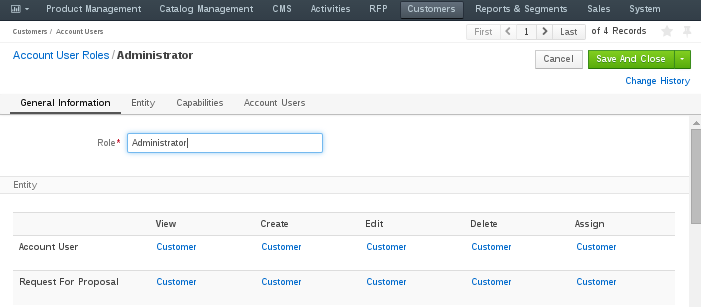 Product Information Management and Personalized Catalogs
While it is still under active development, OroCommerce will come with a fully featured product information management tool that gives users the ability to personalize product catalogs according to the needs of specific customer groups or even individual customers. We included in this release sample data to make it easier for you to explore what we have built thus far, including personalization features such as the ability to control product sample data and master catalog categories, as well as manage basic product information, their catalog associations, and units of measurement and pricing. Soon you will be able to control the visibility of everything from individual products to entire categories of your product catalogs by limiting them to selected customers and/or customer groups across multiple websites.
Multiple Price Lists
Planning and setting prices, enforcing them, and managing the hassles of contracts are the daily duties of any B2B company. With the current version of OroCommerce, you can now create and maintain multiple price lists, even if they are in multiple currencies. You can also assign selected price lists to individual customers, customer groups, and websites.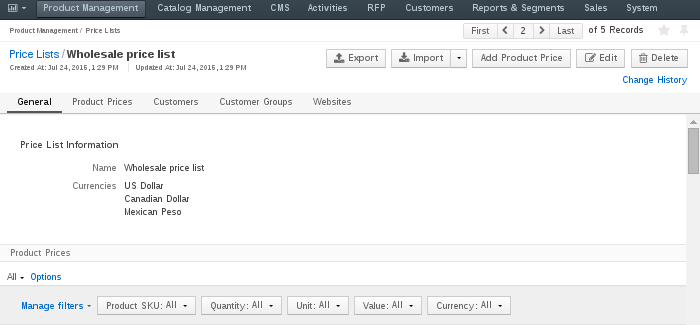 Optimized Quote-to-Order Flow
Selling a product or service often involves a complex series of steps. From the moment that a B2B customer encounters your website, they must receive seamless guidance as they explore your offerings, conduct product research, obtain pricing information, discuss and negotiate the terms of purchase, submit their sales order, and pay their invoice. To give you and your business full control over this process, OroCommerce will allow you to configure each of these steps individually. This will ensure that each step of the customer journey is streamlined according to your business' specific needs.
Customer communication is an especially important priority in OroCommerce. Prospects and customers will be able to easily submit a request for a quote or proposal to your sales team, and then get an immediate response. Throughout the negotiation phase, all the way to when the sales order is submitted, OroCommerce will keep the lines of communication open between the customer and your company, allowing for a frictionless sale. While most of this functionality is still under development, we are excited about the pieces we have currently put in place. They are just the tip of the iceberg for what will follow later this year.
Reports and Segmentation Engine
The power and flexibility of the OroPlatform will allow you to build custom reports and create customer segments with any data stored in the system. We also plan to include relevant reports and data on the OroCommerce dashboard so that you have quick and easy access to the key performance metrics of your business. Canned reports will also be coming.
Customer Experience, Websites, and Content Management
We currently have a team of UX/UI experts and designers working on the customer-facing portion of the OroCommerce application. It will be both easy-to-use and highly configurable, and combine the powerful features of B2B software with the user experience of a B2C application. We will be sharing much more information about this through our blog and newsletter, so we invite you to subscribe.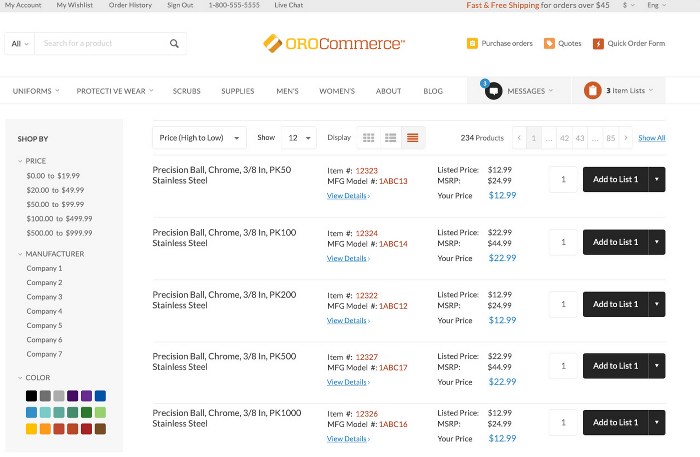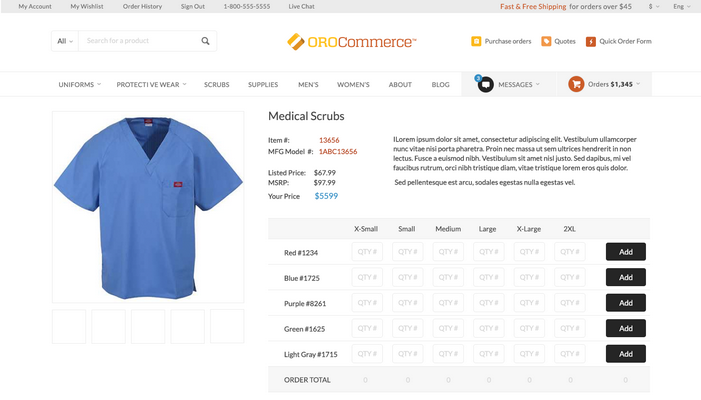 We are building OroCommerce from the ground up using best-of-breed technologies in order to provide businesses with the tools they need. No other application combines such a powerful set of features with the flexibility to adapt to any circumstance. It will have the power to revolutionize the online B2B world.
Stay tuned for more exciting updates by subscribing to our newsletter. The best is yet to come.