B2B digital sales are projected to hit $10 trillion in 2021, up from $9.06 trillion in 2019. This increase in demand is driving brands to future-proof their businesses. Big and small, they are all investing in digital commerce technology to help them maintain their competitive advantage, increase efficiency, and appeal to the new breed of B2B buyer.
As eCommerce takes a bigger piece of the B2B pie, sellers face new challenges. Digital channels utilize much more product data than physical stores, and managing mountains of product descriptions, specifications, SKUs, multimedia, and shipping information can get tiresome and costly. 
That's why we're excited to announce a new integration with Contentserv, a leading enterprise Product Information Management (PIM) and experience management solution. Contentserv offers organizations a single source of truth to securely store, update, manage, and distribute content across all sales channels and websites.
Contentserv and OroCommerce
Both Contentserv and OroCommerce share a vision of helping businesses and their customers succeed. We have a passion for continuous improvement and being at the forefront of technologies in the digital commerce sphere.
Contentserv's integration with OroCommerce is designed to save businesses time and energy with easy setup, customization, synchronization options, product export functions, and more. Businesses can then create consistent customer experiences that drive engagement, return purchases, and generate sales.
Contenserv's OroCommerce Connector
The new OroCommerce connector provides a powerful integration to allow B2B sellers to deliver dynamic experiences to their customers. The connector pushes product information from Contentserv to OroCommerce, allowing B2B companies to provide specific, up-to-date, rich product content to their target audience. Sellers can effectively manage digital assets, products, and attributes, as well as provide users the right content based on their location.
Here's what the connector allows you to do:
Configure and specify content actions to create, update, or delete items
The connector offers configuration options allowing you to manage data exchanges between Contentserv and your OroCommerce store. It helps you map out the required fields and specify unique actions, including adding, modifying, or removing data.
Establish mandatory attributes quickly with the Transformation Editor
The Transformation Editor facilitates data management and ensures your data maintains its desired format, necessary characteristics, and attributes.
Easily export and distribute product data from Contentserv to OroCommerce
Quickly get your product information to the right storefront directly from Contentserv through a user-friendly interface. Manage numerous product hierarchies and categories with drag-and-drop, all without the need for IT.
Sync complex product information with your eCommerce store
Schedule how you sync your Contentserv's product information to OroCommerce automatically to maintain accurate product data in your stores at all times. Onboard new product data and review changes for easier product management.
How does the OroCommerce Connector for Contenserv work?
The Contentserv connector seamlessly syncs the right data to the desired destination in your OroCommerce eCommerce store. Oro's extensive API coverage combined with Contentserv's configuration options allow you to set the desired behavior during data exchange.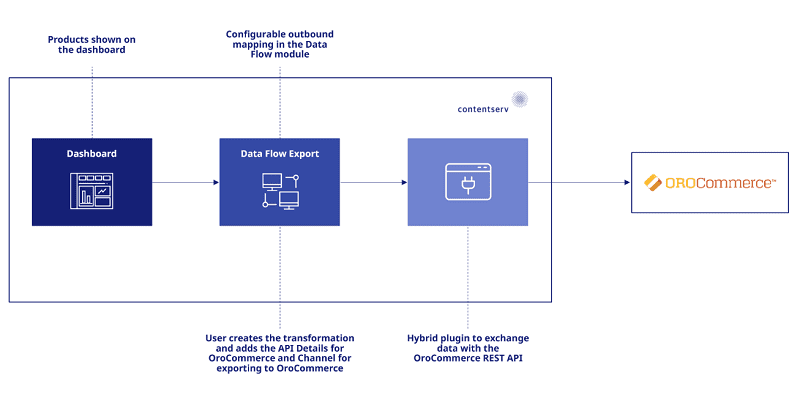 How to Install Contenserv in OroCommerce
The Contentserv connector can be found in Oro's Marketplace of Extensions. Once downloaded and installed, you can configure it to meet your needs. To get started, head to the Oro Marketplace page to get the Contentserv connector up and running.