We are excited to announce the release of Oroneo, a free solution to connect OroCommerce and Akeneo, an open-source Product Information Management (PIM) tool. This exclusive module was developed by Synolia, a global consulting and technology services company that specializes in the implementation of CRM, Business Intelligence (BI) tools, eCommerce platforms and is a proud Oro and Akeneo partner.
Why You Need Oroneo
Handling complex and multi-layered B2B product information is always a challenge. And maintaining this data across multiple sales channels without a proper tool in place can leave you feeling like Sisyphus. Just when you think you have it all together, something changes. PIM for eCommerce software like Akeneo enables omnichannel retail businesses to easily collect, organize, and update all technical and marketing data in their catalogs and product portfolios using a single system. This new solution brings Akeneo's best capabilities to OroCommerce to provide frictionless product data administration. Sellers can now harness the power of a PIM tool on their OroCommerce sites. Oroneo allows the import of catalogs and product descriptions from Akeneo standard CSV files straight into OroCommerce. Now that's an integration that marketing and sales can both appreciate.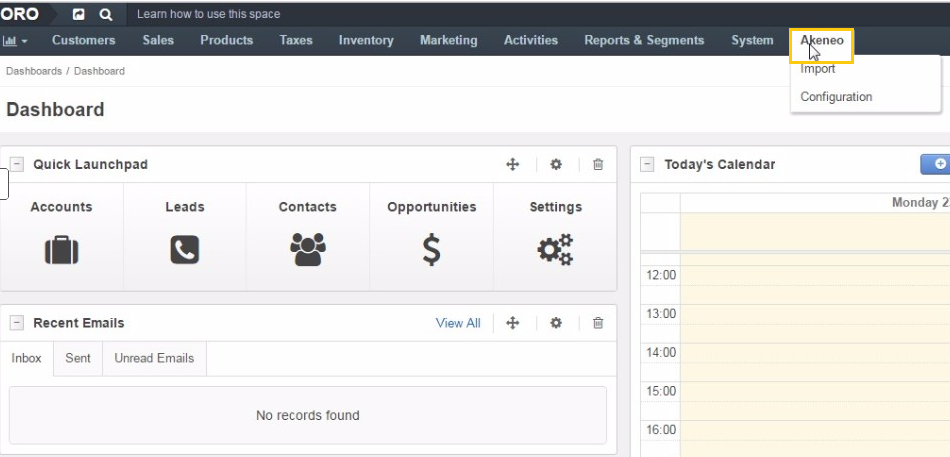 Akeneo PIM integrated into OroCommerce
How Does Oroneo Work?
Oroneo takes standard Akeneo export CSV files and imports this data into OroCommerce database.
With Oroneo you can import and update:
Categories

Attributes as well as their groups and options

Families

Products

Media (images, PDF files, videos)
Setting up category configuration
Oroneo benefits:
Easy installation:

The bundle is installed via the composer. It's as easy as adding several code lines to the repositories array.

Easy configuration and usage:

Oroneo can be configured on a dedicated screen.

Flexibility:

You can customize the solution to meet your specific business needs.
Where Can You Get Oroneo?
The Oroneo extension is available for free. You can download it at the OroCommerce Marketplace. To learn more about Oroneo requirements, installation, and configuration, refer to the dedicated Github Repository.