With a dramatic shift to online shopping, increased regulation of packaging waste, and consumers' sustainability concerns, the packaging industry faces pressure to digitize. 
And while the industry is still in the early days of digital adoption, most packaging companies see digital as a strategic initiative. Almost 22% of packaging companies surveyed by McKinsey say that investments in digital are already a priority, while 34% say that it's necessary across all company functions.
But how can packaging organizations benefit from digitalization in practice? In this article, we'll talk about the packaging industry digital transformation trends and their benefits. We'll also cover examples of digital transformation in the packaging industry, key challenges, and how to overcome them.
Digital Transformation in the Packaging Market: Key Trends in 2022
Changes that came about over the past two years in response to the pandemic, shifting consumer preferences, and supply chain disruptions will remain relevant well into 2023 and beyond. 
Digital technology transformation in the packaging industry can help deal with disruptions, become more agile, improve operational efficiency and lower costs. With that in mind, let's take a look at some of the leading digitization trends for packaging manufacturers and distributors – and the technologies behind them.
1. Advanced packaging prototyping
Packaging serves as the interface between a brand and the consumer. Fundamentally, a good package design attracts the consumer's attention and impacts their decision to buy.
But have you ever thought how packaging designs are developed? The process typically involves dozens of design iterations before arriving at the perfect design. It's not uncommon for packaging development departments to wait days and weeks before each prototype is ready, which can be extremely time-consuming. 
That's why packaging brands turn to 3D printing to speed up packaging development through faster and more economical production of design variations. 
This is possible because 3D printing is a digitally-controlled technology that doesn't require molds or other tools for production. It uses a design file sent to a 3D printer and manufactured within several hours.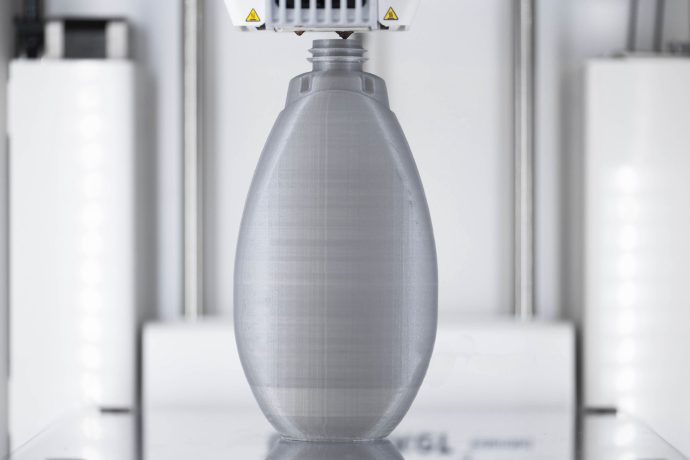 Another benefit of 3D printing is that it can create prototypes with the finished product's features, colors, and materials. This enables packaging companies to test the final product's look and feel, while keeping the costs low. 
For example, Thermos, a manufacturer of insulated food and beverage containers, has been using 3D printing for packaging prototypes since 2006. 
Switching from outsourcing prototyping jobs to in-house 3D printing reduced the lead time for a prototype from five days to several hours. The company states that prototyping with 3D printing allowed them to optimize the fit of the cap stopper and pouring performance of their best-selling Thermos mugs.
2. Smart packaging for enhanced customer experience
While 3D printing enables faster packaging designs, smart packaging technologies make packages more communicative and individualized. How? By using tags, QR codes or sensors that embed information onto packaging, which smartphones and other devices can read. 
One example of smart connected packaging comes from a leading UK university that developed a solution that enables spirits traders to authenticate bottles of rare vintage whisky. This is achieved by using their smartphone to tap an anti-tamper NFC bottle closure that connects to a digital certification record held on a private blockchain.
In addition to the food and beverage industry, pharmaceuticals can also benefit from smart packaging. From the customer perspective, pill bottles with smart packaging can help patients understand product usage, safety, and dosage information which has the added environmental benefit of reduced paper usage.
From the supply chain perspective, smart packaging can provide visibility on every medical product's location, making inventory management and quality control more efficient.
3. Intelligent packaging for more efficient supply chains
Expanding on the supply chain point above, using intelligent packaging with radio frequency identification sensors (RFID) enables a more efficient supply chain for packaging manufacturers and distributors.
Companies can collect data and track packages connected to a network. For example, RFID tags allow tracking of the location of a package throughout warehouses. This is because the RFID tags are automatically scanned by the RFID reading device upon entering and exiting the warehouse.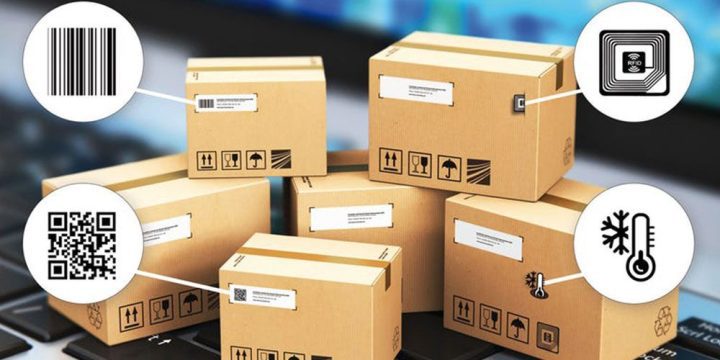 But what is the best part of RFID tags within inventory? The fact that individual manual scanning of each package is not necessary. Through radiofrequency monitoring, the RFID reader knows immediately when the package has entered or left the warehouse.
Not only does the use of RFID tags for packaging minimize human error, but they also help to enhance the delivery time and rate of packaging products.
4. eCommerce for optimized workflows
For packaging companies prioritizing productivity and cost reduction, workflow automation with eCommerce may be the answer.
Using a B2B eCommerce platform with customizable workflows helps optimize internal processes in multiple ways. One of the use cases is integrating the eCommerce system with the ERP, order management, and fulfillment systems. Having the digital bridge between critical business systems enables orders to flow effortlessly and makes their data available to whoever needs it. 
A common pain point for product researchers is finding suitable packaging in just the right configuration to meet their needs. With digital commerce transformation, packaging companies can make the search process easier.
For example, you can create personalized catalogs that meet the customer's packaging needs. Search can be configured by product description, SKU, or even by solution. By reducing the pain of product identification, you remove friction and increase closing rates. 
Gala Imports, a supplier of glass and PET containers to small and medium-sized manufacturers and businesses across APAC, has achieved just that by launching an eCommerce site.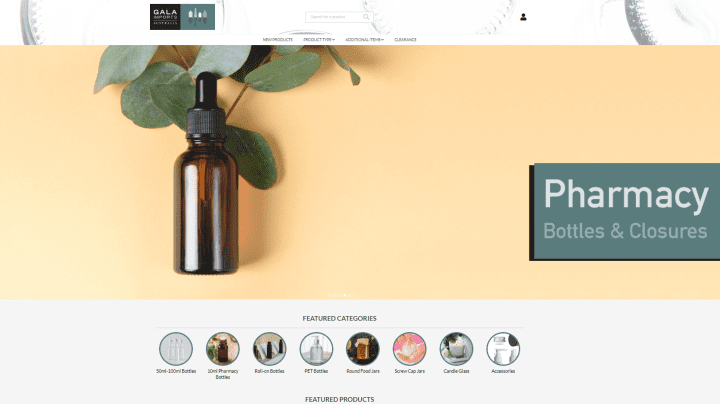 While Gala serves more than 35,000 customers, it's important for the company to provide personalized shopping experiences. To enable a high level of personalization, Gala opted for OroCommerce. With the B2B feature-rich platform, Gala can now offer large B2B clients custom catalogs, payment, and fulfillment options, while smaller businesses get a more consumer-like experience. 
The new eCommerce functionality significantly contributed to Gala Imports' growth. When the demand for medical packaging soared during the pandemic, Gala was prepared to handle it. Ultimately, Gala achieved a 25-30% increase in average order sizes, resulting in a 50% conversion rate increase at the end of 2020.
Explore more digital transformation case studies in our guide.
Digitization Challenges for Packaging Companies
While B2B packaging companies have become more open to embracing digital technologies, some challenges still hamper greater adoption. Among them are: 
employee resistance and lack of management support

poorly communicated digital transformation story and the benefits it provides 

unclear accountability for project delivery

lack of digital knowledge 

transformation centered on technology instead of customer and business needs
The Packaging Industry and Digital Transformation: Addressing the Challenges
So what's the way forward for packaging brands wanting to achieve digital transformation at scale? 
To build a strong foundation for industrial digital transformation and enablement, companies should follow these steps: 
Develop the strategy

. Adopt a digital-first mentality early on; define clear goals and objectives for capturing value through digital.

Decide on areas to tackle but don't try to do everything at once.

Develop a clear view of value-generating parts of the business. This will help you prioritize the areas to reinvent.

Ensure critical elements are in place.

To deliver impact at scale, invest in four critical enablers to gain a strategic advantage within the packaging value chain: an agile delivery team, standardized data, talent capability, and technology.

Drive the execution.

Packaging companies with a long-term vision but executing small projects towards this goal are better positioned to reap the full benefits of digital transformation in the packaging industry. 
The Time for Change Is Now
Digital transformation in the packaging industry will help companies reinvent themselves to meet the needs of their digitally-savvy customers. It will also create opportunities to avoid falling short of their industry competitors over the next few years. 
The future is digital, and there's no better time for a major pivot with the help of technology to ensure business continuity and success.
How do top midmarket brands use technology?
Forrester shares real-life case studies from leading business sellers.
Digital Transformation in the Packaging Industry: Questions and Answers
What is digital packaging?
Digital packaging is packaging that is made using digital technology, 3D modeling software, and electronics such as sensors.
Most commonly, digital packaging merges the analog and digital worlds with the help of QR codes and RFID chips. Digital packaging can also include enhancements such as LEDs or sound. They can be combined with QR codes to offer an even more comprehensive product experience.
What are the digital transformation trends in the packaging industry?
The key digitization trends in packaging include:
3D printing prototypes for advanced packaging designs
Smart packaging for better customer experience and supply chain optimization
Digital commerce for enhanced customer-facing and internal operations
What is an example of digital transformation in the packaging industry?
One example of digital technology benefitting the packaging industry is digital watermarking.
Digital watermarks are imperceptible codes, the size of a postage stamp, covering the surface of consumer goods packaging. They can carry many attributes such as manufacturer, SKU, type of plastics used, composition for multilayer objects, etc.
With digital watermarks, once the packaging enters a waste sorting facility, it can be detected and decoded by a standard high-resolution camera on the sorting line. Based on this data, the sorting line sorts the packaging in corresponding streams, leading to more accurate and sustainable waste management.