The Women and Manufacturing (WAM) podcast invites successful women to share their experiences and life stories that encourage women to look across the broad landscape of manufacturing and to learn more about state of the art in the manufacturing industry.
In a recent episode, our very own Kate Yanshyna, a Project Delivery Manager, joined to discuss how she came to work for Oro, how much support Kate received from the management as a Ukrainian refugee, and what it's like for her to be a woman in IT.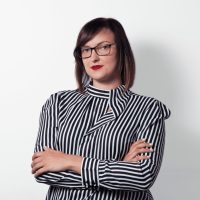 Kate Yanshyna is a Project Delivery Manager at Oro, Inc. with over ten years of experience in information technology project management. She is proficient in all aspects of delivering complex projects for customers across industries, including identifying and prioritizing client needs to managing project scope, requirements, schedules, and deliverables.
Joining Oro 
Starting as a customer support manager in an ERP software company, Kate realized working with people and helping them was her passion. Gradually, her role evolved into a project manager position, and she joined Oro two years ago. As Kate said: "I'm really happy that it happened in my life." 
"I realized how happy I am to work with a company with such a great culture because my management made everything possible to keep us safe and to relocate us to safe places," Kate comments about Oro's support when the war in Ukraine broke out.
As Kate highlighted, here at Oro, it's our priority to cultivate the culture of putting people first and creating an environment of support and open communication.
The evolving role of women in IT
Equally important for us is to cultivate a fair, inclusive working environment. 
"I joined IT ten years ago, and over these ten years, I can totally say that there have been a lot of good changes in the sphere."
The IT industry has significantly matured from its male-dominated and gender- and age-discriminating era. Today the industry is moving towards skills-over-gender hiring, equal salaries, and equal opportunities. Taking Oro as an example, 10% of employees were women in 2016, and today it's 32%.
But what about senior management or technical roles?
"Five-seven years ago, I would be mostly communicating with guys on the leading positions. Now we have more and more ladies talking, not only in managerial positions but also technical positions. We see more women taking over strictly technical, male-dominated positions like software engineers and DevOps. So I think, in the future, this trend will only grow stronger. It doesn't matter what gender you are. You just have to know what you're doing."
Helping companies go digital
Another booming trend is digitization, according to Kate.
"Companies realize that without making their business future-proof, without automating it as much as possible, they won't be able to compete on the market."
At Oro, Kate worked on multiple projects to help customers take full advantage of digitization. One such case was with Dunlop Protective Footwear.
For Dunlop, the challenge was in balancing the effort and resources of communicating with small brands to whom Dunlop distributed their products. The natural solution was to implement a self-service portal, enabling Dunlop to automate this part of its business and relocate resources to higher-profile customers.
As Kate noted, the crucial learning from this case is to automate everything that can be automated but keep a personal touch with customers. 
"Let people do what software cannot."
Listen to the full episode with Kate on YouTube.