It's every seller's nightmare. High season shopping thwarted by an eCommerce site outage. Costco's 16-hour post-Thanksgiving Day outage is estimated to have cost the company $11 million or about 40% of its estimated sales for the time period.  You don't have to be a retailer like Costco to worry about an eCommerce website crash. Microcenter couldn't handle holiday traffic in addition to their regular traffic and the site buckled. B2B and B2C sellers need to take steps now to prevent an eCommerce website crash during their busiest sales season. Whether you are recovering from your busy season or preparing for it now, learn why eCommerce sites crash and what you can do to prevent it. 
eCommerce Website Crash Causes
There's more than one reason an eCommerce site can crash. But in accordance with Murphy's Law, if something can break at the worst possible time, that's exactly when it will break. Most eCommerce website crashes can be traced back to code changes, traffic volume or provider-related causes. Understanding the causes will help you take steps to prevent an eCommerce website crash.
Code Changes 
It's never a wise idea to replatform your eCommerce site or make a major redesign change before your high season. That's because many eCommerce website crashes can be traced back to coding errors. This could be the result of a minor change that no one bothered to properly stage, test, and document or it could be the addition or update of an extension or plug-in. Sometimes an update to the main code causes unexpected problems with outdated plug-ins or extensions. So, don't do everything at once. When you are updating, update in stages. 

Traffic Volume
They call it the "busy season" for a reason. This is the time when your eCommerce site will be receiving the most traffic, processing the most orders, and using your resources to the fullest. If you haven't future-proofed your site, you will discover the need when it crashes under the load of traffic coming your way.  Same goes for your hosting plan. If you are already pushing the limits of your resources, something as simple as a highly successful marketing campaign can generate a thundering herd that slows your site speed to a crawl or even causes it to collapse. Even the big guys can have trouble with traffic. In 2018, Amazon went down on Prime day. This map shows the correlation between outages and population density in the US. The outages occurred where the most people were shopping.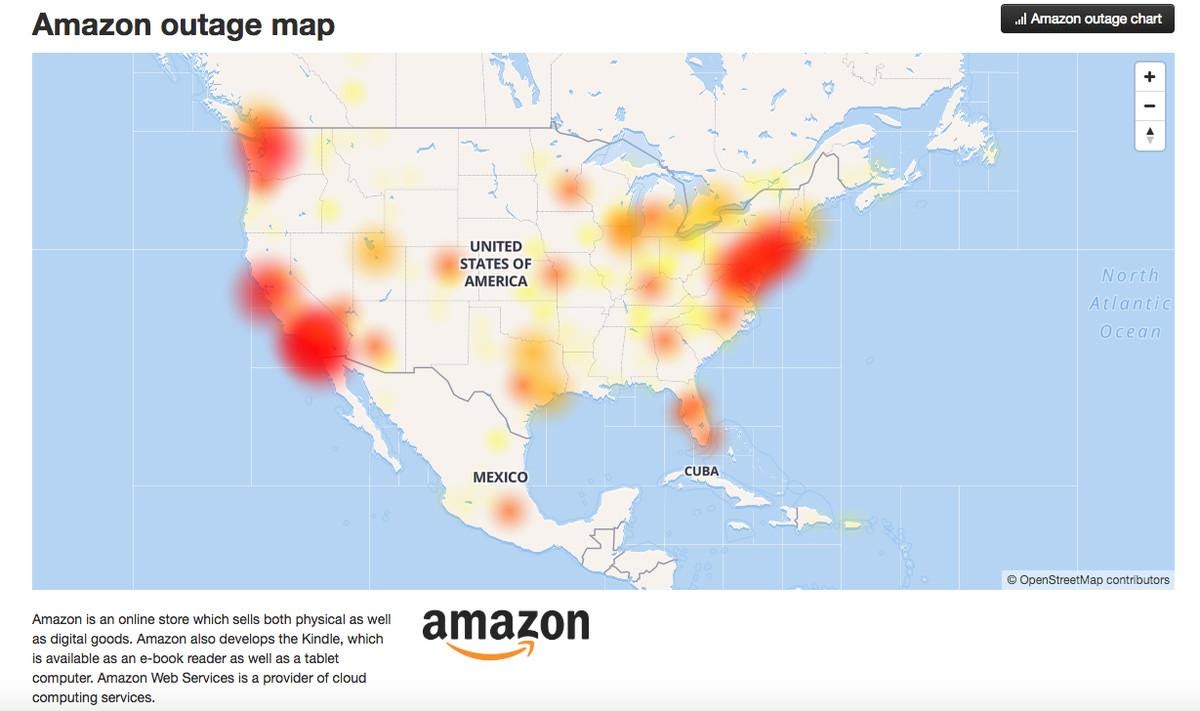 [Source]
In a similar fashion, a distributed denial of service (DDoS) attack causes an eCommerce website to crash by overloading it with fake traffic. 
Third Parties
When you hear about third parties causing an eCommerce website crash the first thing you might consider are hackers and malware. A 2019 hack of American Medical Collection Agency resulted in a data breach that affected 11.9 million patient records. This is just another example of how B2B sites are now attacked as relentlessly as B2C sites. But probably more likely than the risk of hacking is the risk that one of your providers experiences an outage.  Your cloud service provider could go down for maintenance or technical issues and take your site with it. Or maybe it's your DNS server that goes down. Either way, it's out of your control so be sure to pick your partners wisely and ask about their experience with outages. 
An eCommerce Website Crash Hurts More Than Sales Numbers
Of course, an eCommerce website crash hurts sales any time it happens. But the impact is felt more acutely when it happens during your busiest sales season. And if you think the only thing that suffers is sales volume and amount you need to think again.  Reputation and customer loyalty can suffer just as badly as your sales number. 
When MicroCenter went down during a Black Friday sale, they continued to run ads on Twitter.
It's on! Now through Sunday, catch the best deals of the season. ?

Find all #BlackFriday deals here: https://t.co/0e27QeeDDa

Will you be venturing out today or waiting to cozy up to the deals at home on #CyberMonday?#BlackFriday2019 #HolidayShopping #BlackFridaySale pic.twitter.com/naZQl4mi2B

— Micro Center (@microcenter) November 29, 2019
Meanwhile on Twitter potential customers were not amused. And these site visitors didn't hesitate to share their disappointment. 


If these were new, potential customers drawn to the site as a result of the advertisement you can bet they probably didn't return. In fact, 91% of people that have a bad experience never return. The majority won't ever mention their bad experience to you, but they'll talk about their experience on and offline to others. According to Reputation Refinery, negative interactions spread to twice as many people as positive interactions. And for the unhappy customer, it takes about a dozen good experiences to make up for just one bad experience. So, site outages can quickly create lasting damage on social media. And they hurt more than your reputation, they damage customer loyalty.
Customer loyalty is important. Returning customers spend an average of 33% more per order and 80% of your future profit comes from 20% of your existing customers. If a site outage occurs during your high season, it occurs when your customers most need to place their orders. Letting a customer down when they need you most damages the valuable relationship that is the heart of B2B commerce. So, for an existing customer, your eCommerce website crash during the high season – whether from peak website traffic or other reasons – may be a nudge to find a new supplier. 
Biggest Website Crashes of 2019
We've already touched on the Costco and Microcenter outages. But they weren't the only ones hit hard by an outage at the worst possible time. Here's a few other notable crashes and their consequences:
Crew suffered from an outage for the second year in a row. In a repeat of 2018's disaster, the J. Crew site simply couldn't handle the load generated by the marketing efforts. The 2018 5-hour outage cost the company about $775,000 in sales. There's no estimate yet on the losses due to the 2019 outage and the company isn't commenting about it. What is clear is that if they don't address their ability to handle the traffic generated by their marketing, they are doomed to an outage in 2020 as well. That's because Americans of all ages are showing a marked shift to purchasing online during the holiday season even if their normal preference is for in-store shopping.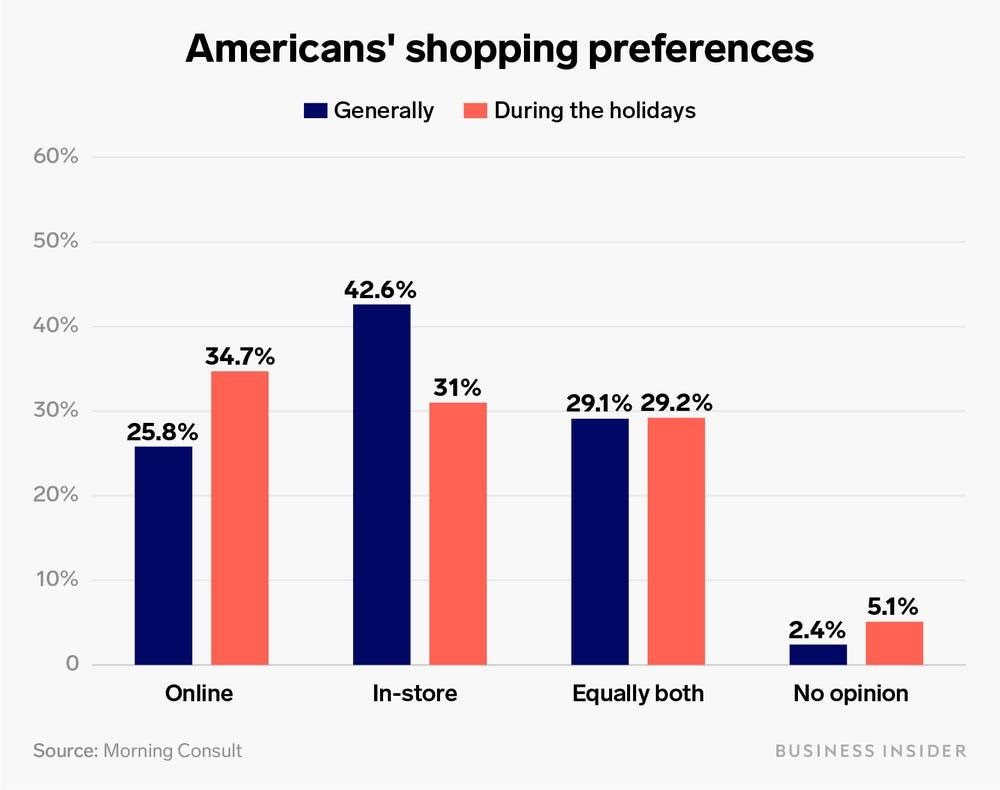 [Source]
But eCommerce sites weren't the only ones affected. Social media platforms Facebook and Instagram and the Facebook Messenger apps all experienced outages on Thanksgiving Day. Once again, the culprit was the inability to handle peak website traffic. Naturally, people took to Facebook rival Twitter to complain. Ponder the irony there for a moment. Now consider the impact to customer loyalty. Facebook has already lost 15 million users in the last two years, outages like this lead more people to simply deleting the app. 
Outages didn't just happen in the US either. Even though the UK doesn't celebrate Thanksgiving, that doesn't mean sellers don't have Black Friday sales. Online retailer, Curry PC World announced their Black Friday sales on social media and the site promptly experienced problems. Pages loaded slowly, prices were incorrect, and customers couldn't check out even if they could manage to create a cart with the correct price. The outage might have only lasted 15 minutes, but the damage will live forever.
Preventing an eCommerce Website Crash
The adage "an ounce of prevention is worth a pound of cure" applies in the digital world as well. While nothing will prevent all outages (after all you can't control your cloud resources) there are steps you can take to prevent an eCommerce website crash or your website buckling under the load of peak website traffic. 
Start with a Secure Platform
With B2B eCommerce you have plenty of opportunities for things to go wrong. Your site might need to handle multiple checkout workflows and if you don't have a secure, stable platform that could be a problem. You also want to know that your platform can handle the number of items, customers, and traffic you expect during your busiest season. Make sure that you have the capacity to handle the requirements you have now as well as the future. 
Future Proof for Traffic
Make sure your eCommerce architecture has the resources required to handle your traffic. Many an eCommerce website crash can be tracked back to the inability to handle peak website traffic generated by high season sales or highly effective marketing campaigns. It doesn't hurt to stay in touch with your CDN service as well as any cloud partners to ensure they don't have plans that could affect your site during your busy season. 
Scan for Malware
As part of your regular security protocols you should be scanning regularly for malware. Malicious code may rob your site of resources, slowing it to a crawl. Or even worse, malware may steal customer data or replicate itself across your customer's resources. 
Stress Testing and Proper Staging
Use the services of a cloud-based performance testing service to assess your sites ability to handle peak website traffic periods. These services simulate the load to your site caused by multiple users accessing the site and placing orders.

And when testing, don't forget to test the mobile experience as well. More people are accessing the web from their phones and tablets than desktop computers. And speaking of testing, make sure all changes are rigorously vetted in the proper testing and staging environments before going live.  Your production environment is not the place to determine that the latest plugin isn't compatible with your existing application. Connections to your ERP, CRM, and other solutions should also be tested to ensure they can handle the traffic.  Don't forget that many APIs have rate limits and if these limits are exceeded, you're headed for a crash. So, make sure your API request limits are enough for busy season traffic. 
Prevent eCommerce Website Crashes by Design
Finally, you can prevent your website from crashing during busy season by incorporating the best design principles.
A patchwork of solutions is rife with seams ready to pull apart under stress.  Integrated solutions provide a more stable environment. When it comes to the hosting decision, cloud resources are almost always superior to premise-based hosting. Cloud services can effortlessly scale up and down with your demand for resources. That's something you won't get with an on-premise set-up. 
And never forget to automate your backup. Because when your site crashes, that backup may be the parachute that helps you survive the crash by getting you back up and running as soon as possible.