Today, buyers expect to easily search and find products online. With 39% of global eCommerce traffic coming from search engines, merchants need to live up to these expectations or risk losing business to their competitors.
Though enhancing SEO for different B2B website product pages seems like a daunting task due to their abundance, the business benefits of higher search rankings, increased search visibility, and longer onsite engagements are invaluable.
In today's blog, we'll discuss some tactics, actionable tips, and on-page optimizations that help simplify B2B eCommerce SEO for all product webpages.
Why Optimizing Product Pages Is Vital for eCommerce Websites
As the chart below shows, 70% of all search requests come from 'long-tail' search terms (i.e. keywords that are highly specific and targeted like high efficiency wall mount battery maintainer). As opposed to 'fat head' or high-volume search terms, long tail keywords are generally more targeted and have a higher probability of converting. Oftentimes, these keywords are less competitive and cheaper to bid on. Therefore, product pages of your B2B website are perfectly suited for satisfying this type of search query.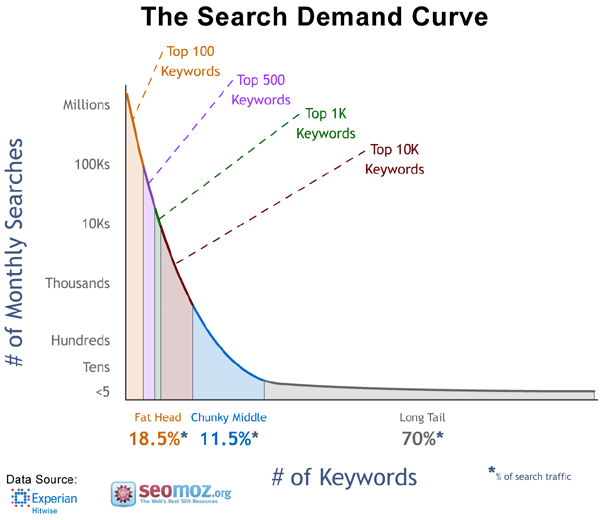 Image source: https://moz.com/blog/illustrating-the-long-tail
Product Page Optimization Essentials
Let's look at several areas where you can improve SEO for your product pages.
Create your own product descriptions
The product description for each item should be unique and original. Avoid copying and pasting canned descriptions created by product manufacturers, especially as many other sellers already use them. Search engines are very sensitive to duplicate content so it may penalize your site. Creating unique description content may take some time but it does add value to your product page SEO.
Leverage product reviews by customers
Customer reviews not only help fill product pages with unique content, but they also boost your ranking with Google. Google favors pages with regular updates and relevant, unique content and reviews are a great source of this. In addition, reviews may lead to increased sales conversions as they offer a sense of trust and social proof. In fact, a single customer review on a product page can lead to a 58% increase in conversions and 10% increase in orders.
Engage visitors with visual content
Eye catching images are essential for any eCommerce website, including B2B sites. To properly optimize product pages, add descriptive images and use alt-text for the images. Make certain that at least the main image contains the product name or keyword in the alt-text. You can take things further and add high-quality videos showing product use cases for a richer experience but make sure the video's title, tags, and description include your relevant keywords.
Craft a catchy meta-data (titles & descriptions)
A product page's meta-data gives potential visitors the first impression of what a page will be about, so make sure it's catchy and actionable. Though meta-descriptions don't factor into Google rankings, they can increase relevant click rates by offering more context to visitors. In contrast, meta-titles are factored into Google rankings so fill meta-titles with the product name, targeted keywords, or keyphrases. Crafting catchy meta-titles and meta-descriptions not only improves B2B commerce SEO, but it also helps differentiate your product listings from your competitors.
Optimize product pages based on user searches
When creating page titles and product descriptions, think of keywords, keyphrases, and search patterns your customers use. Try and optimize your product pages based on these insights and align your keywords with actual search requests. Make sure to track what people are typing for your website's search.
Use transparent URLs
Well-crafted (i.e. unique, clear, and search-friendly) URLs could help your product pages rise in rankings. Properly titled URLs give both searchers and search engines a clear idea of what content is on a page. A good rule of thumb is to keep the URL structure simple while adding keywords to the URL string. To prevent duplication of product pages, avoid putting the category or subcategory in the URL (sometimes, the same product sits in several different categories), or check that the platform you use prevents the creation of duplicate product URLs.
Ensure fast page-load speeds
Site speed has been a longtime indicator of Google's search rankings. But it's not the only reason why eCommerce webpages need to load quickly. Slow page response time leads to an increased visitor abandonment and affects conversion rates. According to the statistics by KissMetrics, a one second delay in response time can result in a 7% decrease in conversions. Optimizing the load speed benefits your product page SEO, conversion rates, and the overall website experience.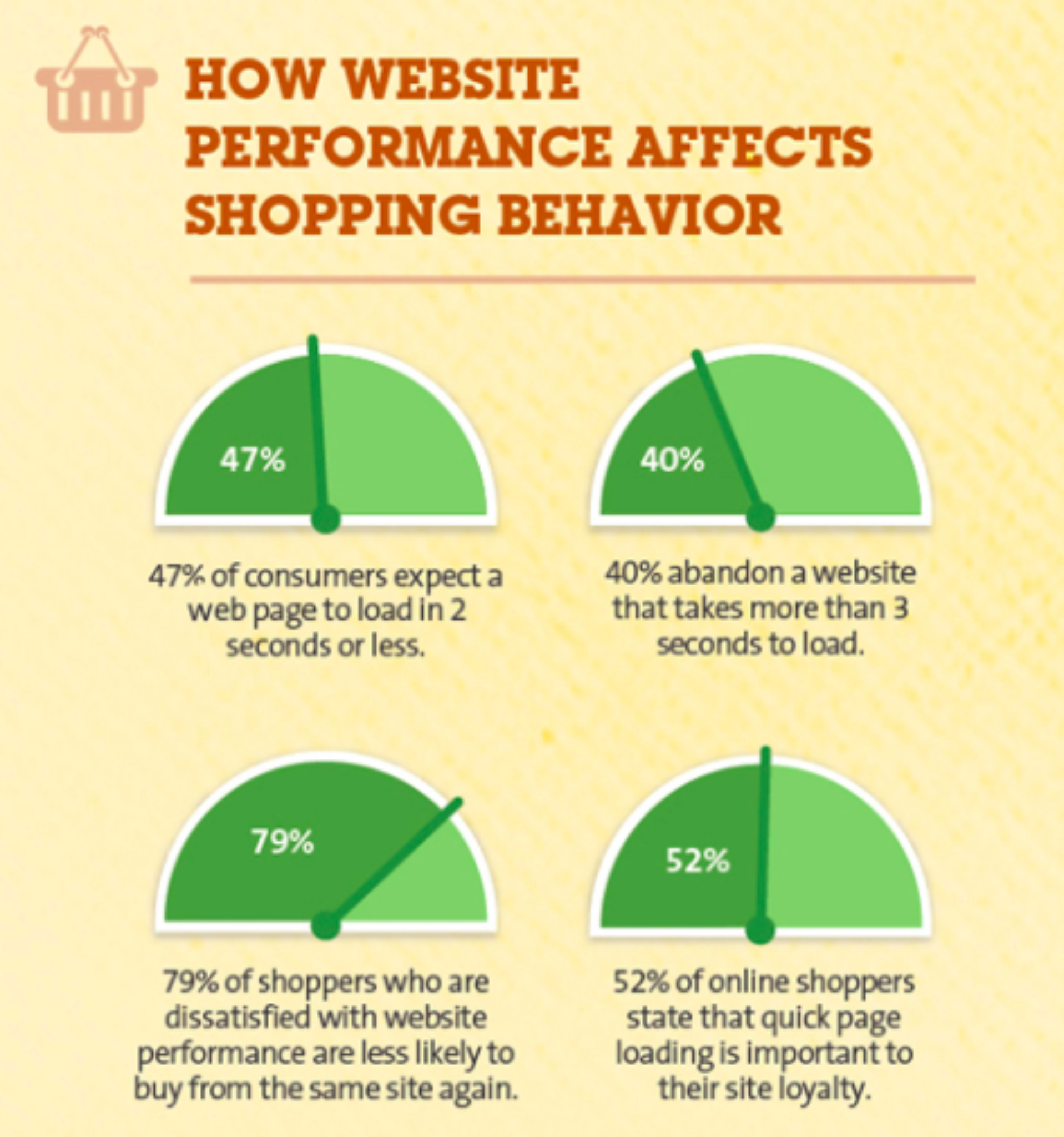 Image source https://blog.kissmetrics.com/loading-time
Advanced SEO Tips for B2B Commerce Sites
The suggestions above are all somewhat basic, yet the majority of B2B eCommerce owners still haven't addressed many of these issues. If you are one of the few that has already implemented all the basics but still hungry for more sophisticated SEO tips, read on – we have some advanced tips for you.
Block personalized catalogues and price lists from search engine indexation
Make sure to configure your robots.txt file so it doesn't index personalized catalogs and custom price lists. Remember to exclude those pages from all your sitemap too. Verify that only general public catalogs and prices are indexed and crawlable.
Keep out-of-stock product pages up and running
Product pages featuring out of stock items still have B2B eCommerce SEO potential, so don't delete or replace them. Instead, adjust the page to offer a relevant substitute for the missing good (e.g. suggest identical item in other colors, or by a different brand, or similar products from the same category and price range). Let customers know exactly when the item will be available again. It's even better if you allow them to backorder products.
Create HTML sitemaps to accelerate the indexing process
HTML sitemaps help in SEO efforts as they speed up the indexing process. And rapid indexation is the key to high rankings for any product page. To make it possible for deeper pages to get crawled by search engines, build HTML sitemaps with simple anchor links. Unlike XML, HTML sitemaps can actually pass link juice and add context about page contents with relevant anchor links. Ideal HTML sitemaps keep all the focus on end product pages, making sure Googlebot can index them as fast as possible. Additionally, it is crucial to make sure that your HTML sitemap is dynamic and gets updated regularly with new product URLs. Take a look at this sitemap example – https://radaris.com/abc/A. It has a smart structure that ensures the speedy indexation of new profiles added to the system. This website is among the top 4,000 most visited websites in the US further proving this technique works.
OroCommerce team is already adding this invaluable SEO feature into OroCommerce system and we will provide more details on it very soon.
The Bottom Line
By implementing proven B2B commerce SEO strategies to all of your product pages, your business can boost the visibility of your webstore with various search engines. Although it's not a simple task to execute some of these SEO best practices (e.g. making every single product page original and populated with unique content), the benefits are substantial.
Look for eCommerce platforms and solutions that already help simplify managing SEO. In order to help, here is a short list of must-have SEO features that should be in your B2B eCommerce platform:
Redirection control;

Meta data control;

URL generation and configuration control;

Automatic URL conflict resolution;

XML and HTML sitemap generation.
We at Oro recognize the importance of being search engine friendly. Within the newest OroCommerce 1.1 release, we've enhanced our web content management functionality to give authorized users control over the SEO-vital aspects mentioned above.
Do you know any other tactics relevant to improving SEO for product pages? Let us know in the comments below.