The modern seller is a problem solver, not a product pitcher. In order to be successful, you must show clients your solutions, solve their problems and alleviate pain points. In fact, only 33% of sales rep time is spent actively selling. Modern sales teams need tools that help improve productivity more than ever.  But with so many tools available, how do you know which one is right for you? 
Both quote-to-cash and digital selling platforms such as B2B eCommerce systems or marketplace management software can go a long way. For example, they can boost sales productivity, address internal inefficiencies and improve the customer experience. But they are used differently. So how do you know which one is right for you? By better understanding the tools, you can better determine which solution will solve your problem. The answer may be one or both.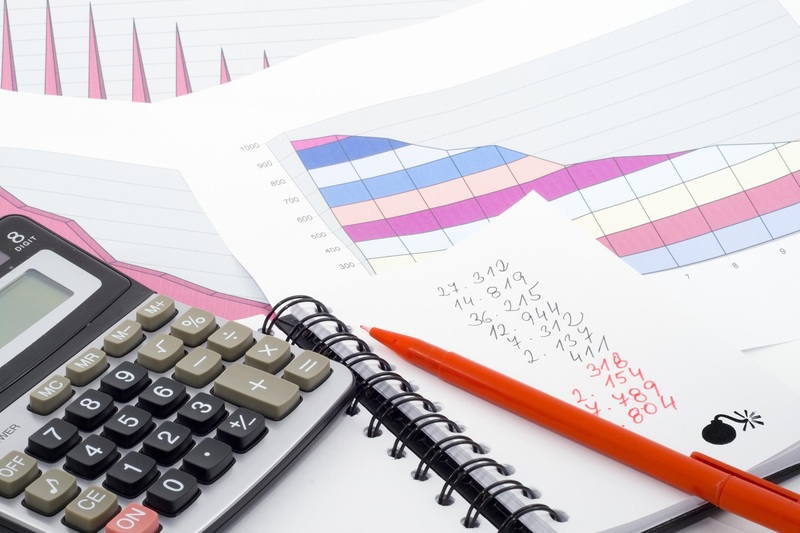 What is Quote-to-Cash?
Quote-to-cash (QTC) is the sum of the business processes associated with selling. It encompasses all processes from the time of initial contact with the prospect to the eventual sale and can even include post-sale activities like contract renewal. QTC software helps sales and operations visualize, streamline, and automate processes. It can be used to optimize sales rep productivity and increase operational efficiency. Think of it as a tool to close more deals, more cleanly, and much faster. Instead of merely focusing on the configure, price, and quote model QTC looks at the entirety of the life of the customer and factors in contract management, invoicing, billing, and even supply chain management. 
The Quote-to-Cash Process
Unlike B2B eCommerce, quote-to-cash software digitizes the different sales, fulfillment, billing and accounting functions in the sales process. Sales teams and their managers use it to chart the optimal customer purchase cycle, from acquisition to revenue, while getting a bird's eye view of the full process. The software generally supports the following steps in the quote-to-cash process:
Configuration
QTC software starts the process with a configuration engine that bundles the right options with the right product characteristics to create a quote. Quoting correctly is crucial because errors can cause issues later down the line.
Pricing
Pricing structures set pricing rules. If the pricing structure is not set up properly the result will be error-laden quotes. Product add-ons, discounts, tiered pricing, and grouped items, can complicate the pricing process. In addition, order modifications and adjustments add yet another layer of complexity to pricing calculations.
Quoting
Accurate quoting is critical. If you don't get the quote right you may end up in a cycle of revisions that can delay closing a deal, hurt the customer experience, and ultimately damage the company's reputation.
Contract creation
Contracts spell out the terms and conditions in detail. Since these are binding legal agreements, you've got to get it right. Even small errors can result in large-scale losses. Digitizing this process and including predefined clauses (such as terms for termination or automatic renewal) eliminates the risk of errors and moves sales along smoothly.
Contract negotiation
Many terms of the contract are negotiated. Negotiations can involve numerous parties, including legal and financial departments. During this time, there may be extensive changes to the contract and it's important that all parties work from the most current edition. 
Order
The order is placed once the buyer and seller agree on the contract terms. Depending on workflows, QTC software may move order details from the quote to the contract through an ERP system and back to the CRM. 
Fulfillment
Fulfillment is the process of delivering the product to your customers. But it also involves strategizing your manufacturing and distribution supply chain to procure or make the products you sell, prepare them for shipment, and deliver them to the customer.
Revenue
The revenue stage unifies CRM, order management, and accounting to minimize cash flow issues. Billing data should reliably be passed on from quote, to contract, and on to the finance team.
The quote-to-cash workflow can take time away from generating revenue just to push the quote, sales order, contract, and invoice out the door. QTC software digitizes many of these operations to improve efficiency and reduce errors.
Here's a quote-to-cash process flowchart illustrating these steps: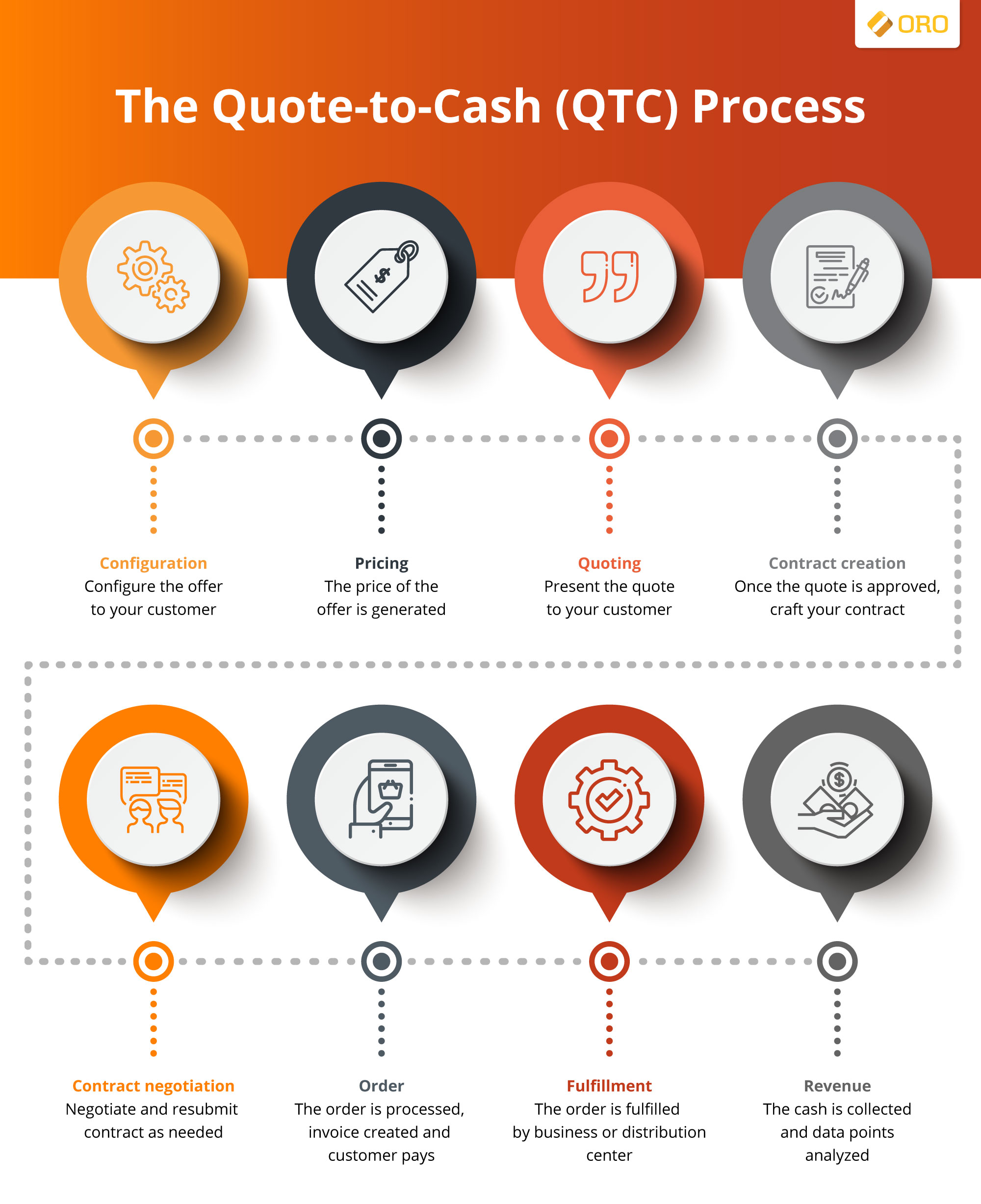 How Can Quote-to-Cash Software Help?
Quote-to-cash software can shorten the buying cycle by increasing sales effectiveness. It is particularly helpful to large enterprises with complex sales processes. QTC software helps by automating the following areas of business:
Quote management. Quote management tools reduce errors and inconsistencies when issuing contracts, prices, and quotes to customers.  No matter how big and complex the product catalog or workflows, digitizing the quote process ensures accuracy in pricing while speeding up proposal processing so sales reps can close more deals.
Contract management.  A contract management solution helps companies generate, store, negotiate, and comply with their contracts. Digitizing contract management gives management greater visibility into the negotiation process and ensures compliance with company policies on everything from sourcing to logistics. Deals close quicker, obligations are easier to track and efficiency pays off in increased customer satisfaction. 
Order management. Once the sale is made, the work is just beginning. Back office functions such as order placement, billing and receiving payment, and contract renewal are all opportunities for errors. By digitizing these processes you increase efficiency, reduce errors, and provide a frictionless experience for your customers. 
What B2B eCommerce Does
A B2B eCommerce platform serves as a portal for customers to find information about your brand and products, request quotes, place orders, track orders, and solicit assistance with products and services. Like quote-to-cash, B2B eCommerce software digitizes workflows to reduce errors and it also supports omnichannel selling. An eCommerce platform is like your brick and mortar operation transformed into a digital space.
Quote management. A B2B eCommerce platform such as OroCommerce, due to its robust functionality and seamless integration with CRM, allows potential customers to place requests for quotations, not just orders. The RFQ workflow can be used to negotiate prices, quantities, and payment terms with the ease of digital. By allowing customers to place an RFQ on a 24/7 basis, you're always open for business. 
Order management. An eCommerce platform allows you to make your products available on a 24/7 basis so potential customers can interact with your brand when and where they want. You can integrate your eCommerce solution with your ERP to provide live status on product availability. With a B2B eCommerce platform, your customers can submit orders via a webform, file upload, EDI for eCommerce, or even a punchout catalog. Customers place orders in a manner that works best for them. On the back-end, you gain insight into customer behavior to further improve the customer journey. 
Marketing and sales support. A B2B eCommerce platform is a powerful tool for marketing and sales. You can use your platform to create offers and promotions and provide cross-sell and upsell offers effortlessly. By creating custom landing pages, you can support targeted outreach to various market segments. 
Quote-to-Cash vs. B2B eCommerce
B2B eCommerce is ideally suited for customers looking for a self-serve model. A B2B webstore gives your customers a place to learn about your products or services and about your company. This is exactly the type of information they want when researching before purchasing. Enterprises looking to streamline back-office operations, accelerate pipeline, and improve win rates benefit from digitizing with a QTC solution.
Businesses focused on improving the B2B customer journey benefit from an eCommerce platform that supports personalized catalogs, prices, and ordering. Once a contract is negotiated, customers can login 24/7 and place orders or upload orders via CSV file. 
In other words, QTC focuses rather on back-office user experience optimization, whereas B2B eCommerce platforms such as OroCommerce extend QTC functionality to your B2B customer experience optimization.
Don't forget about payment capabilities. Whether you go QTC ot eCommerce, ensure it satisfies all credit-card-related PCI DSS compliance requirements.
Software comparison: quote-to-cash and B2B eCommerce
Here's a high-level comparison chart of the quote-to-cash and B2B eCommerce platforms.
| | | |
| --- | --- | --- |
| | Quote-to-Cash  | B2B eCommerce |
| Manages contracts, subscription billing and renewals | ✓ | |
| Automates approval workflows | ✓ | ✓ |
| Facilitates creating complex and configurable product catalogs across multiple sales channels | ✓ | ✓ |
| Reduces product and pricing errors in quotes and contracts | ✓ | ✓ |
| Automates repetitive manual tasks in pricing, ordering, and quoting | ✓ | ✓ |
| Centralizes analytics and reporting around transactions for better projections | ✓ | ✓ |
| Syncs product catalogs across CRM/ERP/Billing via extensive API to avoid duplicate data | ✓ | ✓ |
| Supports dynamic pricing, upselling, and cross-selling | ✓ | ✓ |
| Offers mobile-centric experiences for back-office staff | ✓ | ✓ |
| Offers mobile-centric shopping experience for customers  | | ✓ |
| Offers personalized self-service portals for business customers | | ✓ |
Which is Right for You: Quote-to-Cash or B2B eCommerce?
Every business is different and each company's path to improvement may take a different route. Digitizing business processes with technology that is agile and improves the user experience is part of every journey to build a great brand. 
When evaluating solutions, think long-term to future-proof your company. You must see beyond the costs for implementation and training and calculate the benefits of higher productivity, increased customer satisfaction, and greater sales.
Quote-to-cash vs B2B eCommerce
A stand-alone QTC solution may increase customer lifetime value and generate more sales through back-office processes and eCommerce automation. But a B2B eCommerce solution not only automates sales, but helps you penetrate new markets and discover an untapped desire for your brand. 
You may even find that a quote-to-cash and a B2B eCommerce platform working in combination are the tools you need to keep more leads in the funnel and more deals in the pipeline.