Originally published on December 3, 2019, updated on October 17, 2022
The only thing scarier than launching a new website is replatforming an existing one. As technology evolves, design trends change, and as user expectations shift, upgrading your eCommerce platform becomes a looming question mark over everyone's heads. At the same time, it's perfectly normal to feel uneasy about changing platforms (and the stress that comes with it).
Digital commerce systems are complex and depend on multiple business processes to run smoothly. At first glance, there are lots that can go wrong when migrating to a new platform, and businesses have lots of valid reasons for getting cold feet:
The fear of the unknown. Without adequate research, you can never really be sure you need to replatform eCommerce, or that's it's truly in the best interest of your business.
The sunk cost fallacy. Your organization might have outgrown your existing technology but it's become obsolete or difficult and costly to update.
The fear of losing time and money. A common (yet not completely unfounded) fear is that projects take longer than expected and go over budget.
Concerns about existing processes. You may be worried about losing your SEO rankings or the integrations with legacy systems that might need reworking.
Replatforming projects require resources – none of which you get back if your project goes down the tubes.
We're here to tell you that it doesn't have to be this way. In this comprehensive eCommerce replatforming guide, we'll take a look at the signs it's time to replatform your eCommerce site. We'll also share the good, the bad, and the ugly in our eCommerce replatforming checklist.
You'll learn about the replatforming "red flags" to look for, and the risks to watch out for. We'll also touch on the role of eCommerce replatforming consultants, how to carefully plan your project for a smooth migration, and measure the replatforming results.
What Makes Replatforming So Scary?
Want to make your CIO twitch? Mention that you think it's time to replatform your eCommerce site. The tics and twitches will almost start instantly. Why is this?
Well, it's because your existing IT architecture probably looks something like this.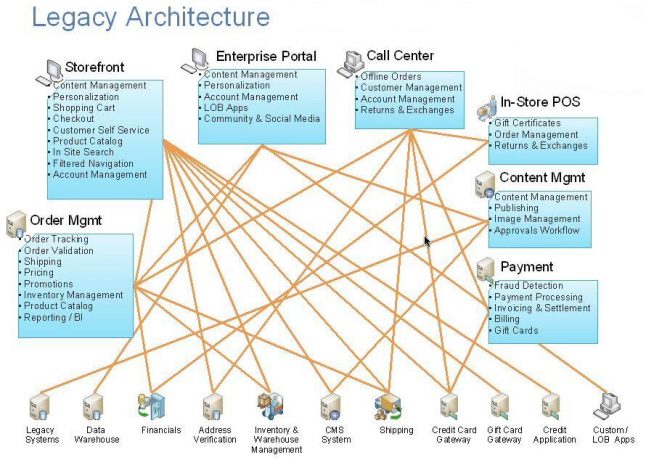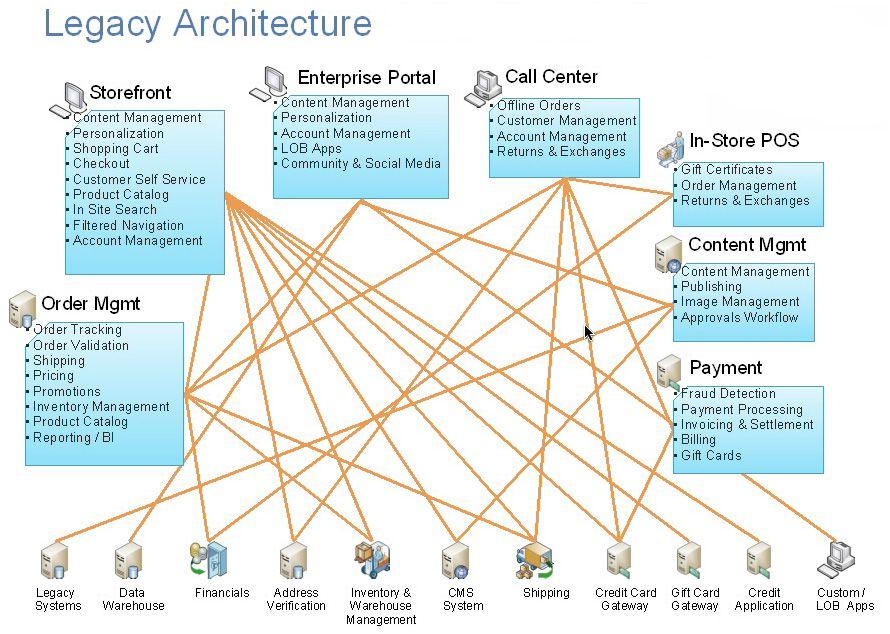 Data and processes are intertwined into a mass resembling a big ball of spaghetti. When you make one change, it might snowball, and the unintended consequences may bring the carefully constructed eCommerce site architecture down as quickly as a house of cards.
So, when you talk about eCommerce replatforming, you are talking about changes that affect more than just the webstore and servers.
And an eCommerce migration from one platform to another is filled with opportunities for something to go wrong. And in accordance with Murphy's Law, it probably will. Now, do you understand why just the thought of replatforming makes the CTO twitch?
But a legacy platform can hold you back and displease customers and employees alike. How do you know if that is happening? Just as Jeff Foxworthy can spot the signs you might be a redneck, the need for a replatform has distinct signals.
Customer Signals for Replatforming
When your forward-facing employees are handling more and more phone calls because customers can't find information or complete a sale, you might need to start thinking about replatforming.
If customers complain outright that they can't use the site or don't like how it functions, that's bad news. But that bad news cloud does have a silver lining. Your customers care enough about your products to share their complaints. Be thankful that they complained and listen carefully to them. A more subtle customer signal might be a spike in onsite search. This can also be a signal that something is wrong.
There are more obvious signals as well. If your pages are loading slow and visitors are bouncing with one page visited, it's a clear sign they aren't happy with your website. If your platform only supports a single channel and doesn't give modern customers the omnichannel experience they demand, it's certainly time to consider a change.
Like it or not, there are trends in web design and UI experiences. When your site falls short of the current design trends or the user experience visitors expect, it's a signal that your company has fallen behind the change curve. That's not a message you want to send. Most of the time it's not enough to redesign your website, you need to start fresh. And if you are going to start fresh, it only makes sense to start with some resources on replatforming:
Operational Signals to Consider eCommerce Replatforming
There comes a point where system maintenance leaves the IT folks feeling like Sisyphus rolling the rock uphill only to have it come crashing back down on them. Every little tiny update and coding takes ages, causes other problems with the platform backend, and over time there is less and less enthusiasm to install very necessary updates. What looks like a small code update becomes ever more complicated when the integrations and plug-ins fail to integrate and operate after the update.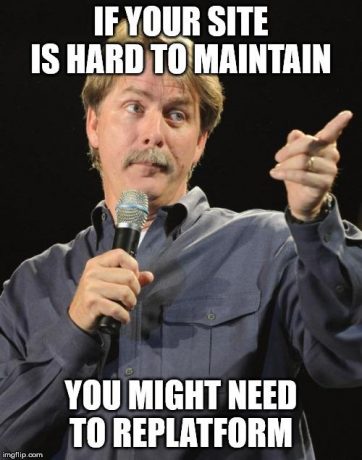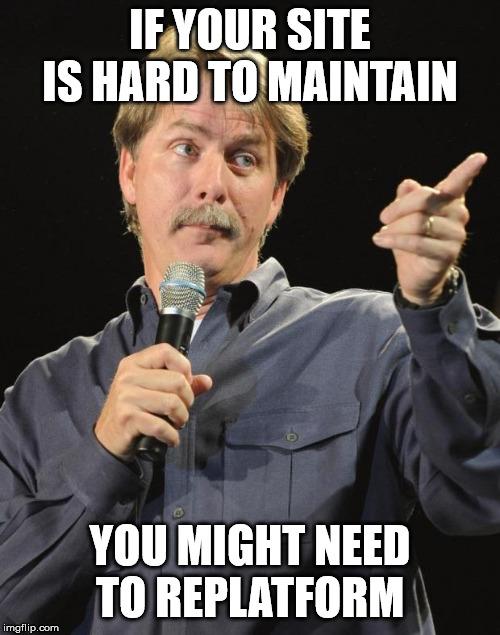 And speaking of integrations, if your current platform doesn't give you the flexibility to connect with other systems thought API, it's time to replatform. If your platform doesn't seamlessly connect to your CRM, ERP, PIM for eCommerce, and other critical business software or app then it's time to stop building bridges and patches. 
At OroCommerce, that's exactly what we do. You can check our free demo and extensions store to see how we utilize built-in connectors to integrate our commerce platform with ERP, accounting, payment gateways, point-of-sale software, and other systems.
It's time to replatform your eCommerce to a solution that works and plays well with the other software you need. 
Are you missing out on the efficiencies of 3PL (third-party logistics) because your technology doesn't easily integrate? If 3PL requires a host of manual tasks for order fulfillment, warehousing, and supply chain management you aren't getting the most out of your 3PL or platform solution.
If your IT infrastructure is already overly complicated by patches and processes that have been cobbled together to maintain integration, it's time to think about an eCommerce migration from a legacy system to a more suitable platform. It's that level of complexity that have the CTO and developers twitching, and a smooth migration to a stable environment just might calm things down!
Finally, if your tech department spends more time chasing bugs than the Orkin Man, you know your eCommerce and tech stack migration is long overdue.
Rising Costs and Ebbing Returns Signal Replatforming is Necessary
If systems maintenance costs are rising and returns are ebbing, you might need to think about changing eCommerce platforms. If your current platform doesn't give you the bandwidth to do what you need to get done it's a clear signal that things must change.
When software fees start to pile up, but you aren't getting more from your solution, it's no longer a solution. It's a problem. For example, when you first started with eCommerce, a website built on a popular B2C eCommerce platform like Magento 1 might have fit your needs. The learning curve was easy, and the fees didn't seem so large at the time. But now that you are an established seller, paying up to 2% per transaction in addition to card processing fees and fees for plug-ins and add-ons to fill gaps in functionality that should be standard quickly erode your profit per transaction.
When your profit center starts looking more like a cost center, an eCommerce migration to a platform that better fits your needs is in order.
When Your Grasp Equals Your Reach – It's a Clear Replatforming Signal
With the right eCommerce solution, your reach should always exceed your grasp. Scalability is only an issue when you've outgrown your existing solution. But by the time scalability becomes an issue, it's a huge issue.
It's a clear signal that it's high time you replatformed when your current technology limits your ambitions instead of fueling them. For example, if your eCommerce site speed is slow, taking 5 to 6 seconds to load a page, your visitors probably aren't going to stick around. Web visitors, especially those using mobile devices want sites to load in 3 seconds or less.
As the number of SKUs you offer increases, database requirements change. Or, maybe your customers are looking for personalized catalogs and your website can't deliver that functionality. You may want to add AI powered eCommerce chat experiences, but your existing technology just can't deliver.
The eCommerce replatforming project can bring you the scale you need for better site performance, more SKUs, and improved customer experience through added functionalities. When your existing platform no longer delivers, it's time to plan an eCommerce migration to a new platform.
To help you better research your options, we've put together a request for proposal (RFP) template. Download an RFP for eCommerce platform selection for free.
Marketing and Sales Signals for Replatforming
When many sales and marketing meetings begin with "if only the website…" it's a clear signal that it's time to consider a different platform. If management has no clear view of leads, opportunities and sales, then a replatform of your eCommerce store is in order.
If your marketing plans include custom prices and catalogs and custom product configurations but your website can't keep up, migration to a platform that powers these marketing efforts is in order.
If your website needs a complete redesign to meet the current needs of sales and marketing departments, it's time to consider replatforming along with data migration and a new design to get your business ready for the future. Technology and design are so intertwined that any major redesign should begin with a look at the existing technology and consideration to migrate the site.
When the Signals Point to eCommerce Migration
When any combination of the above signals point to the need for an eCommerce replatform, you want to make sure you select a future-proof solution. After all, if you end up in the same spot in a year, you haven't solved the problem, you've just kicked the can down the road a bit.
In evaluating the landing spot for your eCommerce migration, you need to look carefully at what was signaling the need for change and make sure your new platform meets your existing needs and future needs as well.
If customers are demanding a better user experience and online store responsiveness, then your new platform should be flexible and powerful enough to keep up with consumer trends. If scalability is a problem, make sure that your new platform provides a solution that can easily scale as your company evolves.
And don't dismiss hiring an eCommerce replatforming agency partner to help you along the process either, especially if you have unique customer requirements, complex processes, and large product lines. A replatforming consultant with experience in eCommerce platform vendors and technologies will know the ins and outs of the ordeal, including best practices and unforeseen obstacles you may not be aware of.
Create Your eCommerce Replatform Strategy
Remember, the more you understand what you have to do in order to have a great replatforming experience – and the more effectively you can communicate it to your business stakeholders, the better. The bigger your team is, the more you will have to work to get your ideas across.
Create a plan for data migration, including all the tools and support to make it happen.
Outline the scope of development work, including frontend and backend commerce functions.
Establish ample time and an approximate timeline for QA services and backend system testing.
Create a pre-launch checklist that encompasses your whole eCommerce store.
Outline your system of pre- and post-launch training.
In this sense, partners are great resources for retail eCommerce businesses because they may be used to a platform and have used a particular platform to realize other site launches. For example, if they are quoting you that the replatforming process will take ten weeks, chances are, you can trust their claims.
Tools for Successful eCommerce Replatforming Examples
When replatforming is on the horizon – you are probably searching for the ways and tools to perform the job. There are many migration solutions and data migration service providers available in the market today that could facilitate the transition for you.
LitExtension is an automated migration tool that helps to transfer your store or stores (for multi-site enterprise retailers) from one eCommerce platform to a more robust one.
Normally, migration is a major change and can take weeks or even months to complete. However, with LitExtension, you can save tons of time and effort since you can easily perform the migration (such as transferring WooCommerce to Shopify or moving Magento to Shopify) yourself in just some simple steps without any technical skill needed. Here is the list of entities that Litextension support to migrate:
Products and enterprise CMS (content management system) data
customers
orders
multi-language
product categories, descriptions, and attributes
HTML tag
custom fields
manufacturers
categories and products SEO URLs, etc.
Currently, LitExtension supports the largest eCommerce collection with more than 120 of the most popular eCommerce platforms.
For those who are concerned about pricing, LitExtension's pricing for migration services is quite reasonable compared to others on the market. You can easily get the estimate of the full platform migration based on the total number of your entity plus the additional option you choose via their automated price estimate tool. Furthermore, LitExtension's team is experienced in migrating any type of business from small, medium to large scale. Contact their support for more information.
Cart2Cart is a platform provider of an automated shopping cart migration service that has all the functionality required to transfer the store database across various shopping carts in a totally automated way. For simpler integrations of B2C eCommerce sites you may perform the switch by yourself with no difficulties just following a few simple steps. The list of their currently supported entities that can be transferred to another shopping cart includes:
products
customers
orders
manufacturers
product data & categories
product pages & descriptions
product attributes
multimedia items
product images, etc.
At the moment the service supports migration across 85+ leading shopping carts (including solutions like Magento, Shopify, WooCommerce, PrestaShop, OpenCart, etc.) with new ones constantly being added to the list.
If cost is of concern, the Cart2Cart eCommerce services for migration are quite affordable and reasonably priced. It makes it possible to calculate the exact cost of your specific migration case via Migration Estimator. Just enter the number of products, customers, and orders and get the final price estimated.
Recognize the Risks in eCommerce Migration
When you begin to talk about an eCommerce replatform, your CTO isn't the only one that will twitch. Marketing will probably express some concerns along with their excitement for a more powerful solution. Don't be surprised.
It's quite normal to feel queasy about replatforming. Sales might get twitchy when they find out that there's a chance customer data may be lost in the migration. Same goes for your Customer Service reps, too. Moving your webstore to a new platform frequently can result in a loss of traffic due to decreased search engine optimization (SEO). This drop off can be mitigated with automatic URL redirects and migration APIs that reduce the number of 404 errors that pop-up.
Just keep cool. Planning is everything. Chances are, there are technology partners or eCommerce replatforming consultants with experience and expertise in your industry who can help. Proper research and planning opens your eyes to possible problems, so that you're better prepared for them if they do arise. That's what we'll cover in our next section.
eCommerce Replatforming Without Frustration
No doubt about it, just the thought of replatforming your eCommerce store is frightening, and the actual migration process provides ample opportunities for things to go wrong.
But as we discovered above, you can't ignore the signals that the time for replatforming has come. Customers, marketing, account managers, and operations all depend on an up-to-date solution to meet their needs. The benefits far outweigh the risks, and the risks can be mitigated with careful planning. The advantages of eCommerce replatforming include:
Improved customer experience including enhanced mobile ability
Enhanced security
Reduced maintenance costs
Scalability
Of course, the greatest benefit is the ability to grow your business with the tools and strategies provided by the latest technology. Avoid frustration and mitigate risks by making an eCommerce replatforming checklist and checking it twice before you start the migration process.
Before committing to replatforming, it's crucial to ensure you choose the right platform to migrate to. Our eCommerce RFP template is a go-to resource for shortlisting and comparing eCommerce solution vendors efficiently.
eCommerce Replatforming Checklist
It all starts with a plan. The most trouble-free eCommerce replatforming projects are carefully planned before they are executed. Just the process of creating your migration checklist will help you identify potential pitfalls and challenges. At a minimum, your plan and eCommerce replatforming checklist should include:
Identifying all data sources and integrations affected
Deciding what legacy information will be migrated
Deciding the responsibility levels for data migration (in-house or outsourced)
Selecting optimal time for migration (off-season is best)
Ensuring all departments impacted, as well as clients, get notifications in the weeks and days BEFORE migration
Creating a pre-migration website map of all URLs
Mapping out a plan for migrating one section at a time
Recording pre-migration admin panel KPIs, analytics, and benchmarks
Training personnel in use of the new platform and its components
Testing before and after replatforming to ensure eCommerce functionality is performing as planned
It can't be stressed enough that communication is important during the entire eCommerce replatforming process. Marketing, sales, and customer service should all communicate their expectations and these expectations should be addressed. If expectations are unrealistic, it's better to communicate this before the migration, not afterwards.
For example, customer service may have an unrealistic expectation that after the migration, there will be fewer inbound calls and emails. Eventually, this will prove to be true. However, if the entire site has been redesigned as a result of the eCommerce replatforming project (not something we recommend) then there may be a temporary spike in calls and emails as customers are learning the new site.
It's not a good idea to try to replatform your eCommerce store during the height of your busiest season. By executing your eCommerce replatforming during the slower months, you reduce stress on everyone. It also gives users a chance to not only become accustomed to the new eCommerce solution but to explore what's possible with all that new power under the hood. Besides, if disaster strikes, the damage will be much less in the off-season.
Avoid the Re-Design Temptation
It's temping to completely re-design the entire website as part of the replatforming process. But unless its critical to modernize the site, it's better to keep the initial design changes to a minimum.
That's because when you redesign and replatform at the same time, its hard to troubleshoot problems. If the conversion rate suddenly plummets after a redesign and replatform, how would you determine the cause? You want to bring in new functionality and new features with the new platform, but major design changes should be undertaken on an incremental basis.
The Importance of Staging and Testing
Your new eCommerce site will go through several stages before it is ready to launch. As you can see, in the beginning, the developer team begins working and testing without any data. Once they feel they have a minimally viable product, it's ready for testing. Initially, there's no data input. But when data is added, it moves to the staging phase.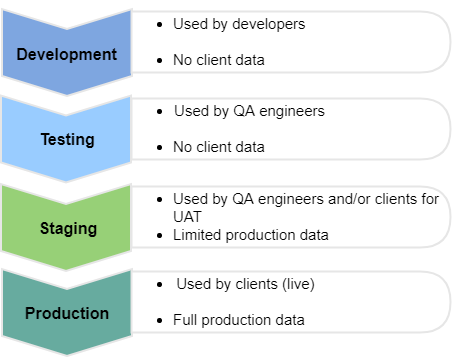 The more effort put into rigorous testing during staging process, the less likely you will find serious flaws once the new platform goes live. To get a better understanding of the difference between testing and staging, check out the blog on Testing and Staging Environments in eCommerce Implementation.
In addition to functionality, you should be assessing the user experience (UX). A major goal of eCommerce replatforming is to improve UX and decrease friction in the path to purpose.
It's important to ensure that the new eCommerce site architecture meets these goals. Grab a team member that's not involved with the project and ask them to simulate a purchase. Their feedback is invaluable. It's one way you can easily verify that you've made the path to purchase less complicated and not more.
Also, verify that the mobile experience is enhanced as well. With more and more searches and purchases made on mobile, you can't afford to provide anything less than a superior experience.
Finally, as part of this testing and staging, make sure you are not automatically creating duplicate content. It's critical that your new engine does not generate duplicate URLs as that will pose a problem with SEO. And speaking of SEO, that's a topic that deserves its own checklist.
Planning for SEO After eCommerce Replatforming
One of the scariest things about eCommerce replatforming is the potential to take a big hit in search engine rankings. That's why your eCommerce replatforming checklist includes an SEO audit and creating a pre-migration map of all URLs on the existing site.
See, when you replatform, URLs change. And that's bad for rankings. If your site is well-established, Google has been crawling your site for years and running your data through its algorithms to determine the value or rank of your content. Your SEO team and marketing crew have spent years working with partners and influencers to create backlinks to your domains.
When you publish your new site, those URLs might change, and those backlinks will no longer work. It means that your site will instantly lose credibility for Google, as backlinks are still one of the main ranking factors for it. But you can prevent organic traffic and rankings from dropping if you plan for your eCommerce migration with SEO in mind. You need an eCommerce replatforming checklist just for SEO. This checklist should include activities such as:
Comprehensive and extensive use of 301 redirects. You must map every old URL to its new equivalent. Every single one. There can be no orphans. None.
Avoiding redirect chains. If this isn't the first eCommerce replatforming for your site, you probably have redirect maps from earlier migrations. Don't use that map to redirect to the new pages. It is far better to connect the original source URLs in the old map to a new destination on the new platform. Yes, it's a pain but it's worth it to lessen the pain that comes with a substantial loss of ranking. Every new 301 redirect is diminishing the link juice passed to the destination page by roughly 15%, so it is worth spending time and double-checking your existing redirects before setting new ones.
Generating a new sitemap. Too often only the top-performing pages make it into the XML sitemap. That's a big mistake. You may be getting some backlink love that's lost if you don't map all pages. For big eCommerce websites, it makes sense to create not only XML sitemaps, but also simple HTML sitemaps to accelerate the process of indexation. Check more about it in our post on advanced SEO tips for B2B eCommerce websites.
Staging a progressive migration. Keep the old and new site live with the new site hidden from search bots and crawlers. Then move one section at a time. Test each section until the entire site is migrated.
Monitoring After eCommerce Replatforming
The data may be migrated, and the new platform live, but it's not time to enjoy a fruity drink on the beaches of the Cayman Islands just yet.
Over the next couple of weeks, review your Google Search Console closely. You need to keep an eye out for indexing issues and errors. This includes those dreaded 404 errors, excessive redirects, and gut-wrenching 500 errors.
Any single category of these error types can ruin your rankings, and in combination, they most certainly will wreck your rankings if left unheeded.
The honest truth is, no matter how careful you may be, something of minor size may still slip through the cracks. Immediately after the eCommerce migration and for about a week afterwards monitor crawl errors. Right after the eCommerce replatforming you will probably see a big spike in crawl activity. That's okay.
However, if you continue to see high levels of crawl activity, you might have inadvertently created infinite crawl spaces. This might happen when auto-generated URLs are created by on-site search.
You should also monitor load speed and response times. People don't want to wait and if your pictures aren't optimized for fast loading or your CDN isn't handling the new site efficiently, your potential customers aren't going to hang around and wait. Fortunately, these issues are easy to spot if you are closely monitoring post-migration performance.
Surviving and Thriving eCommerce Replatforming
The key to surviving a migration and then thriving after eCommerce replatforming is planning, testing, planning, testing, then staging, and a bit more planning and testing.
Seriously, this is one time that an ounce of prevention is truly worth a pound of cure. By identifying the data to migrate, what integrations and channels are impacted, keeping everyone in the loop, and relentless testing and retesting your eCommerce replatforming project can be completed with minimal frustration. And you'll be on the beach enjoying that fruity drink before you know it. Job well done!


Frequently Asked Questions
What is eCommerce replatforming?
eCommerce replatforming means migrating from your current eCommerce solution to a new one. A business owner may design to replatform in order to:
improve the online store's performance, scalability, search and checkout experience
access new eCommerce functionality
stay ahead of competitors
Currently, eCommerce migration is relatively easy to accomplish thanks to the abundance of commerce services, cloud solutions, and replatforming tools that make migration almost painless. Check this eCommerce replatforming example to learn more.
Why is it necessary to replatform eCommerce websites?
eCommerce replatforming isn't something that you do just for the sake of it. Some crucial signs and considerations will help you decide if your eCommerce business needs to migrate to a new platform:
Your systems' architecture is hard to maintain, update, and integrate with other systems
Your site design is outdated, and customers leave reviews about the lack of some functionality/problems with purchasing
When your revenue from eCommerce is plummeting, while expenses rise
When your marketing & eCommerce team requests new functionality that the current SaaS platform doesn't support
What are the pros and cons of eCommerce replatform?
The pros of eCommerce replatforming:
An optimized online store that meets the needs of modern buyers
Enhanced security with the SSL certificate
Reduced maintenance costs
Scalability
Outpacing the competition
The potential cons and challenges of eCommerce replatforming for enterprises:
Without a proper approach to planning and analysis, companies risk to not achieve the expected ROI with the project getting over budget
The drop in SEO rankings and conversion rate, and domain authority
The pushback from the team
The loss of important data and customer details information
Discover the cases of successful product data migration in our Essential Guide to Product Data Management in B2B eCommerce.