The explosive growth in eCommerce led to increased demand for third-party logistics (3PL) services. 78% of companies now leverage a third-party logistics service to improve their supply chain performance.
But what are the key benefits of using a 3PL eCommerce fulfillment for your B2B business, and how do you select the right partner? In this article, we cover everything you need to know about eCommerce 3PL for B2B, the top 3PL companies, and how outsourcing to 3PL would improve your business's bottom line.
What Is 3PL eCommerce Fulfillment?
What does 3PL mean? 3PL fulfillment, also known as third-party logistics fulfillment, is a service provided by third-party logistics providers (3PLs) to manage the warehousing, packaging, and shipping of products on behalf of their clients. This service allows businesses to outsource their logistics operations to a specialized provider, freeing up their time and resources to focus on other aspects of their business.
In a B2B world where logistics is critical to eCommerce and order management success, 3PL eCommerce order fulfillment is a lifeline for companies looking to get in front of their fulfillment needs, meet customer demand, and stay competitive. 3PL is a helping hand that moves products through the supply chain.
How Does a 3PL for eCommerce Work?
There are three stages of eCommerce 3PL fulfillment:
1. Storage
To store your inventory with a 3PL provider, you need to coordinate the shipment of your products to their fulfillment centers. This is typically done by filling out a Warehouse Receiving Order (WRO) that documents the quantity and names of the products being sent. Once the 3PL partner receives and categorizes the inventory, it is stored on shelves, pallets, or bins, ready for customer orders.
2. Orders
When a customer places an order online, the 3PL partner initiates the fulfillment process. Ideally, the online store is integrated with the fulfillment center, so the 3PL is automatically notified of the order and receives the necessary information to complete it. The warehouse team then retrieves the ordered item from storage and sends it to the packing and shipping division.
3. Packing and Shipping
The warehouse team packages the item according to your specifications, considering costs, weight, and branding. The 3PL partner places a shipping label on the product and prepares your daily inventory for carrier pickup. They also send an order and shipping confirmation and handle any possible returns.
What Services Do 3PL eCommerce Companies Provide?
Let's see how different eCommerce 3PL companies can be categorized to understand their services.
Procurement-focused 3PL providers help develop, manufacture, and source products.
For example, they can help choose high-quality manufacturing materials or a reliable production facility, set up manufacturing runs based on forecasted demand, or assist with product customizations.
Distribution- and fulfillment-focused 3PL companies
eCommerce fulfillment 3PL providers are responsible for storing products and managing end-to-end deliveries. Their services include warehousing and inventory, order processing and packing, freight shipping for B2B and parcel shipping for B2C, returns management, and stock-level forecasting.
Transportation-focused 3PL companies
These 3PL companies manage different aspects of inbound shipping. 3PL companies specializing in procurement and distribution usually offer transportation services as well. Transportation-focused 3PL organizations handle domestic freight, cover import and export needs, and manage overseas shipping.
3PL companies offering sales-supporting services
Some 3PL providers not only facilitate order fulfillment for their clients, but they can also support certain sales and marketing activities. They may offer brand development services (e.g., logo designing or branded B2B packaging), multichannel platforms management (Amazon/eBay), or eCommerce store management. Sales-supporting 3PL services also collect and analyze various sales data, which can then be used by a client company to improve product development or reordering.
Depending on their business needs, some B2B eCommerce companies partner with 3PL to outsource only specific distribution and fulfillment activities instead of overseeing them in-house.
Some businesses invest in a 3PL service for eCommerce to only handle procurement or warehousing. Some need a third-party logistics provider to ship between their manufacturing facility and a warehouse or receive new inventories from manufacturers and ship these directly to end customers. The use cases are endless, and 3PL can cover them all.
Download the B2B Buyer Expectations Report
We asked B2B buyers if their needs are being met. Here's what they said.
Types of Third-Party Logistics Provider (3PL) Companies
There are six main types of third-party logistics to consider for your business:
1. Transportation-based 3PLs specialize in transportation services such as freight forwarding, shipping, and trucking.
2. Warehouse-based 3PLs provide warehousing and distribution services, including inventory management, order fulfillment, and shipping.
3. Forwarder-based 3PLs act as intermediaries between manufacturers and shippers, coordinating the movement of goods across borders and managing customs clearance.
4. Financial-based 3PLs offer financial services such as factoring, accounts receivable management, and supply chain financing.
5. Technology-based 3PLs provide technology solutions such as transportation management systems, warehouse management systems, and supply chain analytics.
6. Consulting-based 3PLs offer supply chain consulting services, helping companies optimize their logistics operations and improve efficiency.
Should your Business Partner with 3PL Companies for eCommerce?
Although eCommerce is a hot topic for B2B businesses, providing buyers the option of purchasing from you online is only half the battle. B2B eCommerce companies taking online orders via their websites face the challenge of processing and fulfilling these orders, especially as the business expands, and the order volume surges.
How can you orchestrate logistics and avoid getting bogged down in distribution issues? Outsourcing distribution and fulfillment functions to a 3PL provider that knows all the ins and outs of logistics handling could help you optimize your entire logistics network and avoid business disruptions.
Take a look at some of the most telling signs signaling this could be the right time to consider partnering with an eCommerce third-party logistics provider to support your supply chain:
Your business is expanding
As your business grows and sales increase, providing your buyers with a seamless ordering and fulfillment experience will be critical. But instead of dedicating your time to resolving logistics and fulfillment operations, your time can be better spent on winning new customers. What you can do is outsource your warehouse management and distribution strategically. For instance, if you have an increasing number of customers in California, consider hiring a fulfillment center in Los Angeles.
Your business is sensitive to seasonal fluctuations
If your business is affected by seasonal ordering, having the appropriate staff to weather the busy periods is vital. By outsourcing packing and shipping to a 3PL provider, you don't need to worry about scaling warehouses and managing inventory. A third party logistics eCommerce partner can help scale back when orders slow down by reallocating assets.
Insufficient storage space and high storage expenses
Warehouse and storage space costs are a substantial part of the overall fulfillment expense. Once you run out of storage space – which is only natural if your business is scaling – you'll need to put up with increased warehouse overhead. Renting extra storage may be unnecessary as 3PL providers can offer space to store large amounts of products on budget-friendly terms.
You need reverse logistics to be more efficient
Returns and exchanges are inevitable. You have to allocate the proper resources to process product replacements or take care of returned items, which adds more workload to your team. Paring the eCommerce technology and 3PL will help you restore operational efficiencies by handling the return and exchange process.
You have complex shipping requirements
Suppose you are selling products that require specialized handling or shipping, such as hazardous materials or temperature-controlled items. In that case, a 3PL provider can help ensure compliance with regulations and provide the necessary shipping expertise.
You want to save costs
If you want to reduce costs associated with warehousing, transportation, and labor, a 3PL provider can help by leveraging their buying power and expertise to negotiate better rates and optimize your supply chain.
Advantages and Disadvantages of 3PL eCommerce Fulfillment
Hiring a third-party logistics provider to manage eCommerce fulfillment can help you boost your bottom line. Here are some of the ways that 3PL can optimize your business:
Better service quality through greater expertise
3PL providers already specialize in warehousing, transportation, and fulfillment and will bring in all the required expertise that translates into a customer experience. Let the experts focus on logistics while you focus on your business.
Infrastructure and fulfillment cost savings
By outsourcing warehousing and delivery management to a 3PL provider, eCommerce businesses can cut down on infrastructure, labor, technology, and operating expenses.
Optimized inventories
Forget about overloaded warehouses, stock-outs, or obsolete inventory items. A 3PL eCommerce partner will maintain your inventory to meet actual product demand only.
Increased capabilities when expanding to new markets
Shipping certain products internationally may be too expensive. Hiring a 3PL to manage global shipping will help ensure faster deliveries to new geographies at competitive rates.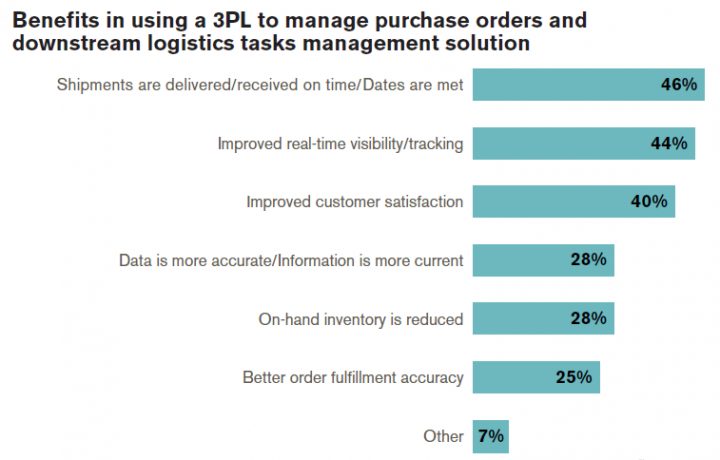 Downsides of Using 3PL for eCommerce
While there are many benefits to using 3PL, there are also some disadvantages. Here are the five major drawbacks of engaging with a 3PL service provider.
Finding the right partner
Finding a quality 3PL partner that understands your industry and will adapt to changing business needs takes time. When choosing a third-party logistics provider, evaluate your business volumes. Think whether a 3PL company can handle your current operations and scale in line with your growing or changing business needs. Evaluate the provider's past and ongoing performance and check whether they have long-term customers. Also, verify that a 3PL provider will support technologies your company uses.
Lack of control
A third party gets control over your business function(s). You'll have to deal with the lack of direct control over products and order fulfillment and will rely on how your 3PL partner delivers the promised services.
If a 3PL fails to perform its part of the contract, it will tarnish your reputation and impact your company's image. In this regard, the previous point no longer seems to be a disadvantage: take your time when choosing a reliable third-party logistics provider.
Communication
Communication can be a challenge when working with a 3PL provider. You must rely on them to inform you about your inventory levels, shipping updates, and other logistics-related information. If there is a communication breakdown, it can lead to delays and customer dissatisfaction.
Integration
Integrating your eCommerce platform with a 3PL provider can be complex and time-consuming. You must ensure that your systems are compatible and that data is transferred seamlessly. This can be a challenge for businesses that need more technical expertise or resources to manage the integration.
Why Manufacturers and Distributors Must Move Online
Why now's the time to adopt eCommerce and start selling online.
Top 3PL Fulfillment Companies for Managing eCommerce Logistics
While some third-party logistics providers specialize in one specific service, others offer integrated solutions. The best 3PL companies for eCommerce provide outsourced solutions to support the entire supply chain cycle.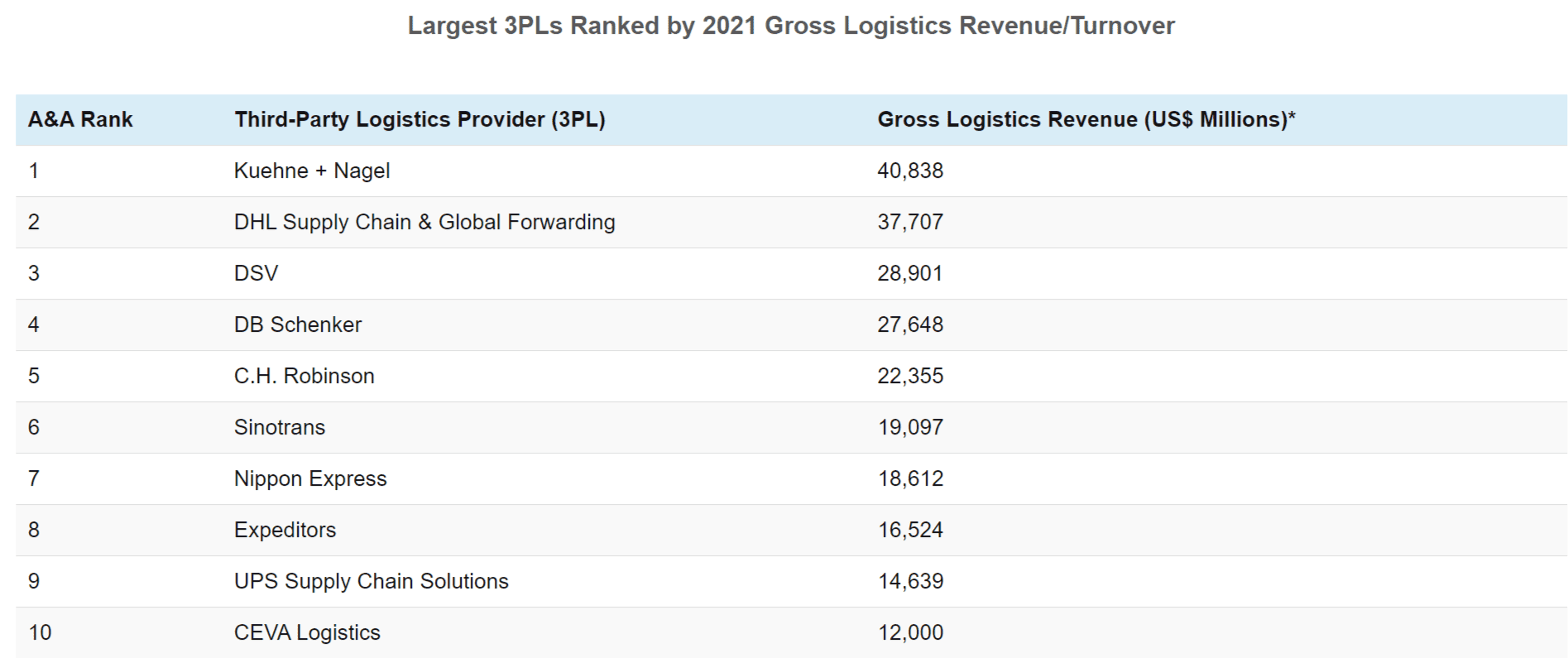 View the entire top-50 list of the largest 3PL companies
Top 3PL providers in the US:
C.H. Robinson
XPO Logistics
UPS
US Xpress
Ceva Logistics
Top 3PL companies for eCommerce in the UK:
DHL International
Kuehne + Nagel
DB Schenker
UPS
Top 3PL providers in Canada:
A.P. Moller-Maersk
Bollore Logistics
C.H. Robinson Worldwide
FedEx Corporation
UPS
Purolator
Top 3PL providers in Asia:
Kintetsu World Express
Nippon Express
Ceva Logistics
Adani Group
vCargo
Top 3PL providers in Australia
Invenco
DB Schenker
eStore Logistics
Toll Group
StarTrack
PikPak
How to Choose a Third-Party Logistics Provider for eCommerce
Choosing the right third-party logistics (3PL) provider for your eCommerce business can be daunting. Here are some factors to consider when selecting a 3PL provider:
1. Experience: Look for a 3PL provider with experience in eCommerce fulfillment. They should understand the unique challenges of eCommerce, such as the need for fast shipping and the ability to handle returns. Ask for references from other eCommerce businesses that have used the 3PL provider. This will give you an idea of their track record and level of service.
Questions to ask:
Have you worked with companies in our industry?
What vertical do you specialize in?
Do they have strong customer references?
2. Technology: The 3PL provider should have a robust technology platform that integrates with your eCommerce platform. This will ensure that orders are processed efficiently and accurately.
Questions to ask:
How easy is your standalone platform to use?
Do you integrate directly with your eCommerce platform through an API?
Do you have a standalone platform you can integrate with through an EDI?
3. Scalability: Your eCommerce business may grow quickly, so choosing a 3PL provider that can scale with your business is crucial. Make sure they can handle your current and future needs.
Questions to ask:
How many orders do you ship each month?
What is your maximum capacity?
How do you handle unexpected spikes in order volume?
4. Location: Consider the location of the 3PL provider's warehouses. You want to ensure that they are strategically located to minimize shipping time and costs.
Questions to ask:
How many warehouses do you operate?
Do you have locations in my high-volume areas?
5. Pricing: Compare pricing from different 3PL providers, but don't make price the only factor in your decision. Look for a provider that offers value for money and can meet your needs.
Considering these factors, you can choose a 3PL provider to help your eCommerce business grow and succeed.
How OroCommerce Can Help
At OroCommerce, we offer extensive integration capabilities to ensure you can connect with the 3PL services of your choice. We also provide headless architecture deployment to help distributors that want to offer 3PL services.
Animal Supply Company (ASC) is a good case in point. The pet food supplier has recently added the functionality to handle 3PL for direct-to-consumer sales on behalf of their retailers.
This enables their retailers to focus on landing online orders and growing their business, while Animal Supply can manage warehousing, inventory, and order fulfillment.
To facilitate these operations, Animal Supply needed a flexible backend solution that would allow them to:
Aggregate order data from their retailer's various front-end systems, sales channels, and other third-party systems
Obtain a single view of all retailers and consumer-related data
Manage and track all order fulfillment operations
Create a more holistic view of the end consumer for retailers
Easily integrate with retailers and provide them with a seamless 3PL flow
With OroCommerce, ASC routes the order to the appropriate warehouse for fulfillment and shares data with the ERP system. As a result, ASC improved the way they work with their retailers by freeing them from the burden of logistics and order fulfillment.
Discover how we can help with your 3PL eCommerce integration
Final Thoughts
The advantages of bringing in a 3PL outweigh the disadvantages and associated risks. Hiring a trustworthy B2B 3PL services provider will pay off in the long run. The added expertise of a 3PL will help you grow, meet customer demands, and improve customer satisfaction.
When considering whether to use 3PL services, first try to identify which functions to manage in-house. Then go through your operational pain points and see where you're falling short – these could be operational areas you'd better hand over to a skilled 3PL.
Estimate how 3PL services can help you trim costs and increase operational efficiencies. Additional purpose-built tools may come in handy. For example, with this simple 3PL Quick Cost Calculator, you can easily figure out how much it would cost to outsource warehousing and logistics.
Frequently Asked Questions: 3PL Logistics eCommerce
Why do companies choose to work with a 3PL provider?
There are seven main reasons why companies partner with 3PL providers:
1. Cost savings: Outsourcing logistics to a 3PL provider can help companies save money on transportation, warehousing, and labor costs.
2. Scalability: 3PL providers can easily scale their services to meet the changing needs of a company, whether it's seasonal fluctuations or sudden growth.
3. Focus on core competencies: Outsourcing logistics to a 3PL provider allows companies to focus on their core competencies and leave the logistics management to the experts.
4. Risk management: 3PL providers can help companies manage risk by providing insurance, compliance support, and contingency planning.
5. Global reach: 3PL providers have a global network of partners and suppliers, which can help companies expand their reach and enter new markets.
What industries use 3PL the most?
Several industries use 3PL (third-party logistics) providers extensively. Here are some of the industries that use 3PL the most:
eCommerce and Retail
Manufacturing
Healthcare
Automotive
Food and Beverages
Chemicals
How much does it cost to use 3PL services?
The cost of 3PL services can range from a few hundred dollars to several thousand dollars per month, based on several factors, including the type of services required, the volume of goods to be transported, the distance of transportation, and the level of customization required.