Oro's mission is to unite and empower B2B businesses to connect with partners and customers across time zones, borders, and languages. To deliver on that promise, we make our solutions usable by as many people as possible. We want to help distributors, manufacturers, and B2B enterprises of all sizes and in all corners of the world build and strengthen relationships with their customers.
That's why we place great importance on creating localization features that make our products intuitive and easy to use in all geographic locations and languages.
Culture and Language Are Important in eCommerce
Research clearly shows the importance of culture in how people research, evaluate, and make purchase decisions. Communicating effectively with international customers requires some understanding of their culture. Despite the prevalence of English in eCommerce, consider that:
English language websites reach less than 25% of worldwide internet users.

56.2% of consumers believe finding information in their own language is more important than price.

9 out of 10 internet users, when given a choice, prefer to visit a website in their own language.

42% of buyers never make any purchase in a language other than their own.

19% of internet users never browse in a foreign language.
Since visiting an eCommerce website is usually the first interaction a potential customer has with a brand, the site should adhere to local cultural norms to decrease any potential friction encountered by users. A B2B eCommerce experience tailored to the language and culture of the shopper makes it easier for customers to navigate and reach their goals while encouraging return purchases.
The Size of Right-to-Left (RTL) Language Markets
Arabic is the fourth most used language online and is spoken natively by more than 350 million people. And like people everywhere, the interest of Arabic-speaking people in eCommerce was intensified by COVID-19. Their desire to buy online continues post-pandemic.  
According to Euromonitor International, Saudia Arabian B2B eCommerce will grow 25% through 2022, making it the fastest-growing B2B eCommerce market in the world. In other markets, such as the United Arab Emirates (UAE), eCommerce is forecast to grow 60% by 2025, according to a similar report from EZDubai.
Online portals such as Sary, Nana, and Noon are among some of the relatively new entrants to the Saudi Arabian eCommerce space, joining giants such as Aliexpress and Amazon.
While countries like the UAE have a high level of English proficiency, Arabic still reigns supreme. And 60% of Arabic speakers prefer to browse content in the Arabic language.
The language situation is similar in Israel. Despite English being widely used, people prefer to shop in Hebrew whenever possible.
Considerations When Switching an eCommerce Site to RTL Languages
For those new to RTL languages, you probably think switching an eCommerce website to RTL is not complicated.
Just get a professional translation, mirror the website, and make a few minor modifications. A simple process, right? Only it's a bit more complex. Here are areas for special consideration.
Spatial orientation
We don't consciously notice it, but the spatial orientation of text directly affects its usability and thus influences our perception of the written word. For example, while readers of LTR text, like English, prefer left-justified text, RTL readers find that visually unappealing. This is a particularly important consideration for international sellers since they must know how to display text comfortably in every language.
Layout
What you mirror when flipping the layout of your store will depend on your web content. In English, the scroll bar would be on the right and navigation on the left. The opposite would be true for an RTL language. Similarly, you'll have to adjust all buttons, tabs, navigation, search fields, and the location of forms.
Navigation
Aside from spatial orientation and layout, navigation elements also impact how people interact with web pages. When designing across cultures, brands should consider the design and orientation of navigational elements. These include navigation buttons, links, breadcrumbs, tabs, navigational aids, and more.
Not everything must be mirrored!
Keep in mind that not all elements must be mirrored. Depending on your product content and site elements, you'll have to decide what needs to be flipped and what to preserve in the LTR direction. This includes:
Brand and product names

Part numbers, prices, and dates

Multimedia icons and players

Icons that don't convey direction
Challenges With RTL Languages on eCommerce Platforms
Many eCommerce operators share the same challenges in adapting websites to RTL languages. Most of these challenges can be grouped into the following:
Maintaining readability with a smaller font
Arabic font is much smaller – and there are fewer RTL fonts available. Keep in mind Arabic lacks italicization and capitalization, and the boldface font usage is limited.
Flipping interface and layout elements properly
Some websites make extensive use of forms, popups, and floated elements. You shouldn't automatically flip them; in some cases, you'll have to indicate separate styling elements and tweak the code instead.
Preserving some LTR elements
Some LTR elements shouldn't be automatically flipped to RTL, like dates, time, brand, or product names. If you're using symbols (as they're non-directional) and punctuation, preserve them in their LTR form.
Managing multilingual stores
If you're selling in multiple countries, you'll either have to create a multilingual website or create separate websites for each locale. The path you choose will require different resources and will affect how you plan out and implement your store.
Finding compatible RTL themes
The digital commerce market is full of plugins and themes designed to convert simple eCommerce sites to RTL. For B2B eCommerce sites, however, RTL may be more complicated. Header issues and complex CSS elements will not flip automatically and might require additional design resources.
How OroCommerce Supports RTL languages
OroCommerce, the industry-leading B2B eCommerce platform, supports RTL languages natively. Unlike our competitors, which require downloading and setting up plugins or themes to do the same, we offer you the ability to enable RTL languages by simply enabling the capability in the OroCommerce admin panel.
Here's why native, out-of-the-box RTL capabilities make sense:
It saves on costs
Many RTL themes and plugins, from simple ones to more sophisticated ones, come with monthly or yearly fees. Furthermore, to make a multilingual store and translate product descriptions and landing pages, you may require other apps – meaning more costs and possible compatibility issues.
It's hassle-free
Since our RTL capabilities are offered natively, there's no need to juggle third-party systems that can overpromise and underdeliver. It's in our interest to deliver timely improvements and maintenance updates, so there's no need to worry that your plugin will stop being supported.
Your UX elements work as expected
The user experience makes or breaks any eCommerce business. The people, their culture, and nuances surrounding RTL languages are vast. When your UX elements work as expected, customers have a better purchase experience and in turn, build deeper connections to the brand.
Nilus: The RTL B2B Marketplace Built with OroMarketplace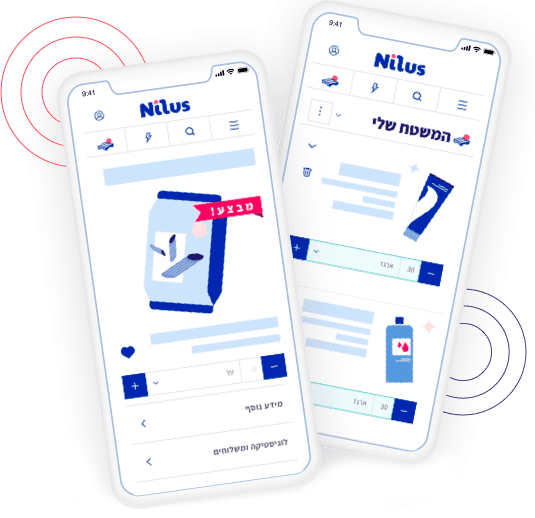 Nilus is a fast-growing B2B marketplace startup that connects grocery stores, shops, and kiosks to the best suppliers. They selected OroMarketplace as their B2B marketplace platform for its out-of-the-box RTL capabilities. Using Oro, Nilus reduced their time to market and created an intuitive and customer-focused design. In only a few months, they launched a fully functional marketplace localized in Hebrew. Looking forward, Nilus is confident Oro will continue to help them redefine the retail ecosystem in Israel.
Read more about the technical side of Oro's RTL capabilities in our RTL documentation.
Do you operate in RTL markets? Talk to Oro about how creating an RTL website can improve your results.