Digitizing your sales processes and order workflows boosts productivity, maximizes your human assets, and can help you close more sales. Automated sales and ordering processes move leads through your B2B sales funnel and pipeline more effectively and smooths order processing to increase customer satisfaction. 
Sales automation brings together all facets of a company to improve accuracy, eliminate redundancies and paperwork, and collect actionable data to improve results. You aren't getting the most from your B2B eCommerce platform if you aren't exploiting its sales automation features. And if your B2B eCommerce platform doesn't provide sales and order automation, it may be time to replatform. 
What is Sales Automation in B2B eCommerce?
Sales automation in B2B eCommerce brings the same efficiencies that manufacturers value on the production floor to the marketing and sales areas.
Most B2B sales leads flow through very long funnels. There are many decision-makers involved and each has its own set of needs. Sales and eCommerce automation systems ensure that marketers and sales reps never let a lead fall through the cracks. 
One survey of sales reps found that only about one-third of their time is spent on actual selling. According to Salesforce research, sales reps spend even less time than that engaged in actual selling. Their survey found that sales reps only spend 36% of their time selling.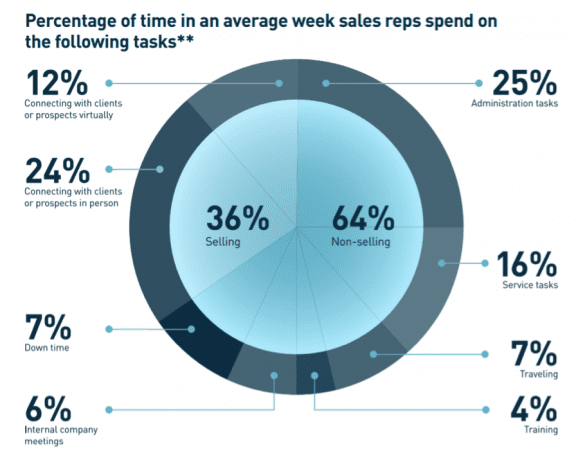 Sales automation for B2B uses software to manage or perform the tasks sales reps and managers need to perform on a regular basis. By automating steps in the sales process, reps and managers spend less time on administrative tasks and more time engaging with leads and customers. Tools such as a CRM allow you to organize and track leads, schedule interactions, create automatically personalized messages, and manage deals. Integrating sales automation tools with other solutions, such as your B2B eCommerce platform allows data to flow automatically from lead pages to your CRM and even be assigned to a sales rep. 
What is Sales Order Automation in B2B eCommerce?
The sales order process begins once the customer gives the okay to make the purchase. For a company that requires prepayment of goods before shipping, the process may look something like this.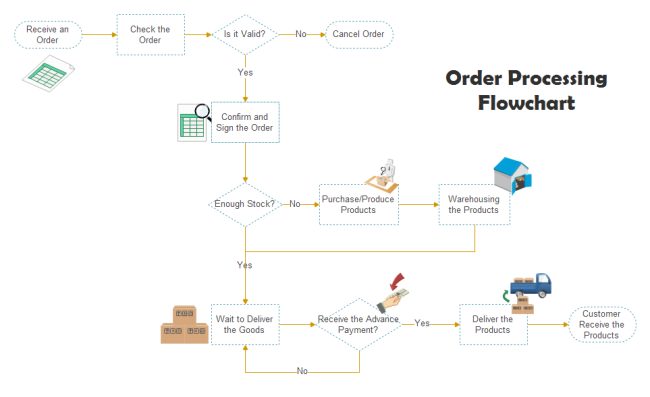 Just imagine if each step of this process was performed manually. There are numerous opportunities for something to go wrong. Whether it's a mistake in entering the customer's shipping information or an error in the items and quantities ordered, almost every step represents a landmine that can destroy the goodwill and relationship you've worked so hard to cultivate with your customers.
Sales order automation removes the landmines, eliminates the data entry, ensures your inventory levels are adequate, and keeps customers happy. These tools and solutions remove the risk of costly human errors, make your business more productive, maximize the use of human resources, and can improve customer relations and your bottom line.
4 Key Reasons to Seriously Consider Sales Automation in B2B eCommerce
As a business owner, operator, or C-suite executive, you've got to make the most of every resource at your disposal. Sales automation and order automation are the tools to help you succeed. By making the most of your human assets, every department benefits. And because you are operating more effectively and efficiently, your bottom line and your customers benefit. Here are the main reasons you should seriously consider unleashing the power of automation on your sales and ordering processes. 
#1 Increases productivity and performance of human resources
No matter your business, personnel costs (and associated benefits) are usually your highest costs and the hardest to control.
But with sales automation, you maximize the use of these expensive resources. Your people will be free to do those things they do best, interact with other people, solve problems, and close more deals. They will have more time to nurture leads and maintain relationships with existing customers. 
Take a task as simple as order entry and look at the impact sales order automation can make.
Imagine you are a B2B seller that receives 700 orders per day. If you are entering orders manually and it takes 15 minutes to enter and check one order, that means one person can only enter 28 orders per normal 7-hour day. To handle your volume (with no capacity for growth), you need 28 people dedicated to order entry. If you paid these 28 employees $15 an hour, it would cost you $14,700 a week in wages alone. That doesn't include social security taxes, federal and local unemployment taxes, and any benefits you offer. That's $764,400 per year just for order entry.
But with sales automation, you could automatically convert quotes to sales orders and skip order entry altogether. Integrate your ordering system with your warehousing and accounting systems and picking tickets and packing slips can be created from the digital sales order which is then converted to an invoice. 
Instead of 28 employees devoted to order entry, you might have one or two that take orders by phone. 
#2 Streamlines and smooths tasks
One of the most common errors with sales paperwork is quoting the wrong price. Correcting the error, especially if it is not in the customer's favor is a surefire way to lose goodwill. 
Sales automation can begin as early as the quotation process. A B2B eCommerce website with a robust pricing engine can automate the quoting price for you. Customers enter their information in your digital RFQ form and the pricing engine can automatically generate a quote and email it to the customer or forward it to a sales representative for approval. Automated pricing rules make sure every quote and every sales order receives the proper price every time. Digital conversion of a quote to a sales order eliminates the chances of human error.
Integrated sales and warehouse systems keep inventory levels up to date and provide customers insight into stock levels. Combining geolocation services with automated ordering can identify the most appropriate warehouse for shipping and offer customers accurate shipping quotes and quotes for the time in transit. Warehouse staff no longer spend their time providing shipping estimates. 
#3 Eliminates repetitive tasks
How often does your sales rep enter contact information into their lead tracking system? Does your CRM automatically update when emails are sent or do sales reps enter information over and over again? Sales automation tools can automatically update when leads click a link you send or open an email. 
How many times must your staff enter the same information once the order is received? Do they enter the customer information in the quote, the sales order, and the invoice?
Does the warehouse enter the shipping information from the sales order into the shipping system or 3PL eCommerce integration? Does the shipping department enter the tracking information from the shipping program into the order history?
Every time someone enters data there is a chance for human error. Sales automation keeps leads moving through the pipeline without falling through a crack. Sales order automation eliminates the need for entering the same data over and over again and risking a data entry error. 
# 4 Improves customer relations and satisfaction
No customer wants to get a phone call telling them the items they just ordered aren't available. Backorders don't contribute to customer satisfaction. With integration and automation, your inventory level data can be visible from your ordering portal or website, so customers have visibility into stock levels before they place an order.
With customers entering data for their own orders, the chances of order entry errors are decreased. Also, if you make order history available online and send tracking updates automatically, customers can self-serve to find the information they want. 
When your customer service staff are freed to focus on solving customer problems, instead of focusing on routine activities, your clientele will be able to tell the difference. 
Automation lets your humans focus on interacting with other humans because that is the best and highest use of those costly resources.
Taking a Strategic Approach to Automating Sales and Ordering
Do you want the benefits of automated sales, but aren't sure where to start? It pays to take a strategic approach. Carefully plan your automations, identify the channels impacted, recognize the integrations necessary, and take an eCommerce MVP approach where possible. Let's break it down.
Planning sales automation
Every good strategy starts with a plan. Begin by identifying which processes can be automated. McKinsey & Company estimates that more than 30% of sales and order processes can be automated.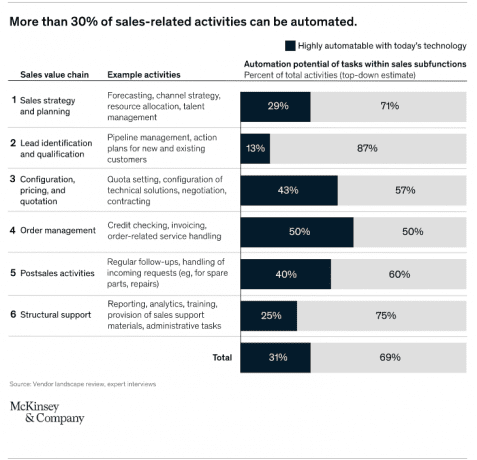 Make a list of these processes and then map the step-by-step flow of how the sales process is performed. This map not only gives you a visual representation of the process but also helps you identify how information flows. When you automate the sales process, you won't necessarily duplicate the manual process. Analyzing the workflow may uncover efficiencies to correct in addition to automating sales. 
Common sales and sales order processes that are ripe for automation include:
Adding leads from landing pages

Logging follow-ups

RFQ workflows 

Converting quotes to sales orders

Creating sales orders

Sales order processing 

Order tracking 

Converting sales orders to invoices

Receiving invoice payment

Following up after the sale
When mapping your workflows, pay careful attention to exceptions, no matter how small they may be. For example, what happens when a customer enters an invalid shipping address or submits a purchase order for an expired quote? Automation handles exceptions exceptionally well when they are identified, and the workflows established in advance. 
What channels will be impacted?
Are you automating sales for the entire company or just one or two channels? For example, will the same sales ordering system be used for offline orders as online orders? If sales reps take orders in the field, how will they be entered?
How will offline and online leads be qualified and handled? Will you use the same system? If you take an omnichannel approach to sales, you'll need to take an omnichannel approach to sales and order automation. 
If this is your first experience with using B2B eCommerce or any type of selling automation, you may want to migrate existing customers to the automated processes first and then roll out automation for new customers later. This is a variation of the minimum viable product (MVP) approach that we will discuss later. 
Identify integrations 
As you map your processes, it is important to identify all integrations you will need to create a cohesive architecture.
What solution will serve as the source of truth? How will data flow and how often systems be synchronized? For example, when an order is entered into the eCommerce platform, will it flow through the ERP or an order management system or will it transfer directly to the warehouse management system?  These integrations are crucial to making the most of automated processes and also offer an opportunity to improve customer experiences. For example, when an order flows automatically to the warehouse for processing inventory levels can be updated automatically and shared back to the eCommerce system. This gives customers real-time insight into inventory levels and eliminates the disappointment associated with backorders. 
Don't forget third-party integrations as well. Will you use independent PIM for eCommerce to keep print and online catalog information consistent? How will B2B 3PL shipping information get automatically transmitted back to the customer? 
Define your MVP
To minimize the initial commitment of time and money, it pays to take an MVP approach to sales and order automation. 
You may pick a single process, such as order processing or lead management, to automate. Then once the MVP is rolled-out, it will serve to validate the value of automation, get stakeholder buy-in, and serve as the basis for further automation. 
Learn more about the MVP approach to B2B eCommerce in our guide.
Sales Automation Tools
When it comes to tools you can use to automate the sales process, you'll find no shortage of options.  But choose carefully. Many order automation tools are geared to the B2C market and won't provide the functionality you need to handle the complexities of B2B selling.
B2B eCommerce platform 
Your B2B eCommerce platform should provide powerful tools for order and sales process automation. It won't replace your sales professionals, but it will free them to focus more on nurturing relationships and solving problems.
Look for a platform that gives you a flexible workflow automation engine. You want the power to define how orders and data flow through your systems. Some platforms require your workflows to conform to predefined processes. Unless you want to be locked to how the vendor thinks your work should flow, opt for a flexible workflow engine.
Another must-have feature is the ability to allow your customers/users to define their own permissions and workflows. Workflow automation should make it easier for your customers to get the approvals they need to keep purchases on track. By empowering your customers to create accounts that match their own internal hierarchy, they benefit from your automated processes too. 
And because your B2B eCommerce platform will not be a stand-alone solution, look for open-source code and a robust API to make integrations easier. 
CRM
A CRM offers the automation tools to keep your funnel and pipeline flowing. By automating your marketing efforts, each segment gets the message they need at the most appropriate time. 
When leads and contacts flow directly from landing pages and lead generators to your CRM, you eliminate the need for data entry and the possibility of human error in entering data.  Instead of inquiries from prospects flowing to a single email box, automatically create a lead and assign it to a sales representative for qualification to keep the process on track. Create segments so marketing efforts are automatically tailored for the prospect and the vertical. 
Automate the qualification processes with a CRM too. For example, if your lead holds one of several predefined roles and consumes certain content, you can automatically move the lead to qualified status. 
Look for a CRM that can integrate with a variety of marketing solutions. An open-source code and API will enable integration with SMS marketing solutions, email marketing solutions, and support your social media marketing efforts as well. Integration with your eCommerce platform is another must-have feature if it is your goal to eventually automate your sales and ordering processes end-to-end. 
Calendars/appointment schedulers
Stop wasting time setting appointments on the phone and through email exchanges. Those processes waste time and are inefficient. Instead, use a calendar and appointment-setting automation to digitize the appointment-setting process. 
These appointment setting tools allow sales representatives to share a link to their calendar and with a click, the lead sets the appointment for a product demo or introductory sales call. Integrating these tools with your CRM gives you a 360-degree view of your contacts and helps sales reps schedule their time most efficiently. 
Chatbots
Some chatbots use artificial intelligence to automate some sales and order processes. These automation tools hand over routine inquiries to well-trained bots while humans take care of the non-routine needs of prospects and customers. Other chatbots work on a rules-based process that seems very close to AI powered eCommerce bots from the user's point of view.
Chatbots are great automation tools for handling sales inquiries or automating support after the sale by handling questions about shipping and return authorizations. Other sales support processes that can be automated with chatbots are troubleshooting products or providing answers to product information queries. 
Increasingly, buyers prefer a self-serve model, and by automating some of the after-the-sale support processes you not only offer self-serve, but you can provide 24/7 support without increasing staff. If your chatbots collect lead information as part of their workflow, this information can be automatically added to your CRM and assigned to a sales rep. 
A Tale of Two Sales Automation Successes
How companies automate their sales and ordering processes is as unique as their manual business processes. OroCommerce, with its OroCRM native integration, provides companies with highly customizable automation solutions that offer high functionality right out of the box. Because both products allow you to customize workflows, you define your sales and order processes without being locked into fixed procedures. 
Here are two tales of success by two very different companies to help you learn how to automate your sales process.
Dunlop Protective Footwear
Dunlop Protective Footwear designs, develops, and manufactures footwear for workers in agriculture, fisheries, food processing, construction, oil and gas, and mining industries.
Their sales and customer support reps spent their time entering orders received by phone, fax, and email. Each order had to be manually typed into their system, a process that was open to human error. And when they weren't entering orders, they were fielding inquiries about stock levels, order status, and tracking information. 
As a company that was built on offering exceptional customer service and support, it spent so much time on inefficient processes, that it was difficult to find the time to grow. 
Management knew that needed an eCommerce platform that could put the customer in the driver's seat and in control of their experience. After looking at Sitecore and Salesforce, they knew they needed more in the way of native B2B capabilities. OroCommerce was a natural choice. 
They used OroCommerce to roll out a new customer-focused website. Now, instead of calling, emailing, or faxing their orders or inventory questions, customers simply go online and see stock levels. Customers place their orders and receive the appropriate pricing. And once the order is placed, customers receive automatic updates with their tracking information. And because OroCommerce supports multiple websites from a single backend, they were able to create 12 country-specific websites.
Staff benefits from improved order accuracy (fewer problems to solve) and automated new customer onboarding. They spend more time building relationships and less time entering orders. Automation only took 4 months to complete and once finished, Dunlop was able to reassign employees from manually assisting customers with orders and order entry to more productive, high-value tasks. 
Animal Supply Company
Animal Supply Company is the largest pet product distributor in the US. Before upgrading their tech, they operated with four different webstores that were supported by a network of regional warehouses and numerous ERPs.  Not all products are available in all areas, some customers operate with exclusivity, and all customers need their own product catalogs and price lists. Their highly-fragmented system was difficult to navigate for customers and sales reps alike. 
They began their automation with a headless implementation of OroCommerce to serve as a hub for all of their ERPs. Data from all their catalogs flows into the eCommerce platform. Next, they used the pricing engine to create personalized price lists for each customer. Integration with the ERPs updates stock levels every night, so customers always know what is available.
Now, every customer that logs in accesses their own catalog of approved products and prices. When they place their order, it is automatically routed to the correct warehouse for fulfillment. Because they selected an eCommerce platform with a rich API, they were able to add web-based apps, like the ability to place an order with just a snap of a picture from a cell phone. 
Automation simplified the complexity of Animal Supply's business while improving the customer experience. 
Wrapping It Up
If you are tired of mountains of paperwork, endless data entry, correcting mistakes, and seeing your employees perform the same tasks all day, every day – it's time to start automating sales and ordering processes.
Sales automation systems keep the sales flowing and order automation systems keep them headed out the door. 
Automation reduces human errors, helps people work more effectively with more efficient systems, and makes the best use of your human resources. It's a way to improve customer satisfaction and your bottom line.
Take a strategic approach to determine what processes are best suited to automation and identify how data will flow and what integrations will be necessary. Be sure to select sales and order automation tools with the flexibility to conform to your processes without locking you in with predefined workflows.
Frequently Asked Questions
What is sales automation? 
Sales automation uses the power of software to eliminate the need for sales reps to perform repetitive, administrative tasks. Through the use of AI and other technologies, sales reps are focused more on closing deals and human interactions and less on data entry and report creation. 
What is order automation?
Order automation uses software to replace manual systems for sales order processing. Instead of taking orders on the phone, customers enter their orders directly through an eCommerce platform or digital portal. Once entered, digital orders automatically move through systems to be processed, shipped, and invoiced.
How does automation impact the bottom line?
People make mistakes. Whether the shipping address is entered incorrectly, or the wrong quantity or SKU is added to the order, data entry errors cost time, money, and loss of customer goodwill. Automation reduces the amount of money spent correcting human errors. It can also reduce or eliminate the need for employees to perform certain repetitive tasks, allowing them to work more efficiently.
Does implementing an automation system take very long?
The amount of time to implement an automation project varies by the complexity of the project. Some projects can be implemented in as little as 4 months while other projects may take 6 or 7 months to implement.