While overall US retail sales have rebounded relatively quickly following the COVID-19 dip, many retailers are closing their doors permanently. For many in the apparel, footwear, accessories, and gifts sector, the freeze in consumer spending and the shift to online buying has resulted in a record level of bankruptcies and liquidations.
Online sales have been trending upwards for years, and the COVID-19 crisis accelerated the shift to online retail. US Census bureau's data reveals that eCommerce sales in the second quarter rose from 11% to 16% of total sales. This trend even boosted categories generally reliant on brick-and-mortars such as automotive eCommerce, industrial products, and grocery sales. The increase even carried into categories such as clothing and footwear, where sizing and fitment make eCommerce more challenging.
In this September 2020 roundup, we explore the latest in manufacturing, distribution, marketing, customer experience, supply chain crisis, and B2B marketplace news. We'll share how B2B eCommerce businesses are capitalizing and adjusting to this climate and what businesses can learn from these actions.
September 2020: Shift to Digital Continues Among B2Bs
ECommerce gains an additional 5% share of retail sales due to COVID
The data is in, and the pandemic has moved an additional 5% share of sales to eCommerce retailers. The total share of eCommerce sales now stands at 16.1% and represents $212 billion in sales – a 37% increase from the first quarter of 2020.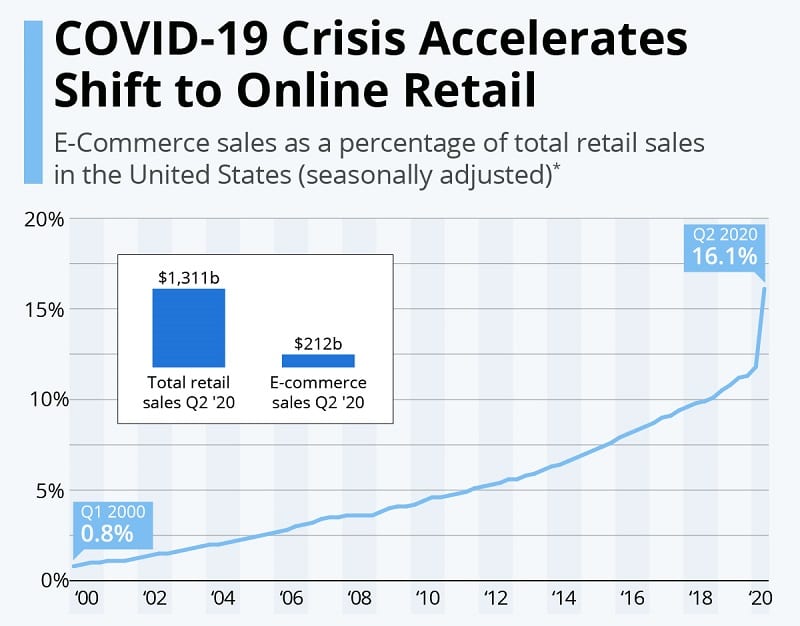 Oro's B2B eCommerce Solution OroCommerce Named Major Player by IDC
Oro gained Major Player status and joined the top echelon of IDC MarketScape on B2B Digital Commerce Platforms. The report evaluates B2B-focused digital commerce vendors in the $6.6 trillion digital commerce space.
Holiday activities placed on hold as customers intend to increase spending
Yieldify surveyed 400 eCommerce leaders and 2000 consumers across the US and UK and discovered that over 33% of eCommerce companies choose to opt-out of peak season marketing campaigns this year, while consumers display a positive intention, with 34% planning to increase spending.
Global B2B eCommerce market on upward swing into next decade
According to a recent study, the global B2B eCommerce market will reach $51.23 trillion by 2030, growing by 14.4% annually over 2020-2030, driven by the shift to digital transactions among enterprises.
COVID-19 exposes inefficiencies in accounts receivable and greater need for EDI
The pandemic is highlighting long-standing inefficiencies in the B2B accounts receivable process. Manual data entry, standardization issues, and erroneous data are issues routinely handled by AR personnel. However, remote work has exacerbated these problems and brought to light the need for improved electronic data exchange (more about EDI in eCommerce). 
B2B and B2C realms of eCommerce heading for convergence
As the eCommerce environment grows more sophisticated, whether the business is in B2B or B2C will matter less, predicts Vaibhav Dabhade, founder and CEO of Anchanto, a B2B eCommerce data solution provider. He reports a noticeable push by SMBs to scale their eCommerce channels.
Budget cuts and postponed deals remain biggest struggles
One of B2B sales teams' biggest struggles is the budget cuts their customers face, halting any deals in the pipeline. B2B sellers are prioritizing building relationships and personalizing B2B eCommerce experiences for the foreseeable future.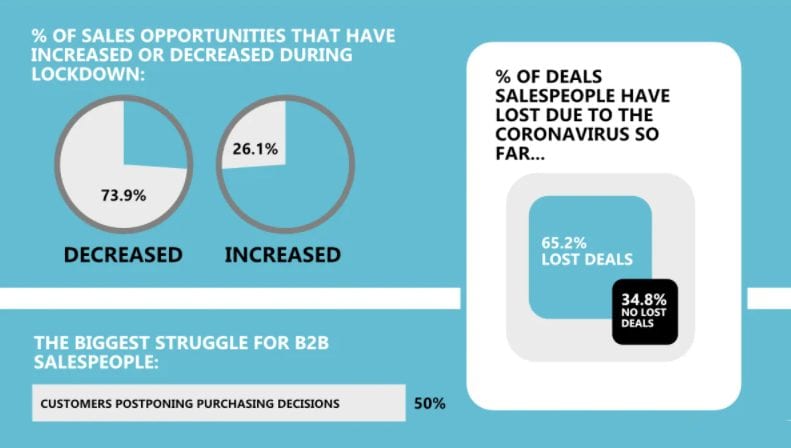 Manufacturing News in B2B eCommerce
Free Oct 24 Webinar: 4 Ways to Find Hidden Costs in Manufacturing
This free webinar hosted by IndustryWeek will highlight how manufacturers can identify and execute cost-saving strategies in the areas of application integrations, shop floor efficiency, hour tracking, and scrap rates. You don't want to miss this one!
Demand Surges For Connected Worker Solutions Due to COVID
COVID-19 has rekindled interest in connected worker solutions. Industrial workers are discovering the value of augmented reality for maintenance repairs, equipment servicing, and more. Connected worker solutions are eliminating the need to travel to industrial sites. Execs that viewed AR as a sci-fi gadget are being won over by productivity improvements and reduced travel bills.
Distribution News in B2B eCommerce
Five Considerations for a Successful Product Launch
How a package arrives impacts brand impressions. But too often packaging materials are overlooked. Distributors should carefully consider packaging and verify the performance of packaging materials before the product launch. Packworld lists the five packaging considerations for a successful product launch.
B2B Buyers Want Self-Service and CPQ Makes it Possible
For many B2B customers, a B2C-like buying experience is still just a dream. Manufacturing products tend to be complex and buyers need customized solutions. Digitizing the Configure-Price-Quote workflow is an important step in creating the experience buyers want..
Marketing and Customer Experience in B2B eCommerce
The State of B2B Digital Advertising
B2B digital ad spend continues to increase this year and is actually accelerating. Jillian Ryan, eMarketer principal analyst at Insider Intelligence, joins fellow principal analyst Nicole Perrin to discuss why that is, and what the future holds for in-person events.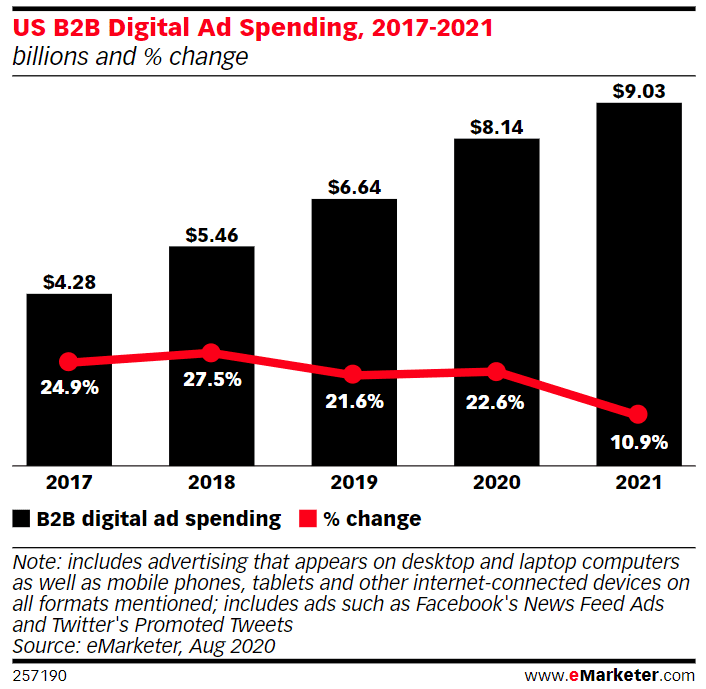 Debunking the 3 Myths Around B2B eCommerce
Customers should be any business's number one priority, and that includes B2B sellers, too. This article debunks the three most common customer experience misconceptions surrounding B2B eCommerce and shows how self-serve options enhance personalization.
Supply Chain News in B2B eCommerce
Gartner's Top 25 Supply Chains of 2020
IndustryWeek created a slideshow with Gartner's list of the world's leading supply chains. Gartner ranks organizations by how purpose-driven they are, how transformative they are, and how well they embrace digital.
B2B Marketplace News and Success Stories
Businesses are moving to B2B marketplaces at record pace
B2B buyers turn to marketplaces for products and services that might be inconvenient to purchase or no longer available on traditional channels. As a result, business is booming on Amazon Business, Alibaba, and other rapidly growing B2B marketplaces.
Xometry raises $75 million to expand custom manufacturing marketplace
Xometry, a seven-year-old 3d-printing startup based in Maryland, has expanded into an online marketplace helping B2Bs find manufacturers across the world with excess capacity to build whatever they need.
Tradesquare raised $2.5 million ahead of its launch this week
Five month old Australian B2B wholesale marketplace startup, TradeSquare, arose during the COVID-19 pandemic and just raised $2.5 million ahead of its launch later this week. 
Protolabs, a 3D printing manufacturer, expects a stronger Q3
While B2B eCommerce might not have been a priority for manufacturers, COVID changed that. Protolabs, a manufacturer of metal, plastic, and silicone parts offers rapid prototyping and only sells online. This is one manufacturer that has embraced the possibilities of digital.
Hope You Enjoyed This September 2020 Roundup!
Hope you found this September 2020 roundup a good read! Have we missed something? Would like to submit an article or statistics for inclusion in our next roundup? Please let us know on Facebook and Twitter or in the comments below. As always, keep checking the OroCommerce blog for more updates!