While some EU economies fully removed all coronavirus-related restrictions over the past month, many others, including the US, UK, and Canada, have done so only partially.
Countries in Asia and Latin America have shown surprising vaccination gains, many having vaccinated a large share of their populations. Japan, South Korea, and Brazil, previously seeing either high case numbers or slow vaccination rates, are now poised to overtake the US and many European countries. According to the New York Times, higher vaccination rates in many Asian countries can be attributed to less vaccine opposition and fewer anti-vaccine movements in general.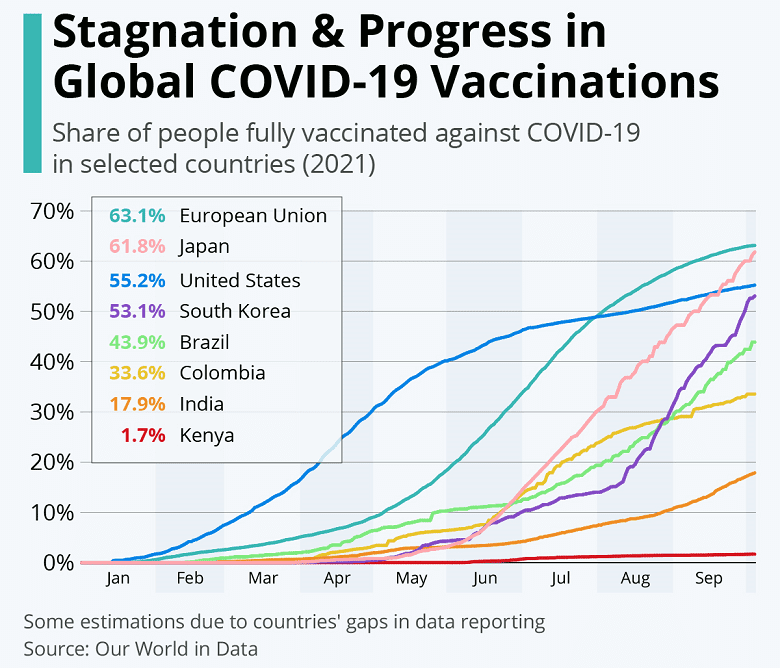 This September B2B eCommerce news roundup brings us news and trends shaping B2B eCommerce, B2B customer experience, manufacturing, AI in eCommerce, and continued B2B marketplace developments. We explore various industry news, customer trends, and B2B success stories.
Here's What Happened in B2B eCommerce in September 2021
Gartner's 2021 Magic Quadrant for Digital Commerce
The Gartner Magic Quadrant for Digital Commerce is the world's leading research publication helping business leaders make smart technology decisions. Gartner represents its analysis in graphical format (magic quadrant) of top vendors in the market, and through an in-depth analysis and comparison through its Digital Capabilities research.
Oro, the company behind OroCommerce, the leading B2B eCommerce platform, took first place for the B2B Digital Commerce Use Case and ranked fourth-highest for B2C and B2B Digital Commerce on Same Platform. Follow the link below to download your complimentary copy of the report. Learn about what makes Oro different, explore various vendor offerings, and discover the trajectory of the eCommerce and B2B eCommerce markets.
Sustainability: not a buzzword anymore
A recent survey of more than 8,000 consumers in the European market and over 60 brands by Bain & Company demonstrated the importance of sustainable brand strategies. Bain identified "30 elements of value" that impact customers and their role in driving business growth. The study makes numerous correlations between brands that scored high on sustainability metrics and generated standout revenue growth in their industries.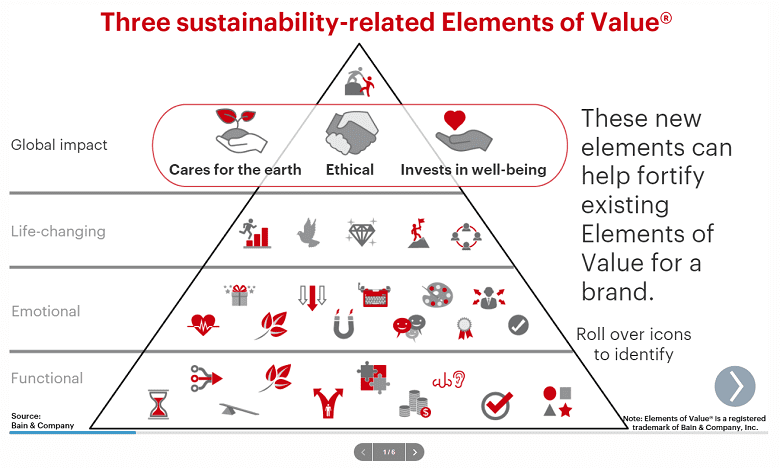 Download Bain's infographic here
Developing an ethical technology mindset
The pandemic brought widespread digitization. Digitization, in turn, brought transparency, ethics, and fairness to the top of the agenda. A new MIT SMR Executive Guide in partnership with Deloitte explores what the future holds for managers, executives, and other leaders. This series was launched on September 20 and is ongoing, so articles get added to the collection as they appear.
Access the whole collection here
Increased B2B digital sales are here to stay
Distributors should expect to see better eCommerce days in the coming year if recent Digital Commerce 360 survey results are any indication. When asked how much they projected their eCommerce revenue to grow, most distributors stated they expect to see increased digital sales in 2022 compared to 2021, with a small percentage saying that they expect numbers to remain unchanged, decrease, or unsure.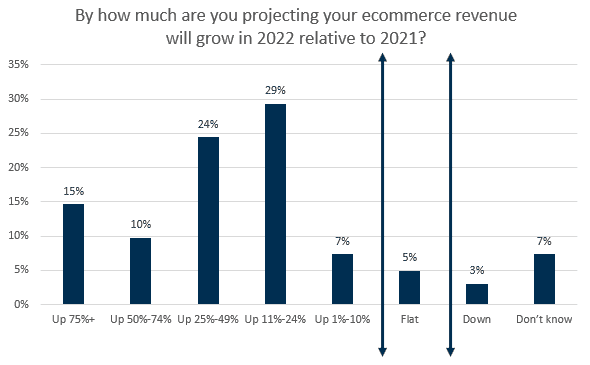 Distributors state websites are a priority but face numerous challenges
As B2Bs started selling via online sales channels, they realized a few things. The majority of their B2B buyers turned out to be digitally savvy, and self-service purchasing was both easy and convenient for them.
According to research conducted by Digital Commerce 360, improving the user experience is the top priority (but also the biggest challenge) for distributors. While the website experience has long been an underutilized business opportunity for distributors, the pandemic has greatly accelerated the adoption of online portals, B2B eCommerce, and other digital selling tools.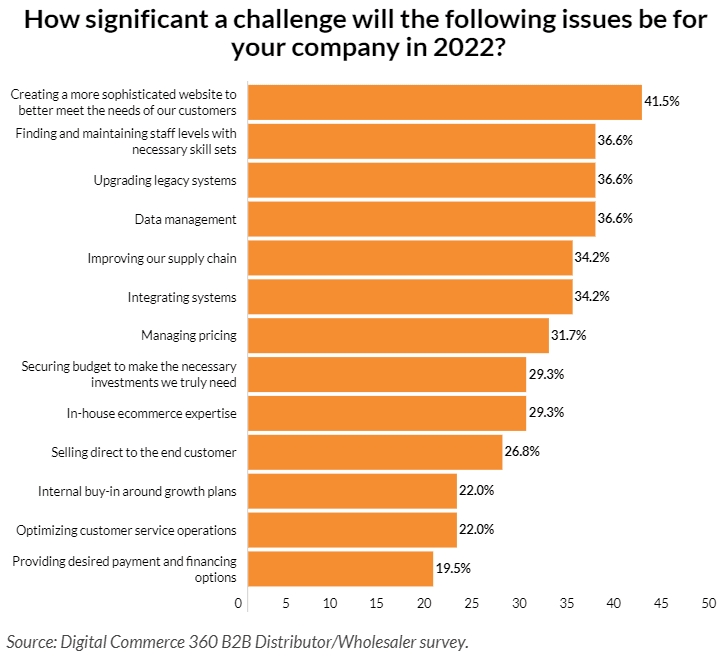 Learn how to build a website for distributors
Do manufacturers need a website (or update their existing one)?
It's no secret that B2B buyers search for suppliers online. Their expectations are much higher than even a few years ago, they're much more informed and more willing and ready to purchase over digital channels. However, some manufacturers don't have a website, others have one, but it's not attracting the right type of customers – or enough of them. In a guide on websites for manufacturers, Thomasnet covers all the critical components of building and growing an online manufacturer presence.
Read the guide to manufacturer websites
The key to B2B customer focus and operational efficiency
How do you build great B2B buyer experience, how does digitizing operations help, and what tools are needed? We sit down with the founder of digital operations platform Marello and eCommerce expert Falco van Der Maden to get some answers to these and other questions. We touch upon shifts in demographics and technology, the complexity of modern B2B customer experiences, and the fragmented nature of most business systems.
B2B eCommerce News
Questions about leadership: your continuous improvement (CI) journey
IndustryWeek's Ask The Expert column helps manufacturers out with answers to common leadership questions. In this column, Larry Fast answers a common question about crafting a CI model around an established CI program. According to Fast, "The biggest reason companies fail is because the leadership does not have the right mindset to be successful." He suggests focusing on projects that will yield quick, yet tangible wins. This has a positive impact on garnering support, boosting adoption, and reinforcing the understanding of initiatives.
Read the complete article on IndustryWeek 
Package design, sustainability, and eCommerce
We've seen how sustainability permeated many aspects of business, and now it's the packaging industry's turn to tackle the challenges of packaging waste and pollution. Personalized experiences, convenience, sustainability, and remote working are well addressed by digital commerce already. However, "As we demand products coming from digital stores, we demand that we do something about the packaging waste." said Ray Woder, Global Industry Business Consultant at Dassault systems.
Learn more in Packaging World's article
Employee health tips for remote work environments: introverts
Depending on who you ask, introverts (the quiet and reserved types) make up a third or half of the population. To them, remote work environments have been both a blessing and a challenge. The recent EHSToday publication shares some quick advice on managing relationships and improving productivity for introverts in today's digital workplace.
Visit EHSToday for more information
B2B Marketplace News
Jeff Bezos among investors for Indonesian B2B marketplace
Ula is an Indonesian B2B marketplace designed to streamline Indonesian supply chains, offering customers greater selection and lower costs. In less than two years since launch, the program has now expanded to 6,000 stores and 70,000 products. What's more interesting is that Jeff Bezos, Amazon's former head joins the latest seed round.
Chicago-based B2B alcohol marketplace raises $100 million
Provi, a Chicago-based B2B marketplace that connects alcohol distributors with bars and restaurants, has raised $100 million this year for a $750 million evaluation. The ordering platform is expected to continue growing its revenue 20x as it expands across the country.
Read Provi's success story here
Sustainable suppliers B2B marketplace gains funding
Novi focuses on sustainable materials needed to develop personal care products such as toothpaste, hair care, cosmetics, and more. By connecting suppliers and third-party manufacturers, Novi ensures adherence to standards, better sourcing options, and speeds up procurement for brands.
Read Novi's success story here
Agritech marketplace revolutionizes Pakistan's supply chains
Lahore's Tazah is a B2B agritech marketplace that connects farmers with retailers. The marketplace hopes to make a dent in the massive agricultural industry, targeting fruit and vegetable sellers. The goal is to reduce post-harvest wastage, boost productivity, and lower the cost of fruits and vegetables for the retailer and the end-consumer. 
Read Tazah's success story here
Live Marketplace Demo Webinar
Interested in amplifying your digital commerce presence with a marketplace, or starting a marketplace from scratch?
Join our free live demo of OroMarketplace, the integrated and B2B-focused online marketplace platform. Even before its launch, Gartner featured Oro's marketplace solution in the Marget Guide for Marketplace operations applications.
Learn about what sets Oro apart and see the marketplace platform in action. Discover the must-have capabilities for yourself and how our platform handles any marketplace selling scenario.
Don't wait until last minute. Join us for Thursday, October 7, 11 am EDT / 5 pm CET
Thanks for reading our roundup!