At the end of September 2022, the US Bureau of Economic Analysis released a report on second-quarter GDP estimates. Findings confirmed that the US economy keeps contracting amidst global uncertainty. Indeed, high inflation, geopolitical uncertainty, and the rising cost of living contribute to growing worries for B2B businesses, retailers, and consumers alike.
Consumer spending is by far the largest contributor to the overall GDP picture. Rising inflation, growing rent prices, and higher energy bills mean that people should be struggling to make ends meet. Therefore, the economic slowdown should, in theory, push consumers to spend less. Manufacturers, distributors, and other B2B businesses will have to respond by raising their prices further, eventually putting more pressure on the end consumer.
The latest data on consumer spending, however, paints a different picture. While expenditures on goods stabilized and even declined, spending on services continues to increase, likely due to continued spending on food services, accommodation, and business services.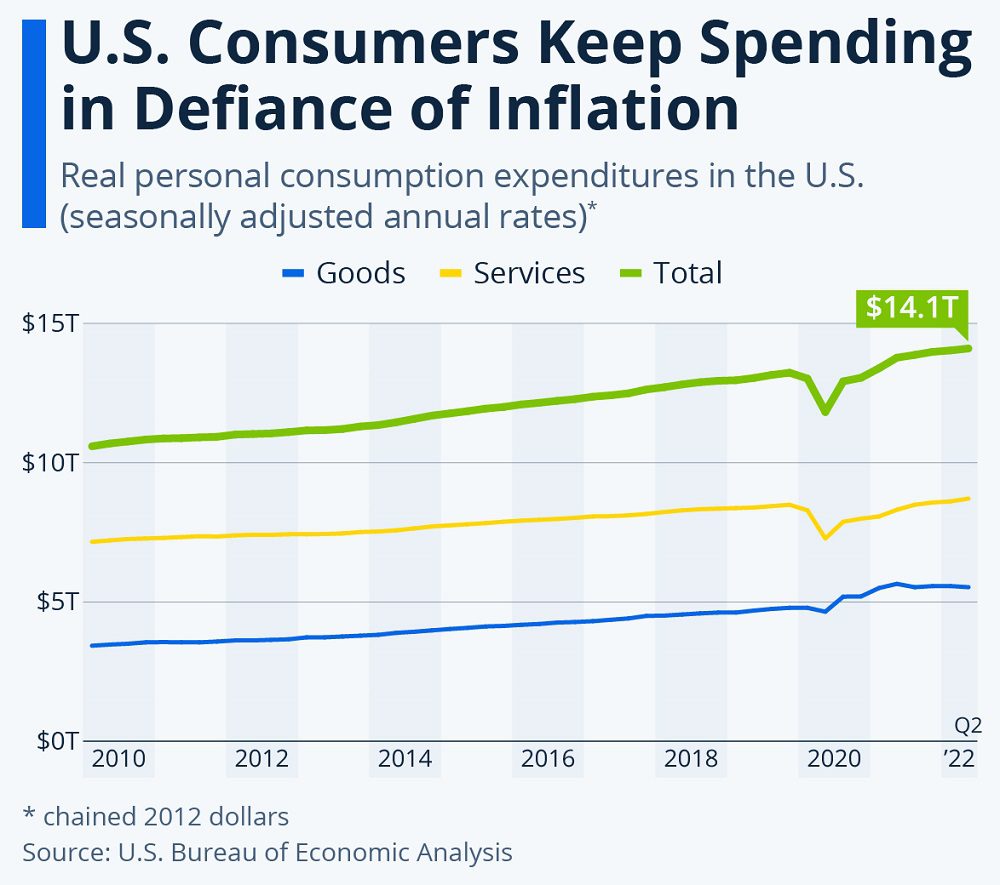 While consumers kept spending despite rising prices through the second quarter, there are some warning signs as spending on goods, led by food and beverages, declined for the second consecutive quarter. 
In this September 2022 B2B eCommerce News Roundup, we'll discuss the ongoing supply chain crisis, what's happening in B2B eCommerce, and the outlook for manufacturers, distributors, and other sellers. Towards the end, we'll talk about some B2B marketplace and commerce success stories.
B2B eCommerce News
Supply chain woes continue in the background
Consultants at QIMA published a supply chain report, where they compiled data from over 400 global sourcing businesses into easy-to-read charts. When asked which supply chain disruptions ranked as most impactful in 2022, only 15% stated the war in Ukraine, while 76% blamed logistics issues and port disruptions.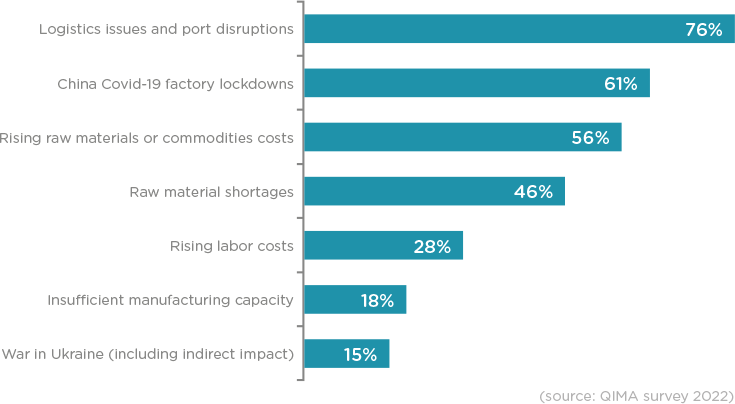 See more charts and report findings here.
However, they are not the only ones believing that supply chain disruptions aren't going away anytime soon. According to Material Handling & Logistics, another supply chain publication, the challenges in getting materials to factories directly impact business confidence.
Referencing the National Association of Manufacturers' surveys, they claim that 78% of companies think supply chain difficulties will continue, with fewer than 11% expecting improvement by the end of the year. Additionally, attracting and retaining a workforce remains a top concern for manufacturers.
Read more about their findings here.
Parcelization: Disrupting B2B eCommerce
While normally, customers work with importers and distributors, this will reduce over time, believes Michiel Greeven, EVP at DHL Express. "We will see smaller shipments going straight to the end customer, and this is already happening." Advancements in fulfillment technologies and services and the prevalence of D2C eCommerce promise to propel this trend forward.
Learn more about parcelization here.
Biggest B2B marketing spending mistakes
When it comes to marketing, many businesses tend to get lost while navigating the complicated waters of online advertising. In this article, author Darwin Liu from X Agency, a digital marketing agency, talks about the five common B2B eCommerce marketing mistakes when measuring return on advertising spending.
How to make the most of your advertising budget.
Why B2B brands are still lagging behind
There's no denying that B2B eCommerce is booming. Many businesses focus their attention online and undertake successful transformative projects. However, others are still reluctant to get themselves onboard fully. In this article, Matt Binz of The Mx Group gets to the bottom of why that is.
Find out what's holding brands back here.
B2B Podcast: Marketing strategies in B2B commerce
We recorded our fifth episode of B2B Commerce UnCut! This time we sat down with Kurt Hoffman and Joshua Williams from Petra to talk about how eCommerce brands can make the right marketing moves. We discussed everything from what works and what doesn't, the challenges that await, and what will matter in the future.
B2B Manufacturing News
Manufacturing hangs on to growth despite sliding orders
The Institute for Supply Management published a report on the manufacturing sector, claiming that despite numerous challenges, the industry is maintaining steady growth. The reason? Production. One respondent noted that "production is steady, allowing reduction of backlog amidst slightly softened demand," even as economic pressures risk slowing down orders.
Read more about the report and its findings.
How predictive maintenance is going mainstream
By leveraging IoT, machine learning, and predictive analytics, brands can identify patterns during production cycles, compare them with historical data, and identify warning signs before they become critical. This will allow companies to better allocate resources, identify risks, and take timely action to avoid disruptive consequences.
Find out how preventative maintenence is gaining traction.
B2B Distribution News
Distributor sales on track for healthy growth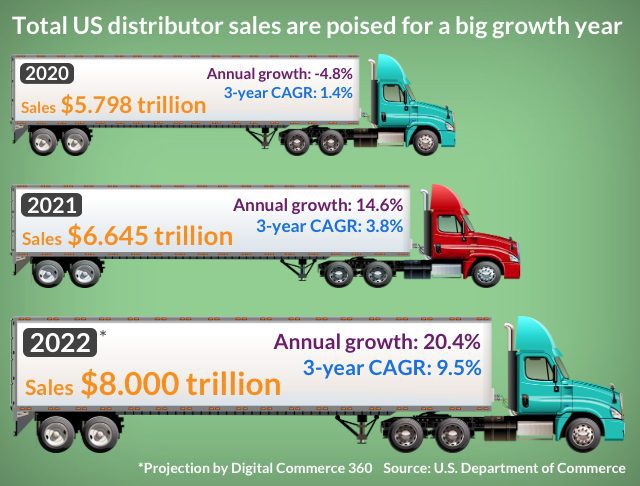 In their research combined with data from the US Department of Commerce, Digital Commerce 360 projected that total 2022 sales numbers for all distributors in the US will increase to $8 trillion. This is a considerable boost and good news despite inflationary pressures, supply chain uncertainties, and global recession risks.
Learn more about Digital Commerce 360's findings.
New PA initiatives to improve safety
In August, OSHA launched a regional initiative to protect workers and reduce injuries and illnesses in the workplace. Over the last two months, the agency allied with several PA-based organizations to further these initiatives throughout the state
Find out here what OSHA is doing.
B2B Marketplace and Commerce News
Budweiser launches B2B eCommerce platform
The parent company of Budweiser, AB InBev, has announced an integrated order and delivery platform called BEES across the UK. This system will offer UK retailers a seamless order experience and easier communication, promising to boost productivity for all members of the value chain.
The platform aims to accommodate over 2.8 million active users, enabling them to search for products, place orders, manage their rewards, monitor deliveries, and much more.
Find out more about Budweiser's B2B eCommerce platform.
Dubai-based Mindware embraces B2B eCommerce
Dubai-based distributor of IT products, Mindware, has long held a substantial presence in the Middle East and Africa. They recently ventured into B2B eCommerce by launching a platform for their United Arab Emirates audience. The company chose UAE's digitally-mature market as a launching pad and hopes to expand to other markets in the near future.
Learn more about Mindware's success story.
Egyptian B2B marketplace Mazaya raises $5m round
Mazaya is an electronics and home appliance B2B marketplace founded in 2021. In just one short year, the marketplace grew to over 6,000 retailers and now carries over $1,000 SKUs on the platform. The new investment will allow Mazaya to expand its financial services offerings. 
Learn more about Mazaya's success story.
MTN Group forges ahead with Dooka, a B2B marketplace
South Africa-based MTN Group is Africa's largest mobile operator with more than $10b in revenue. It's partnered with Dooka, one of Africa's first B2B marketplaces, to automate the sourcing process of its long list of suppliers. The aim is to give local suppliers more exposure and transparency.