Today, many corporate buyers and users are demanding an online B2B buying experience that is as easy to use as their B2C eCommerce counterparts. Although this trend is growing, it's important to remember that B2B sellers (as opposed to B2C) have to support much more complex online buying processes. This means that it is often very difficult or even impossible to achieve a comparable online B2B experience using currently available eCommerce platforms.
With that in mind, this series will discuss the features and capabilities that a B2B eCommerce platform must have, along with how the Oro team has implemented them in OroCommerce, its open-source B2B eCommerce platform. To begin with, this blog post will focus on corporate account management.

Corporate Account Management in OroCommerce
One of the main capabilities of any B2B eCommerce or a marketplace management system is the ability to build and manage a flexible, hierarchical, configurable and granular account management structure via the seller admin console. This account structure is also reflected on the front-end, where buyers can setup their corporate structure, users and purchasing rules.
But how does OroCommerce support the buyer's and the seller's operations, as well as help both companies become more efficient? Let's take a look at the seller admin console and how OroCommerce helps seller admins overcome this challenge  and meet corporate buyer needs.
Seller Experience
When it comes to corporate account management in OroCommerce, the first thing a seller should do is navigate to the customer tab and start building the corporate structure of the particular buyer. Through this interface, the seller can easily build the main corporate account (we created "Company A" for this example) by clicking on the blue "Create Account" button and entering in relevant information, such as the account owner, assign sales reps, payment term, tax codes, address, etc.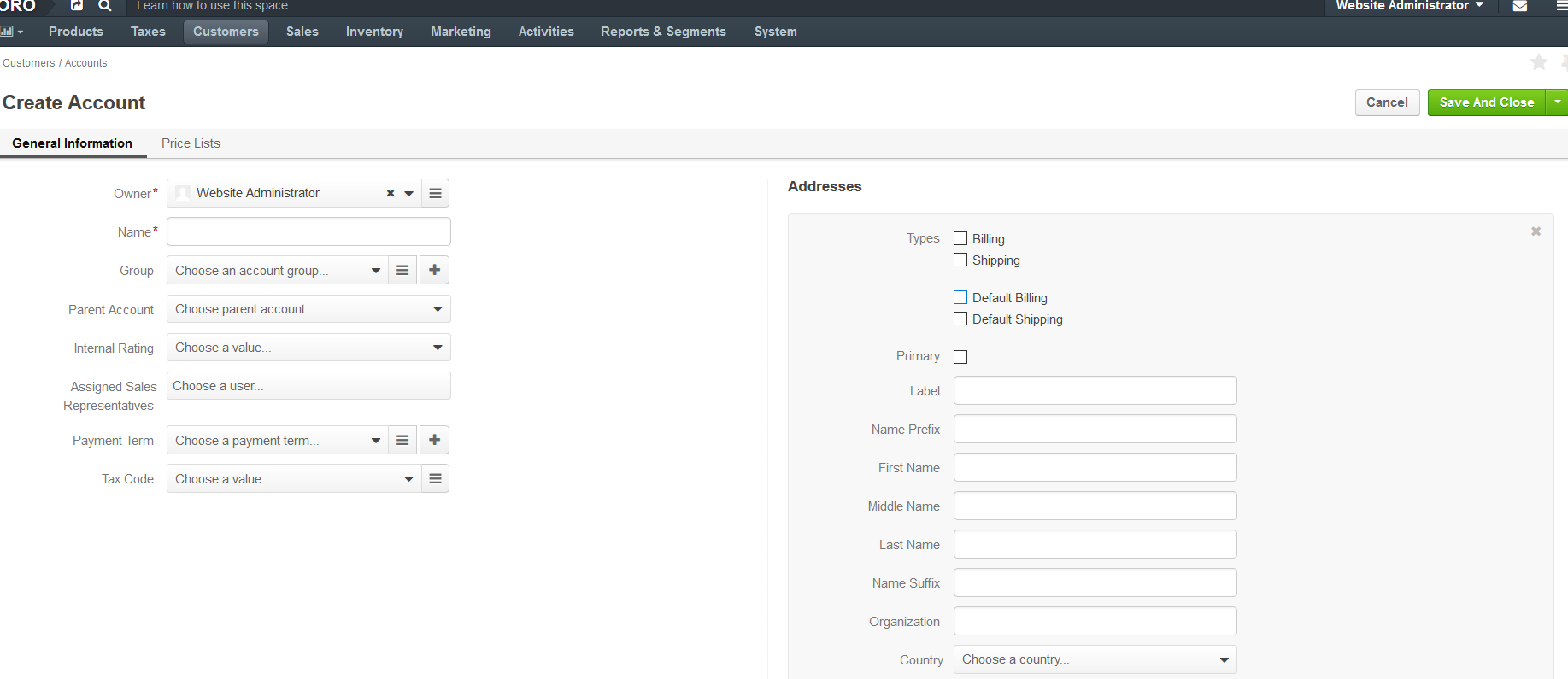 Similarly, as indicated in the image above, the seller can assign the price list and the website(s) this company is allowed to purchase from. Furthermore, the seller can continue and add other divisions, business units and more, down to the smallest functional unit in Company A.

Out of the box, OroCommerce is flexible enough to build even more complex and granular  structures. Users can do this by setting account groups and account users to match the complexity of any corporate buyer's business structure. For example, an account group might be different than another based on a number of different unique parameters, such as the website they can view, payment terms, the price lists that are available to them, different catalogs, different products within catalogs, etc.

What's more, the seller can set account users and user roles that allow each user to have a specific role with its own explicit permissions. (Note: We will discuss how to set up roles and permission in future blog posts.) With these robust capabilities and the inherent flexibility of OroCommerce, the seller will now be able to recreate any B2B buyer's corporate account hierarchy and user roles.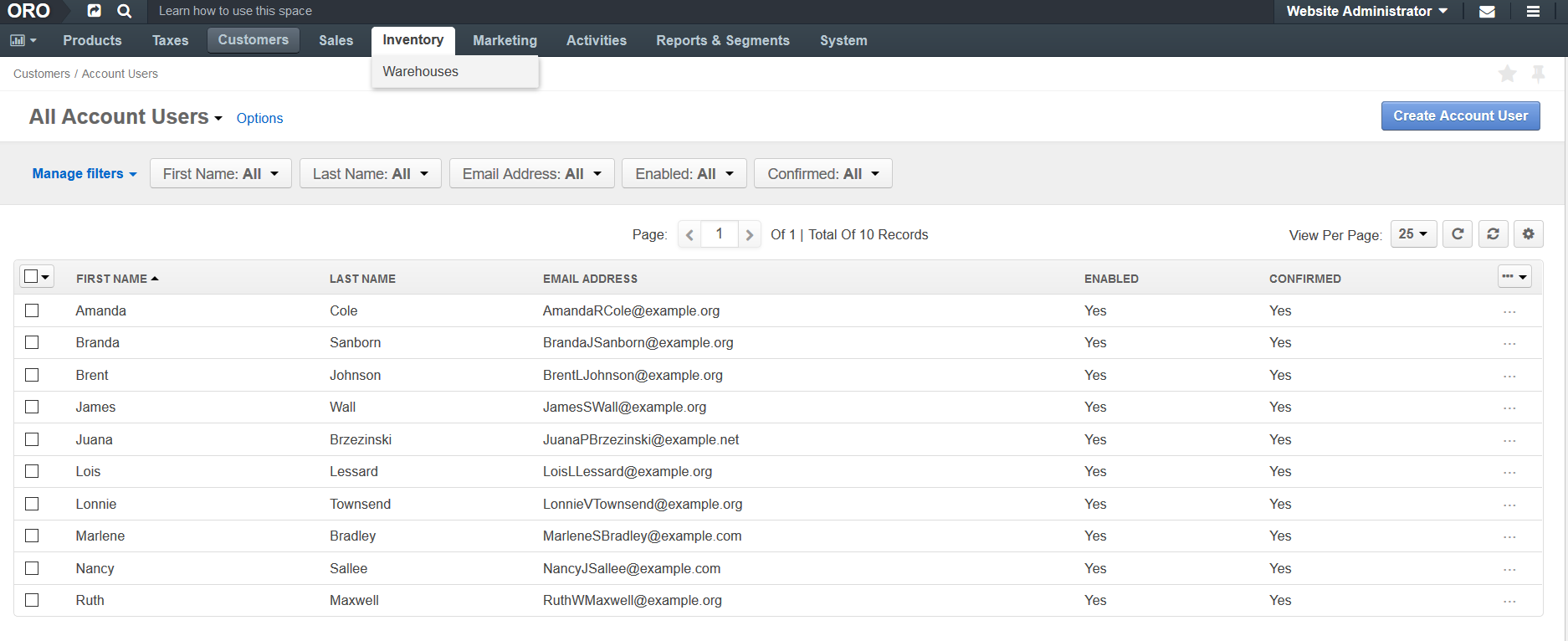 Corporate Buyer Experience
Now let's discuss how the corporate buyer (who, in this case, is named Amanda Cole) can easily configure their company's corporate account management to do the following:
Specify a company's specific structure
Manage and control purchasing process
Become more efficient
To manage accounts and users, the buyer admin should navigate to the "My Account" link located at the top navigation bar. Here, the first information Amanda will see is her account information, including her profile, location, address book and more. Amanda can also view the user accounts of the employees she manages (Brenda and Lois), modify her team's user account information, and perform actions such as delete, enable and disable users and users accounts directly from her account homepage.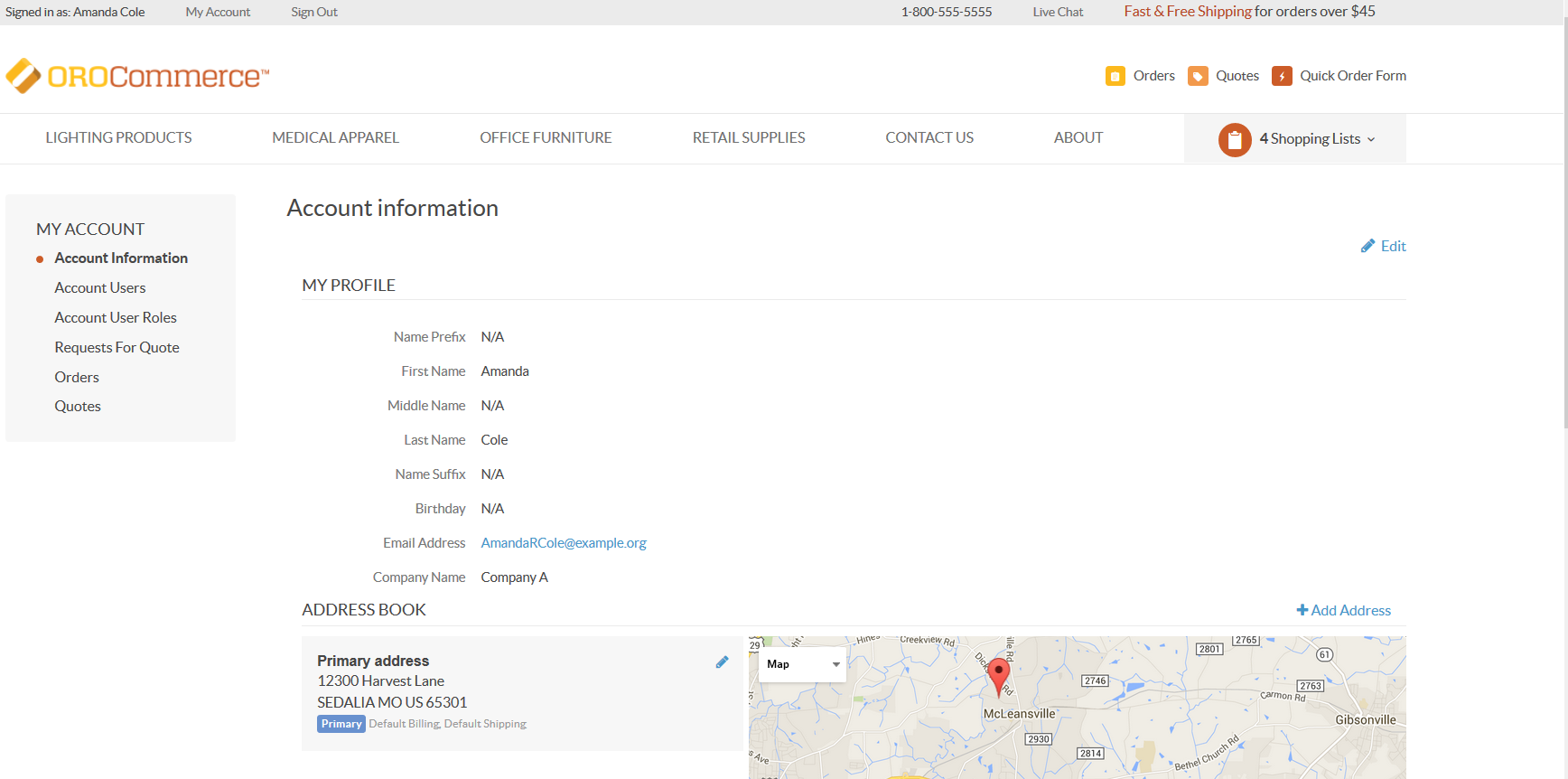 Amanda can also add user accounts to specific divisions or business units within her company. This process is very quick and intuitive — all she needs to do is click on the "Create Account" button and add the account user information. On the same screen, she can assign the role and the permission settings of each user making sure he/she are able to view information pertaining to his/her role and review purchases made by other users in the business unit he/she is responsible for.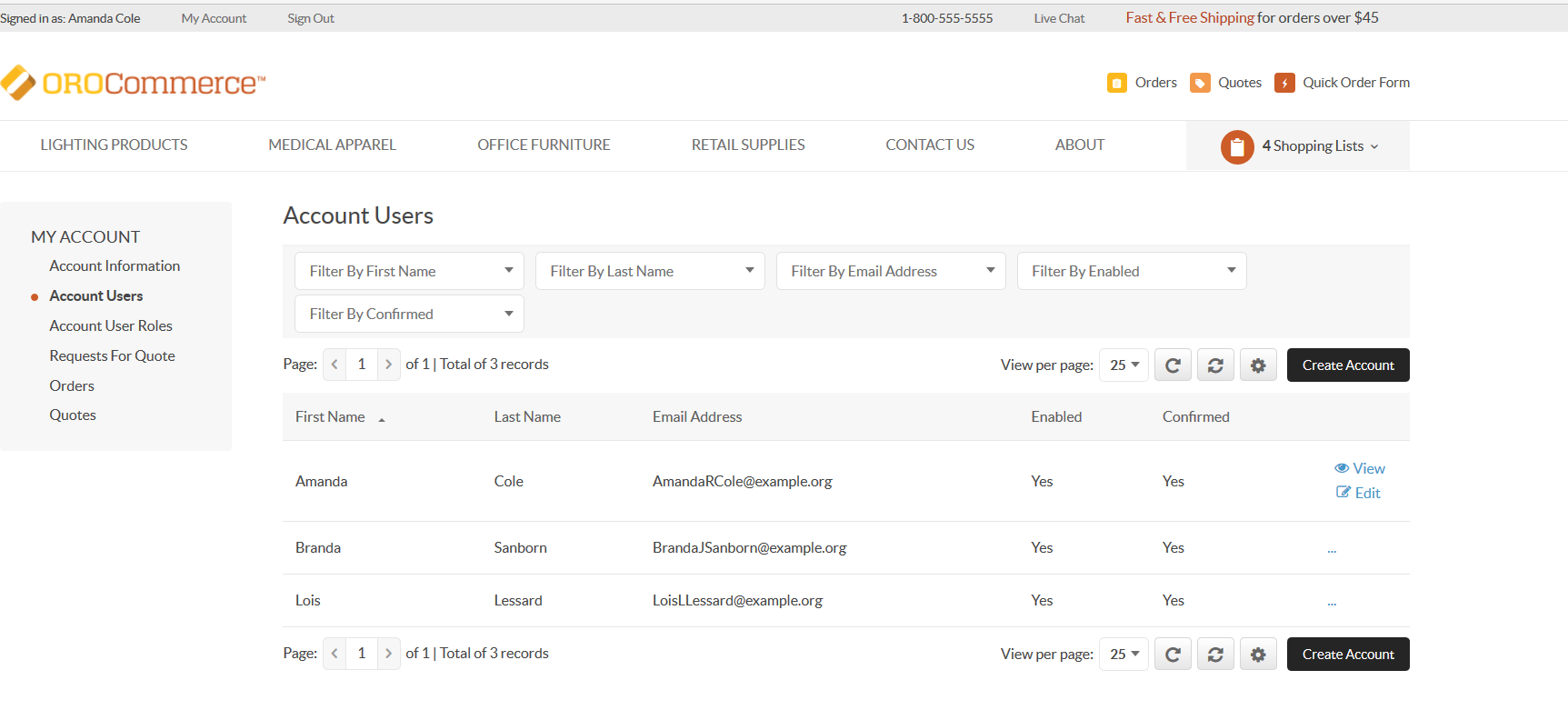 Conclusion
We prioritized user-friendly design throughout the process of corporate account management in OroCommerce so that users can quickly and efficiently assign appropriate accounts to relevant business units, as well as make sure that all user roles and settings have been set up correctly. In addition, since we do not believe a business should have to change how it works according to the capabilities of its software, we made sure the corporate account management process has the flexibility to adapt to any organization. Few other eCommerce platforms provide this amount of flexibility out of the box. If this is a capability that is crucial to your organization, OroCommerce will undoubtedly be the platform to use.
You can test this feature, as well as the rest of OroCommerce, by logging into our demo. We are always eager to get your feedback, so please either comment on this blog or send us a question or comment via our forum.
Thank you!
The Oro Team