We're excited to enter the new year with a continued customer focus and an unwavering commitment to improving business outcomes for our customers, partners, developers, and end-users.
And just in time for the holiday season, we're taking the wraps off the yearly OroCommerce LTS 4.2. Here's an early look at the new and improved OroCommerce and what it means for you.
What should we expect in OroCommerce 4.2 LTS?
This year's LTS feature release is all about helping our customers offer better B2B eCommerce experiences to their users. And many new features are making it possible: navigation upgrades, a better interface for easier shopping and ordering, new storefront features, and performance improvements.
For a complete list of features in this release, refer to our GitHub page.
Here are the changes to expect:
Accessibility
As more and more B2B buyers move online, web interfaces must remain accessible and usable for every one of your customers. Some site visitors may find it challenging to consume visual and audio information, requiring additional captions, descriptions, and screen readers. To help you meet and anticipate every customer's needs, we've made changes to the interface to make elements more readable, buttons more intuitive to use, and more.
Interface
Unlike B2C commerce, some B2B buyers regularly work with large orders made up of configurable products or simply hundreds of individual line items. We at OroCommerce understand the importance of a convenient and intuitive interface for compiling, reviewing, and placing large orders. To provide a better buyer experience, we completely revamped the shopping list interface, made the ordering and checkout experience more straightforward, and improved corresponding back-office functions.
Performance
Since B2B eCommerce is all about large product catalogs, order sizes, and purchase volumes, your store's performance is of prime importance. Loading and processing speeds must be quick, regardless of deal size or approval workflow complexity. That's why, as part of this 4.2 LTS, we've spent considerable time on boosting the performance of storefront and back-office functions.
Storefront
As we move into the new year, more and more B2B businesses will explore or rely on digital sales options. B2B buyers, in turn, will seek out intuitive experiences when performing research, shopping, and placing orders. We want B2B sellers to put their best foot forward, so we're offering a new filter view option, improved customer impersonation and preview functions, among other storefront improvements.
Let's go over what's new and improved in the latest OroCommerce release:
User Experience
Accessible storefront navigation. In order to help our customers grow their target audience, increase usability, and improve SEO, we've made some big changes to navigation, commands, and controls. These changes are designed to make your storefront comply with ADA requirements and WCAG recommendations, regulations that mandate website accessibility requirements for people with disabilities.
Changes include accommodations for voice navigation and more prominent commands. These include support for assistants offered by operating systems and browsers. Storefronts are now more convenient to use without a mouse and better served with just the keyboard.
New filter panel. We're making it more intuitive for customers to find what they're looking for, thanks to a new filter interface. When enabled, you're able to configure the look and feel of individual filters, including an option to select multiple items: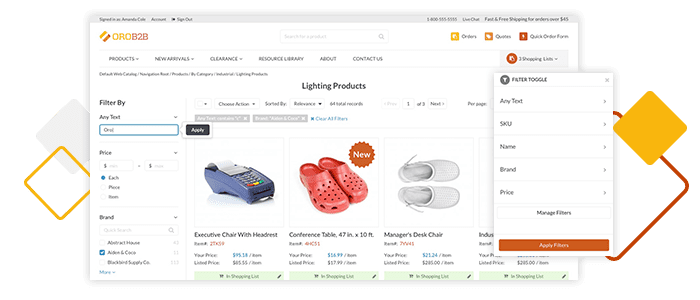 Content editing and previewing. If you have multiple websites under a single OroCommerce instance, you'll now be able to preview changes for a specific store. The new preview function is also useful if you offer localized websites or personalized sites according to customer groups or individual customers. 
You can preview all types of site content, from product to landing pages. We also made the editor easier to use, with more intuitive commands and improved documentation.
Large orders
Shopping list interface. We've revamped the shopping list interface, making it easy to work with a large number (hundreds or thousands) of line items. Customers can filter out their own list, add notes to items, or add, delete, and move items in bulk. They can also apply permissions to shopping list pages, giving other employees the ability to edit or view shopping lists.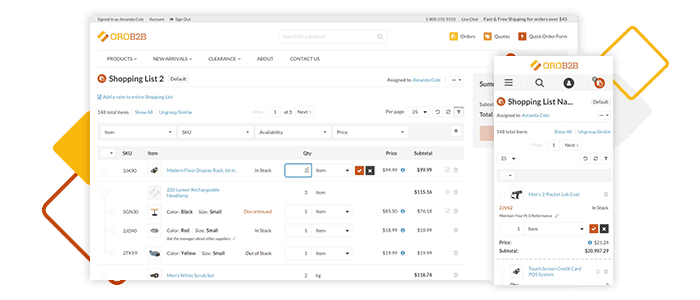 The quick ordering page is improved, as customers can submit larger orders by uploading CSV files. Similar shopping list changes also made their way into the checkout and order processing stages.
Checkout improvements. The single-page checkout gets an order summary section, and checkout steps are further optimized to work quickly regardless of how many items are in the shopping list.
Back-office improvements. Many shopping list-related changes are in the back-office, too, allowing staff to manage, quickly add or remove line items when preparing quotes or responding to RFQs. It's also easier to quickly administer and manage orders on behalf of customers.
Performance improvements. No matter your product catalog or order volumes, you'll see a significant increase in performance. Browser loading and processing speeds are greatly improved when working with orders of any size. Everyone from your eCommerce site managers to end-users can quickly manage large shopping lists with line items numbering in the hundreds or thousands.
Developers
API improvements. The API sandbox has considerably more resources, making it easy for developers to test applications. We've also rolled out many smaller improvements too numerous to list thanks to our developers, partners, and customers' input.
Mark your calendars!
All of us at Oro are excited to start the new year with a set of powerful customer-focused and performance-enhancing improvements. We thank everyone from our leaders, team members, customers, as well as our community of partners and developers who played an invaluable part in keeping OroCommerce at the forefront of B2B needs and a must-have B2B digital commerce technology.
We expect 4.2 LTS to go live by the end of January 2021. As always, we recommend upgrading Oro applications as soon as the most recent LTS is live.
For more information, refer to our release process for more details about the release and support cycles.