Marketing often focuses on customer acquisition. That's a great thing. A company that isn't growing and adding new customers is a company that is dying. But that doesn't mean you forget the existing customer base.
After all, once you pay to acquire a client, every sale afterward is more profitable.
Repeat business is just good business. Through strong relationships with customers, you build a brand and social credibility – making it easier to gain the trust of even more clients. Here is what you need to know about B2B customer retention and 5 customer retention strategies that work. You'll even find a few success stories at the end.
B2B Customer Retention Statistics
Over 20 years ago, Bain & Company in conjunction with the Harvard School of Business studied the economics of customer retention. What they found then holds true today, improving retention by just 5% can increase profits by 25% to 95%. 
It's not surprising, that the digital marketing resources devoted to retention vary from those used for acquisition.
An eConsultancy survey found marketers using email for retention and paid search for acquisition.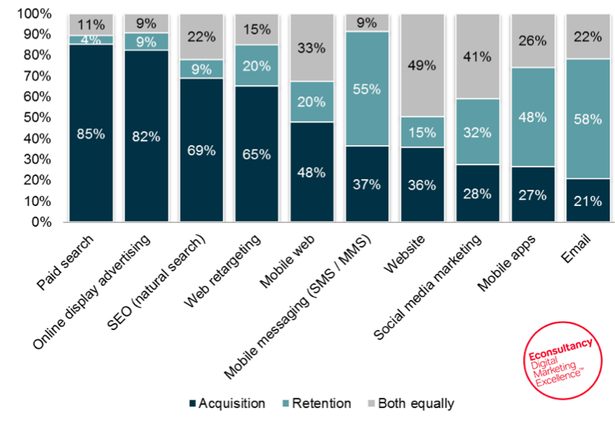 This makes complete sense. Paid search, SEO, and display ads help buyers find you initially. But once acquired, you need email, mobile messaging, and social media to stay in touch with existing buyers. 
The top reason companies are investing in improved customer experience (CX) is to improve their customer retention. Improving the B2B customer experience involves offline and digital channels.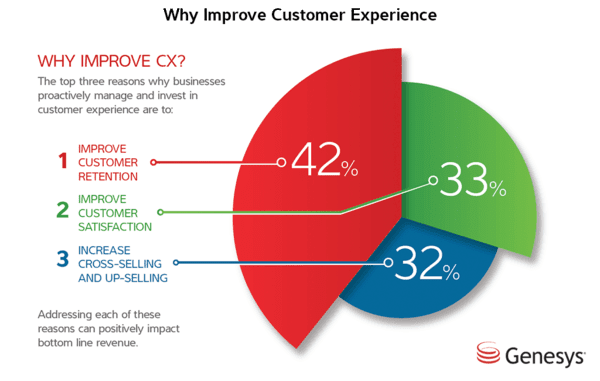 Maintaining contact after the sale is crucial because courting new clients at the expense of existing buyers can have devastating results. CallMiner research finds that the value of business lost when customers switch suppliers is about $136 billion per year. 
Also, when you consider that 80% of your sales will come from 20% of your clients, it is smart to keep that 20% happy. The metrics you use to determine if you are successful are customer churn rates and customer retention rates.
Defining and Calculating Customer Churn
B2B customer churn is the key performance indicator (KPI) that measures when buyers leave your business for another supplier. 
Why is Churn Rate Important?
Most KPIs are designed to measure the success of a business. But customer churn is a KPI that measures failure. While some buyers can be fickle, B2B buyers generally value relationships and when they leave you for another supplier it is important to know what happened and why. 
Churn rates are important to every area of the business. From product production to service, every step is an opportunity for a misstep. Missteps lead to poor CX, and a Walker study found that CX and not price became a key differentiator in 2020.  
How to Calculate Churn Rate
Before you can calculate your churn rate, you've got to decide the timeframe you will cover. For companies selling products that are purchased frequently, you'll want to measure churn over a short period of time. If your buyers only place one or two orders a year, then you'll want to measure over a longer period of time. For example, a freight carrier that handles packages daily may calculate churn over a weekly period, while a supplier of industrial salts may measure quarterly. 
The basic calculation is made in 3 steps:
#1 Number of Clients at Beginning of Period – Number of Clients at End of Period = Customers Lost
#2 Customers Lost / Number of Clients at Beginning of Period = N
#3 N * 100 = Churn Rate as a Percentage
So, if your company had 500 clients at the beginning of the quarter and you lost 50 clients over the quarter, you would divide 50 by 500 and multiply that number by 100 to get a percentage. If you do the math, the churn rate is 10%.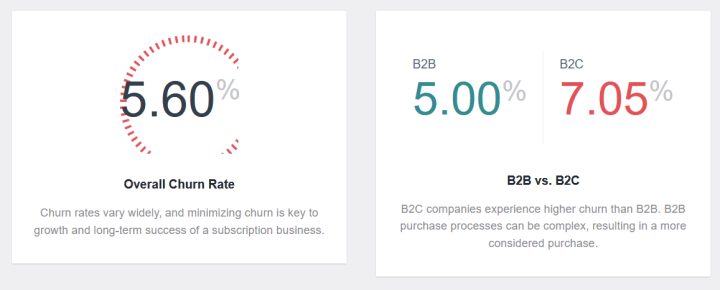 According to Recurly research, a churn rate of 10% would be high for a B2B seller. When compared to B2C, churn rates for B2B companies tend to be lower. That's because B2B transactions are generally complex, involve many players, and are based on long-term relationships.
Reducing Customer Churn
Keeping churn rates low is beneficial for any business. There are several benefits to having a low customer churn.
Reduced cost
Existing buyers already have a working knowledge of your products. So, sales reps and customer service reps will spend less time answering product questions. In addition, the buyer acquisition cost for these customers has already been paid. Hence, every purchase they make generates a higher profit.
Increased engagement
Because you have a relationship with loyal clients, they will be more engaged and can serve as an important source of feedback. Before you roll out new products or services, existing customers are great Beta testers. While these customers may be more resistant to change, they won't hesitate to tell you if there is something they don't like and why. 
Viral or word-of-mouth marketing
People that are happy with your products or services are unpaid sales reps. They talk up their great CX without expecting anything in return. Whether it's word-of-mouth at a networking event or digital on social media, a good word from a trusted friend or colleague goes far. 
With the benefits many and the risks few, it is no surprise that B2B and B2C companies key an eye on this KPI and work to minimize it. 
A survey of 300 CEOs across industries in both the B2B and B2C space shows the wide variety of tactics companies use to keep churn rates low.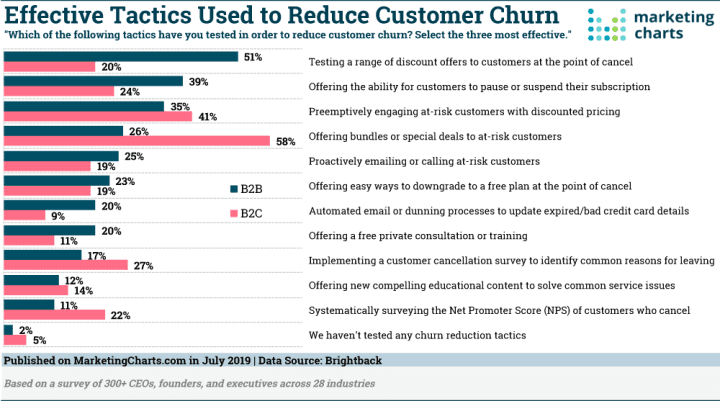 Over half of the CEOs indicated their company waited until the point that their B2B buyers were ready to cancel to make a special offer to stay. More proactive companies emailed or called their at-risk customers (25%) or engaged at-risk customers with special offers.  
Keeping customer churn rate low is such a vital KPI, that only 2% of CEOs, founders, and executives said the company hadn't tested churn reduction. 
Defining and Calculating Customer Retention
Customer retention is the flip side of the customer churn coin. Where customer churn monitors the customers that leave your company for what they feel are greener pastures, customer retention in B2B measures the customers that stick with you. 
Customer retention measures customer satisfaction and customer loyalty. Every team member should be concerned with retention. Customer retention depends on products that work as designed, are packaged to prevent damage, and arrive when expected. Retention is impacted by the follow-up from the sales rep as well as the rep that answers questions on the phone.  Even the accounts receivable clerk can have an impact on customer retention. 
How to Calculate Customer Retention Rate
As with the churn rate, calculating customer retention rate begins with identifying the timeframe for the calculation. As with churn, you need a short timeframe for customers that purchase frequently and longer timeframes for customers that purchase less frequently. 
Once you've determined your time frame, the calculation is made in 3 steps:
#1 Number of Customers at End of Period – Number of New Customers = Customers Retained
#2 Customers Retained / Number of Customers at Beginning of Period = N
#3 N * 100 = Retention Rate as a Percentage
If your company has 100 customers at the beginning of the period and added 10 customers over the time monitored, you have a customer retention rate of 90 percent. That's pretty good considering that B2B customer retention rates are usually between 76% and 81%.
How do top midmarket brands use technology?
Forrester shares real-life case studies from leading business sellers.
5 B2B Customer Retention Strategies That Work
Now that you understand the vital significance of churn and retention to profitability, let's look at customer retention strategies examples to keep retention high and churn low. 
Begin with Onboarding 
B2B customer retention programs should start as soon as the client is acquired. Make sure your onboarding process answers any questions they might have, welcomes them as a customer, and provides key contact information. 
Let new customers know where to find video tutorials and product support information. If your factory closes for holidays, let new customers know your schedule so there are no surprises.
Onboarding familiarizes the person with the company and should make them feel like they are not just a buyer, but a valued member of the family. 
Account-Based Marketing
You may use account based marketing for customer acquisition, but it's a great strategic tool for customer retention as well. The best leads for your B2B sales funnel are your existing customers!
Get to know the decision-makers for each account and then create highly personalized messages and deliver them directly. When you gain an understanding of pain points on a customer-by-customer basis, you are better positioned to be a problem solver and not an order taker. B2B customer retention marketing helps to build a strong relationship that your buyers will be highly reluctant to leave. 
Recommended reading: Digital Marketing in the Chemical Industry
Reward Programs
Create a loyalty program and reward customers for their continued business. Customer retention programs in B2B can be based on purchase volume, purchase of targeted items, or any other metric you choose. Your rewards program might offer discounts on shipping, free product swag, high-value marketing materials to help them grow their business, or even a cash-back program at the end of the year.
Loyalty programs are common in the B2C space but are gaining ground in the B2B space and can be a powerful retention tool.
Solid Customer Service
One of the best strategies to retain clients is to ensure that each transaction goes smoothly. It may be cliché, but instead of a customer service mindset, adopt a customer satisfaction mindset. Customer satisfaction is easy when nothing goes wrong. It's when a problem arises that you have a chance to shine. Own your mistakes, apologize sincerely, and then make it right. Even if you lose money on one sale, you'll make it up in continued sales from a satisfied buyer. Custom die-cutting manufacturer Frank Lowe even turned their mistake on an order into a testimonial to show how well they treat their customers. 
Build a Feedback Loop
When it comes to retention, no news isn't good news at all. Stay in contact with customers and build a feedback loop into your order process.
Confirm every purchase order, so customers know they are received. If possible, provide an estimated ship date at confirmation time. Let customers know when their order ships and provide tracking information. 
Follow-up with buyers to make sure order was received and is as expected. If there is a problem, resolve it. Continue to communicate with customers to make sure your products are meeting customer expectations and determine if there are other products the customer may need.
Understanding & Adapting to Modern B2B Buyer Expectations
We asked B2B buyers if their needs are being met. Here's what they said.
How Oro Helps with B2B Customer Retention
Oro understands that for B2B sellers, customer retention matters. Our OroCRM, OroCommerce, and OroMarketplace products provide you the tools you need to:
create rich CX, with OroCommerce features like personalized pricing and catalogs, multiple storefronts, and custom workflows.

gather data to support account-based marketing by synching and managing customer data in OroCRM.

get a 360-degree view of every customer by capturing every interaction, including product views, email responses, support tickets, and more.

integrate with your existing business system architecture through OroCommerce native APIs that support integration with ERP, CRM, BI, and PIM systems of your choice.
Here are just a few B2B customer retention examples of strategies executed with Oro solutions. 
Ecoburo Makes Ordering Easy
French office products distributor, Ecoburo, needed to make ordering and reordering easier to improve the customer experience. They implemented OroCommerce to create a responsive website that allows each customer to manage their own account. They can see customized catalogs and price lists and the integrated Quick Order System removed friction from the buying process. Automation makes order processing easier, so customers are happier with the results. And happy customers are key to customer retention.
BME France Simplifies Project Management 
BME France is a leading distributor of building materials in 7 European countries. Construction companies and building contractors often work on several projects at one time. Purchasing for multiple projects can be complex, but BME France used OroCommerce to create a customer experience that simplifies project management. Buyers can keep purchases separated by project, check inventory levels by location, and see negotiated prices online. Getting quotes for new products is easier as well. By making the job of the project managers easier, BME builds loyalty for its Busca and Raboni brands.
Petra Improves Onboarding for Improved Retention
Petra Industries, a leader in electronics distribution, needed to improve its customer onboarding process and simplify ordering and order management. OroCommerce allows Petra to automate their multi-step customer registration workflows complete with credit approval through the Bectran customer credit management system. Existing customers can make use of quick reorder forms or even upload CSV files for their orders. By smoothing the onboarding and reordering processes, customers experience less friction and higher satisfaction – two keys to B2B customer retention.
Retention is Important to Profitability
Clearly, customer retention generates more profit than customer acquisition, so it pays to allocate resources to keeping customers and keeping customers happy. 
Using technology makes retention easier than ever. Digital solutions that allow you to create an easy-to-navigate B2B eCommerce journey, excellent CX, smooth ordering, and account management, and that give you the data you need to support marketing and sales are power tools in the B2B customer retention toolbox.
Digital Marketing for Manufacturers and Distributors
Assess your business, develop a strategy, identify tools, and avoid pitfalls.
Questions and Answers
Customer churn is a key performance indicator that tells you how many clients leave your company. It indicates the failure of the company to meet the buyer's needs on the customer's terms.
What is customer retention?
Customer retention is a key performance indicator that tells you how many customers stay with your company over time. It indicates the success of a company in meeting customer needs.
Why is customer retention important?
Customer retention is important because sales from returning customers are more profitable. Acquisition costs were paid with the first sale. Also, most of a company's sales come from a core group of loyal customers. It is important to continue to grow this group of loyal customers.
Who should be concerned with customer retention?
Customer retention is the responsibility of every department in the company. From the floor where the product is made to the accounts receivable clerk that posts payment, everyone has a role in customer retention.
How does CRM increase customer retention?
Five ways in which CRM supports customer retention are:
It collects data on buyer interactions with your brand and the effectiveness of your marketing strategies.
Knowing this data helps build a proactive relationship with clients.
Information stored in CRM software helps you create loyalty programs for valued customers.
It enables you to personalize interactions.
CRM is a great tool for gathering and analyzing feedback from people who regularly buy from you.