You've pitched your idea, crafted a strategy, identified goals and KPIs, and sketched your roadmap to a successful digital transformation. Before you hit the highway, you need to pick your partners to accompany you on this exciting journey. And you need to pick carefully. After all, what's worse than the fellow traveler who is always carsick, plays the music too loud, or slows the journey down with frequent bathroom stops?
What starts as an exciting adventure quickly becomes a long slog to the finish line and by the time you arrive everyone is tired and grumpy. So, it's important to carefully consider who is going to lead and execute your digital transformation and what will be done in-house and what will be outsourced. Bookmark this page. It includes a matrix you'll want to refer back to if you consider outsourcing part of your digital transformation.
The High Cost of Failure
The cost of a digital transformation failure can be high. Data from the Standish Group shows that the bigger the project, the higher the risk of failure. A whopping 98% of all IT projects in the $10 million or more range failed at some level. The good news is that as the investment decreased, so did the risk of failure.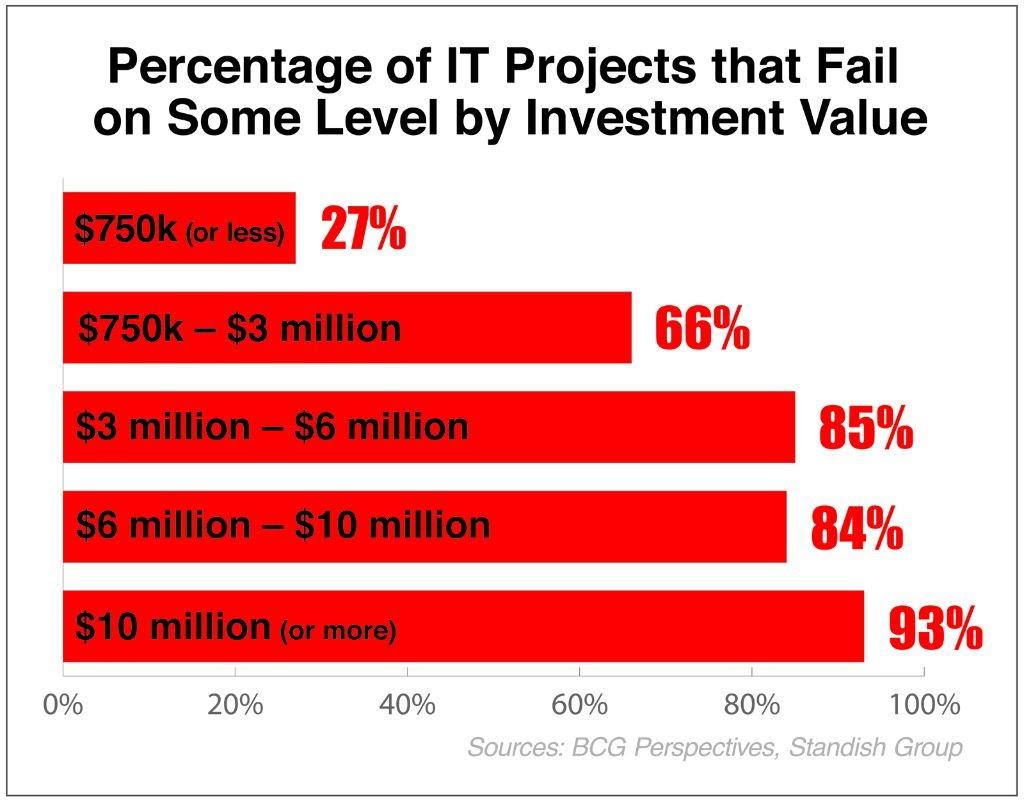 Achieving success instead of failure involves a careful alignment of business objectives and IT. This requires intensive collaboration between the business and the technology teams and making sure you have the right players on each team. The CTO or lead of digital transformation should be responsible for picking the right partners for a successful journey. 
In House Versus Outsourcing
As you discovered in Parts 1 and 2, a digital transformation in manufacturing, retail, healthcare, or any other industry,  isn't a DIY project and you aren't going to go it alone. You'll need a host of different talents and technical skill sets. Some of these will already reside in your company but for others, you may need to outsource. Outsourcing isn't a dirty word. In fact, an entire industry of digital transformation agencies has arisen to help companies that don't feel they can successfully pull off a digital transformation in-house. 
The reality is most companies don't have all the digital talent they need in-house to pull off a successful digital transformation. According to a 2017 survey conducted by Capgemini and LinkedIn,  51% of employers identified an absence of hard digital skills in their organization and 59% recognized a lack of soft digital skills among their employees.  Outsourcing makes sense, but what do you outsource and what stays in-house as a result of the transformation?
One thing you should never outsource is your key competency. This lesson was learned the hard way by Daisy Cakes owner Kim Nelson and her Shark Tank investor Barbara Corcoran. On their journey to move from a company with $27,000 in sales to $5 million, they twice attempted to outsource the baking of the cakes. Both times ended in disaster and one attempt almost pulled the company under. Going forward, the cake baking stayed in house where strict rules could be enforced to ensure quality, and other activities could be outsourced to grow the company. Don't make the Daisy Cakes mistake. Keep your core competency in-house and outsource what isn't your core competency.
For example, as an auto part manufacturer, you know brake shoes. So, keep the brake shoe manufacturing in-house and outsource the creation of the B2B eCommerce platform that's part of your digital transformation. You won't be alone. Accenture found that 33% of web design and 38% of front-end applications are outsourced during a digital transformation.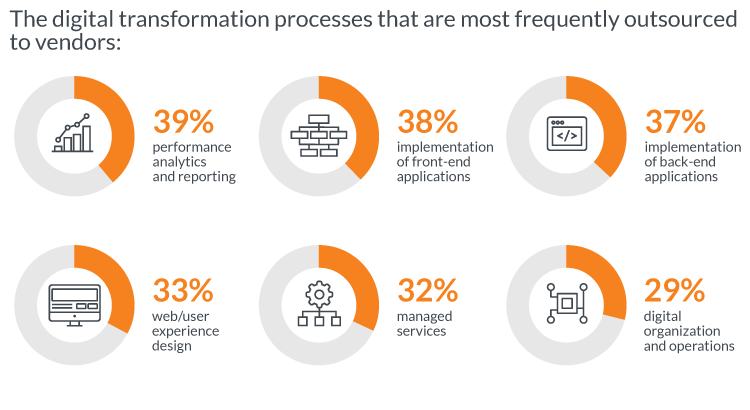 Outsourcing allows you to focus on what you do best, and your outsourced vendors and/or talent do what they do best. When Accenture surveyed companies to find out why they outsourced support of their digital transformation it was clear that smart companies were relying on the skill set of experts to provide a better customer experience and reduce their liability due to security and other issues. That's key because an improved customer focus is at the heart of every successful digital transformation.
 In Part One – Selling the Idea we looked at how Best Buy started their digital transformation with a recognition that what their customer wanted had changed. So, they started by rethinking how to provide the best customer experience possible. You may be experts in brake shoes, but when it comes to customer experience, you should rely on the UX experts. Their expertise along with those that know ERP, CRM, and eCommerce combine to create the core experience you offer to your customers as they purchase your brake shoes. Because in the digital age, the experience is just as important as the product.  
The Role of Digital Transformation Agencies
Markets like nature abhor a vacuum. As companies began to undergo digital transformations, it became clear that only the tech monoliths like Amazon, Google, or PayPal could afford to do it alone.  Digital transformation agencies formed to fill the needs of smaller and non-tech companies as they transform. These agencies are chock-full of specialists that have hands on experience, usually in a range of industries.
Using a digital transformation agency opens the door to a much larger talent pool at a much more affordable price point. The agencies offer a menu of services and you can pick and choose to fill your needs. Because different digital transformation agencies have experience with different industries, it's important to talk to potential partners about their prior experience in your industry. If you are a brake shoe manufacturer, your business is quite different than the bank down the street or the wholesaler of fishing supplies. In other words, on this road trip, your partners should be able to hum your favorite tune and know your playlist. Pick wisely.
Pros and Cons of Digital Transformation Agencies
Should you contract for the services of a digital transformation agency or just hire contract employees or freelancers? There are certainly pros and cons to using an agency. Here's a quick look at what you get with a digital transformation agency and what you may give up:
Pros
Large talent pool.  An agency will give you instant access to a large talent pool that you can't easily duplicate in-house. This pool will represent a diverse range of technologies and specialties.  You'll find data crunchers, AI experts, strategists, UX wizards, engineers, and product developers.  
Instant expertise. An agency can immediately fill the gaps in your transformation team. Under the direction of your CTO, you can deploy the talent to the task much faster than hiring and training in-house. Additionally, an agency can provide you with relevant case studies, such as digital transformation examples in manufacturing, that can help guide your journey towards success. 
Cost effective. Most agencies have access to talent worldwide. Not only do they save you the associated human resources costs, they may hire in markets where you aren't able. 
As an example, you can see the wide range in hourly rates for software development costs across Europe. Working with a digital transformation agency that has human assets in Eastern Europe, the Balkans, or the Baltics can save you a considerable amount over hiring an engineer in California at the rate of $99 an hour before taxes and benefits. 
Scalability.  With a digital transformation agency, the resources you use scale with your project needs. Depending on where you are in your transformation, your need for resources will expand and contract. Using an agency gives you the elasticity you wouldn't otherwise enjoy. 
Cons
Time. Relationships take time to build. That's true for business and personal relationships. Because successful digital transformation outsourcing depends on a good relationship, you need to take time to carefully select your partner and then invest in building the relationship. For even the most experienced agency, it takes time to get to know your business. 
Communication. Operating across time zones and languages can prove difficult. In some instances, face-to-face conversations with team members may be impossible. While technology can overcome these barriers, it doesn't substitute for a walk down the hall for a face to face chat. 
Cultural differences. Every organization has a different culture. If you don't do your due diligence, you may end up with a digital agency that doesn't understand or fit well with your corporate culture. That can be fatal to a successful digital transformation. 
Speed. Getting things right often takes several iterations. Count on it. When you handle your digital transformation in-house, these iterations may be faster than with outsourcing to an agency. 
In the end, research published in the Journal of Accountancy found that while the actual benefits of outsourcing in the area of IT often fell short of expectations in improved quality of delivery and cost reduction it did deliver in balance sheet improvement and the ability to better focus on core competencies. In short, outsourcing allows you to do what you do best. Whether it's manufacture brake shoes or wholesale fishing gear. 
The Ultimate Balancing Act: Executing a Digital Transformation In-House with a Digital Transformation Agency
Just like Goldilocks, you've got to find the sweet spot of "just right" between what activities stay in-house and what is outsourced to a digital transformation agency. It's the ultimate balancing act. To help you stay on even keel, you can use this matrix to evaluate what is business critical. Where loss of capability, relationship or infrastructure would be irrecoverable and is business critical, you need to keep control in-house. As you move down the continuum of criticality, you find the sweet spot for outsourcing the digital transformation activities.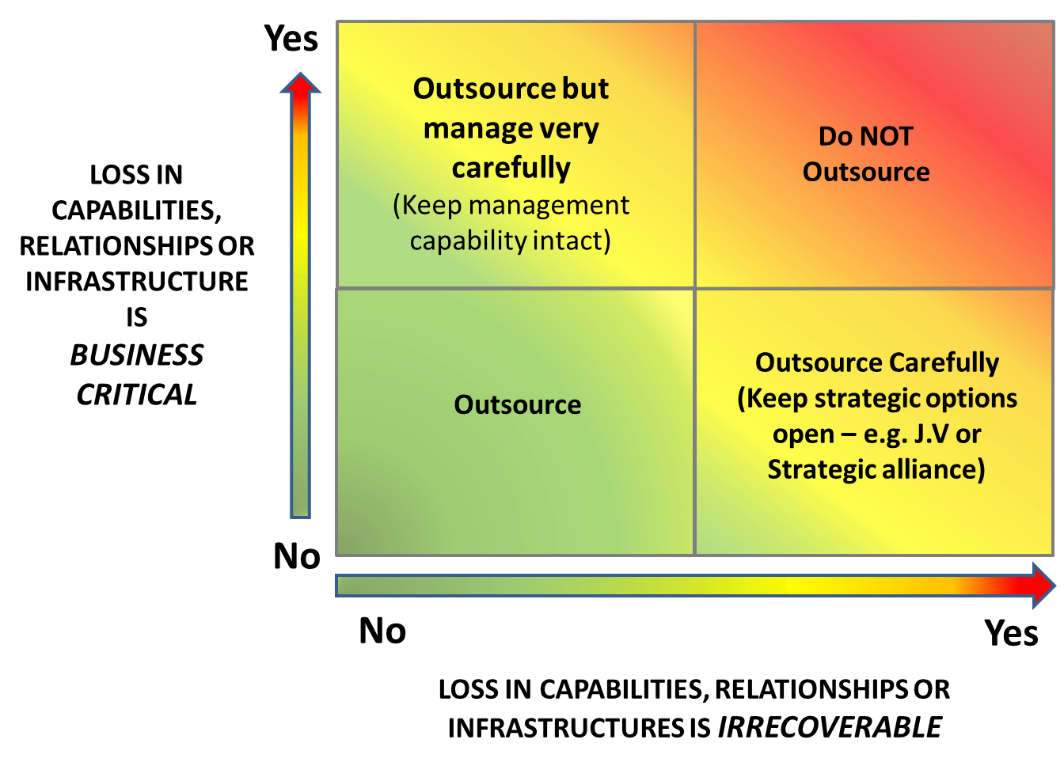 As discussed previously, you don't outsource your core competency as indicated by this matrix.  However, there are still many things you can outsource with confidence. This includes:
Strategic consulting on total transformation

Selection of the technology to deploy as part of the transformation

Development of the technology as well as installation, integration, maintenance and support. 
Outsourcing however is not abdication. Just because you don't understand the intricacies of the technology doesn't mean that your company isn't ultimately responsible for the outcomes. Outsourcing digital transformation does not transfer your core issues to the service provider; you just swap one set of management responsibilities for another. Instead of managing in-house assets, your CTO or other responsible in-house party is managing the relationship with the digital transformation agency and any other outsourced service providers. 
As the transformation begins and on through the journey, it's important that the in-house team continues to be reliable advocates. Their enthusiasm and belief in digital power to change business for the better need to be contagious in a good way.  
Encourage and support the team to keep their innovative juices flowing. As new products, processes, and procedures come online, digitalization should become part of the company's DNA. It isn't a part of the strategy; it is the strategy. 
Now that you've got a roadmap and picked your partners for the ride, it's time to take a look at what you can expect along the way and how to assess your results. That's what we will do in the final part of this series.