Change is never easy. Successful brands know how to stretch beyond their comfort zone. Whether they're entering new markets, keeping up with generational trends, or adopting new software, they know how to implement and use technology to their advantage.
But changes and new technology aren't always greeted with a smile or readily adopted. The change process requires careful management to support the human assets while they adapt to the new digital assets.
People generally dislike change, unless they perceive it as personally beneficial. Changing any technology such as eCommerce requires a comprehensive technological change management plan to minimize resistance and maximize adoption.
What is Technology Change Management?
Change management refers to the process of adopting, controlling, and implementing change in an organization. The process starts with establishing a goal and then creates and plans the activities necessary for people to transition to a desired future state.
In the case of technological change management, the need for the new technology and the benefits of the new technology must be understood and embraced by everyone in the organization. Without a strategy for communicating change and addressing challenges along the way, any change can backfire and fail.
This guide provides an approach to technology and change management, ways to recognize and resolve difficulties that arise, and the steps to a successful technology change management project.
How Do You Approach Change Management?
Organizations use many different change management models to adopt new technology. 
Because organizations differ, the models provide guidelines for transition and not detailed instructions. They cover all crucial aspects of change management and act as guardrails and a roadmap for managing change.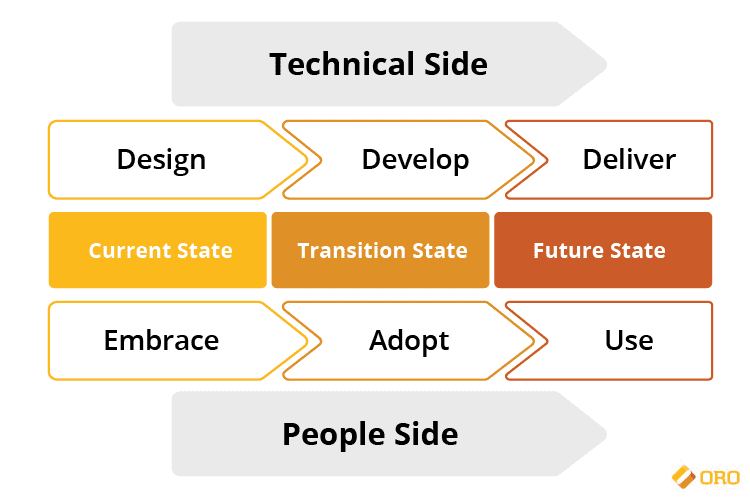 Models fall into two main categories. People-centric models focus on the individual and address the emotional journey of team members. Organizational models focus on holistic organizational change.
Individual Change Management facilitates change on an individual level to maintain alignment with project goals. 
Humans are incredibly resilient and adaptable. But resistance to change is hardwired in our psychology and physiology. Thus, to successfully manage change, we must understand how it is experienced and what is necessary for a successful transition. Individuals must hear specific messages at just the right time. People must be supported, coached, and their desired behaviors reinforced. 
Individual change management models draw on research in biology, neuroscience, and psychology. 
Popular individual change management models include:
Organizational Change Management models support transformations, such as changing organizational hierarchy, introducing new processes, and integrating new technology.
These models ensure those affected by the change have the leadership and the necessary knowledge to successfully prepare for, manage, and reinforce change. 
Organizational change management models are a crucial part of change management technology adoption as it promotes synergy between groups. Once groups are on the same page, the change project can meet defined goals.  
The most common frameworks include:
Why Do Technology Change Initiatives Fail?
While organizations may anticipate and prepare for risks, many are not very good at mitigating them. McKinsey & Company research indicates that failed transformations are common – with 70% of change management projects failing. And a recent BCG survey reveals the pandemic exacerbated matters. Their study reveals 75% of transformation efforts don't deliver the anticipated results.
Why the downward trend? First, change management technology projects are often improperly defined and poorly communicated. Change leads to the unfamiliar, bringing fear and frustration to employees. The lack of a cohesive change management strategy creates resistance and misalignment across departments with competing interests and no common goals. In addition, rapid technology advancements may leave little time to implement one project before another one starts.
Poor goal-setting and planning
One reason organizations fail in their change management technology process is a lack of adequate preparation.
Toptal research finds that 80% of literature includes inadequate planning as a significant source of failure. Poor preparation leads to other issues such as inadequate commitment or support from leadership.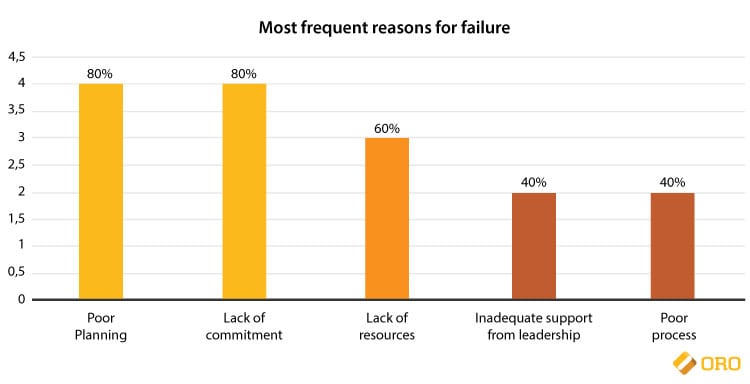 Inadequate planning leaves little room to maneuver, dooming projects from the start, while racking up the cost. A failed project makes it more difficult to get decision-makers on board and convince them to invest the time and energy in subsequent projects.
Poor communication
Getting employees on the same page with business goals is not easy. According to Gallup, 74% of employees feel that they're missing out on developments within their company.
The State of Workplace Communications, Dynamic Signal
Communication professionals report internal silos are one of the greatest challenges to workforce communication. This is exacerbated by today's disconnected, distributed, and sometimes even mobile workforces.
While change initiatives are generally top-down, ultimately, it's the employees and customers who must change their behavior. Getting employees on board and opening up lines of communication should be done before you begin to implement change. On-boarding and communication reduce initial resistance to the initiative.
Poor resistance management
It's easy to see the benefits of change when you're the one rallying behind it – not so much if you perceive it as a negative impact. According to Rick Mauer, creator of the 3 Levels of Resistance change management model, resistance to change is the most overlooked obstacle to change. Regardless of the change, you're bound to encounter pushback everywhere in the organization:
Company leaders may find it difficult to unite behind a common goal. Everyone may not see the benefits of implementing the solution.

Managers want to maintain KPIs, sometimes at the expense of inefficient processes. As a result, they may resist transformative projects that impact how they currently achieve results.

Teams fear change may impact their productivity and company direction. Sales teams may fear damage to their customer relationships.

Customer success, customer support, and customers themselves may want to remain in the status quo, despite the inconvenience it causes.
Unify your teams with a common approach to address resistance and misalignment from the start. Look at change from the employee point of view. Appeal to individual concerns and maintain engagement by highlighting positive impacts on the team or employee.
Poor technology management
According to Scott Brinker in the Chief Marketing Technologist Blog, there are some inherent problems with using technology to drive organizational change. Technology changes at an exponential rate, but organizations change at a much slower logarithmical rate.
[Source]
Martec's Law says every year will bring more technological change than the last, and the resulting gap will increase until it must be addressed. Thus, deciding which new technology to embrace and which to set aside is a real concern for any organization.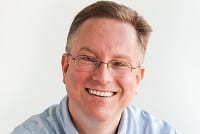 Great technology management is choosing which changes to absorb — ideally those that are best aligned with the organization's overall strategy.
Scott Brinker
Businesses must be educated and strategic in choosing the technology they believe will have the greatest impact.
And while technology can help with change management, it can't do it alone. First, consider what changes you need to make in your business processes, then seek out the technology to make these changes possible.
5 Steps for Successful Technology Change Management
Now that you understand change management for technology implementation, here are five steps to successful technology change management.
1. Set a goal
Whether you're introducing a new eCommerce idea, process, or technology, clearly communicate the need for change. Define your goals as precisely as possible, and align them with company goals. 
A well-articulated case does more than keep everyone on the same page. It also demonstrates that the company has the leadership, foresight, and determination to see the project to the end. Your goals can include:
Improving the customer experience.

As customers demand a more intuitive and personalized experience, they become a greater driver of change.

Streamlining processes.

Many businesses rely on slow and inflexible processes, and efficiency may be crucial to survival.

Aligning with the environment.

Over time, organizations change their vision to align themselves with internal or external environments.

Future-proofing the business.

Businesses must keep up with accelerating technology trends, build resilience, or introduce capacity for future needs.

Mergers and acquisitions.

Companies must accommodate mergers, acquisitions, and new strategic partnerships.

Capturing opportunities.

Ongoing uncertainties mean brands must be prepared to enter new markets and adopt new business models.
After you set goals, identify inefficiencies that stand in the way. Whether it's a poor online presence, inefficient sales processes, or siloed data, you must identify these barriers and determine what's needed to surmount them. With goals in place, you can start allocating resources – including human resources – to reach them.
2. Build a team
A change management team requires the right combination. Look for advocates in all areas – individuals that possess leadership skills, understand the need to change, and can relate and reassure others. Look for the following:
Individuals that embrace change.

Identify individuals with experience in change management, whether professionally or personally. Individuals with a digital-first mindset better identify positive aspects of change.

Leaders across company areas.

Leaders can be found everywhere: in your management, product, sales, support, and HR teams. Spread responsibility horizontally so that all employees stay connected, engaged, productive, and on the same page.

Departmental representation.

Some companies operate with many divisions or isolated departments. Include individuals from every department and enable them to relay information to their teams

.
Remember transformative change is not easy for any team. From resistance to disagreements to unmet expectations – teams will meet challenges along the way. Prepared and experienced teams do not get discouraged, they adapt to changing situations, learn from setbacks, and recover quickly.
3. Define a strategy
Leaders are often wary about large, transformative changes. But they cannot afford to ignore disruptive technology trends. The minimum viable product (MVP) approach addresses fears. The iterative process prioritizes generating value, gathering feedback, and adjusting in incremental stages to ensure the project delivers the desired results.
Why we recommend an MVP approach
While developing a full solution could take up to a year, the iterative and feedback-focused nature of an MVP reduces the time to receive a tangible result that can be tested and built upon. For those considering B2B eCommerce for the first time, it's the optimal way to test the idea without unnecessary risk, optimize resources, and get to market faster.
The eCommerce MVP process aligns with the main steps of the change process:
Craft a requirements and deliverables list that addresses and solves company problems.

Recognize that not everything must be built, and prioritize capabilities according to goals, value, and importance.

Build and implement the required project features according to the defined priorities.

Test with a soft launch, where solutions are released to a small audience while you collect feedback.

Continue addressing feedback, including any concerns and criticism, while reiterating.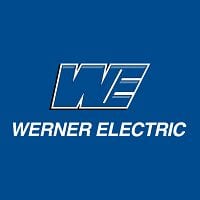 Werner Electric is a Minnesota-based electrical distributor. As a B2B distributor, they wanted a B2B eCommerce platform that could grow with them. They also knew what customers wanted: convenient B2B pricing, easy ordering process, and a personalized experience.
To test their ideas, they looked for a robust and scalable platform that could support additional complexity and integration over time. An MVP approach allowed Werner to use their legacy system while validating a new OroCommerce solution. 
Werner's MVP included an ERP integration, partial catalog import, and an easy-to-use storefront. OroCommerce's customizable, built-in themes allowed Werner to launch a usable store in a short amount of time without spending time and resources on front-end design and development. All this helped evaluate the new solution's reception and gave employees and select customers time to get comfortable with the platform before launch. What's more, Werner leveraged user feedback during development, saved on development costs, and went to market faster.
4. Address adoption issues
Overcoming resistance is key to change management for technology adoption. Anticipating and preparing for resistance includes education and effective communication. Encourage adoption internally and externally throughout the project duration. Here are some ideas:  
Internal adoption
Provide regular training for employees. Create a knowledge base, training videos, host meetings, or introduce an online self-help manual.

Establish bonuses for those who embrace change. This can include gamification, new compensation structures, or additional company perks.

Start employee adoption with customer-facing sales, support, and success roles so they can promote the benefits of change to customers.

Make adoption an ongoing process. Host meetings and training sessions and encourage employees to participate in discussions and communicate their feedback.

Allow employees to provide feedback at every opportunity. When you utilize their ideas, they are more likely to feel ownership and adopt the product.
Customer adoption
Offer customer promotions, discounts, or access to exclusive products and services as a reward for adoption.

Invest in customer education. Craft a content strategy consisting of blog posts, how-to guides, podcasts, case studies, video tutorials, webinars, and more.

Repetition is essential. The Marketing Rule of 7 indicates that customers need to hear things seven times before considering taking action.

Listen to customer feedback through one-on-ones, surveys, or discussion forums to determine if adoption efforts are successful.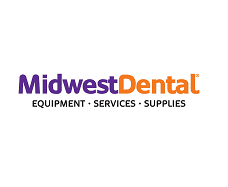 Midwest Dental is a dental supply distributor that serves the midwestern United States. They were looking to upgrade their eCommerce platform with a modern, scalable solution. They also needed numerous B2B-specific features with marketing and sales capabilities, and OroCommerce fit their needs perfectly.
To ensure their new solution was well-received and adopted by customers, they created a self-help manual with video tutorials. Since the new Midwest website introduced many new features, these videos helped spread awareness, promote usage, and accelerate adoption. By making separate videos for sales staff and customers, Midwest got buy-in and reduced frustration both internally and externally, resulting in rapid and smooth adoption. 
5. Improve continuously
Meeting growing customer demands, remaining ahead of the curve, and succeeding in the face of digital disruption are not one-time activities. They are gradual, long term, and continuous.
Change management is no different.
If you want to manage and succeed in change efforts, a high level of ongoing commitment is required from everyone within your organization. Indeed, only the most resilient companies succeed – those that never give up, and power through obstacles.
This requires continuously supporting leaders, employees, customers, and iterating until the desired results are reached. This is the path to success in today's fast-paced environment.

Animal Supply Company (ASC), a large pet food distributor, rapidly expanded through acquisition. They inherited different websites, ERPs, warehouses, complete with separate business logic. This required customers, vendors, and sales reps to log in to multiple disconnected systems to manage orders, determine pricing, promotion eligibility, and more.
The MVP strategy that Oro suggested focused on first eliminating data silos and unifying data from their legacy systems under one roof. 
Throughout this process, ASC continuously communicated with internal teams and customers the value of the improvements they were making. As a result, they created excitement internally and externally. Once customers could clearly see all eligible promotions without contacting sales, adoption grew quickly.
Once they had internal and customer support for the MVP, they built on top of this foundation and continued their digital transformation. The next iterations included capabilities such as an API-connected mobile app that allowed retailers to scan product codes to re-order directly from their shelves; B2B2C capabilities, giving retailers the option to quickly launch a storefront natively connected to ASC;  3PL support to streamline logistics services. As a result, they successfully moved 10% of their total sales to digital channels, increasing sales by 19% all within the first year after the MVP release. On top of that when the pandemic hit, their systems were well prepared to handle remote selling, which brought several weeks of double sales volumes with no performance issues in Q1 2020.
Change is a fact of life – and a necessity for the survival of any business. 
Fully understanding the technology change management process and how it applies to your company will help you reduce the risk that your change will get rejected or fail under its own weight. We hope that acknowledging the obstacles and following the steps outlined in this guide will greatly increase your odds of success.
Questions and Answers
What is technology change management?
Technology change management consists of selecting, implementing, and guiding organizations with the adoption of new technologies. The goal is to facilitate a smooth transition, reduce resistance, and ensure that employees are productive and satisfied with technology in the workplace.
How does technology affect change management?
Technology impacts change management initiatives in a variety of ways. New software, better insights, and processes get introduced every day. As processing power increases and technologies such as machine learning and AI powered eCommerce become more accessible, we will likely see more successful change management projects.
How does technological change impact organizations?
Technology impacts organizations in several ways. Since people and organizations change at a much slower pace than technology, many technology initiatives get postponed. The result is a widened technology gap, which can leave brands at a disadvantage when combined with market competition and economic uncertainty.
How do you implement new technology?
Implementing any new technology requires goal-setting, a thought-out strategy, and strong communication. You should set your teams in place, address existing culture and processes, and perform incremental change. Lastly, you'll have to manage internal and external resistance and train everyone to use technology correctly.