This post was contributed by Tim Ferguson, writer and editor of Marketing Digest.
The business-to-business e-commerce market is estimated to reach USD 20.9 trillion by 2027 with an ever-increasing CAGR of 17.5 percent. The burgeoning market with multiple players has made it challenging for retailers to engage their audience with meaningful experiences. Your business website is the central point of your marketing efforts. Hence, even a small UX mistake can impact your ranking and sales. 
UX has a significant impact on your site's SEO. That's because awesome experiences improve user engagement, inspiring brand loyalty and continuously attracting unique visitors. Poor UX is the primary reason why site visitors lose patience and abandon the website.
Factors like page speed, mobile responsiveness, URL structure, and others talk about the quality of your web interfaces. They help search engines understand your site's content and track user engagement. Nothing matters more than amazing content presented in a responsive and aesthetically pleasing manner. No wonder, Google's new ranking factors include page experience signals, collectively referred to as Core Web Vitals. 
Hence, failing to implement an effective UX design can jeopardize your engagement metrics and ranking. Given below are a few UX mistakes that should be avoided at all costs or it will affect your site's performance and conversion rate. 
1. Not Being Mobile-Friendly
BCG research indicates that mobile devices drive 40 percent of B2B eCommerce sales. That's huge! 
B2B customers use various devices to access websites and learn about businesses. A typical B2B buyer involved in purchase decision-making at their company is under 35 years of age who's looking for awesome digital experiences across all devices. So, if B2B eCommerce marketers want to make it big, they need to optimize mobile experiences. 
What's more? Google prioritizes mobile-friendly sites. So, not having a responsive framework is probably the gravest mistake any business can make as all your other organic search efforts will be in vain. Plus, when they come across a poor mobile site, users will abandon it in favor of the competitors. 
More than half of all eCommerce traffic originates from a mobile device.. They all need to be able to search, browse, and shop using devices like smartphones and tablets without hassle. So, it's important to focus on mobile UX optimization.
Understand your mobile design and note down the aspects that may cause user frustration. Examine your site's images, text sizes, button placements, and load times and work with your developers to build a seamless user experience. 
Retaining customers is critical to B2B eCommerce success as they depend on repeat purchases to survive (unlike B2C where customer churn is a part of life!). Hence, it's important to create mobile-first B2B experiences. 
Leading B2B eCommerce stores are recognizing this trend and not just optimizing their sites for mobile but also investing in B2B mobile eCommerce experiences, namely, progressive web apps (PWA) to improve their process efficiency and boost repeat purchases.
2. Not Ensuring Optimal Load Speed
Slow sites can give your audience's expectations a big blow. More than half of users leave a site or webpage if it doesn't load within 3 seconds. In fact, the abandonment rate increases with time.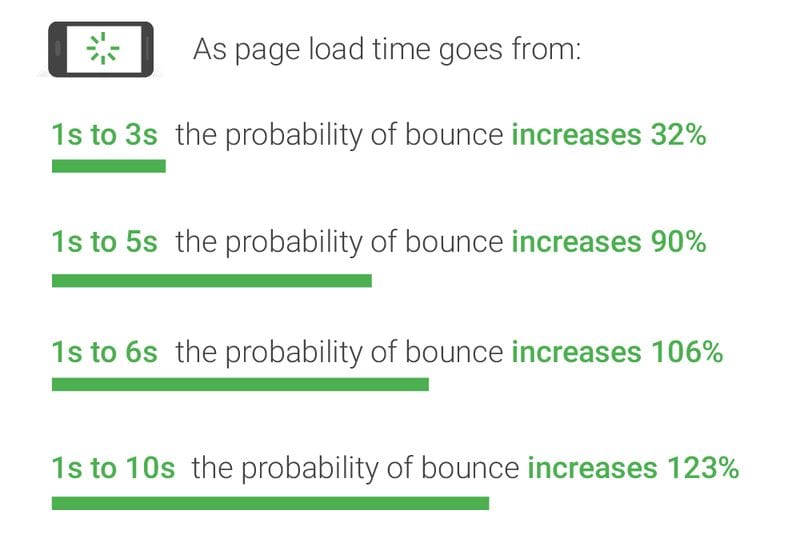 [Source]
Though in B2C eCommerce, slow page loading directly impacts conversions, it hits B2B eCommerce sites harder. In a B2B Web Usability Report, 66 percent of the B2B buyers surveyed shared that a slow website would cause them to leave immediately and never come back. Yikes!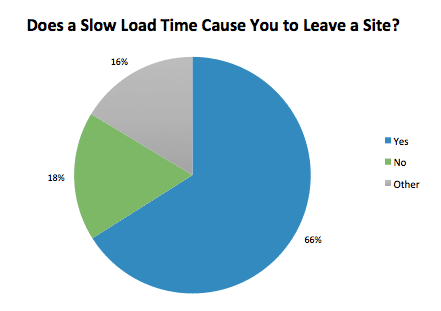 [Source]
oor site performance can frustrate B2B customers who need to regularly re-order, potentially resulting in lost high-value contracts. These frustrated customers then move to other providers with a better digital experience. 
Site speed greatly impacts conversion rates. In fact, the first 5 seconds of a page load time have the highest impact on a site's conversion rate and sales. Here are a few tips to improve the speed and performance of your B2B website and boost your revenue. 
B2B sites are heavy with unique pricing per customer, stock allocations based on location, custom product catalogs, advanced promotions, and other complexities. This impacts the site's speed.
Caching can help you process and deliver the cached copy to users till you need to update or process again. A content delivery network (CDN) can help with this. It's a global network of servers that stores a cached version of your site. So, when a user requests your site via their browser, the closest server is contacted. The result – lightning-fast experience with reduced load on the server. 
Choose an Appropriate B2B eCommerce Platform

 
High-performing eCommerce platforms are set up to handle the unique requirements of B2B eCommerce sites. For instance, platforms like OroCommerce reduce the complexity of custom projects with online marketplace features like corporate account management, access controls and permissions, personalized B2B catalog management, and multiple shopping lists among others. All this can significantly improve your site speed. 
What's more? The platform offers SEO management that enables B2B retailers to optimize their webpages for relevant and high-traffic keywords.  They can easily define SEO related data like URL slugs, meta-titles, meta-descriptions, meta-keywords, and more to boost their site's ranking. 
Heavy and improperly-formatted images can cause your site to slow down. Search engine bots hate image-heavy and slow-loading websites as they interfere with user experience. Hence, it is wise to ensure that all the images uploaded to the eCommerce application are compressed. 
Resizing or compressing images is not just about shrinking them implicitly using HTML and CSS. Say,  you want to use an image of dimensions 3800 x 5000 px as the display image of size 300 x 300 px. Instead of setting the image's height and width attributes in the code, resize it before it's sent to the browser. This will reduce the time taken to load the page and reduce its bandwidth and disk space.
Large images shouldn't be more than 1 MB in size. Smaller web graphics are usually 300 KB or less. Use image optimization tools that can help improve your images for website performance. Tools like Adobe Photoshop, OptiPNG, ImageRecycle, Gimp. and JPEG Mini among others can help you optimize images without compromising on their quality. 
B2B eCommerce systems have information stored across a vast array of database tables. Therefore, it's critical to use an eCommerce platform with sound eCommerce website architecture, product indexing and integration capabilities. Pay special attention to searching and storefront navigation functions, and make sure the system you're considering integrates with your sources of truth such as the CRM, enterprise resource (ERP) and eCommerce PIM (product information management) platform. 
3. Not Optimizing Content For Uniqueness/Relevancy
Content optimization is the sure-shot way to make your website attractive and understandable to your audience and the search engines. Search engine optimization (SEO) is not only about keywords, meta descriptions, and the body copy. It's also about ensuring that your content matches user intent. 
Ask yourself – Does the content address topics your audience is interested in? Does it provide what they are looking for? In case the answer is no, then your site's content isn't optimized and will perform poorly in the ranking algorithm.
Whether you have hired an SEO strategy consultant or are handling SEO in-house, it's important to invest in content optimization. Use these quick tips to provide relevant content and offers to your target audience. 
Use tools like SEMrush to find relevant keywords (with low competition) for your business. These keywords can then be used to identify SEO-friendly topic ideas for your blog or included in blog posts. 
Hence, you are offering content that's written with the audience in mind, thus optimizing the content for organic traffic.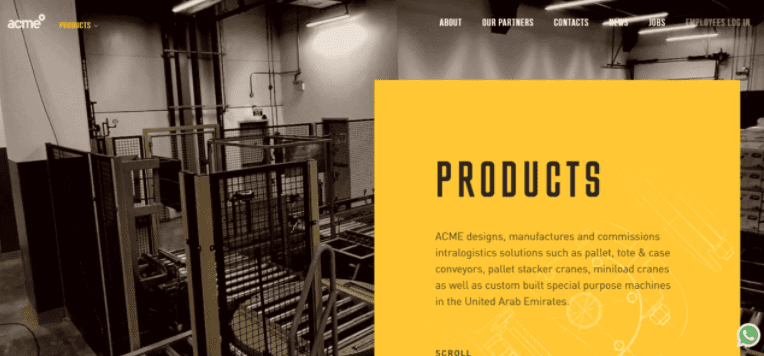 [Source]
Check out how ACME, a well-known B2B eCommerce site, makes every piece of content and images easily clickable and offers enough quality and relevant information on its products and services. 
Segment your customers as per their buying habits and preferences to send them relevant offers. 
For instance, if a customer ordering weekly hasn't come back in a week, set up an automated email saying – 'We miss you!' or 'Did we do something to upset you?' Speaking to them directly will make them feel like they aren't just a number but a customer who's valued. 
Similarly, like DiscountVials you can offer content that targets the specific needs of all the industries you cater to.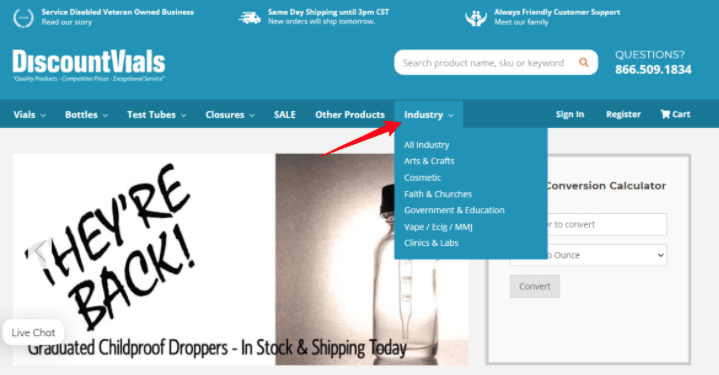 [Source] 
Low-quality pages with thin and duplicate content can lead to index bloat, reducing your ranking in the SERPs. This is particularly true for B2B eCommerce businesses that carry large SKUs or configurable products.  They tend to accumulate unnecessary product or category filters, duplicate product information and discontinued or long-term, out-of-stock products. 
Make sure you conduct a site content audit to identify such pages and prune them. 
4. Not Having an Effective Site Search
Regardless of whether your eCommerce business is B2B, B2C, or B2B2C, the person at the other end is a human who's habituated to using Google to find answers to their questions. 
Up to 30 percent of eCommerce site visitors hit the search box to look for a product or a service. Also, research shows that on-site searchers are 216 percent more likely to convert and spend more than regular users.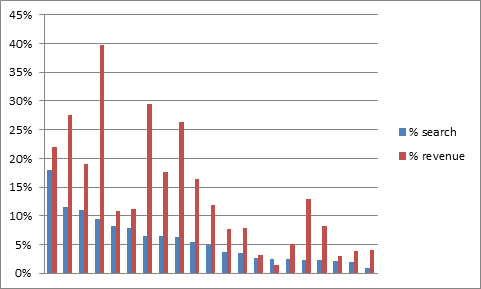 [Source] 
The site search feature helps customers get directly to what they are looking for, instead of going through each category or filter, thus improving their online experience. 
Yet, only 15 percent of businesses have dedicated resources for site search optimization.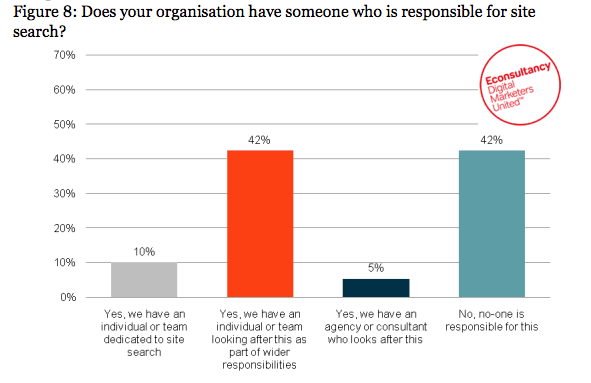 [Source]
Missing out on building an effective site search feature can frustrate visitors who have high expectations of internet search after using Google over the years. Therefore, if you want to boost your UX and ranking, it's important to have an optimized site-search system on your eCommerce site. 
Consider these pointers to improve the experience when your visitors are looking for something specific. 
Do a deep dive into the analytics and understand how visitors are currently using your site search. This will enable you to track your site search users and the reasons why they are bouncing off to other sites. 

Reach out to customers to ask them about their site search experience. This will help you build a robust site search system that exceeds their expectations.

Make sure that the digital commerce platform you are using offers a good search engine page or plugins to enhance the functionality of your website. For instance, most ecommerce platforms offer elasticsearch capability allowing users to find items by part number, description, or other identifiers.
5. Not Testing Enough
The value of testing the features and functionality of a website cannot be underestimated. Yet, A/B testing is often missed out by B2B eCommerce sites as they feel that design isn't of much significance in the B2B realm. 
But the fact is, A/B testing doesn't just assess website design but also a user's response to that design which is largely a part of improving a site's UX. Hence, B2B eCommerce marketers should run an A/B or split testing on each element of the site to understand and respond to customer needs promptly. 
Test the headers, graphics, videos, forms, and CTAs to ensure that your website is meeting the expectations of its audience.  
Wrapping Up…
Regardless of how established your B2B eCommerce business is, there are always a few aspects of UX that may be jeopardizing your online standing and sales. The UX mistakes shared above are quite common, yet overlooked by most eCommerce marketers. Make sure you avoid them as you work towards boosting your site's UX, ranking, and sales.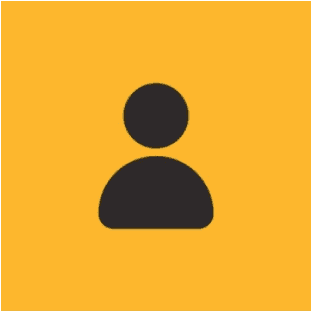 Tim Ferguson is a writer and editor of Marketing Digest. He enjoys writing about SEO, content marketing, online reputation management, social media, AI, and Big Data. When he is not writing and editing for Marketing Digest, he spends time on learning more about content marketing.