Just like retail customers, business customers expect transparent shipping rates, fast, on-time order shipping with firm delivery dates, and hassle-free returns. That's why OroCommerce supports integration with UPS along with other major shipping carriers such as FedEx and DPD right out of the box. Today's Training Thursday looks at the benefits of UPS shipping for B2B eCommerce, shows how to configure the UPS shipping method integration, and provides actionable UPS shipping eCommerce tips to help you control shipping costs.
Benefits of
UPS Shipping for B2B eCommerce
Timely shipping is central to successful, long-term B2B buyer-seller relations. But shipping can be a source of friction between buyers and sellers. You must minimize cost and breakage while still providing the quick delivery customers demand. Close collaboration with a trusted shipper is the answer. United Parcel Service (UPS) is a worldwide shipper and should be considered when picking a freight partner. Here are a few benefits of shipping UPS for B2B eCommerce.
First, UPS provides domestic and international shipping services within 220+ countries. That's the kind of coverage you need if you ship abroad. Second, UPS is the third largest global shipping operator with about a 22% market share in 2017.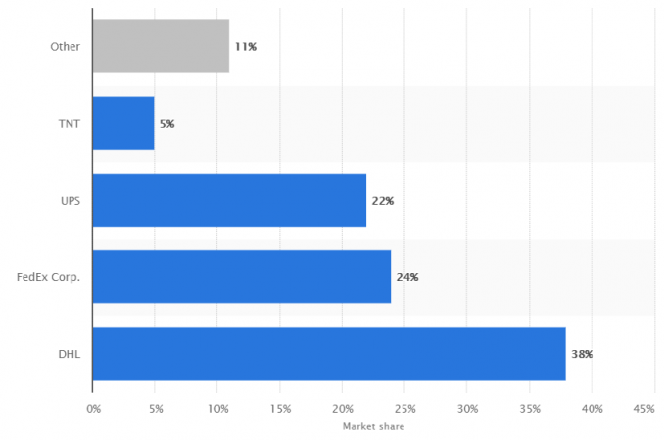 Global market share of couriers and local delivery service providers in 2017, source: Statista
From inbound supply chain management to outbound LTL and parcel services, UPS provides shipping solutions for small, mid-size, and enterprise-level companies with negotiated rates. In 2015,  UPS services to the B2B sector outpaced B2C (55% vs 45%).
UPS APIs for eCommerce Platforms
UPS supports B2B by developing a variety of Application Programming Interfaces (APIs).  The Shipping API enables a seamless integration of UPS services into eCommerce platforms. With the UPS Shipping APIs integrated into your B2B eCommerce site, you can streamline your shipping processes and decrease shipment preparation time while boosting customer satisfaction with timely and easy order delivery. Specifically, you'll be able to:
Provide buyers accurate real-time rates and delivery estimates for domestic and international shipments.

Ensure order status transparency by giving online access to instant tracking information.

Allow buyers to select shipment priority and view UPS shipping rates when completing checkout.

Increase productivity efficiency and reduce errors that can occur during manual processing of orders.

Generate labels automatically when orders are submitted.
As an OroCommerce seller, all you need to do to leverage these benefits is set up the UPS integration in your OroCommerce store. Creating a UPS integration is easy.  
Creating a UPS Integration in OroCommerce
The UPS integration in OroCommerce lets you use the UPS eCommerce APIs to integrate their shipping functionality directly into your webstore. This gives the ability to provide your B2B customers access to multiple UPS delivery options at checkout.
Once you've created the UPS integration with OroCommerce, you can set up a shipping rule to define how the UPS shipping options are displayed based on different locations. As shown below, the UPS shipping options offered to a US-based customer (image A) are different than those shown to your UK buyer (image B).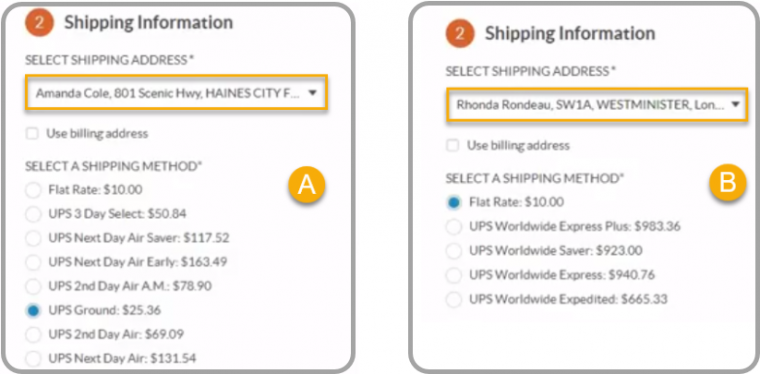 Different UPS shipping options displayed on the storefront based on location
To configure the UPS integration for your OroCommerce store, first, ensure you've created a UPS account and established a connection with the UPS API. Then simply click System > Integrations > Manage Integrations > Create Integration > and select UPS as integration type in the Type field on the form that opens.

Provide a Name and Label for your new integration as well as the access key, API username and password, and UPS account number created by UPS when you registered at UPS.com. In the Pickup Type, select the package pickup option for this shipping method (e.g., Regular Daily Pickup, Customer Counter, One Time Pickup and other).
Provide the desired destination country in the Country field. If you sell globally, simply create a dedicated UPS integration for each country where you want to deliver with UPS. Once you've selected the destination country, the list of UPS shipping options appears where you can select the levels of service you wish to offer. Remember,  for global shipping, customers in different countries have access to different shipping services. To verify the connection, click the Check UPS Connection button.
Finally, to enable the UPS integration set the status to Active and click Save.
For complete information on Configuring a UPS Integration in OroCommerce, refer to the Shipping Method Integration Documentation.
If you're a visual learner, check out the How to Create a UPS Shipping Integration video tutorial. It demonstrates how to:
The video also shows the UPS shipping methods that are available to domestic and international customers who place orders on the same webstore.
UPS Shipping eCommerce Tips
To Trim Shipping Costs
Shipping is a major cost center. However, there are ways to control costs.  Use these UPS shipping tips and tricks we've put together to help you save money without compromising on customer service.  
Order free shipping supplies
Shipping supplies can get expensive. Luckily, UPS offers a selection of free supplies. As a  UPS shipper, use their freebies such as labels, pouches, and shipping documents. If you ship Express, free boxes and envelopes are also available.
Use UPS Hundredweight Service
If orders shipping to the same location on the same day are between 100 and 500 pounds, use UPS Hundredweight service instead of less than load (LTL). These shipments don't require a pallet, so that saves shipping weight. Less shipping weight means less shipping cost. Plus, you'll save on LTL fees such as inside-delivery.
Thermal label printers
Using a thermal printer designed specifically to print shipping labels pays off. t saves time because thermal printers are fast.  It saves money because you don't need to buy toner or ink.
Smaller package size
UPS sets shipping charges based on billable weights. The actual weight is compared to the dimensional weight and the greater of the two is applied to the shipping rate.  Here's where you can strategize. To reduce overall shipping costs and exclude extra charges, choose the smallest possible boxes with the lightest fill material.
Negotiated rates and special offers
Just as you negotiate prices with your customers, UPS is willing to negotiate prices with once. You have established shipping records, reach out to your UPS representative to negotiate the rates that are best for how and where you ship. If you are a low volume shipper, discounts are still available. Check out  UPS special solutions for small businesses, such as, UPS Connect that provides new subscribers with a 20% discount on air and international shipping.
Have you discovered a  real shipping cost saver or have an experience you would like to share about the UPS integration? Share it with the community in the comments below.