The nuanced nature of B2B selling makes B2B eCommerce website more complex than B2C. An effective B2B site storefront must not only be user-friendly and tailored to the requirements of business customers, it must also facilitate seamless and quick ordering. So, how can you incorporate the necessary B2B-specific features while maintaining a great UX? The B2B eCommerce UX best practices in this post will show you how. Learn how to leverage OroCommerce storefront capabilities to deliver the exceptional storefront experience buyers demand.
B2B eCommerce UX Best Practices
Thoughtful B2B eCommerce UX design is essential to fulfilling buyer needs. The goal is to provide a  positive experience for visitors using your site, make their journey as smooth as possible, and facilitate their conversion from visitor to customer.. B2B websites must host much more information than  B2C. That is why smart UX optimization is even more crucial to B2B than B2C. Follow these tips to improve the UX of your B2B webstore.
Breadcrumb navigation keeps customers oriented
User-friendly navigation is one of the building blocks of a great B2B eCommerce UX.
To make your site navigation user-centric, provide a roadmap for the journey. Don't let visitors get lost. Provide a breadcrumb trail to guide them by defining the site section they are currently in and showing them where they have been.

OroCommerce's breadcrumb bar showing the current location and how the user navigated to the position
Page headers synced with page content
Similar to breadcrumb trails, customers can use page headers to better understand where they are and what to expect on the page. Ideally, page headers should match the navigation items or links that have been clicked on.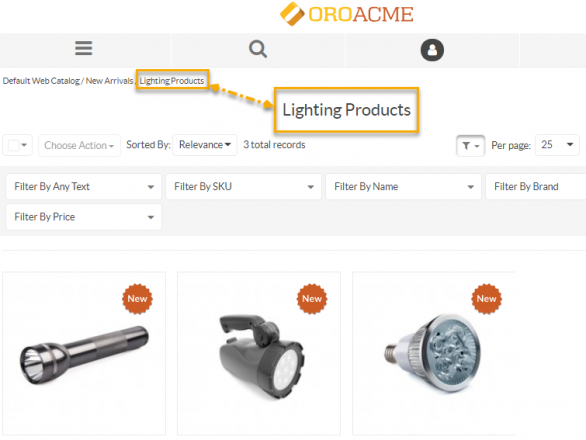 Informative page headers in OroCommerce indicate what visitors should expect to find on the page.
Easily accessible search box
We can't emphasize enough the importance of a fully-functional, well-working search function. Well-functioning onsite search is essential for r positive UX. The lack of onsite search or poorly functioning onsite search can be a point of friction. Users frequently look for the search box before they actually search for products on the site themselves. It's just easier. So, place the search bar where it will be instantly spotted.
Arrange content by audience
Visitors come to your site for a variety of reasons, and different visitors are looking for different types of information. Keep this in mind as you mock up your B2B eCommerce design. Tailored the types of content to the different audiences. Product choosers and product users are looking for different types of information. Arrange tech specs, descriptions, policies, certificates, brochures, and other supporting and educational documentation into an online library. Make sure customers can access these resources and find what they need while providing potential buyers the information they need on product pages.
Informative pages with minimalist design
It's a balancing act. Current design trends keep UI design simple and minimalist. But you must still provide users all the information they need. Find a balance between the two and avoid cluttering site pages.
Provide user autonomy and user control over their data
Give buyers more freedom and frictionless self-service experience. Allow customers to edit their account information, manage billing and shipping addresses, check order history, view previously purchased items, and instantly reorder. Provide quick access to the tools they need to make new and repeat purchases. This can include personal shopping lists, order history, quick order and request a quote form. 71 % of B2B buyers prefer to purchase on their own with access to a sales rep when needed, so offer them the UX that mirrors their buying preferences.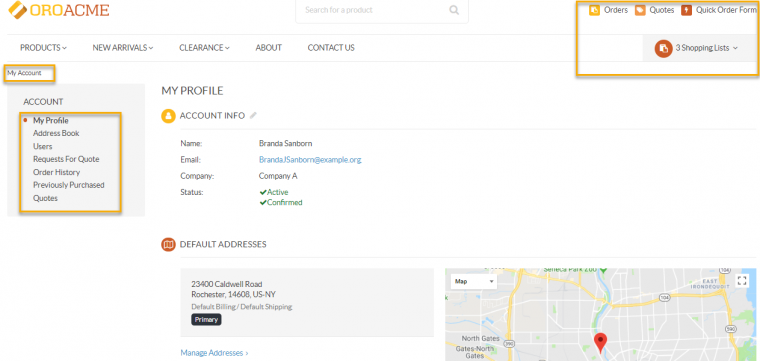 Buyer's account on the OroCommerce storefront
Guest Checkout
14% of online buyers abandon their carts if they can't order as guests. Guest checkout is an important option to offer and is a key factor for friendly B2B eCommerce UX.
At the end of the day, the best way to assess your B2B eCommerce website's UX is to walk in your customer's shoes. Try it  on an OroCommerce-powered website. Get a complete overview of the storefront capabilities you can leverage as a store administrator, by checking out today's video tutorials dedicated to working with the OroCommerce storefront from both the user and admin sides.
Watch and Learn: Working with Storefront in OroCommerce
OroCommerce was built with B2B eCommerce UX best practices in mind. See for yourself by watching the Set Up Your Website Storefront – Buyer's Perspective video. It will guide you through the storefront features and possibilities available in the storefront to both guest and authenticated users. The highlights of this video tutorial include:
Key elements of the storefront interface (storefront menu, navigation, and search bars).

Step-by-step guest checkout.

Benefits of the My Account menu that enables buyers to view and manage their personal data, track submitted orders, quotes, and RFQs.

User registration and sign in.
To get insights into the advanced capabilities and permissions a company administrator has in the storefront, watch the Exploring Storefront Possibilities as a Company Administrator video.
After watching this tutorial, you'll be able to:
Create a new role and assign it permissions with different data access levels.

Submit and cancel reorders for buyers.

Create and manage new buyer accounts.

Enable and disable user accounts.

Collect statistics on orders and quotes.
If there are other B2B eCommerce design tips and tricks you think we should add here, or if there's something else you'd like to learn about the OroCommerce storefront, let us know in the comments below.