Originally published November 4, 2021, updated February 14, 2022
Today's customers discover items on their mobile device, go on their desktop to perform research, chat with a sales rep for additional information, and look for the option to inspect or return items at a physical location.
In other words, while buyers embrace eCommerce, they still value physical locations and they expect on- and off-line experiences to be connected:
Virtually all buyers of big-ticket items research products online, but in-store buyers are two times

more likely

to pull out their wallets.

While eCommerce is booming,

less than half

of buyers are shopping online more than before the pandemic.
The challenges of 2020 and 2021 highlighted the importance of connected customer experiences:
According to

data by Ayden

, 50% of unified commerce retailers saw transactions remain consistent during the pandemic.

At least 3/4 of customers in

Hong Kong and Australia

want to continue the unified cross-channel experiences they received during the pandemic.
What's more, modern eCommerce systems rarely work in isolation – they've become a critical business component connecting multiple business assets such as the website, mobile applications, third-party marketplaces, fulfillment providers, and point of sale systems in retail locations. 
According to Gartner forecasts, by 2023 a typical digital commerce experience will be assembled from over 30 integrated applications, and over half the entire cost of digital commerce platforms will be attributed to system integration.
Various terms like multichannel, omnichannel, headless, composable, modular, and unified eCommerce are used to describe connected experiences and the technologies that support them. As with any new technology, it's easy to get caught up in the hype and lose sight of your real business needs.
One of these, unified eCommerce in particular, is taking the commerce world over by storm. It's a strategy and technology approach that's just as applicable to B2C eCommerce as to B2B and B2X (such as B2B2C) commerce brands.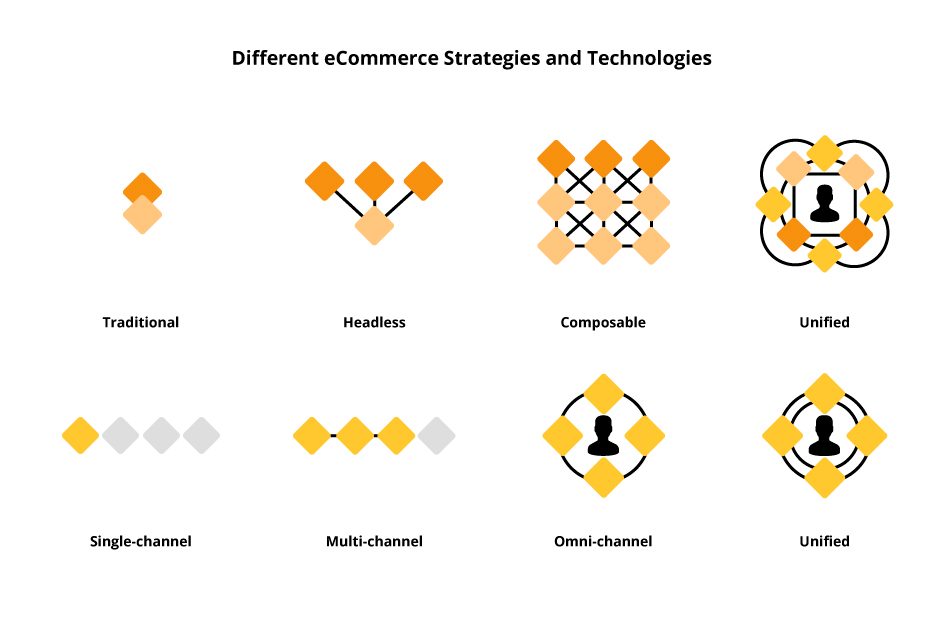 In this post, we'll help you understand unified eCommerce and what makes it different from other integrated approaches to eCommerce. We'll look at the technology behind unified eCommerce, the different approaches you can take in creating the unified experience, and how to craft a strategy that meets your eCommerce goals.
What Is Unified eCommerce and How Is It Different?
As customer journeys get more complex, engaging customers with siloed or poorly connected platforms will only become more challenging. A unified commerce platform removes the complexity of disparate platforms and processes and enables data to travel where needed. The result is a frictionless shopping experience on the front end supported by efficient back end operations.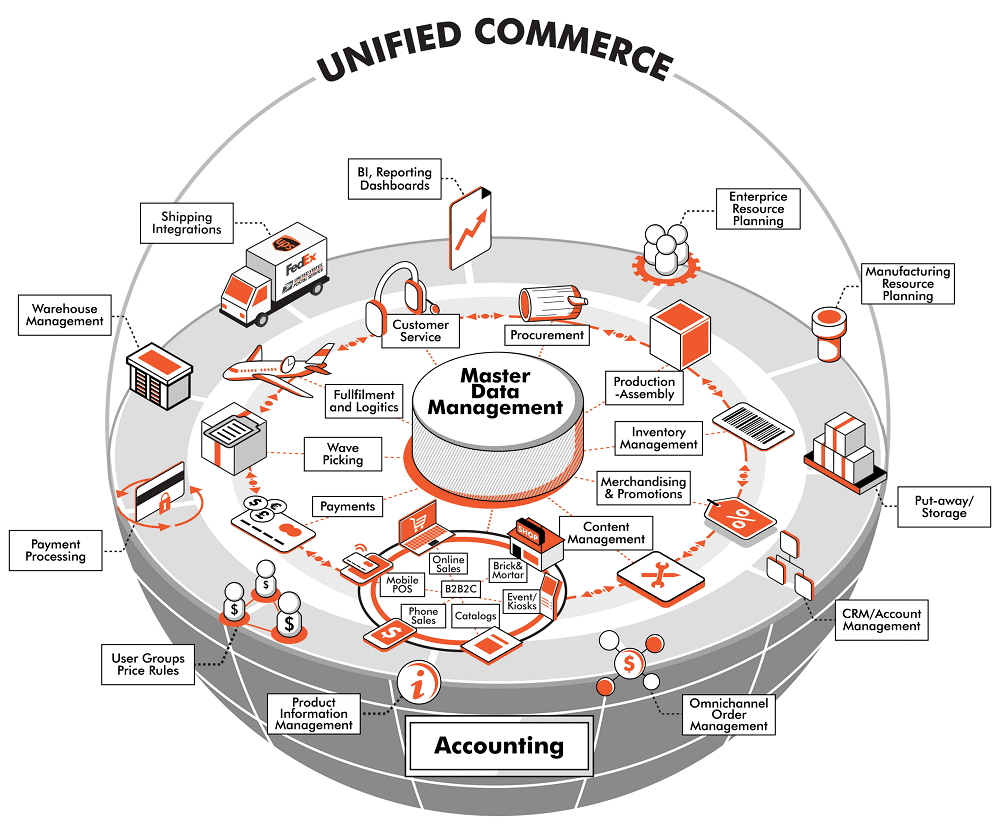 [Source]
Sounds familiar? This has also been the goal of multichannel, omnichannel retailing, headless, and composable eCommerce.  So, let's start by comparing these digital selling strategies and technologies to a unified eCommerce approach.
Strategy
Definition

Single-channel eCommerce
Multi-channel eCommerce
Omni-channel eCommerce

Unified eCommerce

These businesses sell their products and services using one channel, be it eCommerce website, phone, social media, or physical store.

Multichannel eCommerce businesses support multiple selling channels but divide channel experiences and corresponding back-office functions into silos.

Omnichannel eCommerce connects the multichannel eCommerce touchpoints into one customer experience.

Unified eCommerce builds upon omnichannel eCommerce by further increasing agility, personalization, and flexibility to meet various customer needs.

Business benefit

Single-channel eCommerce
Multi-channel eCommerce
Omni-channel eCommerce

Unified eCommerce

Businesses use single-channel Commerce to reduce investment and complexity. However, it can lead to missed selling opportunities due to the connected nature of today's customers.

Businesses use multichannel eCommerce to put their products in front of customers using as many channels as possible. However, every channel is separate and data is not shared between channels.

Businesses use omnichannel eCommerce to improve the customer experience. However, this requires customer and product data to flow across channels, and this level of integration requires the right technology.

Businesses use unified eCommerce to connect back-end systems with customer-facing channels.

Everything from inventory, communication, products, and marketing data is in one place, making processes easier to coordinate and manage.  

Customer experience

Single-channel eCommerce
Multi-channel eCommerce
Omni-channel eCommerce

Unified eCommerce

Businesses engage, sell, and fulfill customer orders with a single channel, and customers must turn to this channel to engage with the brand.

Businesses engage, sell, and fulfill customer orders on multiple channels.

Since data is not shared, the customer experience changes with the channel and each channel represents a separate silo for each customer.  

Businesses engage, sell, and fulfill orders with customers using multiple channels. But since data is shared, the experience is consistent across channels.  Customers can access the website on mobile, finish their purchase on a desktop, and pick up their item in-store.

Businesses engage, sell, and fulfill customer orders on multiple channels while supplying relevant data back to the customer. The result is less friction and greater personalization as customers move across channels.
As eCommerce experiences evolved, so did the technologies enabling the experience. For example, if a business pursues an omnichannel strategy with an outdated monolithic platform, customers receive inconsistent inventory, product, and fulfillment data.
It frustrates returning customers when they are not recognized and no one appreciates receiving the wrong stock information or irrelevant promotional material.
As customers demanded better experiences, sellers demanded the technologies to make these experiences possible. Here is a comparison of the three common technologies that enable different levels of unified eCommerce experiences:
Technology
Definition

Headless eCommerce
Composable eCommerce

Unified eCommerce

In a headless scenario, the front-end and back-end of an eCommerce application are disconnected, allowing them to operate independently of one another.

Data is published from the eCommerce system to an API, to change the front-end without affecting the back-end.

Unlike headless, which only decouples the front-end from the back-end, composable eCommerce separates back-end elements too.

This is accomplished with microservices architecture that breaks down the architecture into functions and features. A collection of microservices is referred to as Packaged Business Capabilities (PBCs for short). 

A unified eCommerce system is an eCommerce environment that gives businesses the agility to meet and respond to changing customer expectations.

It includes all the necessary back-end and front-end elements in a single, robust system. The structure supports omnichannel journeys and provides a unified view of interactions, products, sales, fulfillment, and delivery.

Benefits

Headless eCommerce
Composable eCommerce

Unified eCommerce

It's easier to add new customer-facing channels and improve existing channel experiences without impacting the back-end.

You can integrate existing websites and CMS with eCommerce capabilities.

Global, multi-location websites can provide different experiences with a single back-end.

You can deliver content to various delivery systems such as applications, screens, AR, VR, IoT devices, and more.

A change in one component (front- or back-end) does not affect the entire system. This allows you to launch unique experiences with best-of-breed solutions.

By only installing the solutions you need, you maximize efficiency and minimize software license costs.

Many composable eCommerce vendors offer pre-composed solutions or the ability to build a platform to your exact needs.

Since composable eCommerce is an evolution of headless technology, many systems are built with low-code or no-code technology for easier adoption.

Unified eCommerce centralizes data, and pushes real-time information to channels, locations, and business units.

Centralized order management provides greater inventory control and increased transparency for customers.

Natively connected apps make it possible to build unique customer profiles for a unified brand experience.

Since data is managed in-house, synchronization is more effective, and data flows are more reliable.

Drawbacks

Headless eCommerce
Composable eCommerce

Unified eCommerce

Headless eCommerce can be expensive if developers must create interfaces from scratch. However, this is quickly changing with the help of no-code and low-code solutions.

Many API calls can slow down data exchange, particularly if different systems operate with different limits. 

As the number of integrations increases so does the level of complexity and costs. 

Composable eCommerce allows the use of multiple front-end and back-end software vendors. It can be a challenge to monitor subscriptions, terms, conditions, and

service level agreements

.

Businesses need strong IT teams and high cross-organizational maturity to manage composable architecture.

Adopting composable eCommerce requires new approaches, monitoring tools, and organizational changes. 

This is a relatively new approach so true unified eCommerce solutions are rare. 

Unified eCommerce systems tend to be monolithic in nature and lock you into their products and services without leaving you with an alternative.

Because of the all-in-one approach, some areas may lack the depth and functionality of a more singularly focused solution. 
So, as you see,  unified eCommerce can refer to a strategy and the technology behind the strategy.
And once you've settled on the unified commerce strategy, it's time to explore the unified eCommerce solutions available.
Different Approaches to Unified Commerce Technology
Digital commerce vendors that offer unified eCommerce experiences may offer all-in-one platforms, complete with features required to match multiple use cases or microservice platforms that allow you to connect individual components built for specific needs, such as CRM, shipping, or inventory management.
Both approaches deliver a unified eCommerce experience, but they each have their own challenges. There is still another approach that has the flexibility of microservices yet lower total cost of ownership and faster time to market of all-in-one solutions, – the modular approach. 
Let's consider these options, alongside unified commerce examples, in a little more detail. 
All-in-one platforms
All-in-one platforms are designed to appeal to a broad market, so they tend to be feature-heavy. In addition, you'll also have the ability to connect with other software through native integrations. However, many all-in-one platforms don't offer the freedom to customize code as necessary, and your ability to modify and adapt to evolving business needs or customer expectations is restricted.
Generally, the proprietary all-in-one software vendors effectively lock their customers into their services model, making it difficult to change vendors or customize elements of their products. Traditionally, Oracle, IBM, and Salesforce led the all-in-one pack and saddled customers with lengthy agreements that hindered flexibility and increased the costs of switching vendors.

It's impossible for one vendor to be great at everything. All-in-one vendors ignore or neglect processes that may be important to their customers. For example, a vendor's inability or reluctance to create an integration gives birth to third parties that are willing to address the issue.

All-in-one solutions usually promise a faster time to market with less investment. Due to their reduced complexity, these systems are ideal for

minimum viable product (MVP)

creation, can be more scalable and agile, but these benefits come at the cost of little ability to adapt over time. 

All-in-one solutions might be monolithic, where aspects of software operate as a single unit. In this case, implementing changes to your system will be difficult. With competitive environments changing rapidly and customer expectations rising just as fast, this lack of agility can hinder revenue growth.

Even if not entirely monolithic, some all-in-one solutions are composed of interdependent software components that share the entire codebase. These dependencies create interrelationships that are difficult to change and risky to build upon. Remove or change one piece and possibly create a host of seemingly unrelated problems elsewhere.

Some all-in-one solution vendors grew by acquiring adjacent software vendors. As a result, their products rely on a patchwork of integrations rather than a single architecture and business logic across systems.
Microservices platforms
Unlike all-in-one platforms, microservices-based eCommerce takes a polar opposite approach. Since microservices platforms use PBCs, they make it easy to bundle third-party components together. This approach supports a multi-vendor software strategy, allowing businesses to utilize best-of-breed systems to address their unique business problems. Unfortunately, this approach also silos essential data in separate tools, so managing and retrieving data can be difficult.
Microservices platforms support the various technology stacks and capabilities commonly found in a traditional eCommerce solution. These include software like content management, product management, punchout, tax management, and payment gateway systems tied together by an order management system.

In a microservices architecture, the services are simple, but the architecture can get complex. The more systems you use, the more contracts, terms, and resources you'll need. Added complexity makes scaling and customizing difficult, which can have a negative impact on growth.

Since microservices-based technology is resource-intensive, it increases the total cost of ownership (TCO) and extends the time to market. While this may be acceptable for enterprises, most companies don't have the money, time, or developers to keep disparate technologies up and running.

While all-in-one solutions lead to vendor lock-in, microservices-based solutions create a patchwork of systems and the potential for systems mismatch. If your growth plan includes mergers or acquisitions, this will be a problem in the future. 

A microservices approach demands digitally mature organizations with strong IT departments. Unlike all-in-one tools, you'll need added focus on the design, components, data transfer, and synchronization across the business.

While microservices enable independent management of different system components, it isn't well-suited to an eCommerce MVP approach.
Modular platforms hit the sweet spot
All-in-one and microservices-based eCommerce solutions have drawbacks. The need for speed, resilience, and scalability lures Commerce developers to microservices. But then difficulties implementing an MVP approach, managing connected systems, and a questionable time to market run them off.
Microservices aren't the only path to modularity. Modular platforms offer an excellent alternative for mid-market to large enterprises. They provide:
A level of flexibility and modularity similar to microservices.

Streamlined communication, so it's easier to integrate, implement advanced technologies, like AI in eCommerce, and build up existing modules.

Efficiency and savings on resources, leading to a lower TCO.
OroCommerce Enables Unified eCommerce with Modular Architecture
Oro believes that for businesses to be truly customer-centric, they must evolve and adapt to changing customer needs. That's why we offer our customers the flexibility to choose best-of-breed software focused on a particular task.
In other words, customers can compose and implement modules in line with their requirements or not use them at all if there's no need.
That's where OroCommerce comes in – it's an industry-leading modular B2B eCommerce software that also supports B2C and B2X commerce scenarios on a single platform.
OroCommerce comes with up to 80% of core B2B eCommerce functionality that companies need to launch successfully, which guarantees a quick time to market. With Oro's open-source, API-first, and modular architecture, the other 20% is easily customized. Oro users can fine-tune various elements of their B2B eCommerce business to match their needs. They enjoy a shorter time to market, more resources for innovation and growth, and the ability to offer a unified customer experience across all devices and touchpoints.
OroCommerce is one of the few eCommerce platforms that offers a natively integrated CRM. Using OroCRM in conjunction with OroCommerce saves on integration, implementation, and licensing costs. And if you are happy with your current CRM, that's not a problem.
Simply switch the OroCRM module off and integrate OroCommerce with any other CRM. For example, if you prefer MS Dynamics, use the connector available in the extension marketplace, or leverage the robust set of front- and back-end APIs to build a custom integration.
All Oro products, including OroCommerce, are built on top of the OroPlatform, a low-code development platform. OroPlatform is a single technological layer that includes the major components necessary for B2B applications. Flexible elements make it possible to meet demanding business needs. This includes:
A workflow engine that digitizes any workflow, improving back-office productivity and transparency for shoppers.

Powerful reporting and segmentation tools to deliver insights for business intelligence and marketing.

Enterprise-grade search engine with indexing and weighting capabilities.

Data export and import functionalities.

A robust API for front- and back-end integrations with various third-party systems.
With OroPlatform as a base, OroCocommerce offers the industry's leading core B2B eCommerce functionality on a platform that is easily modified and built upon. Avoid vendor lock-in and future-proof your business with a flexible and scalable architecture that adapts to changing needs and customer demands.
How Do You Create a Unified eCommerce Strategy?
A unified eCommerce strategy requires careful research, planning, and the whole organization must be behind the initiative. Most importantly, it requires a strong focus on unifying back-office and customer-facing processes to reach your unified customer experience goals.
Examine the existing customer experience
Before using technology to design the desired customer experience, make sure you understand every detail of the experience you want to offer. Take the time to design customer journeys that work seamlessly across all touchpoints and address your customers' unique needs.
Let's take the retail industry as an example: it's not uncommon for customers to look up a product on a retail website, see that it's available in a nearby store and then find it's out-of-stock when they come to buy it. With a unified retail commerce approach, the product database is continuously updated. This means that merchants can avoid creating bad experiences like the one described above and retain more customers.
Think data-centric and vendor-agnostic
Don't start your unified eCommerce journey with an eCommerce platform that forces you to make adjustments and compromises in your own business processes. Concentrate on your business needs, and craft your data and technology strategy around your business.
Assess the current technology situation
Unified commerce is about dismissing siloed and inefficient business processes. But it doesn't mean you must throw everything out. Analyze your existing technology stack and craft your eCommerce integration strategy around what works. Your goal should be increased efficiency, scalability, and most importantly – the freedom and flexibility to innovate for a unified customer experience.
A Customer-Centric Approach Future-Proofs Your Business
Shoppers are looking to connect in as many ways as possible. Don't be held back by a digital commerce platform that doesn't extend beyond desktop and mobile when customers want to interact using physical stores, digital screens, and AR, VR, and IoT devices.
A unified commerce strategy places the customer front and center and future-proofs your business. It breaks down the walls between internal data silos and customer-facing channels, blurring the lines between online and offline. Businesses benefit from increased agility, flexibility, and staying connected with customers. Customers complete their purchases, moving from channel to channel and avoiding friction, and enjoy the experience so much they purchase again and again. 
While there are many convincing reasons for choosing one of many unified eCommerce solutions on the market, do your research and familiarize yourself with their drawbacks as well. Review your customer experience goals, business needs, and readiness, and choose a solution that addresses today's challenges and provides the ability to adapt to whatever tomorrow may bring. 
Frequently Asked Questions about Unified Commerce
What is a unified commerce platform?
Unified commerce is a strategy of connecting your backend systems with your customer-facing channels using a centralized platform.
Unified commerce combines numerous capabilities in one platform. These include eCommerce, mobile commerce, order fulfillment, inventory management, customer relationship management, Point of Sale (POS), and more, thus providing real-time connection and function to all customer touchpoints.
Why is unified commerce important?
With a unified commerce platform, you can achieve a more comprehensive view of your business. Some of the immediate benefits include: 
The ability to capture consolidated data insights (including performance across channels and regions)

More informed business decisions

Superior customer service and experience

Be better prepared for change
What is the difference between omnichannel and unified commerce?
While omnichannel and unified commerce solutions are inextricably linked, they mean two distinctly different things. Omnichannel commerce is an approach to sales. It focuses on providing a consistent customer experience whether the customer is buying online from their mobile device, computer, or a physical store.
Unified commerce is required to support omnichannel customer journeys, but it's more than just that. Unified commerce aims to consolidate all your channels, payment systems, products, and customer interactions on a single platform to deliver an integrated and measurable experience.
What are some unified commerce examples?
Unified commerce is the next evolutionary step of the omnichannel strategy. Here are a few examples of unified commerce in practice: 
Online purchase and return in-store services

. A customer buys an item online and then goes to return it in-store due to a defect. With unified commerce, workers at the store would have a record of the online purchase and all the information on the item's warranty, making the product return fast and easy. 

Connected inventory management.

Consider a customer who searches through a mobile app of a retail brand and sees that a specific item he'd love to buy is available in a store nearby. With unified commerce, the customer can be rest assured the item is in stock since stock numbers are reflected in real-time from the retailer's inventory management tool.

Automatic payment info and omnichannel checkout. Unified commerce enables customers to automatically enter payment details every time they buy from a particular brand. Moreover, when payment and checkout are integrated, customers can check out in one click from whichever channel they choose.
What is unified retail commerce?
Unified retail commerce describes an approach where retailers strive to bring disparate front-end and back-end systems into a single commerce platform. The overarching goal of a unified commerce company in retail is to deliver insightful, efficient customer service at every touchpoint, with no limitations by channel.