Among a large number of marketing strategies adopted by B2B companies to drive sales, eCommerce mobile apps remain a major priority. According to Google and Boston Consulting Group, mobile drives, or influences, an average of more than 40% of revenue in leading B2B organizations; they also project that by 2020 the share of mobile traffic will take up as much as 70% of B2B search queries. Other well-documented statistics confirm such high expectations for mobile eCommerce and that it's steadily growing into a popular channel for eCommerce.
To effectively harness this mobile disruption for your B2B sales growth, you must realign your marketing, your eCommerce platform, and your eCommerce mobile apps along a strategic mobile transformation. This means your app should work in synergy with well-crafted customer engagement campaigns.  And given that mobile apps will sit on top of your eCommerce technology, you need to make sure your eCommerce platform can efficiently address such integration.
Striking the right balance between different technology and marketing aspects is the key to unlocking the mobile value for B2B eCommerce. Here is how to approach it.
Mobile Apps place greater emphasis on B2B eCommerce technology stack
Mobile apps are seen as the pinnacle of modern eCommerce technology, alongside AI in eCommerce. Typically, eCommerce mobile apps are tightly integrated with the rest of your environment, particularly your eCommerce platform. There are two big challenges when it comes to mobile apps – the effort required to build them and the user retention problem. Both could be alleviated beforehand if your online store is built on a mobile-friendly platform, supports a broad spectrum of B2B customer personalizations, and allows you to easily tap into valuable customer data.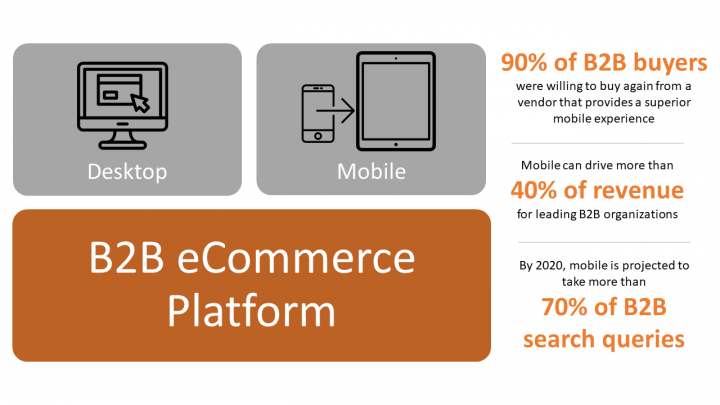 An eCommerce platform should be the bedrock of your mobile innovation, because it provides the essential building blocks for your apps' business and data processing logic. Best of breed eCommerce platforms have ways to simplify building or integrating mobile apps on top of them; they also provide essential B2B personalization tools. That's why the success of mobile eCommerce adoption largely rests on selecting a suitable eCommerce platform for your business.
If you set the foundation of your eCommerce offering with a B2B mobile experience in mind, there will be many benefits to reap.
What eCommerce mobile apps can do that your B2B webstore cannot
There are plenty of reasons why B2B companies are now looking to develop mobile apps.
Mobile apps are fast and convenient
Native apps totally outpace even the most optimized websites in terms of performance, including webpage load-times and user-experience when navigating through your online store.
People love apps and the powers of app personalization
Mobile apps are more user-friendly in terms of setting up personalized experiences, which is especially important for B2B. As people tend to spend hours on their smartphones daily, they also become increasingly more accustomed to having an app for everything they need. There are countless eCommerce stores on the Internet, but the one with an app icon on a person's device gets the primary attention.
Optimized B2B UX and streamlined buying process
Apps usually offer a more straightforward, sleek user interface that simplifies the buyer's journey through your online store. It's important to also note that app-users will typically be customers that make repeat purchases. Mobile apps should potentially help in converting first-time customers into lifelong customers.
Offline work and extra features
In addition to providing a smooth online experience, apps offer extensive offline work capabilities, such as checking history, taking notes, or scanning barcodes. They also allow for a seamless transition between offline and online modes (e.g., continue finishing an order after a lunch break).
Take advantage of new technology trends, such as Augmented Reality
Augmented Reality, or AR, has been gaining ground in mobile shopping apps by allowing users to superimpose different goods and their attributes within the user's physical environment. Thus, a phone can help visualize and customize different product items, enable 360 degree views of your equipment, or even help you build custom product designs that fits specific measurements. There is also huge potential for AR in interactive ads and other immersive mobile experiences by using, for example, gamification techniques. While AR is yet to go mainstream in B2B eCommerce, it has already started taking root and cannot be ignored.
Enable new marketing approaches and opportunities
Mobile eCommerce apps promote a variety of customer engagement strategies, reduce churn, and dramatically expand marketing outreach, especially among the generation of digital natives. Companies need to rethink their marketing strategies in regard to mobile eCommerce now or risk falling behind the times and competition.
Using eCommerce mobile apps to empower your B2B marketing
To make the most out of their B2B marketing, forward-thinking companies continuously incorporate new approaches and utilize modern technology capabilities. Among such popular trends are account based marketing, improved personalization, correct customer data capture, and even AI-driven campaigns. That said, top-notch mobile experience cuts across these and other strategies as a crucial medium for all-round customer engagement.
Mobile apps generate higher levels of customer engagement and loyalty
The same research from Google and Boston Consulting Group indicates that mobile apps speed up time to purchase by 20%, leading to higher levels of mobile engagement and more mobile-driven revenue. A well-designed eCommerce mobile app further improves the purchasing experience and customer loyalty. In fact, reports state 90% of B2B buyers were willing to buy again from a vendor that provides a superior mobile experience, while only 50% reported such inclination in case of a poor mobile experience.
Mobile apps encourage running regular marketing campaigns
Mobile apps cannot function in isolation from intensive B2B marketing activities, which is a good thing to get used to. Mobile apps can put your newly acquired customers on a direct line with your B2B marketing & PR, but it is up to you to provide them with attractive terms and personalized loyalty programs that will encourage regular returns to your online store.    
Mobile apps help improve customer data capture
Mobile apps are an excellent tool for customer engagement as well as customer data collection, including UX analytics, split test analytics, and B2B marketing effectiveness tracking. To collect a variety of customer insights, having a CRM that is organically integrated with your B2B eCommerce platform is crucial. That's why we created OroCommerce with a fully built-in CRM and a rich set of B2B capabilities, essential for companies who want to radically improve the quality of their customer data.
Case Study: ASC's Customers Love The New Mobile App

This eCommerce mobile app success story comes from one of our clients, Animal Supply Company (ASC). ASC recently launched their new mobile app on top of the OroCommerce platform and their customers just love it! Now they can spend less time on routine ordering tasks and dedicate their energy to their customers and pets. Watch the video and see how Animal Supply Co. is using their mobile app for B2B eCommerce.