The packaging industry is riding a wave of steady growth. According to Smithers long-term strategic forecasts, the global packaging industry was growing steadily at a 2% per annum before the COVID-19 pandemic. After experiencing a single-year drop of 6%, Smithers predicts recovery and return to growth that tops $1.13 trillion by 2030. 
Mordor Intelligence is even more bullish, projecting a 3.5% CAGR post-COVID.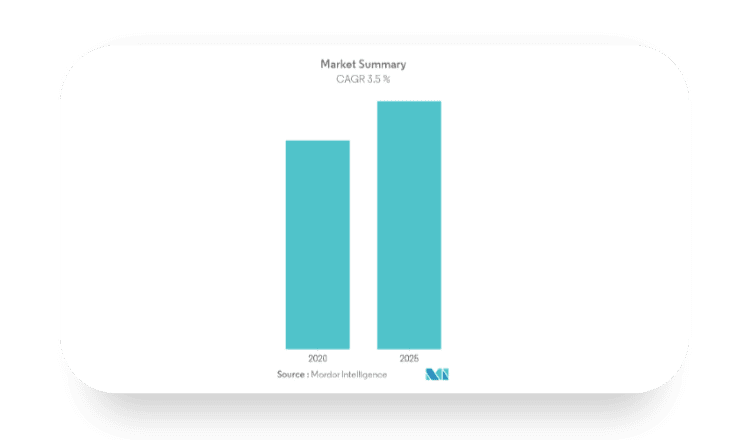 Asia is the number one market and accounts for over 40% of the world's packaging consumption. North America takes second place consuming 22.6%, and within the North American market, the United States is the greatest driver of growth.
Factors Driving Industry Growth
Changing consumer demands is driving growth for beverage packaging. According to industry research analyst, Aga Jarzabek, with Chicago-based Euromonitor International, value-sales growth in the carbonated beverage industry will come from, "smaller pack sizes and focus on single-serve through convenience and at register display."
As sales of fountain soda decrease, the demand for bottled water, sports drinks, and energy drinks increases. And manufacturers are using packaging as a key product differentiator. 
Food manufacturers are also engaging consumers with revamped packaging, applying pressure to packaging manufacturers to invest in innovative packaging. For example, in 2018, American Packaging invested in a flexible packaging system that provides more choice in surfaces, substrates, and technical performance.
In addition, the increasing demand for consumers and businesses to buy online means more products are being shipped than ever before. This increased demand for shipping increases the demand for packaging.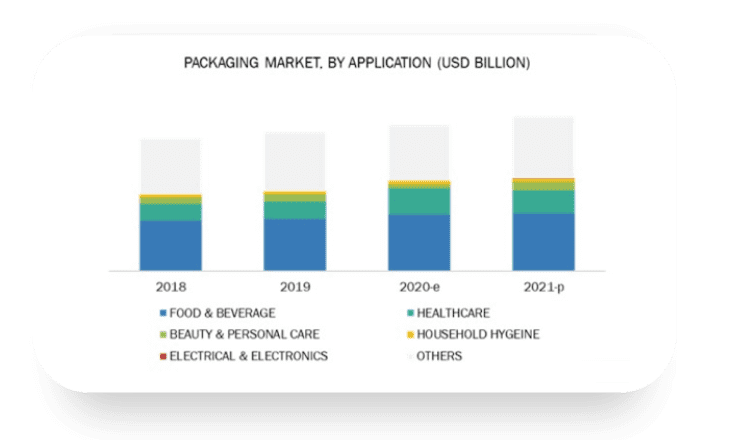 Rising life expectancies not only pressure healthcare providers with greater demand, that demand translates to pressures on pharmaceutical companies and health-care related product producers to manufacture and package more products.  
Finally, as standards of living increase globally, there is a higher demand for non-essential products and their packaging. From cosmetics to prepared cocktails, more products demand more packaging. 
Challenges Facing the Packaging Industry
Meeting the rising demand is just one of the challenges facing the packaging industry. In addition, there are increasing cost pressures due to the rising cost of raw goods and rising transportation costs. And cost is just one of the challenges. 
Rising costs
Manufacturers of glass for packaging have seen the price of raw materials soar, pushing prices up 40% in some locations. Most buyers balk at such rapid price increases, and the entire increase can't be passed along to the customer. This challenges the packaging industry to reduce costs in other areas.
Getting products seen
Most packaging manufacturers and wholesalers struggle to make their products discoverable. Each basic package may be available in a wide variety of configurations. The result is a product catalog that contains thousands and thousands of SKUs, confounding researchers looking for just the right packaging. With digital catalogs replacing hard copies, finding the right product may be a bit easier but still takes considerable research.
Diverse customers with diverse needs
The packaging industry serves every other industry. Any physical product made must be packaged in some way. Even packaging companies that specialize in just a few materials find that they serve a very diverse customer base. They face the challenge of treating each customer individually, based on that customer's needs. 
Increasing complexity
Packaging purchases are intricate transactions. The product researcher gathering information often reports to a product development team who reports to a brand team. Knowing who can approve what is confusing and makes it difficult for sales teams to keep the process flowing smoothly with each customer. Add to this the complexity of pricing each quote correctly and it's easy to see that human errors are inevitable. 
How B2B eCommerce Addresses Packing Industry Challenges
True, the packaging industry faces many challenges. But it's also true that B2B eCommerce provides many of the tools necessary to meet these challenges head-on. 
Workflow automation
For companies prioritizing productivity and cost reduction, automating workflows is the answer. Most manufacturers are quick to adopt technology on the factory floor, but slower to make full use of technology in the back office. Companies in the packaging industry are no different.
But by deploying B2B eCommerce platforms with customizable workflows you can reduce errors and outsource order data entry to the customer.  Plus, when integrating the eCommerce system with the ERP, order management and fulfillment systems, orders flow effortlessly and their data is available to whoever needs it. 
Using the B2B eCommerce platform to create self-serve portals also reduces the need for customer service and sales staff to spend time on the phone or with email answering status inquiries. At a minimum, these portals provide customers visibility into their order history and delivery details for current orders. Fully developed, they allow customers to handle returns and re-order from order history. Workflow automation and automated eCommerce free staff to spend less time on routine tasks, and allows them to focus on providing value-added services. 
Improving product visibility
A common pain point for product researchers is finding the right packaging in just the right configuration to meet their needs. With eCommerce, packaging companies can make the search process easier.
For existing customers, B2B eCommerce allows you to create personalized catalogs that meet the customer's packaging needs. Once the sales team identifies the packaging requirements, only products meeting the customer specifications populate the customer catalog.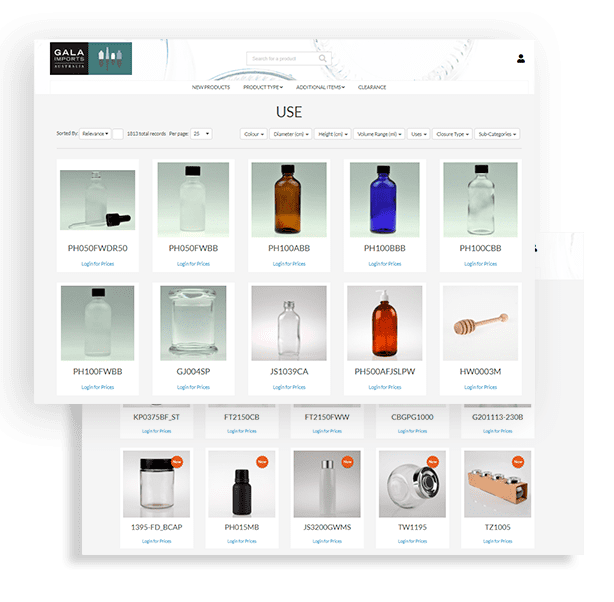 For product researchers, guided and intelligent search makes combing through thousands of SKUs easier. Search can be configured to search by product description, SKU, or even by solution. By reducing the pain of product identification, you remove friction and increase closing rates. 
Improved customer experience
Today's buyers are looking for the same frictionless experience at work as they enjoy at home. As more and more Millennials move into decision-making positions, it is important to understand this generation has never lived without the internet. They use the internet to discover products, look for company and product reviews, and make purchases. 
B2B eCommerce allows you to offer an improved customer experience. From self-serve customer portals to automated configure and quote workflows, eCommerce platforms remove friction. Integration with chatbots provides a customer experience that meshes with the preferences of Millennial buyers. They get instant gratification and enjoy the convenience of getting answers when and where they want. 
Unlimited personalization
B2B eCommerce allows you to serve the needs of a diverse set of customers, each with its own packaging needs. 
Not only can you personalize products and prices, but you can also operate multiple websites geared to the needs of specific verticals. For example, B2B eCommerce makes it easy to create one experience for healthcare product packaging, another for food packaging, and another for beverages, perfumes, and pharmaceuticals. A flexible B2B eCommerce platform should allow you to operate unlimited, customized front-end experiences with a single backend. 
Embrace complexity
B2B eCommerce platforms allow you to embrace the complexity of your sales processes, not shy away from them. By allowing customers to create their own user roles and permissions, you allow them to conform your systems to their internal hierarchy. Following up with the right person at the right time is easier with visibility into your client's purchase approval process. And with digital technology, your eCommerce system conforms on a customer-by-customer basis.
With eCommerce, you can accept and process orders with EDI or using punch-out catalogs. You can support B2B and D2C business models with one instance.
Also, read our supplementary article on the packaging industry and digital transformation.
Gala Imports Improves Conversions Through Improved Customer Experiences
Gala Imports is a supplier of glass and PET containers to small and medium-sized manufacturers and businesses across Australia, New Zealand, the Pacific area in general. Since 1986, they have supplied packaging for industries such as:
Fragrance, Homecare, and Cosmetics 

Candle Making 

Gourmet Food 

Floral and Homeware 

Bridal and Gift 

Craft, Engraving and Decal Decoration Specialists
In addition, they serve the wholesale industry as well as individual consumers such as hobbyists or cottage food crafters.
The challenge
Gala had outgrown their Magento platform. When it came time to renew their license, they realized it was time to replatform.  They searched for a B2B eCommerce solution that could handle the complexities of their multiple business models. They needed to face the challenges of:
Offering separate experiences for different customers

Product and pricing management needs for multiple verticals

Finding B2B-focused features and B2C-focused features in one platform

Simplifying and streamlining their back-office with digitalization
The solution
Gala compared the available B2B eCommerce platforms and was impressed by the extensive B2B capabilities that OroCommerce offered right out of the box. They selected OroCommerce as their platform and worked with Aligent, an Australia-based integrator to implement the solution.  
Gala improved their customer experience with OroCommerce. They can now use one solution to support multiple websites each with their own unique look and feel. These websites are all hosted on separate domains and each features different products, pricing, and functionality. 
B2B customers and B2C customers now get the experience tailored to their special needs, including different payment options and workflows. 
Gala has improved their marketing and communications by leveraging the power of OroCRM, a native CRM product included with every OroCommerce installation. 
The results
Gala's investment in upgraded eCommerce positioned them to succeed during the COVID-19 pandemic. As the demand for medical containers soared, Gala was prepared to handle the flood of orders and inquiries. 
Gala saw a 25-30% increase in average order sizes and a 50% increase in their conversion rates. Their frictionless buying experience will help them retain new customers and increase customer lifetime value as well.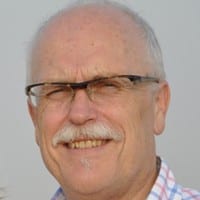 "These were not regular customers prior to the pandemic. The challenge has been to get as many to stick with us afterwards. There is great functionality in Oro we haven't had before that will continue to pay dividends here."
Andrew Albrow, Marketing Director at
Gala Imports Australia
Dynamic Solutions for a Dynamic Industry
Yes, the packaging industry is facing challenges on multiple fronts. But with the application of technology, companies can innovate their business processes as well as they innovate their packaging products. 
Workflow automation is one tool to reduce pressures caused by rising costs. Integrated systems reduce data entry and democratize data to improve productivity and decision-making. Powerful on-site search improves customer experiences and frees sales teams to focus on relationships and not routine inquiries. CRM tools help segment customers and markets to deliver the right marketing message at the right time. 
Digital tools unwrap a wide range of growth and productivity possibilities for the packaging industry.