The purchase journey of a B2B buyer is oftentimes more complex and longer than a B2C consumer. Purchases are typically larger, by price and by volume, and numerous logistical considerations must be weighed and coordinated. Also, there are often several levels of approval required for large purchases. All of these aspects and many more create an extended path to purchase for a B2B buyer.
What this means for B2B companies can be summed up in one word: Content. Whether it's product specifications, shipping and freighting guidelines, instructional manuals, or educational videos, all of this content can be leveraged to build awareness, generate engagement, and drive sales with B2B customers.
Not all content is created equal, however. Your customers may be less concerned with shipping information, but would really benefit from learning how certain products can be used together. Or maybe your customers are always on the go, relying heavily on their mobile devices for research and purchasing, and have little use for a 50-page PDF instructional manual. Before you go writing thousands of product descriptions or creating how-to videos, you first need understand what is going to be most valuable to your customers at each stage of their journey.
Creating Customer Personas
A customer persona is an amalgamation of the most common audience characteristics, which can be used as a gut check for each piece of content you create. Ask yourself: "Would Jesse download this instructional manual?" "Would Gina watch this how-to video?" "Would Lee need to know these product specifications to do his job?"
Audience personas should include demographics, interests and behaviors. There are several sources you can use to gain these insights:
How are people finding your site and what are they doing once they get there?
What terms are people using to search your site?
What terms are people using when they're ready to buy? How do these terms differ from organic or site search terms?
Facebook Fan Insights show you gender, age group, country, city and language breakdowns. You can take it a step further in Facebook's Ad Manager, where they provide further details on your audience, such as purchasing behavior, household size and income, and online behaviors.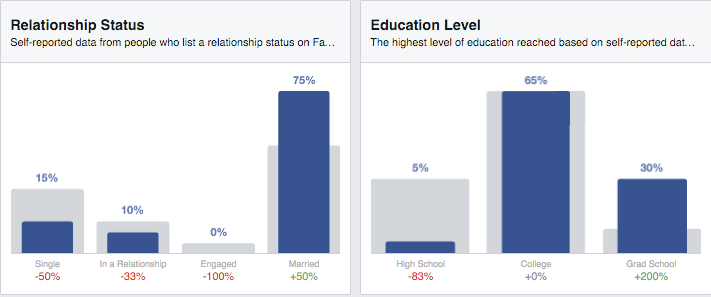 Examples of some of the details provided with Facebook's Audience Insights tool in Ad Manager.
Use a third-party social listening tool or conduct some manual searches on social media sites to see what people are talking about when they mention your brand, your competitors, or related topics. If using a third-party tool, such as Radian6, Brandwatch, Sysomos or SocialMention, note where these conversations are happening for a better understanding of your audience's online behaviors, interests, and even demographics (e.g., if all conversations are happening on Tumblr, you can presume a younger audience; if it's all on Pinterest, a female audience is a good bet).
Source: GWI Social
When in doubt, just ask! Create surveys, polls or interviews to ask specific questions about their experience with and perception of your brand and products/services. Ask about their online behaviors and get demographic data.
Your sales team is on the front lines with potential customers every day. Their insight into the needs, desires, and behaviors of customers is invaluable information.
Once you've gathered all of the data, pour over it to highlight the common themes and insights. Use this information to determine how many personas you need (we recommend no more than four different personas). Indicate each persona's unique demographics and interests, then outline their mindset and behavior at each step along their journey.
Defining Your B2B Content Marketing Strategy Focus
Now that you have your audience personas, it's time to determine the B2B content marketing strategy that will be most valuable to your audience at each stage. First identify what sources and channels they are using in the interest phase versus the decision phase versus advocacy. Then determine the types of content you need to create at each stage so that you can leverage the appropriate channels to reach your audience at the right time.
You'll also want to create content pillars, which will guide the topics for each piece of content you create at every stage. Content pillars are essential, broader themes which are rooted in customer needs, highlight your brand voice and personality, and directly relate to business objectives. Content pillars are a starting point that allow you to stay true to the core of your business–providing exceptional products and/or services–while expanding into adjacent yet relevant aspects of your customers' lives.
Let's say you offer building materials for home developers. A relevant content pillar for you would be "Eco-friendly Home Development." The image below shows sub-themes and sample topics that could be used to populate your blog, or could be turned into videos or infographics and posted on your website.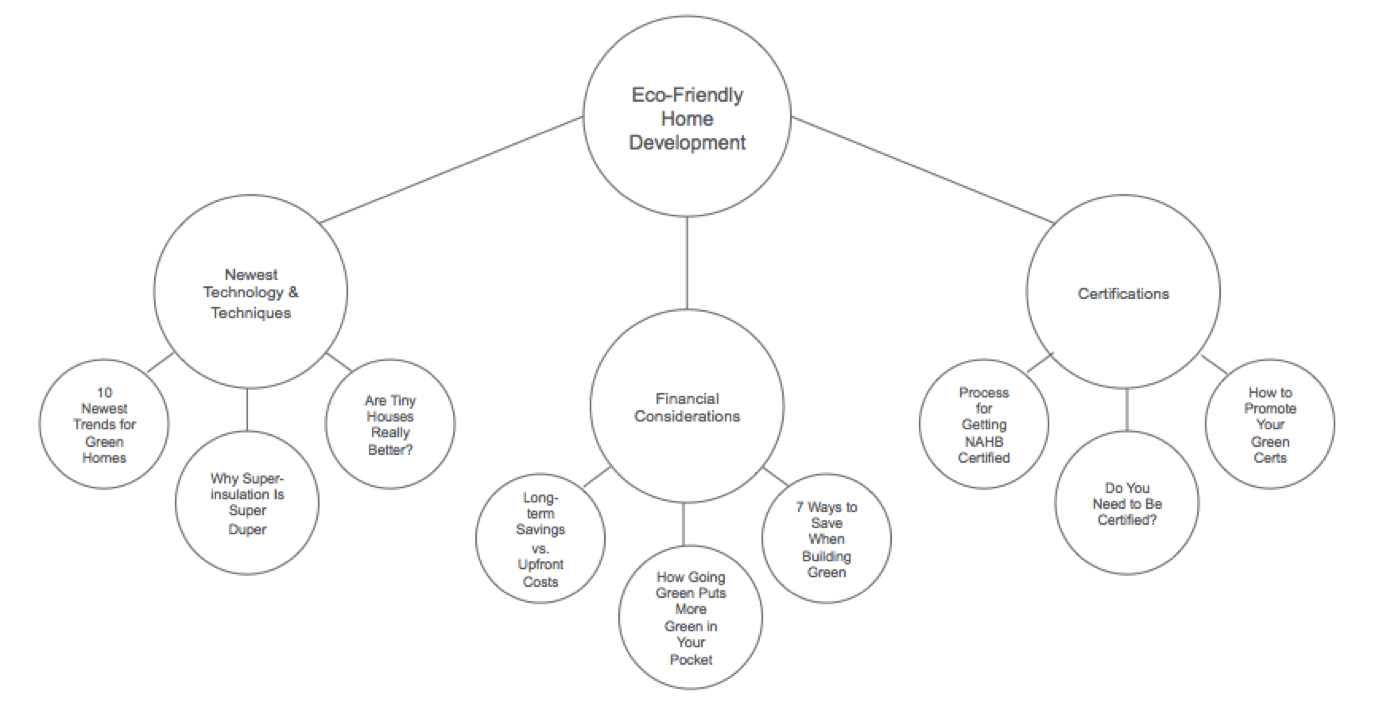 As the already-complex journey of B2B consumers continues to evolve, content is the way that you can reach these customers and ensure you are providing the information and validation they need to increase sales.
About the Author
Ryan Shields is the CEO of Indaba Group a strategic ecommerce solutions provider, specializing in enterprise software development, ecommerce platform development, creative services and customer experience management. Indaba Group is a wholly owned subsidiary of Cloud Commerce, a global provider of cloud-driven e-commerce and mobile commerce solutions. Connect with Indada on Twitter @indabagroup.