Originally published September 13, 2019, updated March 10, 2022
B2B customers demand more from their buying experience. They expect accessibility and intuitive interfaces and online processes that save them time and money when ordering and reordering. They expect to view past orders, manage negotiations, and approvals without contacting sales reps. 
One way to meet customer expectations head-on is by adopting self-service online portals. This post will cover a customer portal definition, its business benefits, examples of other companies implementing B2B self-service portals, and how your company can launch a B2B customer portal of your own.
What is a Customer Portal?
A customer portal is a separate, private web environment personalized for the needs of a particular customer. As a critical element of the B2B online strategy, a customer portal is a part of a general eCommerce website, where each registered client can log in to access up-to-date content, orders, features, pricing, etc.  Apart from the ability to browse catalogs, select products, and place orders, a self-service portal also provides the following features:
Guides, user manuals, FAQs, videos

24/7 customer service

Personalization

Multiple users and roles

Customized offers and promotions

Search functionality
5 Customer Portal Benefits You Should Know
A well-designed B2B customer portal can improve the buying experience and generate more sales. Here are five customer portal advantages to help empower your business success and increase customer satisfaction:
1. 24/7 sales tool that grows your market reach 
One of the key advantages of a customer portal is that it provides 24/7 access to the vendor's product information and content. For sellers, this means no more constraints from time zone and working hours and greater potential to reach customers around the world.
2. Convenient order management
How do your customers make an order? Many are still used to do it by phone, email, or in face-to-face negotiations. 
However, with the B2B portal, customers can do it faster and more efficiently: easily navigate digital catalog, enter the SKU of the product, upload CSV files, create lists from past orders and send RFQ. This process requires less effort compared to traditional methods.  
Customer portals also offer a "home base" where buyers can manage any aspect of their relationship with your company:
Track orders

View order histories

Manage shipping preferences

Print out invoices and receipts

Save preferred payment methods

Update company profile information
3. Streamlined administrative processes 
Customer portals automate many back-end administrative functions, delivering efficiencies for customers and the sales team. By giving instant access to self-service customer portals, you empower customers to handle many account management functions without contacting a company representative. 
At the same time, sales managers can set up automations for referencing invoices, cross-checking payments, and sending past due notices to late clients – offloading tasks to software systems instead of relying on manual effort.
4. Personalized customer experience
One of the benefits of customer portals is that they let you provide an experience tailored to your customers beyond simple fulfillment. With a customer portal, you can segregate your customers into groups so that different groups have easy access to different types of portals. 
For example, you may offer branded customer portals to your biggest clients, create specialized portals for wholesalers and distributors, and provide standard functionality and only essential personalization for everyone else. 
A unique benefit of customer portals is the maximum freedom of personalization that you can provide to your diverse clients. You can also use them to test specific functionality, loyalty programs, and customer segmentation strategies before using them on a bigger scale.
5. Reduced Churn Rate
B2B customers want their relationship with you to be personalized, seamless, and intuitive. Most customers want to solve product or service issues independently without having to contact your team. 
If you can empower them by providing the tools to do so, and make it intuitive and straightforward, they'll be far more likely to continue doing business with you rather than switching to a competitor.
More tips on reducing B2B customer churn rate
Customer Portal vs. B2B eCommerce Website
Even though modern B2B eCommerce websites are built upon the customer portal concept, they are not exactly the same. First, a website usually acts as the gateway to the customer portal functionality. Registered customers can log in on your website to proceed to the customer portal that corresponds to their access rights. As such, a modern B2B eCommerce website is a whole framework for building, hosting, and managing customer portals to meet diverse customer relationship needs. 
Also, a B2B eCommerce website functions as a general webstore for non-registered buyers. They can view catalogs, access product information, and search for specific items. Modern B2B eCommerce websites provide instant personalization upon login so that clients can also access their unique pricing information without redirecting to other places. In this regard, customer portals are used in addition to (or, rather, as an extension of) a B2B eCommerce website for the unique customers or customer groups.
How do top midmarket brands use technology?
Forrester shares real-life case studies from leading business sellers.
Types of Customer Portals
Customer Portals by Access
Customer portals differ by the type of access to the customer portal that users are granted. They include: 
Public

: Any user with the link to the customer portal can sign up and access it.

Private

: Only users invited by the admin of the customer portal can access it. Users cannot sign up for the portal on their own.

Restricted

: The users have to sign up and get approved by an admin in order to access the portal.
Customer Portal for Resellers and Distributors
Companies such as manufacturers, who rely on wholesalers and retailers as their distribution channels, should take advantage of customer portals as a great way to streamline their channels management and support customers' self-learning. Manufacturers selling direct to consumers via an eCommerce website are more common today. More brands are jumping on the eCommerce bandwagon even though traditionally using distributors as middlemen. However, distributors still play a major role for driving sales, and that's where customer portals, in the form of reseller portals, help manufacturers preserve their distribution channels without forgoing selling direct to consumers.
By creating personalized portals for distributors, wholesalers, or retailers, manufacturers enable them to order online with contract pricing and custom curated catalogs that allow them to have their margins and pricing advantages when selling to end consumers. Selling online to their distributors also helps manufacturers minimize operational costs by automating data sync with their ERP, customer support, and accounting systems, managing prices in a centralized manner, and automating loyalty and bonus programs. And such a tool as a CRM, when integrated with customer portal software, allows manufacturers to have full visibility into their partners' performance and potential bottlenecks in channels expansion. 
Branded Customer Portals for Key Accounts
In B2B, personalization may go a long way to keep your key accounts happy. Ultimately, you should consider creating a branded customer portal for each of your biggest clients, displaying unique account information, theme, content, pricing, payment information, and self-service capabilities. With the recent advancement in B2B eCommerce technology, branded portals can be rapidly built on out-of-the-box components, enabling cost-effective implementation.
B2B Customer Portals Examples
Azelis 
Azelis is a sustainability, digitization, and innovation leader in the chemical and food additives industry. Their digital transformation strategy included being the first to offer customers a completely online buying experience in a traditionally offline industry. 
That's why the company launched a robust B2B self-service portal to enable its clients to find high-quality technical data, request samples, order, reorder, and place support requests from a single platform.
By offering all educational assets online, customers can now educate themselves before speaking to a sales rep, which in turn allows the sales team to more efficiently walk their customers through the rest of the buying process and collect customer data automatically.
Azelis launched the first self-serve portal in July 2020, and it experienced rapid internal and external adoption. Since then, Azelis has accelerated new rollouts every month, with 38 localized portals currently in operation.
Dunlop
A customer-first approach is ingrained in Dunlop's brand. So it was only natural for the global manufacturer of protective footwear to switch from manual order management to a self-service customer portal. 
A new eCommerce site powered by self-service capability introduced Dunlop to a new way of doing business. The system offered a convenient customer experience, including:
Greater stock and pricing transparency

Automated order placement

End-to-end order tracking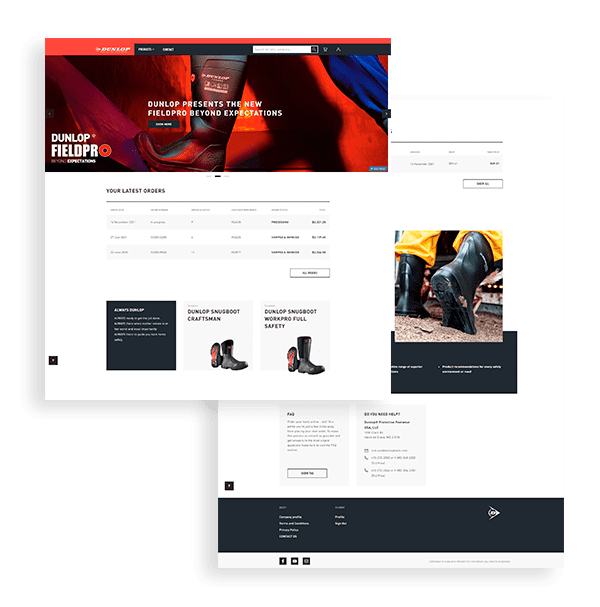 The increased efficiency had a positive impact on the back-end, too. Portal-enabled automation allowed Dunlop to repurpose two full-time employees to other projects eliminating manual assistance with orders. With more than 80% of customers using the self-service portal, it successfully became Dunlop's main customer communication channel.
Implementing Customer Portals with OroCommerce
OroCommerce, a one-stop-shop B2B eCommerce platform, offers multiple options to implement a customer portal that meets your business goals.
First, OroCommerce is among the true leaders in B2B eCommerce that can bring a B2B eCommerce website of any complexity into reality. It is a platform of choice by many companies who seek an upgrade from Magento. You can combine numerous out-of-the-box features, our extensions, a built-in CRM solution, seamless ERP integration into a perfect website that corresponds to the ambition of your enterprise. OroCommerce is also fully customizable to support unique functions and backend integrations that you may need.
Second, OroCommerce offers vast access management and personalization capabilities to create any type of portal your clients may require – a branded online portal, a reseller portal, or even a marketplace. OroCommerce also provides an extension for punchout catalogs to ensure your customers who use e-procurement systems for online shopping are absolutely happy when using your website.
Finally, OroCommerce supports headless deployment, meaning that you can use any third-party content management system or eCommerce frontend application on top of OroCommerce business logic and backend capabilities. It also makes transferring your existing eCommerce website logic, themes, and customer portals onto OroCommerce very straightforward. Moving to OroCommerce will help you upgrade your B2B processing capabilities across all of your existing eCommerce solutions, including for multi-website configurations. 
Whatever the way you want to manage your sales channels online, OroCommerce offers the flexibility that your B2B partners may not even expect.
Today business is much more than just selling products. Successful business puts the customer experience in the spotlight. And a customer portal built on advanced B2B technology may well contribute to this new customer-centric reality by making the buying experience simpler, clearer, and more efficient.
See first hand how we can help you improve your business
Test out the features that matter to you in an interactive demo.
Questions and Answers about B2B Customer Portals
What is the customer portal definition?
A customer portal gives your customers the ability to securely access their personalized online platform. This web-based platform supports online ordering, invoice and order tracking. It gives access to product information and knowledge bases where customers can self-educate on your products, pricing, and promotions.
Why should I consider a customer portal?
B2B customer portals provide many opportunities for businesses to improve their operations, including: 
The customer portal is available and running 24/7, offering you opportunities to reach more customers.

It enables your team to allocate additional resources to pursuing new leads and growing your business.

It moves some manual, error-prone, repetitive tasks to an online self-serve model.

It centralizes your communication with customers, helping to control customer engagement and experience with your brand.
What are B2B customer portal best practices?
Here are the critical elements needed in a B2B customer portal:
Real-time product availability

. You should show real-time inventory in the portal so customers can quickly check product availability.

Real-time pricing

. You should allow customers to check their personalized pricing for an SKU.

Bulk and repeat ordering

. Your customer portal should accommodate options for repeat and bulk purchases.

Real-time order tracking

. Give customers the ability to monitor their order status, access order history, and receive order updates without contacting customer service. 

Self-service online payments

. Empower customers to keep their accounts in good standing without paper-based workflows.

Support for different user roles and permissions. A portal should allow you to assign a specific role to a particular user.