We at Oro make accessibility a priority. Our goal is to make commerce accessible to as many businesses and their customers as possible and enable them to build prosperous relationships.
Countries for decades have been passing legislation to make life better for people with disabilities. Governments passed laws protecting people from discrimination, mandated wheelchair ramps and automatic doors for buildings, and launched accessible transit options.
Today, the same regulations apply to websites, including eCommerce stores. In this article, we'll talk about ADA (Americans with Disabilities Act), WCAG (Web Content Accessibility Guidelines) criteria, and how Oro enables a B2B eCommerce shopping experience inclusive for people with disabilities.
What are ADA and WCAG?
ADA, also known as the Americans with Disabilities Act, was passed to promote inclusiveness and curb discrimination against people with disabilities. It's a set of requirements businesses should follow to make it easy for impaired individuals to conduct business with them. According to the ADA, if you don't make things accessible, then you're discriminating against those with disabilities.
WCAG, or Web Content Accessibility Guideline, is not legislation like ADA. Rather, it's the technical part of ADA. These are the requirements and standards introduced by World Wide Web Consortium (W3G) in their efforts to make the web more uniformly accessible.
Why ADA Compliance Makes Business Sense
Approximately 1 in 5 Americans lives with disabilities. This includes people with significant vision impairments, hearing losses, difficulty moving, speaking, and learning. What's more, it doesn't include those with age-related health issues.
Regardless of disability, these individuals collectively represent $540 billion of purchasing power and are loyal to businesses that cater to their needs. For them, the internet (and more specifically, your eCommerce site), may be the most efficient way to interact and do business with your company.
Here are some of the reasons why making your website accessible makes sense:
Websites are digital versions of physical locations – and eCommerce is a perfect example. Just like a physical store must have wheelchair parking and a ramp, websites must accommodate those with disabilities.

If you design for disability, you design for everyone. In other words, when you make your website easier to read and navigate, you're making it easier to use for people without disabilities, too. 

Any individual or corporation can sue a company for a non-compliant site, and the number of web accessibility lawsuits filed is growing every year. Aside from expenses, you can be exposed to public relations issues or the need to restructure your eCommerce business.
What Happens If You Don't Comply?
Since many B2B manufacturers and distributors are new to digital commerce, they are at great risk of failing in their website accessibility efforts. On the other hand, an accessible website represents a tremendous market opportunity, especially in the wake of COVID-19 and the growth of online purchasing activity.
Thus, any B2B eCommerce business that wants to grow sales and revenue should take website accessibility seriously. Here's what's at stake:
Low customer engagement
An eCommerce site that's intuitive to use and makes purchasing easy will get more sales. However, building an intuitive site starts with understanding your users. When it comes to users with disabilities, you need to figure out what's intuitive for them – or risk losing them to competitors.
According to a survey from Accessible by Design, 81% of respondents felt disconnected and 40% would not recommend or purchase from brands they deemed restrictive. Many companies simply can't afford to ignore this demographic – whether they're part of your target market or part of a wider audience.
Risk of legal proceedings
Non-compliance can be enforced through numerous channels. For example, people with disabilities can file lawsuits and complaints against businesses. Government agencies can also launch investigations based on complaints from businesses or private citizens, or initiate legal action themselves.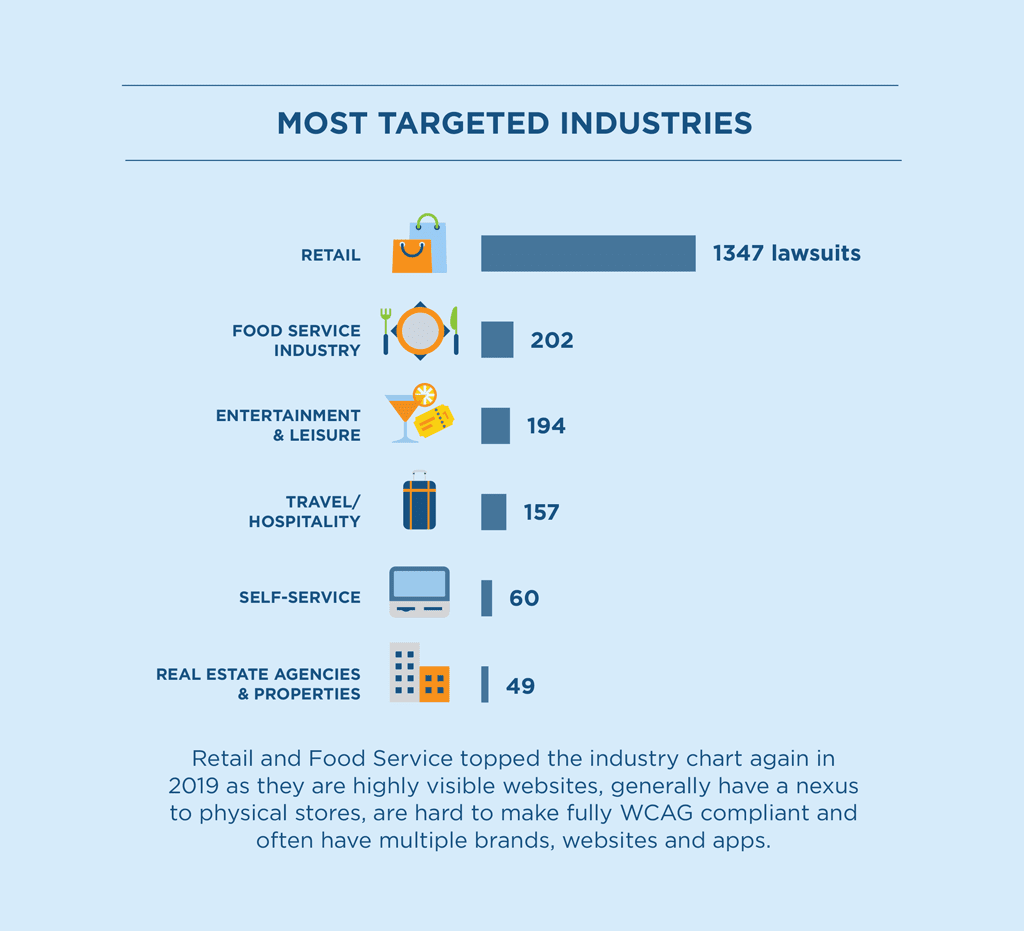 [Source]
The Department of Justice and various US courts have continually referenced the WCAG 2.0 Level AA success to gauge whether websites are accessible. Thus, non-compliance risks exposing you to actual legal proceedings and penalties.
Features ADA Compliant Websites Need and How Oro Measures Up?
Oro's designers and engineers have been hard at work to address ADA challenges for our customers. We've developed multiple capabilities to ensure OroCommerce stays on top of fast-changing website requirements, from SEO to privacy, and accessibility.
We take numerous steps to ensure OroCommerce conforms to accessibility standards.
As first mentioned in our OroCommerce 4.2 LTS and subsequent 5.0 release, we launched numerous features enabling us to comply with ADA Level 2 / WCAG 2 Level AA. They include the following:
Menus:
Users can use the Tab key to navigate forward and backward between elements, and selected elements are easy to identify (outlined with a border).

Users can also navigate the menu using arrow keys, and getting past the last item will take them to the first.

Users can open menus and drop-down elements using Enter or down-arrow keys.

Users can close menus, dropdowns, and popups with the Esc key.
Images:
Storefront images have Alt attributes. These are short descriptions in the code that describe the contents of the image. It allows screen readers to describe these images accurately.
Forms:
Fields have LABEL tags, which are attributed to each field by the ID and FOR attribute, as well as the ARIA-LABEL attribute. The latter is used for describing interactive elements.

We have an ARIA-INVALID attribute present in every field. It's used to indicate whether the value of the input is in a format the form will accept.

If errors arise when submitting forms, users can address them with keyboard commands, and receive explanations in a visual format.

If the form gets submitted successfully, visually impaired users can be alerted audibly.
Buttons and Links:
Buttons and links have TEXT, TITLE, and ARIA-LABEL attributes. Expandable content offer Read More links below the abridged text.

Links are more noticeable against the regular text.

Keyboard navigation allows users to access links.

Visual indicators state if links open in a new window.
The result? Users with disabilities will appreciate more pronounced on-screen elements, greater separation between elements, and the ability to use assisted technology such as screen readers.
Countries all over the world are increasingly adopting their own version of accessibility legislation.
Governments around the world have some sort of legislation related to accessibility and WCAG compliance. For example, Canada has a Standard on Web Accessibility legislation, and the UK has the Equality Act. Germany has the Barrier-Free Ordinance on Information Technology.
Sellers in countries with right-to-left (RTL) languages have to follow accessibility legislation, too. Israel's Equal Rights for Persons with Disabilities Act also applies to Hebrew web content, and our RTL implementations comply with these accessibility requirements.
Not to mention PCI DSS compliance to keep customer credit card data safe and guarantee safe transactions.
Web Accessibility Matters in B2B eCommerce
Whether you're a small distributor or a large enterprise, web accessibility makes business sense for one simple reason. When you make your B2B eCommerce website is easy to use, more people will use it. On the other hand, non-compliance brings a host of problems, from poor customer experiences to public relations and legal challenges. That's why we're committed to making Oro products accessible to as many businesses as possible while making it easy to connect with their customers.