The COVID-19 pandemic triggered a rapid expansion of eCommerce and increased government spending. The United States government currently spends $7 trillion annually, and that number is only projected to increase.
For manufacturers, distributors, and other B2B sellers, selling to government agencies can be challenging. But those who can navigate the bureaucracy and land a contract can reap great rewards. Get ready to learn about selling to governments in general as well as the advantages and pitfalls you must avoid. 
We'll even look at how one company had a disastrous experience with B2G selling while another leveraged digital tools to drive efficiency and boost their customer experience.
What is B2G eCommerce?
The business-to-government eCommerce model (B2G) refers to electronic transactions between businesses and government entities. This involves selling to federal, regional, and local governments, including publicly funded agencies, subdivisions, affiliates, and other entities. The B2G business model is a variant of the B2B model that involves transactions between the selling business and the purchasing governmental entity.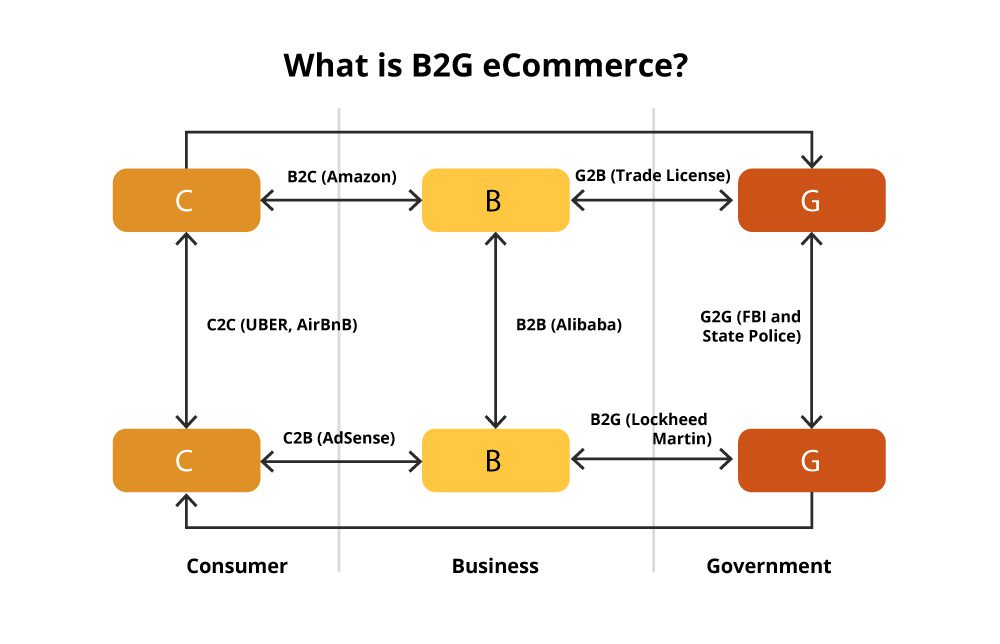 What is business-to-government electronic commerce and how does it work?
When you look at B2G company examples, you find corporations, limited liability companies, partnerships, and sole proprietorships. Any business entity can sell to the government.  These companies supply the machinery, equipment, defense systems, and other products and services that governments and agencies need to operate.
According to USASpending, there are over 200,000 recipients of government contracts, with the largest single contract going to Lockheed Martin, which was awarded billions over the past year. However, not all contracts are billion-dollar deals. There are thousands of agreements with smaller B2B businesses that supply a vast array of technologies, products, and services.
How can a business sell to the government?
Many government contracts are public, but not all are publicized, as different government agencies have different rules for publishing contract opportunities. Some contracts are classified and only open to a select few suppliers. In other cases, agencies can directly reach out to businesses or tap into contracts of other government structures.
To successfully market and sell to governments, you need a solid understanding of the government procurement process. Most US federal agencies comply with General Services Administration (GSA) schedules. Known as the Multiple Award Schedule (MAS), Federal Supply Schedule (FSS), and Federal Acquisition Regulation (FAR), they are a set of rules that govern government contracts with commercial companies.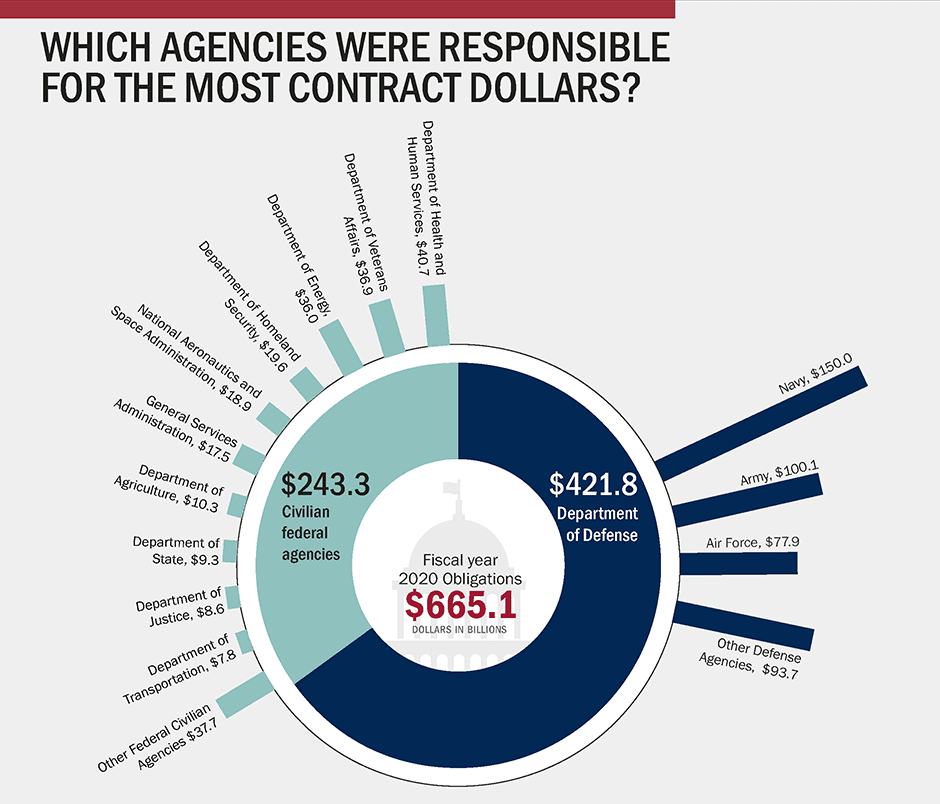 [Source]
Some agencies, such as the Department of State (DoS), Department of Defense (DoD), Defense Logistics Agency (DLA), Federal Aviation Administration (FAA), United States Postal Service (USPS) have additional rules that either supplement the GSA or exempt the agency completely. Many agencies use different purchasing processes. For example:
Aside from playing by an extensive set of external rules and regulations set forth by the government, companies may need to make internal changes. This may be anything from completely revamping marketing and advertising departments to restructuring operations or creating a separate line of business.
Companies must also be prepared to significantly alter their sales workflows. They may need to add additional approval steps, regulatory bodies, and third parties. Government sales create their own demand peaks and valleys aligned with governmental budget deadlines and procurement cycles.
You will also find that digital maturity varies from agency to agency. Some use email, while others use electronic bidding, quoting, or marketplace systems to assist with purchasing. Traditionally, B2G organizations built or integrated with government client systems in-house, but advancements in digital commerce technology are quickly changing this practice.
Differences Between the Government and a B2B Customer
If you're already familiar with B2B eCommerce, you may be wondering how different B2G eCommerce may really be. While selling to the government can be incredibly complex – with extensive regulations, long sales cycles, and complex approval processes, the same is true for much B2B commerce. However, there are some notable differences.
Governments are increasingly turning to technology to streamline their procurement processes. While technology may smooth the procurement process, there is still considerably less flexibility than when selling to non-governmental entities. Here are the main differences between B2G and B2B customers.
B2B eCommerce
B2G eCommerce
Vendor choice

Depending on the industry, B2B customers have significant freedom in selecting suppliers.

Government and government-affiliated customers are limited by their procurement regulations when screening and selecting suppliers.

Prerequisites

For B2B buyers, a supplier's after-sales support and experience with their business are just as important as the price.

Government buyers tend to consider the supplier's staffing plans, production processes, experience, and certifications, in addition to price.

Corporate structure

B2B eCommerce buyers usually have complex business structures, corporate accounts, and multiple locations.

On top of organization complexity, governments usually share responsibilities with oversight bodies, regulators, and other agencies.

Procurement process

B2B customers typically purchase directly from an eCommerce website or submit a request for quote (RFQ) to negotiate price, terms, and conditions.

Different governmental agencies use a variety of bidding and quoting systems. Some B2G entities rely on their own in-house procurement systems as well.

Contract negotiation

B2Bs rely on the Uniform Commercial Code (UCC) when drafting contracts. It is used to protect both parties in contract negotiation and resolving disputes arising from the sale of goods.

Government procurements are governed by the Federal Acquisition Regulation (FAR), which is designed to protect the federal government. While the contracted party is also protected, regulation usually favors the government.

Contract management

Contracts and agreements are usually simple in nature. They are subject to more negotiation than B2G contracts. Some B2B contracts may allow for cancellation at any time.

Government agency heads delegate their authority to contracting officers, who are hired by governments or appointed in accordance with procedures established in the

Federal Acquisition Service

(FAS).

Sales cycles

B2B transactions are not spontaneous. Businesses look for trustworthy, long-term suppliers. Lead pools are smaller and sales cycles are long compared with B2C, but are relatively linear and predictable. 

The sales cycle in B2G is usually longer than in B2B due to additional workflows and approvals required. While getting B2G contracts is more difficult than B2B, they tend to be larger value contracts that extend over a longer period of time.
Advantages and Disadvantages of B2G eCommerce
Like in every market, there are advantages and disadvantages of business-to-government eCommerce. Sellers must familiarize themselves with new ways of selling and drafting contracts while complying with extensive requirements. Just becoming approved as a vendor is a major hurdle. However, there are many reasons why government contracting could be a great option for your business.
Advantages
Stability and long-term contracts
Government contracts are usually large and span a long period of time. According to GSA's Top 100 Contractors report, the top 100 federal contractors accounted for $329 billion of the obligated dollars, up 6.8% compared to $306 billion in FY18. DoD contracts make up roughly 75% of this amount, followed by DoE, HHS, DVA (8% each), and NASA (5%). Contractors can lock-in guaranteed business for five years or more, which is rare to find in the private sector.
Potential for business growth
In 2020, federal government spending on contracts increased $70 billion over the prior year. Although half of this increase can be attributed to COVID-19-related purchases, governments still increase spending every year. This is great news for contractors. Once you gain experience through your first government contract, there's a good chance you'll win new contracts after the initial one expires. Government agencies value previous experience, which can put you in a favorable position among your competitors.
Great for small businesses
Although government tenders can get complicated, they are usually transparent and designed to place all businesses – large or small – on an even playing field. Secondly, virtually all federal agencies (with USPS being a notable exception) are required to procure a certain amount of products from smaller businesses, or even specific subsets of small businesses.
Favors disadvantaged groups
In addition to targeting small businesses, there are numerous laws in place that set aside contracts for disadvantaged social groups. The federal government, for instance, sets aside contracts for women-owned small businesses (WOSB) and women-owned small businesses (EDWOSB) in specific industries in distribution, manufacturing, warehousing, and construction. Similarly, DVA contracts are offered exclusively to veteran-owned small businesses.
Reputation-boosting
There are also intangible benefits to doing business with the government. Government agency contracts can boost company awareness and enhance brand reputation. Not only does your contract bring in sales, it can help land additional sales in the private sector. As a government contractor, you'll play your part in providing services for or solving some of the country's most pressing challenges. Because governments prioritize corporate social responsibility, they help businesses give back to the communities where they operate.
How do top midmarket distributors use technology?
Forrester offers case studies from leading distributor brands.
Disadvantages
Contract challenges
Government contracts aren't negotiated like other business contracts. In B2B the parties simply negotiate mutually agreeable terms. Government contracts are governed by FAR, which is designed to protect the government's interests. Businesses selling B2G must learn about FAR, their legal rights, negotiation options, and adjust their contract processes accordingly. In addition, contract agents may negotiate on the government's behalf. These individuals abide by separate regulations that govern their actions.
Sharing company information
Governments typically require much more information from suppliers than a traditional business. As part of the bidding process, businesses may need to provide company projections, past experience, staffing plans, standards compliance, and other information. Businesses interested in selling to governments must understand these requirements and anticipate how they can influence supply chains, accounting, hiring, and growth plans.
Bidding, RFP, and approvals
Government customers must typically deal with complex ordering processes with multiple negotiations, contracts, and levels of internal and external approval. The invoicing and after-sales process can be equally complex. Governments also mandate that contractors utilize specific bidding tools and processes to take orders. Learning about these tools and integrating with them can take considerable time and resources.
Longer buying cycles
Like in B2B eCommerce, B2G buyers make purchasing decisions that include many players. Whether it's a $200 or $2 million purchase, the government almost always requires more paperwork, certifications, and approvals. And there's often a vendor qualification process before you can even start bidding. This translates into lengthy relationships that must be supported and nurtured.
Pricing and product information
It's not unusual for B2G sellers to manage government contracts in the tens or hundreds of millions of dollars. High-value orders over a long period can lead to complex product information requirements. Government orders can require consultations, custom configurations, bulk purchases, documentation such as Material Data Safety Sheets and identifying batch numbers, or even new, unique pricing strategies. Be prepared to provide extensive documentation. 
How Do You Prepare Your Business for B2G eCommerce?
Governments, like businesses, want to save time and maximize staff productivity. The COVID-19 pandemic accelerated digital transformation in public and private sectors. According to a Deloitte survey, 74% of government agencies that pushed digital transformation initiatives during the pandemic are seeing positive impacts.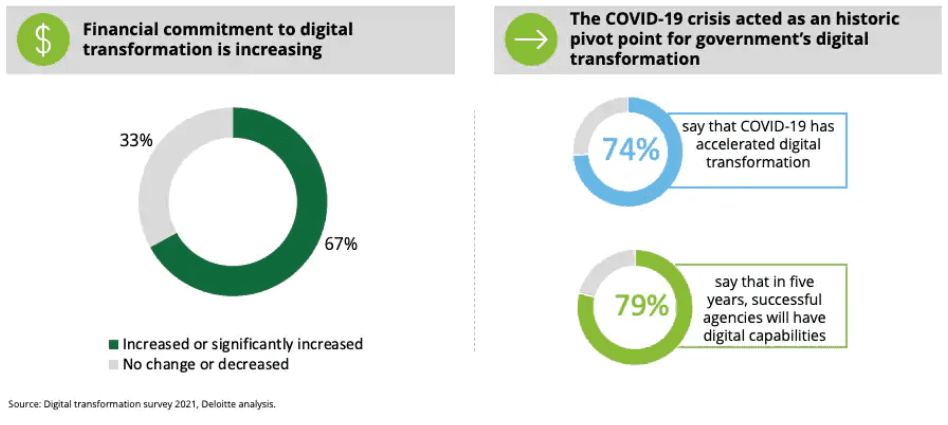 [Source]
Suppliers that are informed, prepared, and ready to meet various government needs will increase their chances of winning that all-important first contract. To get started, examine your company and consider what you may have to offer governmental agencies and what they may require of you in return. 
Changes in organizational structure
B2G sales may require major changes to your business structure. Government entities can be bureaucratic, isolated, constrained by rigid processes, or any combination of the three. And they call the shots when it comes to taking and managing their orders.
Chances are the government RFP, bidding, and contract processes are different from other types of bidding with which your company has experience. Some agencies demand clearances, background checks, up-to-date certifications, staff capabilities, future projections, and past track records. Many companies find it easier to create a subsidiary dedicated to government sales. At the very least, you'll need to retool your organization or introduce a new team responsible for the B2G line of business.
Implement new digital technologies
Every US Forest Service office and FBI field office will have different budgets, needs, sales cycles, and procurement processes. Many agencies have different corporate structures and rely on a myriad of technologies for day-to-day operations. Your digital technology should be robust, flexible, and scalable with APIs that support complex integrations.
Governments also have various purchasing processes that vary from one agency to another. They may require contract negotiation, bulk ordering, and quick re-ordering functionalities. If they require multiple approval levels or pricing policies, you'll need to accommodate those as well. Make sure you have an eCommerce automation engine that supports diverse workflows and processes.
Consider their hosting and security requirements
Governments tend to have specific hosting, infrastructure, and security requirements. Regulators can mandate extensive data control and security requirements, which are usually only offered by on-premise B2B eCommerce software.
In other words, governments will dismiss software as a service (B2B SaaS) vendors that provide services over the internet or platform as a service (PaaS) providers that have shared databases or other elements. Government security and privacy needs, coupled with these infrastructure requirements will likely shape your technology decision.
What are the the best B2B eCommerce solutions for 2023?
Download our comparison table for the best platforms on the market.
B2G eCommerce In Action – Real World Examples
Selling to the government: a major headache
The U.S. Environmental Protection Agency (EPA) estimates that there's an 87% chance that buildings built before 1978 have lead in them, so lead testing is required for any property to meet RRP program requirements. Local governments, in turn, must renovate and maintain their subsidized, public, or cooperative housing units. That's why one manufacturer of lead test kits zeroed in on the municipal government sector.
On paper, small business Check4Lead was well suited for working with government contracts. The North Carolina-based company obtained EPA certification for its lead test kits. Its eCommerce website was well designed and suited for buying products in bulk.
However, things didn't go according to plan.
The manufacturer quickly discovered that every local government agency used a different electronic system. Some used EDI  for eCommerce, while others used procurement portals to manage their vendors. "One thing that's universal is the red tape," says Thomas Jepsen, former head of Check4Lead, and current CEO of Passion Plans.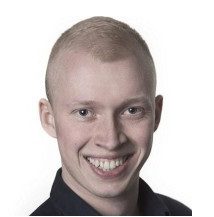 Various government departments started asking me to create official proposals despite very small contract and ordering volumes.
Thomas Jepsen, CEO,
Passion Plans
Jepsen recalls that government workers had no qualms about bothering him over the smallest detail and everything had to be just right.
Compliance certifications were also an issue. Jepsen shares that his company had to continually comply with changing COVID-19 regulations applicable to government contractors in addition to compliance with various labor practices such as general liability insurance and workers' compensation.
Today, he focuses his efforts on growing his house plans business. When asked whether he would sell to governments again, Jepsen admits he would only consider selling products with significantly greater margins over much larger contracts.
B2G eCommerce: driving efficiency and transforming the customer experience
Founded in 1987, SupplyCore is a government contractor and supply chain integrator that operates within DoD, GSA, DoS, and DLA agencies. It supplies goods, services, infrastructure support, and other assistance to military services, affiliated agencies, and foreign governments all over the world.
The government has diverse, extensive requirements for taking orders, says Jason Sheppard, IT specialist at SupplyCore. 
Government agencies vary widely. Some are further along the digitalization path than others. In any case, they all follow strict procurement processes to maintain market visibility, maximize pricing transparency and minimize any chance of price manipulation and collusion.
Jason Sheppard, IT spcialist,
SupplyCore
SupplyCore processes complex, nearly 100% custom orders that are unsuitable for traditional eCommerce selling. Instead, sourcing is done manually, which takes months, and goes through rounds of approvals by regulatory bodies. The company serves a diverse customer base, with everyone requiring unique and highly complex purchasing workflows.
When a customer submits an RFQ on SupplyCore's platform, a sales rep must forward the completed RFP to multiple third-party vendors through a separate bidding platform. 

Once the sales rep receives enough proposals from vendors, the RFQ is sent back to the customer, who must also secure approvals from various departments of their own.

Once the customer approves the purchase, it is sent back to SupplyCore and then transmitted via EDI to the parent agency (i.e. DLA, DoD) for approval.

The order is returned to SupplyCore using EDI and transferred into the procurement system to start the sales requisition process.
These steps were facilitated using JD Edwards EnterpriseOne ERP, an in-house quoting system, and other digital systems and services. Even with digital technology, the overall purchase process was tedious, time-consuming, and prone to numerous errors. Because order status was difficult to ascertain, sales staff spent their time locating data and holding lengthy phone calls with customers.
With the help of OroCommerce's B2B eCommerce platform, SupplyCore moved its customer-facing self-service and back-office order management functions to a single platform. Oro's powerful enterprise-grade back-office automation engine helped SupplyCore map out the workflow to support various types of orders.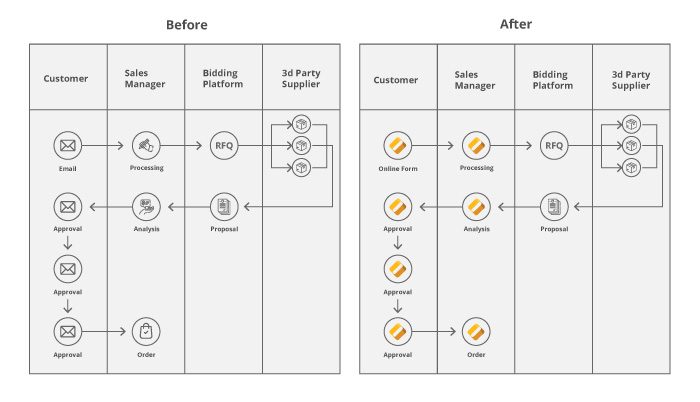 The open-source, modular, and highly customizable nature of OroCommerce allowed SupplyCore to make the following improvements:
Centralize and preserve the complex bidding functionality that was shared between various legacy platforms.

Offer customers a single place to submit orders, whether they were off-the-shelf or fully one-off, custom orders.

Support quoting and approval processes for complex, custom orders through a built-in workflow automation engine.

Intuitive self-service portal allows customers to see the status of their quotes and orders from creation to delivery.
Additionally, Oro's flexibility meant a smooth integration process and a fast time to market. When COVID-19 struck, SupplyCore launched a new website to meet growing demand. Since then, the company has launched additional sites to support other lines of business.
Over time, SupplyCore reduced its reliance on legacy applications, accelerated the sales cycle, and greatly reduced order-related human errors.

B2G eCommerce Requires Patience and Perseverance
Selling to the government is a complex and resource-intensive endeavor, but can be lucrative when done right. Luckily, manufacturers, distributors, and other B2B sellers are well-positioned to capitalize on B2G opportunities.
That's because they know that selling to another business is more than just a simple transaction. It requires building relationships and offering long-term value. The main difference between selling to companies and selling to government agencies is the glacial pace of progress and the need to meet exacting requirements.
Your eCommerce website is a substantial component of your B2G efforts. A B2B eCommerce platform with the right feature set will accommodate numerous agency structures, their regulations, ordering needs, and meet their productivity and efficiency requirements.
OroCommerce is one such eCommerce platform. Its enterprise and open-source architecture are robust yet flexible, complete with dynamic APIs that integrate with any business application.
Customization capabilities include personalization, segmentation, and product configuration tools, as well as a powerful workflow automation engine. OroCommerce positions your company for success with government customers.
Get a free B2B eCommerce RFP template
Know what to ask when shortlisting B2B eCommerce vendors.
Questions and Answers
B2G stands for business-to-government and refers to an eCommerce model in which products and services are sold to the government. Like consumers, governments are quickly adopting eCommerce technology to manage everything from multi-year billion-dollar contracts to simple commercial purchases.
Who can sell to the government?
Any business can sell its products or services to the government. Business-to-government companies sell anything the government needs, as long as they can meet the specified requirements. Businesses that sell B2B products or B2B services generally have the knowledge and experience needed to sell to government agencies.
What is the benefit of selling to the government?
The government is the single largest customer in the world, which makes it a reliable long-term client. However, you must invest time, money, and fill out reams of paperwork to be considered for government contracts. Selling to the government is an important business decision and must be evaluated for its return on investment. 
What is an example of a B2G eCommerce business?
Some business-to-government eCommerce examples include organizations offering electronics, machinery, janitorial equipment, or raw materials to the government. The largest B2G company examples include Lockheed Martin, Boeing, and General Dynamics.