Manufacturers are increasingly taking their unique selling proposition directly to end users. If you are a traditional B2B seller, does it make sense to add a D2C channel? The direct-to-consumer model (DTC or D2C) can improve margins, but it can also hurt relationships with your other distribution channels. Selling D2C is different than B2B, so you must adopt new ways of thinking and doing business. Manufacturers selling direct to consumers successfully enjoy not only increased sales but better brand control and deeper consumer data.
What what does D2C mean, exactly?
Here's a simple D2C definition: in the direct-to-consumer  business model, manufacturers sell to the end consumer without the services of a distributor. Direct-to-consumer sales differ from traditional B2C, as B2C usually involves wholesalers or retailers selling to end users. 
In 2021, D2C eCommerce sales exceeded $128 billion. The trend is only going up.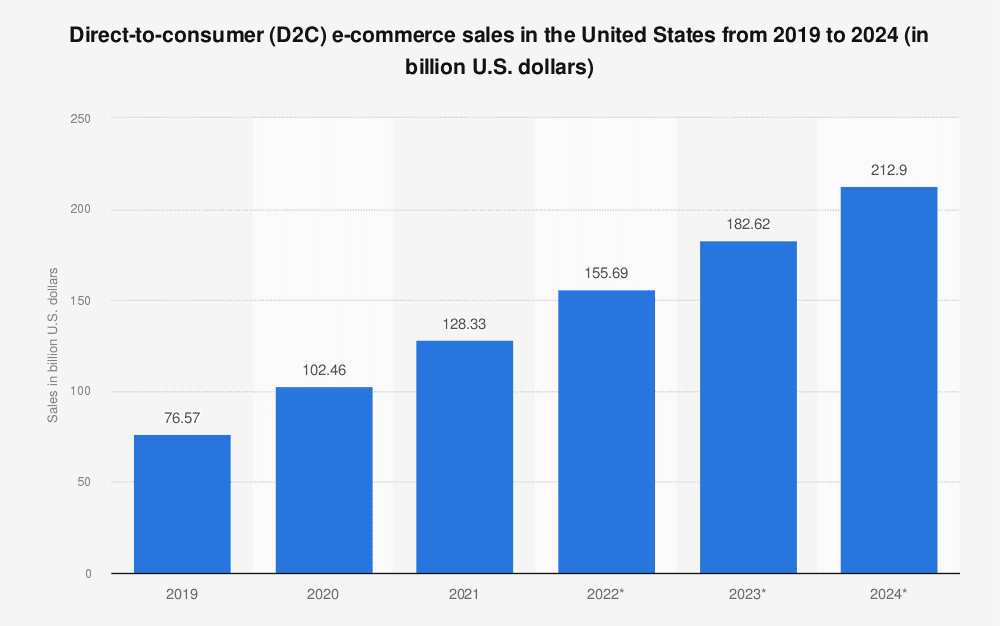 In the US, D2C eCommerce sales are projected to reach $213 billion by 2023. To help you take advantage of the D2C strategy, this article will cover:
A direct-to-consumer definition
D2C business model examples
The benefits and challenges of direct sales
Key features DTC brands need in their eCommerce platform
Best practices for implementing a DTC model
How to benefit from DTC and B2B selling on the same platform
D2C Examples: Companies and Brands that Sell Directly to Consumers
Disruptors to the status quo include brands such as Warby Parker eyewear and Casper mattresses. In other direct-to-consumer examples, FMCG manufacturers are getting into the game led by men's personal care brands Dollar Shave Club and Harry's Razors.
Some employ a subscription model while others look for one-off or infrequent repeat purchases.
Warby Parker
Wharton School of Business students got together in 2008 and hatched a plan to take on prescription eyewear giant Luxottica. In 2010, they launched a website for their D2C brand, Warby Parker. Their unique selling proposition allowed customers to try 5 pairs of glasses frames at home for 5 days and buy frames for under $100.
While this DTC brand wasn't truly D2C in the beginning (they had their frames made by the same factory in China that crafted frames for Luxottica) by 2016 they were making frames in their own Rockland County, New York facility. 
Their initial website was clunky and didn't integrate with their ERP so buyers couldn't tell what frames were in stock. This led to a waitlist of more than 20,000 customers, and they met their entire first-year sales projection in only 3 weeks.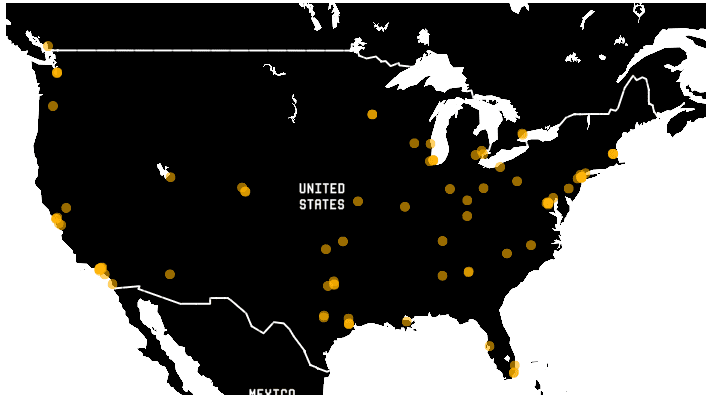 By 2020, Warby Parker was worth $3 billion. Today, this successful D2C brand operates online and through 125 retail stores in Canada and the US.
Casper Mattress
Everybody needs a place to sleep at night. The mattress market is about $14 billion per year, and mattress giant Tempur-Sealy holds about $3 billion of it each year. It was an industry ripe for disruption. 
Enter Neil Parikh and Luke Sherwin. The two consider Casper just as much a tech company as they do a mattress company. They did extensive research into sleep habits and preferences and built a database of over 15,000 customers that continue to test prototypes and even send sleep tracker information.
In addition to coming up with a mattress at a price point accessible to the average consumer, they reinvented packing and shipping to make it easier to get any mattress up the narrowest flight of stairs. Their revolutionary packing design is about the size of a dorm fridge and allows the company to substantially cut shipping costs.
In the first month, Casper sold $1 million in mattresses online.  When the company went public in 2020, it was worth about $575 million and at one point was valued at over $1 billion before going private again. Today, the company focuses on the entire sleep environment, offering linens as well as mattresses.
Dollar Shave Club
Consumers might not buy a mattress very often (only about every 8 to 10 years) and eyeglasses may only be purchased every couple of years. So, if the D2C model works for brands that don't foster frequent purchases how does it fare when consumers buy repeatedly?
The Dollar Shave Club (DSC) started by offering a subscription model that provided low cost, good quality, and most of all convenience. The razors were priced less than Gillette (the major player in the market) and showed up at the consumer's doorstep each month. 
A lighthearted YouTube video launched the brand and within 72 hours they had over 12,000 subscribers. Successful D2C sales require open communication with customers. When the razors sold out, DSC made a heartfelt plea for customers to be patient. The strategy paid off. DSC eroded the Gillette market share from 70% to 50% in just a few years. 
When Unilever acquired DSC for $1 billion cash in 2016, the company had 3 million subscribers. This proves that DTC sales based on a subscription mode can work in the FMCG niche.
Main Benefits of the D2C Selling Model
D2C selling may be an additional channel to explore for some brands. Manufacturers can gain better control over their brand, reinforce MSRP, and acquire rich data sets to bring new products to market even faster and attract new customers.
Improved brand control
A Kelton Global survey of consumers who made purchases in the wellness, home, apparel, and electronics categories found these buyers like to buy online and they like to buy from manufacturers.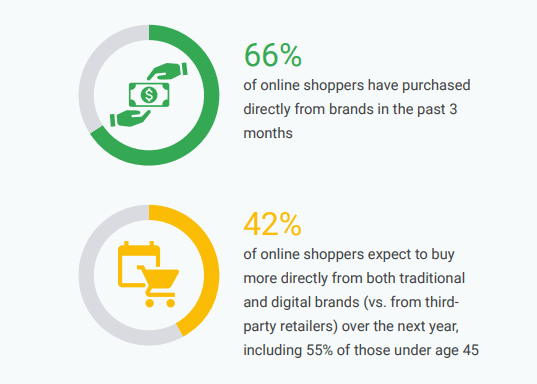 Not only are they comfortable buying directly from brands in the past, but they also expect to do more DTC shopping in the future. 
By selling D2C, your image can't be distorted by third parties, and you have full control over messaging and optics. 
Better price messaging
Selling directly to consumers allows you to control the messaging about pricing. Not only is it a way to reinforce any Minimum Selling Retail Price (MSRP) you may have established, but it allows you to strengthen your branding and value proposition. A distributor or wholesaler may offer lower-priced products to compete with your product. As a direct seller, you can make the case that the value exceeds the cost.
Improved customer insights
Do you rely on warranty registrations to obtain end-user data? Selling direct to consumers provides a treasure trove of customer information. You'll know how users interact with your product, their most common questions and concerns, and even learn about how they search for your products. This data can be leveraged to improve your marketing strategy by creating better-converting promotions, increasing sales, creating new products, and strengthening customer relationships. You'll even reduce the time it takes to bring a new product to market as you can prototype and test directly with consumers. 
The Challenges Of Adding a D2C Channel to Your B2B Model
Selling products directly to consumers in addition to your regular B2B channels isn't without risks or challenges. You'll need to mitigate these risks and carefully plan your D2C channel roll-out. 
Not every manufacturer is well-suited to selling D2C. Before engaging in the DTC business model, determine if it's a good fit for your company.
Retail mindset
Selling D2C requires a completely different mindset from selling B2B. Retail purchases aren't based on lasting relationships. They are often one-time purchases made based on the whim of the buyer. 
Selling to end users requires a deep understanding of the retail model. Be prepared to invest in completely different marketing campaigns and extensive customer service. If you don't create the customer experience retail buyers expect or commit adequate human resources to after-sale support, you can end up damaging your brand image if you fall short. This damage can spill over into your B2B business, harming them as well. 
Potential damage to B2B Network
One of the greatest challenges to selling directly to consumers is the potential damage to your existing B2B network. Manufacturers establish long-standing relationships with their distribution networks and supply chain partners, and the addition of D2C sales can be perceived as direct competition. 
It's important to act transparently to maintain trust. This means announcing your intentions in advance and focusing on the positives. Remind your network that selling D2C can improve customer satisfaction and perception of the brand. This benefits everyone in the long run.
Be prepared to offer distributor exclusives. These are products, finishes, or options that will only be available through the network. 
Changes to order packing and shipping
Retail customers buy differently, so you must be prepared to pull, pack, and ship differently. Instead of buying by the pallet, gross, or case; consumers frequently buy by the each. 
Your warehouse team will be pulling and packing more orders even if they are shipping fewer items. Make sure the warehouse team is ready to pack individual items in a way that meets retail customer expectations. If you rely on shipping by container or LTL freight, you'll need to make arrangements for shipping by parcel.
Self-guided customer journey
While B2B buyers begin their search online, they often require quotes and samples before signing a contract.
A retail buyer is more likely to make an impulse purchase. They want a completely self-guided Amazon-like experience. You'll need to create a website that offers a frictionless self-serve experience from the initial search to the checkout workflow. 
How to Implement the DTC Strategy Into Your eCommerce Business
Now that you know the benefits and challenges of augmenting your B2B business with D2C sales, are you still interested? Great! When done properly, it can be a great way to complement your existing business, whether you sell online or through physical stores.
So, let's look at what's involved in planning your D2C business. 
Pick your channels
The first decision you'll need to make is the actual channels you'll use for your D2C business. You can set up a retail website, a social media page, create or enter into a marketplace, or sell on Amazon or Amazon Business. 
B2C Website
The traditional way for manufacturers to sell to consumers is through a branded retail website. This approach allows you to gather the most information about your visitors and customers and you won't share the revenue and data with other companies. You'll be responsible for creating content that ranks high in search engines as well as protecting customer data and credit card information. 
Marketplace
Amazon isn't the only marketplace in town. Walmart, Etsy, and Home Depot have a very loyal fan base. You'll use the marketplace operator's software to create your storefront if you sell on a marketplace. The operator will handle all transactions. They retain the liability for credit card fraud, but they also retain all the data. You may also consider creating your own marketplace. 
Amazon and Amazon Business
Amazon taught the world to buy online and sets the standard for end customer experience for all other retailers. Selling on Amazon puts your products in front of consumers that don't shop anyplace else. 
Amazon will promote your products if they feel it is profitable for them and they will assume the risk of fraud. But the customer will never be your customer, the customer remains an Amazon customer. You'll gain no customer data or insights. And, if Amazon decides your product is a hit, they may decide to create a knockoff and sell it directly. 
Dedicate human and tech resources to the channel
Selling D2C isn't an add-on on top of your existing channels. It will require dedicated personnel and technology to be successful. You'll need customer support staff dedicated to retail customers and additional warehouse personnel to process orders. You'll need support for D2C marketing as well.
Create B2B exclusives
Determine what exclusives you'll create to maintain goodwill with your existing B2B network. Exclusives can come in the form of product bundles, special finishes and sizes, or models that you will not sell direct. It's important to offer distributors and wholesalers exclusives that they will value. Otherwise, they may not be so eager to support the next new product you launch.
Key Features for a D2C eCommerce Platform
The success of your D2C channel will depend on the strength of your eCommerce platform. Ideally, you'll already have a B2B eCommerce platform like OroCommerce that can handle multiple websites and business models with a single backend. Otherwise, be prepared for additional expenses, as you'll need to invest in the development or upgrade of your platform. 
Here are the key features to consider:
Multiple business models and websites
Your D2C channel isn't replacing your B2B business model, it's an enhancement. But as we covered previously, it requires a different selling strategy. So, the number one thing to look for is an eCommerce platform that can handle as many websites and business models as you throw at it. 
Powerful CMS
Retail shoppers are content hogs. If you plan going direct, you'll need a platform that can support multiple media formats. From audio files to videos and PDFs, make sure you'll have all the content tools you need to create informative and engaging content geared toward the needs of end users.
Open API
Your D2C technology needs to integrate with your existing tech stack. Data must flow freely to prevent logjams and silos. From the Microsoft 365 you use for business to your ERP, EMS, and 3PL eCommerce software, integration is key. Make sure your eCommerce platform is designed to work and play well with other technologies. 
Localization
Consumers expect to see the language, prices, currency, and shipping options localized for their area. Localization also allows you to control what products you offer in certain areas. If you offer your B2B network exclusive territories, localization is vital. It's what will allow you to honor your network agreements by sending a customer directly to the distributor.  
Separate Experiences for Different Customers – Selling B2B and D2C With OroCommerce
Gala Imports is a leading supplier of glass containers to over 35,000 businesses in Australia, New Zealand, and the Pacific region. They sell thousands of containers to pharmaceutical manufacturers and single jars to hobbyists and crafters. Their Magento platform was outdated and wasn't able to handle either line of business exceedingly well. 
They chose OroCommerce for its ability to provide different customer experiences for each business model using a unified backend. 
Gala Imports now operates two domains, each with a website geared to the type of customer, and maintains both from a single backend. The two websites have very different looks and functionality as they are geared toward the specific needs of their audience. So D2C customers get the retail experience they expect and B2B customers enjoy the convenience of eCommerce with payment and shipping options geared for B2b needs. 
An integrated CRM allows Gala to tailor its communications and marketing campaigns specifically to the B2B or D2C audience.
Average order values are up, and conversion rates have improved as well. Gala maintains great relationships with both its B2B and D2C customers.
So is D2C Sales Right For Your B2B Business?
In the never-ending quest for growth, manufacturers are turning to direct-to-consumer sales. It is a path that can lead to success, but it is fraught with perils as well. 
It requires a retail mindset, the dedication of additional resources, and the best B2B eCommerce platform to serve both B2B and D2C customers.
We hope, this guide helped you better understand the benefits of direct sales, D2C meaning, and ways to get started.
If you are considering adding D2C, talk to Oro. We will help you scope your project, put you in touch with partners to integrate your solution, and stay with you every step of the way. We're only successful when you are successful.
Questions and Answers
What does direct-to-consumer mean?
Wondering, what is direct to consumer? Here's a simple direct-to-consumer meaning: the business model of selling products directly to customers, without involving third-party distributors and wholesalers.
The COVID-19 pandemic and the supply chain crisis focused greater attention on D2C selling. This is along the backdrop of rising US eCommerce sales, which is driving brands to be more creative to stand out from the competition. Lastly, the D2C model is driving in popularity because it brings brands closer to customers, strengthens customer relationships, and gives brands a better understanding of who's buying from them.
What is the difference between D2C vs B2C vs B2B?
A D2C (direct-to-consumer) business model is where a manufacturer or distributor, rather than selling on to an intermediary, sells directly to consumers. When businesses sell B2B, they sell to other businesses like distributors and retailers, without interacting with the end-consumer. B2C businesses are small businesses and retailers that only sell to consumers, without engaging with distributors or wholesalers.
Example of D2C brands in eCommerce?
Some of the most famous D2C brands in eCommerce include Dollar Shave Club and Casper mattress, both of which manufacture and sell consumer products directly to customers. But D2C is not only for small businesses. Nike has used D2C to grow its sales and profitability while continuing to take greater market share. Recently, B2B businesses like Saltworks and Midway Dental Supply have opened up to the idea of D2C to gain more control of their sales activities and future-proof their business.