Your eCommerce website operates 24/7 with no breaks in between. It must be up and running and able to accept orders at all times. Since it's not practical for a business to have staff managing the eCommerce store around the clock, every eCommerce business requires some level of eCommerce automation.
For the vast majority of businesses, automating their eCommerce business just makes good business sense. While individual sales processes may differ, most are repetitive. Automating some aspects of the process keeps eCommerce businesses running smoothly while channeling resources to processes that grow the business and improve the customer experience.
Advances in technology make it easy for businesses to eliminate or shorten many workforce functions. Startups might think this is a luxury, but growing businesses, especially in the B2B eCommerce sphere, often find they suffer from growing pains, such as increased order volumes, fulfillment challenges, and fluctuating inventory levels.
Contents:
What is eСommerce Automation?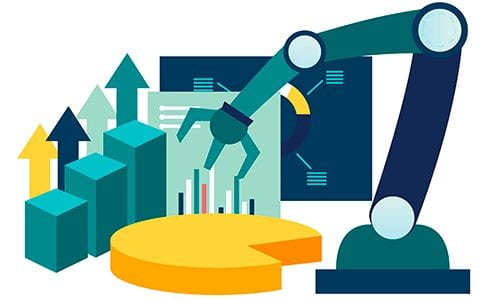 By the broadest definition, eCommerce automation is the use of technology to help eCommerce businesses grow sales and increase staff productivity. By automating the eCommerce processes, businesses can cut down on order costs, re-direct staff activity, and deliver personalized customer experiences.
A typical eCommerce automation consists of a series of actions that have been configured and customized. Automation consists of three components:
The first is the trigger event or an indication that the automation should start.

Next is the condition that defines what the automation will do. 

Finally, the result is an action that performs a function without human intervention.
Many processes are executed between the time the customer submits an order to when it arrives in their hands. The order must be retrieved and processed and then inventory must be picked, packed, and shipped. So a B2B eCommerce platform with strong automation features helps businesses sell effectively, maintain high order accuracy, and improve employee productivity.
How Do You Actually Automate eСommerce?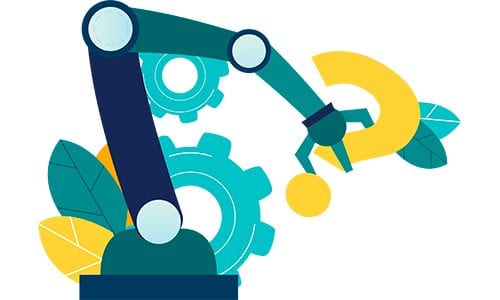 Automating your eCommerce processes has many benefits: reduced workload, increased efficiency, happier customers, and more sales. But how do you actually get started with automation? Just follow these key steps to start automating your eCommerce business.
Identify what to automate
eCommerce is ripe with processes that can be automated. Generally, any activity that takes up time, is repetitive, and requires manual data handling should be automated. For example, activities surrounding order processing, order tracking, or inventory are great candidates for automation. So is updating product information, pricing, or payment options across different eCommerce channels. Once you identify what to automate you then must consider what connectors and integrations are required to make it possible.  
Select the right solution
The market is full of many eCommerce solutions. It can be a challenge to pick the option that has the features and functions you need for successful automation. As you explore vendors, you'll get a better sense of their strengths and weaknesses. You'll understand how they handle product, order, customer, inventory, and fulfillment data internally and between systems. Don't forget to ask for case studies or testimonials when considering your vendors. Not only does this provide information from those that have had boots on the ground, you may discover answers to questions you didn't know you had.
Look for pre-built connectors
When your existing systems have ready-made connectors and can integrate with your eCommerce platform automation becomes easier. You won't need to hire outside help and spend time configuring and implementing integrations. This is especially true if your vendor comes with connectors that can dynamically and reliably transfer product, order, customer, and other data between your systems.
Process your data in real-time
Most sales and support reps are responsible for follow-ups, inventory updates, shipping updates, and more. The whole idea behind real-time automation is to prevent them from manually pushing buttons, switching between software, or logging data into Excel spreadsheets. Ensure your data is synced and transferred in real-time, not in periodic batches, as this could reflect poorly on your customer experience.
Monitor and validate your data
Business processes require a high level of data to be transferred between systems, which means a high level of data accuracy must also be maintained. Automatic audit trails and logs document data flows regarding every transaction. Look for systems that allow you to resend, recheck, or repeat activities manually. Have a process to maintain and check the completeness, quality, and security of your data.
Establish a winning support team
Ideally, your systems must work like clockwork. However, if there's any hiccup, problem, or question, you must have a team in place that has 24/7 access to your integrations. So when an order or return fails to work as expected, you react to the issue quickly, start working on the solution sooner, and notify your customers of the issue without delay.
eCommerce Automation Addresses Common Challenges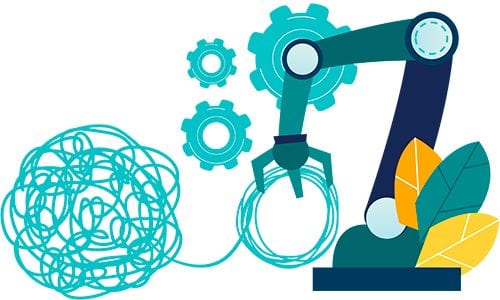 Challenge 1: Your sales, marketing, CRM, ERP, and fulfillment systems are disconnected.
Digital commerce businesses rely on multiple systems to manage their marketing, sales, order processing, and shipping functions. When data is duplicated across systems or is difficult to locate, customers receive inaccurate inventory levels, untraceable orders, or wrong shipping data.
With the help of integrations, data transfer between systems is automated, and you maintain consistency and uniformity of the data. When data is always up-to-date, you function from a single source of truth and make operations more efficient. 
Challenge 2: Your staff is saddled with manual activities and processes that require multiple steps to complete.
Most eCommerce sales reps only spend half of their time interacting with customers. It's poor use of customer-facing employee time to shuffle paperwork and perform manual data entry – particularly if the sales process is repetitive or it takes many manual steps to complete a task.
When you make business processes faster and easier, you free up time, money, and human capital that you can reallocate to more critical aspects of your business.
Challenge 3: You lack relevant data for informed decision-making and addressing growth.
As your eCommerce business grows, so do your costs and the amount of time you must invest in your business. At the same time, more and more finance, operations, inventory, and customer data are generated.
With the right eCommerce tools, more data doesn't harm your business, it makes you a more effective decision-maker. When you have the right data and that data is accurate, you can create contextual, relevant reports. This empowers your eCommerce staff to stay on top of customer expectations, offer personalized content, and make the right business decisions.
Challenge 4: You want to improve the customer experience with more control, personalization, transparency, and a self-serve model.
Customers want control over online transactions. They seek transparency into order status, want access to order history, and the freedom to change their orders. At the same time, they want an efficient interaction. They don't want to answer unnecessary questions, respond to extra commands or complete added steps. This type of experience falls short of expectations or results in disappointment.
Automating support using self-service frees up company resources. It also leads to a better understanding of the customer, improves customer satisfaction, and increases sales.
Benefits of eCommerce Automation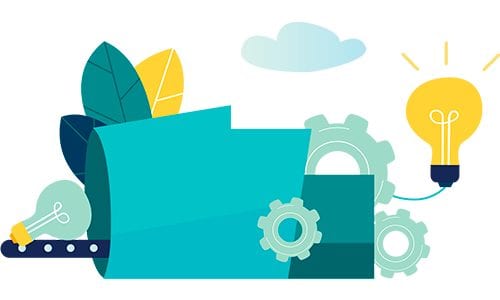 With eCommerce automation, you improve all of the following:
Efficiency
According to research by Oro, over 85% of B2Bs are realizing that their eCommerce strategy is an underutilized revenue opportunity.
Every task performed by the eCommerce and sales department is important—however tasks such as filing and data entry are incredibly repetitive, time-consuming, and prone to error. You may think you've created effective processes when in fact you have unknowingly created bottlenecks in your operations. Time spent on these tasks is time that's not available to complete more crucial tasks. With eCommerce automation, these bottlenecks are reduced and those manual time-consuming tasks are digitized. This efficiency can extend beyond the team and impact other departments within the organization.
Data accuracy
According to Gartner, the average cost of poor data quality to businesses can range between $9.7 million and $14.2 million annually.
Accurate data management is a must in eCommerce. There's an incredible amount of ever-changing data generated such as order details and customer information or inventory numbers. If this data is shared manually, there will always be the chance for human error. And, in a large eCommerce operation, even a small error can balloon into large problems that impact customer experience and your ability to fulfill orders – sometimes without you even knowing it.
Team productivity
According to RetailTouchPoints, B2B eCommerce automation is able to increase team productivity by 45% and overall revenue by 49%.
Smart companies always explore new ways to maximize value from their resources, and that includes human resources, too. With eCommerce automation tools, businesses can keep their employees productive, which leads to better engagement and a more fulfilling work environment. By automating back-office tasks, employees have more time to help customers, improve the product, or work on their skills. Giving employees the freedom to test and implement new strategies will advance your business.
Customer experience
According to Bain, a customer experience promoter has a lifetime value to a company that's 600 to 1,400% that of a detractor.
Customers increasingly look for purchase experiences that are memorable, easy, and help them save time and money. Customers also value transparency and appreciate being able to track their orders and receive up-to-date inventory and fulfillment information. Businesses that make it easy for customers to manage their orders, shipping, and returns without staff involvement save money and build customer loyalty in the long term.
Sales and average order value
According to Forrester, product recommendations, like upselling, are responsible for an average of 10-30% of eCommerce revenues.
Personalization and incentives are critical in boosting sales and average order values, and automation allows you to apply these strategies reliably. For example, you can personalize your pricing calculations, discounts, promotions, shipping options, or any other incentives by customer or customer class. You can also automatically set minimum or maximum order limits to help you reach your minimum order value or revenue goals.
Focus
According to Mckinsey, B2Bs with the best digital and automation capabilities generated an 18% total return to shareholders, compared with 10% for the rest of the field.
When you free staff from time-consuming tasks, they can focus their energy on more creative business processes, such as your expansion and growth strategy. Sales reps and eCommerce professionals possess a wealth of customer information, so when combined with market research, together they can make crucial decisions to grow market share.
Types of Automation in eCommerce
Workflow automation
Let's consider the first thing shoppers might do on an eCommerce site: register for an account. While some eCommerce businesses may allow users to sign up with an email and password, other companies may have additional requirements. And during the purchase process, approvals may be needed from different stakeholders depending on the order stage. Vendor and supplier onboarding workflows may vary and involve input from other decision-makers. But a powerful workflow engine can configure any workflow you need.  Here are some common applications of eCommerce workflow automation:
RFQ and quote automation
According to Startus.cc, human error is the largest cause of procurement mistakes, including budgeting, communication, data transfer, and accountability.
While many B2C transactions are relatively simple, B2B purchases are more complex and tend to be either negotiated on an individual basis or offered at a custom price. By giving customers the option to request quotes and arrange for payment, this process gets digitized. Furthermore, prices can be personalized to each customer and calculated automatically based on specific customer or company criteria. Combine a robust pricing engine with automated workflows and every quote gets priced correctly every time. 
Checkout automation
According to SaleCycle, the shopping cart abandonment rate stands at a whopping 75%, being highest for travel sites (81%) and lowest in fashion (69%).
The checkout process is a major concern for eCommerce businesses. Long and complicated checkouts discourage customers from completing their purchase. Automating checkout workflows helps you run multiple checkouts in parallel, allowing you to A/B test and determine which one converts best. Automating these processes also gives you the flexibility to appeal to customers as their needs change, helping you convert more of them and capture more sales. Integrate checkout with your factoring or credit approval and improve cash flow too.
Order processing automation
According to SproutSocial, 86% of consumers want brands to be honest, and 83% say they expect them to be friendly in their communication.
When an order is placed and moves on to fulfillment, customers want to know where their order is and how soon they will get it. At the very least, customers expect to know that their order has been successfully placed, left the warehouse, and is on the way to them. All this, including any delays or changes, should be automatically communicated to the customers using their preferred communication channel.
Product catalog automation
According to Microsoft, almost 90% of customers expect brands and organizations to have an online self-service portal customized to their needs.
For eCommerce businesses that negotiate prices, payment, and delivery terms with their customers, the logical steps would be to offer these customers their own personalized product catalog. This would provide each customer with a catalog of the products they need, at the negotiated price point and all without the unnecessary extras. If you sell configurable products (those with different sizes, colors, finishes, etc.), you personalize them by customer to further enhance the customer experience.
Sales automation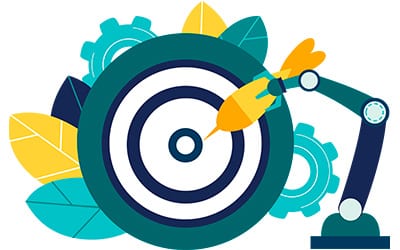 Automating your eCommerce sales process allows you to optimize lead nurturing, streamline the sales funnel, and reliably close more deals. The most significant benefit of sales automation, of course, is that your sales reps have more time to personally engage with prospects and customers, educating them, answering their questions, and addressing their concerns, thereby improving their ability to close deals. Below are some examples of sales automation:
Email notification automation
According to HubSpot, about 80% of marketers have reported an increase in email engagement over the past 12 months.
Notifications and follow-up emails about things such as order acceptance and order status are incredibly important to customers. It can be a simple message or part of a more complex, rule-based workflow. These automations can include everything from abandoned cart notifications to stock updates to time-sensitive promotions that customers may find interesting. Email automation is a must for eCommerce businesses with many products and customers and the desire for a high degree of personalization.
Sales opportunity automation
According to LinkedIn, The vast majority (94%) of salespeople believe they receive better leads from marketing.
Keeping the sales pipeline full demands a focus on nurturing opportunities and repeating strategies that work. All website elements – not just sales reps – must work together: whether it's your product pages, landing pages, or forms. Data should flow freely between systems, too.  When eCommerce data is closely interlinked and synchronized with your CRM, it's easier to move deals reliably to a close.
Customer service automation
According to Ameyo, it's estimated that 85% of customer service interactions are or will soon be automated.
Wouldn't it be great to have a support agent that operates 24/7, seven days a week, never takes a break, and can capture any request or feedback, and respond accordingly? This is customer service automation in a nutshell. With the help of integrations, you can capture requests in the CRM where customer activity gets logged and updated. This benefits both eCommerce and sales reps, who can segment, market, and sell to their customers more effectively.
Fulfillment automation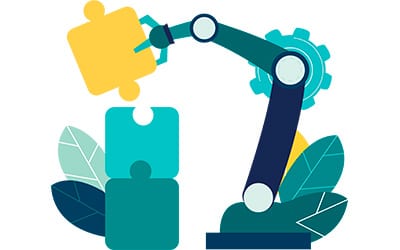 Efficient order handling means processing orders quickly and updating customers regularly on status. By automating fulfillment in your eCommerce business, sales reps and customers don't need to engage in a lengthy back-and-forth. Customers are automatically notified of status changes or can view the status of their order directly from an eCommerce self-service portal. Here are some ways to automate fulfillment:
Inventory management automation
According to RIS News, 72% of retailers agree that inventory management is a major factor in meeting goals, yet 49% of retailers have processes for inventory management.
In order to inform customers and your staff updates on orders and inventory status, it's important to keep numerous systems such as your ERP, warehouse management systems, procurement, and others integrated with your eCommerce and CRM platform. This automatically informs all involved parties such as sales reps and customers of any developments and the most up-to-date status of their orders.
Warehouse management automation
According to Supply Chain Quarterly, 88% of management view warehouse as a priority, and the use of warehouse management systems is projected to increase by 67%.
Your warehouse management software serves as eyes and ears on your inventory levels on the ground. Integrating with your eCommerce platform keeps information on your website up-to-date and avoids miscommunication in out-of-stock or back-order situations. Lastly, warehouse management automation helps eCommerce businesses shift inventory between warehouses automatically to optimize fulfillment.
Returns automation
According to ReadyCloud, over 30% of all online purchases are returned, and in about 65% of cases, the return can be the retailer's fault.
Returns are frustrating for the customer, but it's a part of doing business for many companies. Just like fulfilling an order, managing returns can get complicated. Different product types may have different return procedures, some may require multiple approvals, and others may not. Automations can notify the support department, process the return, update the CRM, inventory, or warehouse data, and credit the customer with the appropriate amount.
Who Benefits From eCommerce Automation?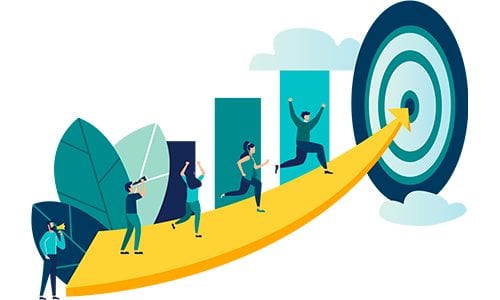 Automating eCommerce processes makes life easier for leaders, managers, teams, and whole departments. Here is how eCommerce automation benefits various business functions: 
Managers need up-to-date information on sales and customers to make strategic decisions and grow the business. They must maintain visibility across systems by integrating their eCommerce system across ERP, CRM, PIM, eProcurement, and other systems. When data is connected and automatically presented in an easy-to-read format via custom reports and dashboards, managers can make well-informed decisions to drive the company forward.
Operations managers rely on automations to improve the effectiveness of everyday processes such as sales, inventory tracking, shipping, and product management within the organization. Their job is made easier with the automatic segment, tag, and route products or orders based on unique criteria. Operations can also automate quoting, contract negotiation, or automatically reorder supplies, low-stock products, and more.
Marketing departments need accurate data on customer activity and product details to create effective marketing initiatives and maximize advertising spend. Automation helps marketers personalize promotions, products, pricing, and shipping options. By leveraging customer criteria to improve audience targeting or using inventory data to better market certain products, they can create better converting campaigns that make the most of their marketing dollar.
When customer service has access to eCommerce and CRM data, they can tailor their support based on specific customer data, order values, and acquisition characteristics. With further integration, support agents can be notified of the best times to reach out to customers or use automated scripts for personalized message follow-ups.
Customer success managers must be able to identify the right time to cross-sell, up-sell, or provide extra support to clients. They should follow up with customers at crucial moments, such as when they use a promotion, order a specific product or quantity, or need assistance during the purchase or returns process.
Last but not least, your customers benefit directly from eCommerce automation. It's what allows eCommerce brands to offer timely assistance, personalize interactions, most importantly, keep promises to their customer base. All this increases average order value and sales.
Five Examples of eСommerce Automation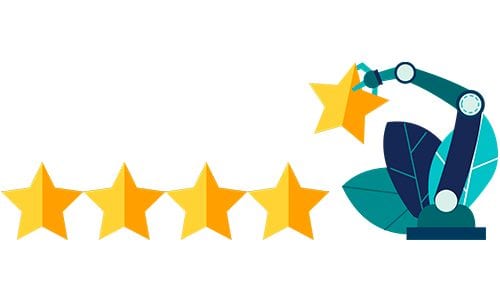 Streamline pricing, quoting, negotiation, and shipping
For eCommerce businesses with large product catalogs and a diverse customer base, it's challenging to price, quote, and negotiate the sale. Automation helps configure products behind the scenes and accurately calculate pricing according to for each customer.
Over 81% of online shoppers feel anxious when shopping on a website they are not familiar with. Transparency around availability, pricing, purchasing, and shipping helps build trust with customers.
Saltworks, a US-based salt manufacturer, configured a multi-layered pricing structure based on customer groups and applied personalized volume discounts to ensure customers see their exact contract pricing. They also used automations to streamline shipping processes such as LTL, UPS, freight quoting, and manage self-serve shipping methods.
Make it easy for customers to place and manage orders
Successful eCommerce businesses align customer behaviors and journeys to their brand experience. Giving customers more flexibility and control over the ordering process can be a powerful differentiator and competitive advantage.
While 48% of B2B decision-makers have implemented order automation in their eCommerce programs, over 39% estimate that automation gives them more recurring orders.
Samuel Hubbard, a US-based shoe manufacturer, utilizes a product grid on their B2B eCommerce website, allowing customers to populate the shoe type, size, and place a bulk order, all in a single step. The cart function also allows users to add a single type of product to cart and change product properties at once. This frees up sales staff from manually entering, uploading, or managing customer orders and customers have the freedom to order when they want.
Coordinate multiple approvals required for purchase
Regardless of how many stakeholders, vendors, or distributors are involved, centralizing the approval process in one place saves time and money. For this to work, your eCommerce system must contain up-to-date inventory, pricing, promotions, and other data.
When you make it easy for customers to reach their goals, you retain more of them, which increases your profits anywhere from 25-95%.
With the power of automations, Testrut, a German manufacturer of home goods, is able to fully lay out and optimize their internal workflows. This includes customer-specific approval processes, corporate account management, and customer-specific pricing calculations. Greater personalization resulted in increased customer satisfaction, and ultimately sales.
Improve reporting, sales, and forecasting processes
Online shoppers generate a sizable amount of data when visiting or purchasing from an eCommerce enabled website. On the front-end, this data can be used for offering targeted products, prices, and discounts. On the back-end, businesses can use the data to ensure products are available while minimizing inventory and carrying costs.
When you share customer information throughout the company – such as marketing, sales, support, finance & supply chains, it gets easier to deliver meaningful experiences that drive sales.
For GI Supply, a medical supplies distributor, data is everything. It helps them get a better understanding of top-performing rep activities and optimize the sales process. GI Supply's Competition Tracker feature helps managers aggregate competitive information from across the organization, helping sales and marketing to better position their messaging.
Delivering customer-specific promotions and upselling
Timely, relevant information in the form of nudges, notifications, follow-up, promotions, and feedback surveys positively impacts the brand experience, customer satisfaction, and ultimately conversions.
When you integrate your eCommerce platform with CRM, you can personalize promotions and incentives for each customer, increasing your chances of driving conversions.
FairPrice, the largest supermarket chain in Singapore, utilized automation to run up to 10 discount promotions in parallel. These promotions were all unique, specific to each customer, and offered truly personalized buying experiences according to each customer need.
eСommerce Automation Tools
Any craftsman will tell you the quality of the end-product is dependent on the quality of the tools used in its creation. eCommerce automation is no different. For the best results, you start with the best tools. 
OroCommerce
OroCommerce is an eCommerce platform built for the complex needs of B2B. It contains many automation functions to streamline quoting, order management, pricing, payments, and order fulfillment. With a robust API and a wide array of integrations with CRM, ERP, PIM, and other systems, businesses can improve staff productivity and retain and attract more customers.
OroCRM
OroCRM helps marketers and sales teams to capture and nurture leads and close more deals. It seamlessly integrates with OroCommerce. OroCRM delivers up-to-date, real-time customer information that enables automation. With marketing, reporting, and segmentation tools, staff can access data and make decisions that drive sales.
Automation Enables eBusiness Growth
Digital commerce processes are complex and involve many moving parts. The recipe for success starts with stakeholders, customers, and employees. Then mix in product information processes, customer acquisition and retention programs, and support during the buying journey. Bake under the watchful eye of management and adjust as necessary.
Without automation to eliminate, streamline, or enhance these tasks, it's hard to focus on the high-value aspects of your business. Business growth and long-term success require a focus on doing things right and doing the right things. 
When you automate activities and processes, things are done right – at all times. And, your employees can spend their time doing the right things to drive growth. Automating the rote frees your human assets to focus on tasks that demand creativity, intelligence, and problem-solving. All this is a must for minimizing errors, improved productivity, and increased customer focus.
For more information, in-depth applications, and examples of eCommerce workflow automation, be sure to read our guide: