Oro recently hosted its live OroCommerce 4.2 LTS webinar, where we covered in detail how the new features and capabilities can help you save time, boost efficiency, and increase sales.
We thank everyone who attended and participated, and we hope you found our demo valuable. 
For those who couldn't make it, we recorded the session for your convenience. In it, we go over the new OroCommerce, how it solves unique business challenges, and helps brands with their digital transformation. We also addressed many interesting questions from businesses like yours.
Watch the recording here: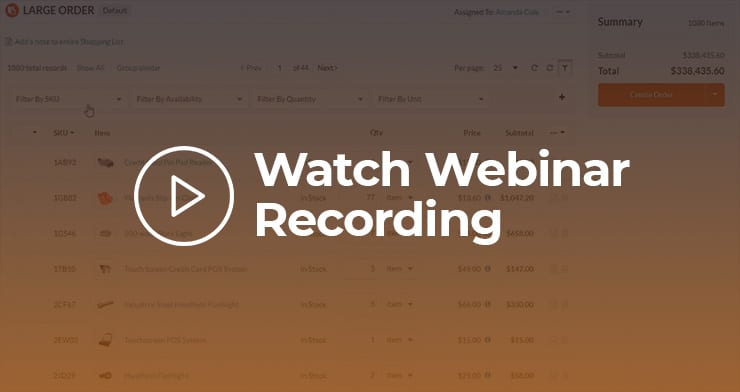 This annual long-term support release is the culmination of many developments, from an improved user experience to performance enhancements to updated documentation. A key focus was the user experience when working with multiple line items – but that's not all. Here are the major developments and highlights of what we've covered in the webinar:
Quick order form
A brand new quick-order form allowing users to manage 100+ line items from a single page

Upload CSV files to populate orders, add them to a shopping list, or proceed to checkout

Ability to duplicate orders, move them to other shopping lists, or add notes

Options for managers to see shopping lists of their reps
Accessibility options
An accessible user experience for those with visual on hearing impairments

Browser-agnostic elements with support for screen readers and keyboard browsing 
Storefront functions
Faster, more intuitive elasticsearch for searchable product attributes

Improved navigation, including new horizontal or vertical filter view options

Customizable cookie consent notification banner
Back-office functions
Easier content editing and preview functions, including improved customer impersonation

Shopping list improvements for easier RFQ and order management in the back-office

Numerous WYSIWYG editor improvements and new documentation guides
Performance
Quick performance when working with hundreds or thousands of line items

Faster page load times during checkout and pricing calculations

Optimized

storefront loading speed,

media loading, search performance
Questions and Answers
Where can we see the full list of features?
You can see the features listed in detail at https://github.com/oroinc/orocommerce-application/releases
Can I test drive these features?
Yes, we have a fully functioning demo at https://oroinc.com/b2b-ecommerce/demo/
What are your reporting options?
We have many reporting capabilities, including Google Data Studio integration. OroCommerce comes with a reporting engine and a built-in CRM system.
Do you support marketplace and multi-vendor setup?
OroCommerce is used by marketplaces with complex vendor-supplier relationships. We also support multi-vendor approaches such as B2B2B and B2B2C running in parallel.
Are there any options for startups?
The Community edition is free, and companies of all sizes start on this free version to create a proof of concept and then move on to the Enterprise edition if they need to.
Get Started With OroCommerce 4.2 LTS
We want to thank everyone for joining us on the demo and participating in discussions. If you'd like to get started, upgrade your OroCommerce today and make the most of these exciting features. Remember that the minimum system requirements now include a PHP version of 7.4 and the availability of Composer 2.