This post was contributed by Lidia Bondarenko from HelpCrunch.
Under normal circumstances, most businesses already strive to continually stay in touch with customers. Today's uncertainties mean more anxiety and stress for everyone – and your customers aren't an exception. They need your care and support like never before, and timely customer engagement becomes a necessity. 
Many businesses are now bothered by the same question: how to level up the quality of customer care, increase conversions, and grow the overall business resilience in the new normal? You might be surprised, but the answer lies in proactive live chat. This article will outline how your business can benefit from live chat and share proven practices that will help you make the most of this technology.
What Is Proactive Live Chat and Why You Need It
Now, let's have a little chat about live chat, shall we? Many forward-thinking companies worldwide have unlocked the benefits and power of proactive live chat when re-igniting their business following COVID-19 reopening. Some of them have even considered incorporating this innovation as a part of a digital transformation strategy. 
If you are new to this technology, proactive live chat software allows businesses to connect with their visitors and potential online customers when browsing a website. It enables customer service agents to initiate a conversation with site visitors when they seem to need a little further information and assistance.
A lot of businesses have quickly grown and become the industry torchbearers thanks to proactive live chat software. For instance, Intuit shared that they have seen 211% increase in sales with live chat. Does it sound alluring for your business too?
However, it's not the only way your venture can benefit from this technology. Let's take a closer look at the advantages and opportunities that come with incorporating proactive live chat B2B SaaS software on your website.
Provide 24/7 customer support
According to statistics provided by GetVoIP, businesses that invest time and effort in a thoughtfully created customer service program see a 92% customer retention rate. The foremost requirement for great customer service is around-the-clock availability. Give your customers confidence that they can connect with your company anytime and get help via a proactive live chat on your website.
There are two commonly used options for proactive chats: 1) using an AI-driven chatbot that answers most of the users' questions or redirects them to a support team; 2) hiring a customer agent who will assist your consumers in real-time and 24/7. You can also equip your support team with canned responses and auto-messages that can help them save a lot of time when serving customers. By discovering all the pros and cons of best live chat software, you can faster find the right approach to your customers and grow their satisfaction from interacting with your brand online.
Show your loyalty to customers
and grow their trust
Providing an opportunity to contact your support team via a proactive live chat, your company shows that it cares about customers. It also means that a brand wants to "hear" customer needs, questions, or requests and be helpful at maximum. Below, you can see how Salesforce uses a live chat to assist and care about its customers.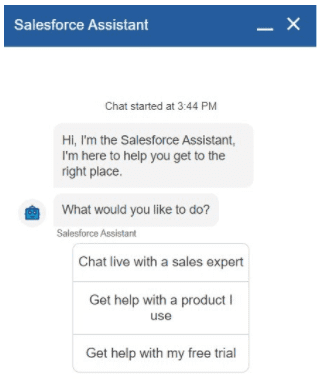 Chatbot message by Salesforce
Today, many customer-oriented companies leverage the power of proactive live chats to grow customer loyalty and build trust-based relationships. Some of them use this technology to remind customers that they care about protecting their digital privacy. It helps increase customer trust toward a brand and shape a positive image.
Re-engage returning users
In the modern digital era, customers share their data with companies more willingly and expect that brands already "know" them after their last website visit. Every user is unique, you can delight people by letting them feel special and recognized. You can let returning customers know that the company "remembers" them since their last purchase in a welcome message and personalized content and product suggestions delivered by proactive live chat. It will help re-engage people who are familiar with your brand and encourage them to make new purchases. An excellent example is a proactive live chat on Slack's website.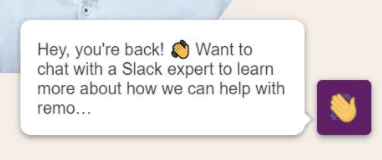 Proactive chat message by Slack
Instantly answer customer questions that close sales
B2B companies can use a live chat for sales and lead generation. Customers actively use live chats to ask quick questions about products or services and clarify information about a brand. It allows companies to provide personal selling experience and great customer assistance. You will be surprised to learn how a live chat can enhance your customer service and increase B2B sales. Adding this widget to your website can improve conversions by 12%.
Grow user engagement on pages with a high bounce rate 
A live chat is not only a convenient messaging channel, but also an excellent opportunity to grow engagement, fire up some interest in your brand, or unobtrusively explain how you can solve their problems and reach goals.
Have you noticed a high bounce rate on a particular web page? Users probably need a little bit more care and company attention here. Your brand can give it to them proactively welcoming users on these pages and initiating a conversation with them. 
Moreover, you can use proactive messages to invite users to take the desired action, such as signing up for a webinar, downloading a new eBook, or book a meeting. It will help convert traffic from page to page and engage the leads to move forward in a marketing funnel. In the image below, you can see how Heap Analytics uses proactive messages to invite users to sign up for a new webinar.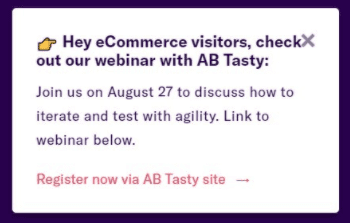 Proactive chat message by Heap Analytics
Reduce cart abandonment
There are many reasons for shopping cart abandonment on B2B eCommerce sites such as poor self-service, complex checkouts, inconvenient payment options, etc. Forrester reports that 55% of US online adults are likely to abandon their carts if they fail to find a quick answer to their question. Your company can significantly decrease cart abandonment by giving users an opportunity to contact a support team via a proactive live chat during the entire checkout process.
How to Set Up Live Chat for Increased Lead Generation and Conversions
Target high intent pages
It's recommended to be selective in where you place your live chat. You can install it on product landing and checkout pages where the user's intention to make a purchase is the highest. It allows you to multiply sales and reduce cart abandonment, as mentioned above. 
Leverage rule-based auto-invitations
Your company can set rules and conditions, according to which a website displays proactive messages to users inviting them to chat with a brand representative for further information. By conditions, we mean an algorithm of user actions triggering an event when a proactive message pops up to initiate a conversation with the user. Here is how an auto-invite can look like: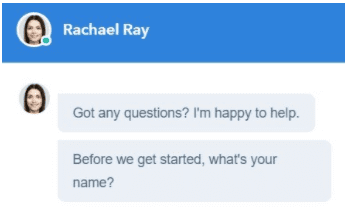 Proactive chat message by GoodFirms
Humanize conversations using real names and faces
This simple practice helps build more "human" relationships between a company and its target audience. In the image below, you can see how YouScan has tried to humanize their live chat by adding real names and photos of customer service agents.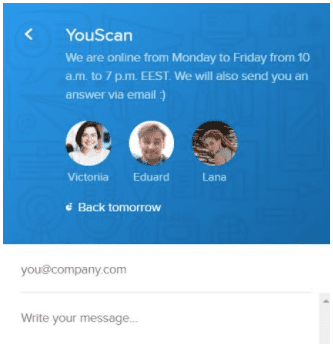 Proactive chat message by YouScan
Customer service needs a human touch, especially in a current post-pandemic business environment. A brand can humanize conversations by empathizing with customers and wishing them to stay safe in current conditions. When hiring customer service representatives, it's also advisable to ask them these interview questions to make sure they are able to go beyond a script sometimes and assist customers in unusual situations. 
Personalize messages and use proactive greetings
Proactively communicate with users by leveraging personalized messages. Create scripts mentioning services or products that are relevant to users. Commonly, you can use canned responses to save your support team's time. However, when it comes to sales chats, we recommend writing highly personalized messages. And when you work together with other customer support reps, it's a good idea also to use collaboration software to improve the communication process and solve requests faster.
Moreover, your company can catch the user's attention and encourage them to learn more about products or services with an extraordinary and creative greeting in a live chat. Here is an excellent example of a fun proactive greeting created by Vital, a digital marketing and design company.
Proactive chat message by Vital
Use scripts that speak to real people
Keep a friendly tone of conversations and Below, you can see how G2 Bot talks to users, trying to maintain a more "personal" tone of communication.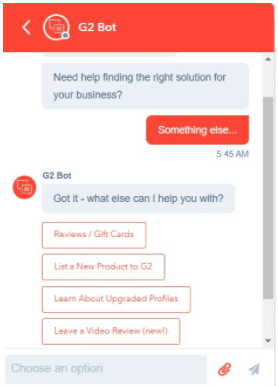 Proactive chatbot message by G2
Set a dynamic conversation using chatbots and automation
You can empower your live chat with an AI-powered chatbot to automate messaging, drive more dynamic conversations, and suggest the most relevant options to users. Moreover, chatbot technology can recognize user intent and provide more relevant answers. 
Many companies use combined chats that include a chatbot and the ability to switch to a conversation with a real customer support agent. It allows them to set up a chatbot to answer simple customer questions automatically or redirect hot leads directly to a customer service representative and continue a conversation with a real human. 
Here is how a chatbot of FPT Software, a global IT corporation, is tackling these tasks.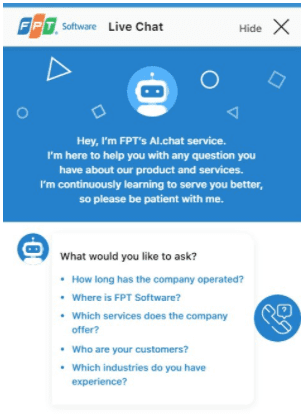 Live chat message by FPT Software
Use analytics to pick the best time to initiate a conversation
Don't start talking to people when it seems like you should. It's better to initiate a conversation when they actually need your help. Your customer service representatives can help you identify friction points with analytics reports on specific user behavior such as excessive clicks or cart abandons. You can even create different chat templates for every situation when users need your assistance.
Conclusion
Proactive live chat is quickly becoming an ultimate requirement for modern B2B websites and a necessary element of excellent customer service. By incorporating AI-driven chatbots and instant messaging with a support team into a website experience, you can introduce your company as an innovation-driven and customer-oriented brand that does its best to bring a comprehensive consumer satisfaction and address their needs. 
Live chat can help you gain customer loyalty, build long-term relationships with customers, and bring your conversions, leads, and opportunities back on track. We hope this article helped you understand why a proactive live chat service is worth considering and how it can help you capture more leads.
About the Author
Lidia Bondarenko joined HelpCrunch as their Outreach Specialist. Using her SEO, writing, and analytic skills, she assists the Marketing team. Lidia performs on-page and off-page optimization research and writes informative posts on marketing and customer service topics. Follow her on Twitter.
HelpCrunch is a top-rated customer communication platform for your support, marketing & sales. Its main features include live chat, email marketing, help desk, knowledge base, and popups.