The
Advantages of B2B eCommerce
For years, ecommerce has been solely controlled by B2C brands. As consumers have navigated more and more to digital media for researching, validating and ultimately purchasing personal and household products, the online retail giants like Amazon and eBay are making a killing. So why should it be any different for B2B brands?
The short answer: it shouldn't. As consumer behavior shifts, and their purchasing journey becomes more drawn out and less linear, it's changing the way businesses make purchases, too. Why? Because these same people making purchases for businesses are also making purchases for themselves everyday. The methods they enact in their personal lives are carried over into their business purchases. In fact, a whopping 93% of B2B buyers prefer to purchase online with self-serve information and ordering options from vendors, according to Forrester Research.
And it's not simply about being able to make the purchase from a B2B online business. B2B buyers are also discovering new products and services online, whether actively by looking or passively through shared content, banner ads, native ads or a myriad of other online sources. They're then researching these B2B products and services and validating their decisions through reviews, recommendations (also both active and passive), forums, original content and social channels.
These pre-purchase decision steps, what Google calls the Zero Moment of Truth (ZMOT), happen well before the buyer has interacted directly with a brand. Before they pick up the phone to talk to a sales rep. Before they visit a showroom to experience products first hand. Sometimes before even visiting your website to learn more. According to Google, 89% of B2B researchers use the internet during the B2B research process. The ZMOT stage is driven entirely by the buyer; it's a sort of buffet experience where they take it upon themselves to find the information they need in their own time and preferred means. But the information they are finding doesn't simply appear out of thin air. It's created and influenced by brands. To ensure they are getting the correct information and, even before that, to ensure your brand is considered once they move on to the purchase decision, you must be online and active.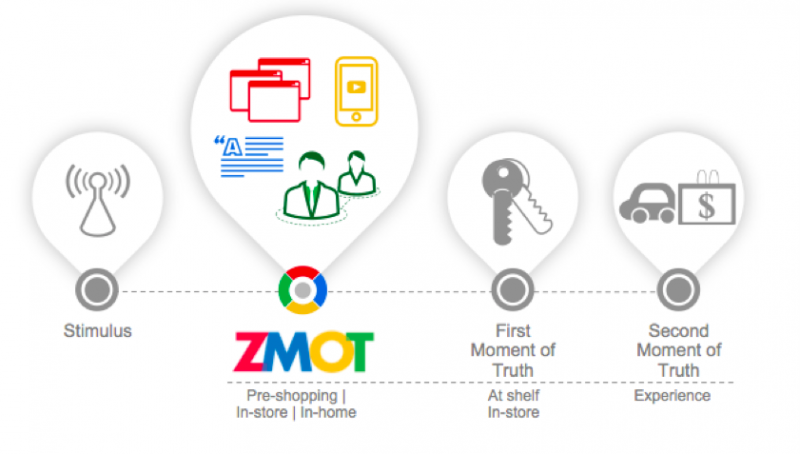 Image Source: http://www.google.com.au/think/collections/zero-moment-truth.html
Awareness and consideration are arguably two of the most important reasons why a B2B ecommerce brand should be online. What are some other advantages of B2B eCommerce you should know? The following three reasons are sound arguments for establishing a B2B online business:
Cost-Efficiency
Print catalogs are expensive to produce and ship, and typically end up as door jams or monitor boosters. And what happens if there's a mistake or inventory changes significantly? Showcasing products on mobile devices, tablets and online saves time and money. Costs savings can also come by providing online customer support channels. Rather than have a full call center to field product inquiry, returns and other customer care questions, you can publish manuals, specifications, FAQs and instructional documents online, and offer responses through a centralized and public channel.
Competitive Edge
Use the slower online adoption rates of B2B online business brands to your advantage! By getting your brand online now, you can gain an inherent edge over your competitors that are likely moving at the slower clip of the industry as a whole. When buyers go online to look for a product or service, which we know that they already are, you'll be there. And by building this foundation now, you'll stay steps ahead of competitors when they finally start moving online in the future.
Innovative Ways to Provide Value
Let's say you sell parts and accessories for commercial washing machines. What if you were able to allow customers to take a photo of the part they need, and your site matches the image to products in your inventory? Or what if you created an interactive 3D model of the machines on your site and included instructions to maintain and/or replace various parts that you carry? These innovative ways to help your buyers find what they need quicker and make their work lives easier will help you sell more products in the short- and long-term.
The advantages of B2B eCommerce include changing buyer journeys, impressive cost savings and resource efficiencies, seamless operational integrations, and a unique and competitive edge, all of which combine to form a solid case for why your B2B brand needs an online presence. Add to that the prediction that B2B ecommerce sales will top $1 trillion by 2020, and you have no reasons not to be online.
About the Author
Ryan Shields is the CEO of Indaba Group, an award-winning strategic ecommerce development agency. Indaba offers merchants across the globe a complete suite of tailored services designed to marry best-in-breed technologies with business strategies that fuel growth. Connect with Indaba on Twitter @indabagroup.