eCommerce has become a game-changer for many industries including the beverage alcohol space. After Amazon purchased the grocery giant Whole Foods in 2017 and with recent reports disclosing the online giant's plans to open dozens of new grocery stores in several major U.S. cities, it is now clear that the entire B2C and B2B beverage & food industry has officially entered the era of eCommerce transformation and digital competition. When it comes to eCommerce opportunities for wine and spirits manufacturers, distributors, and wholesalers, they are now in a unique position to differentiate against its competitors as most of these businesses still conduct commerce through traditional offline sales channels. According to Rabobank, U.S. online alcohol sales reached USD 1.7bn in 2017. While this currently accounts to less than 1% of the overall alcohol sales, which in 2018 reached US$253.8 bn, growth within online channels is dwarfing that of brick-and-mortar retail. 
Despite the many benefits eCommerce can bring, many alcohol vendors have yet to introduce online ordering capabilities. In the era of online purchasing where digital transformation is no longer a competitive advantage but the only way to remain relevant, traditional offline businesses must consider making a move online. In today's post, we'd like to talk about how eCommerce can enhance the wine and spirits industry, discuss the reasons why wine and spirits brands may be slower in adopting eCommerce, and touch upon the technologies that can help support a digital transformation.  
Why Wine and Spirits Brands Are Slower Adopters of eCommerce
The current state of online sales for alcoholic beverages looks promising. The global online sales for wine, according to the eCommerce-Performance Barometer study, reached $9.8 billion in 2016. According to a recent report by Rabobank, a global leader in food and agriculture financing, online sales for alcoholic drinks just in the US hit $1.7 billion in 2017. Findings from Rakuten Intelligence, an eCommerce research company, show that online sales of beer, liquor, and wine increased by 32.7% in 2017. Wine was the most popular drink purchased on the internet making 65% of online alcohol sales over two years, followed by spirits accountable for another 21.2%.
From what we see, these trends indicate the increasing customer demand in purchasing alcoholic beverages online. However, not all wine and spirits businesses are sold on the concept of selling online. The main obstacle preventing eCommerce for wine and spirits products is alcohol regulations and restrictions. For example, US wine and spirits sellers are faced with stringent state-specific laws adopted in the Prohibition era. These regulations complicate the shipping and retail of alcoholic drinks. Good news for wine and spirits providers is that these regulations are gradually evolving. This gives beverage alcohol companies another reason to digitize commerce and finally connect with digital buyers.
B2B Opportunities for Selling Alcoholic Beverages Online  
B2C customers are not the only ones shopping for wine, beer, or liquor. In fact, the bigger opportunity in eCommerce is with wine and spirit manufacturers, distributors, and wholesalers. But since these businesses work with each other in a B2B relationship, the path to purchase significantly differs from those of B2C customers. Buying in bulk through negotiated contracts is one of the key distinctions between B2C vs B2B. This means managing multiple price lists, enabling quoting capabilities, and creating a personalized buying experience will be critical when selling online. These requirements call for a platform built from the ground up to address B2B eCommerce. To further showcase the opportunity in B2B wine & spirits sales, an alcohol delivery service Drizly found their corporate clients spend 300% more than consumers. The chart below demonstrates how different the average order value (AOV) between B2B vs. B2C purchases.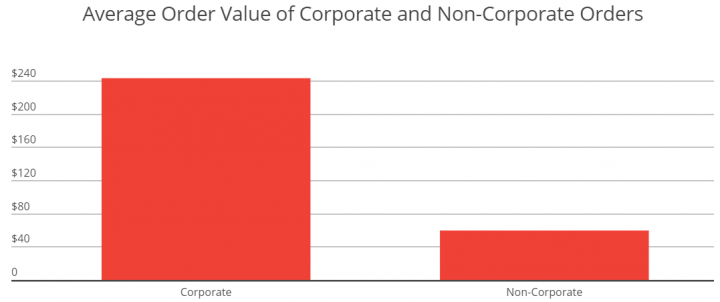 Drizly's sales analysis also reveals that 50% of B2B companies acquiring alcoholic drinks tend to schedule their orders in advance. This allows vendors to manage their order fulfillment based on a predictable product demand. The same analysis shows that 42% of Drizly's corporate buyers purchase wine, generally one of the most popular beverages to be ordered online.
As you see, businesses are digital buyers of alcoholic beverages, so if you're a wine and spirits provider working with other businesses, eCommerce is a huge opportunity that can help grow overall sales, differentiate your brand, and win new customers.
How eCommerce Can Enhance Your Wine and Spirits Business
Opening up an online sales channel would bring many benefits to the wine and spirits providers. According to the report on the top eCommerce trends of 2018, 67% of millennials and 56% of Gen Xers would shop online rather than in brick and mortar stores. So would 41% of Baby Boomers and 28% of Seniors. With every customer generation searching for products and ordering them through the internet, going digital is the only way to keep up with buyers' expectations.
What are other benefits of going digital? First, by operating online, you increase your brand's online visibility. Some of your existing customers might have already been looking to place online orders with your company. In addition, new markets and customers will be able to find your business when searching online. By opening your business to the internet, you'll be able to reach more buyers, expand your customer base, and grow your business.
When digitally transforming your business, an eCommerce platform will allow you to capture and process all essential customer data. For example, an eCommerce platform with a built-in CRM will enable you to obtain a 360-degree view of every single customer and get valuable insights into their behavior and preferences. Based on this information, you can launch highly targeted and personalized marketing initiatives to grow your bottom line.
Tap into eCommerce Using a Proper Solution
As a wine and spirits B2B manufacturer or distributor, consider adopting a B2B eCommerce platform designed to support B2B transactions. The solution you choose to launch your eCommerce initiative should cater to all nuances of B2B selling and buying. Because B2B selling prices are negotiated and contract-based, the platform should enable vendors to create and customize customer-specific price lists. It should also support the management of multiple SKUs, units of measure, and shipping methods. It should also come with versatile catalog management capabilities allowing you to create customer-tailored product catalogs.
To ensure your wine and spirits company is able to evolve and continue growing, eCommerce is an important strategy that should be considered to supplement your traditional offline sales channel. With the help of the right eCommerce platform, companies in the alcohol industry have a chance to truly differentiate themselves from their competitors.
If you're interested in a demo of OroCommerce's B2B eCommerce platform, simply contact us here and a representative will be in touch shortly.