Did you know that along with on-premise solutions, Oro offers applications in the cloud? We do! Many of our customers prefer our cloud-based eCommerce platform because while we take care of most infrastructure and security issues, they focus on their business and float on cloud nine. OroCloud services include infrastructure hosting, scalability, maintenance, timely updates, and PCI DSS compliance as well as 24/7/365 tech support for issues with critical business impact. Our new OroCloud Guide explains how it works.
Who Is This Guide For?
This guide is for customers that have adopted our fully managed, maintained, and supported cloud applications and want to know more about the technical side of how they function. It's also a great introduction for those considering adopting an OroCloud application. The Guide demystifies the OroCloud environment infrastructure, explains how we ensure end-to-end security, identifies the monitoring tools we use for seamless service, outlines customer support available, and covers other equally important processes that Cloud customers can always rely on Oro to handle. Additionally, you can use the Guide to help you onboard OroCloud and install Oro applications in your local environment or deploy a custom installation.  
What's Inside the OroCloud Guide?
The OroCloud Guide includes the following sections:
The Architecture section provides details on the Google Cloud Platform (GCP) we use as the Infrastructure-as-a-Service (IaaS) layer. It explains the OroCloud environment infrastructure with its redundant components (such as web node, search index, relational database, and job/message queue) and breaks down topics related to backups, maintenance, disaster recovery, and system configuration.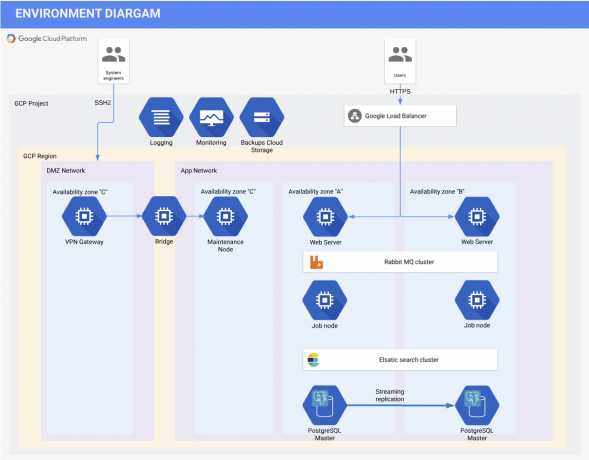 Standard Oro application deployment in GCP via OroCloud
The Security section describes the OroCloud network (application subnet and maintenance DMZ subnet), traffic and firewall rules, hot to connect to the production OroCloud environment using VPN, and the tools used for protection against DDoS attacks.
The Monitoring section highlights the monitoring tools we use to track operational processes and ensure efficient troubleshooting and uninterruptible service (such as Stackdriver, NewRelic, Blackfire and Quanta monitoring solutions). You will also find all relevant information on monitoring resource metrics and learn about the Incident Response Plan we have in place to resolve any unexpected service-related issues.
The Onboarding section walks you through the steps to prepare to deploy an Oro application. These steps include choosing a domain and obtaining an SSL certificate, creating an account in our support desk, and accessing the Enterprise Edition source code. You will also find useful tips on installing a custom Oro application from a forked or private repository.
The Maintenance section includes instructions for using OroCloud Maintenance Tools to run and control maintenance operations within the Oro application environment hosted in the cloud. This includes the prerequisites for accessing the maintenance agent, maintenance commands, advanced configuration, applying patches and running custom commands. A helpful FAQ is included as well.
The Support section walks you through the simple process of reporting an issue and accessing the support desk. You'll also learn how requests are prioritized and our standards of service for response times.   
How to Access the OroCloud Guide?
The OroCloud Guide is part of our ever-growing online Documentation Library. Access the Guide by simply following this link or navigating as shown below.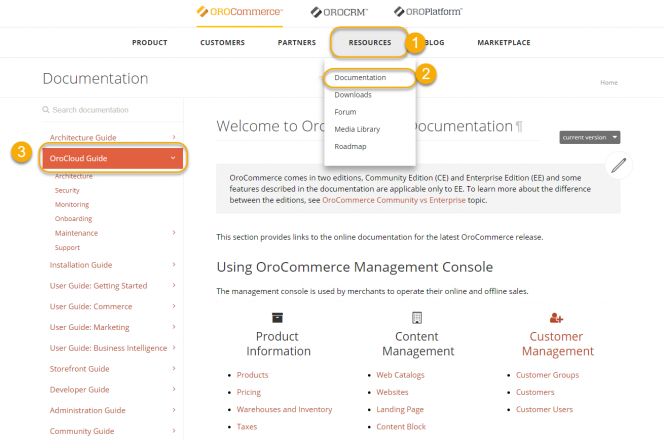 We hope you find this information useful. We're committed to providing you with all the information you need to successfully deploy an eCommerce website and use Oro products. If you haven't done so already, check out our recent OroCloud Commitments to GDPR Guide. It details the steps OroCloud users must take to comply with the General Data Protection Law.