HKL Construction Machinery: Online Rental Platform for Construction Products Expands With OroCommerce
HKL Baumaschinen is an owner-managed company with headquarters in Hamburg and focuses on the rental, sale and service of and for construction machinery, space systems, construction equipment, work platforms and commercial vehicles.
Live Website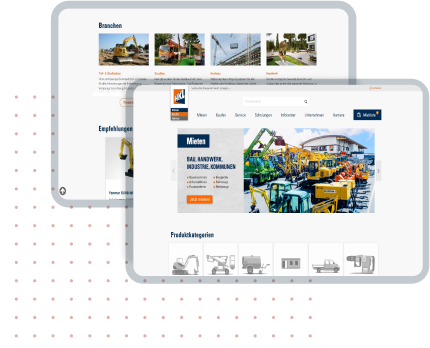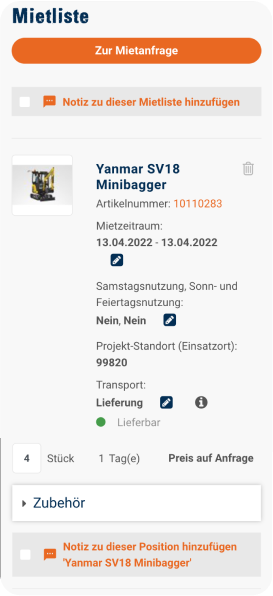 The Challenge
As a machine rental company, HKL looked to automate traditionally manual processes that were impacting efficiency and customer experience. The implementation of a digital product rental platform is technically highly complex.
A classic online shop typically has two dimensions: the number of items required and the price depending on the number of products. A rental platform is multi-dimensional and has to cover the complex network of constantly changing dependencies between the number of products, rental period, accessories, location, and price in real-time. Each rental request is individual and potentially variable. Unplanned weather-related changes in the rental period and construction progress must also be taken into account by the online platform.
HKL's previous online rental inquiries had been made using a form. The digital rental request triggers a message to a responsible customer advisor, who processes the order individually. Customers can already see all HVAC products on offer online, but availability in the nearest rental center is not displayed. The rest of the rental process was coordinated manually and through an app, which made the process very complex.
HKL commissioned Turbine Kreuzberg, an OroCommerce solution partner, to develop and implement a new online rental platform. The new digital platform enabled a user-centered, fast and transparent operation. In this comprehensive project, OroCommerce had to be converted into a rental platform. A large part of the front end, as well as the back end, was redesigned, extensively expanded, and modified. This was made possible by the flexible customization options of OroCommerce's out-of-the-box capabilities.
In OroCommerce we found the right B2B e-commerce platform with which we are able to react flexibly to our requirements. Through a strong feature set, coupled with the possibility to individually address our business processes, our goal of a holistic online platform that covers all HKL business areas will become a reality in a near future.
Marcus Worthmann
Digitization Team Lead, HKL Baumaschinen
The Solution
The new online platform from HKL Baumaschinen creates the switch between B2B and B2C customers. All customer groups benefit from the new digital interface, which enables them to make quick and qualified rental inquiries and receive a prompt response.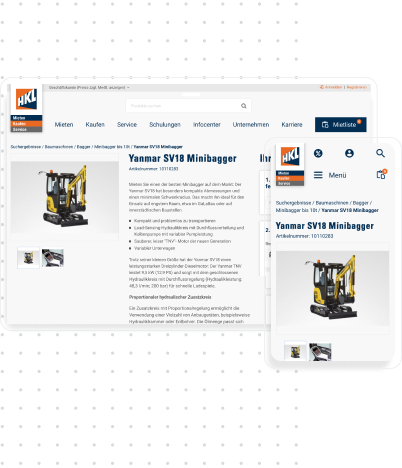 With OroCommerce, customers can now:
Access products with adjusted pricing and availability in real-time

Download product details and manuals

Use product filters to quickly find products

Choose custom pick-up or delivery options

Manage multiple shopping baskets and shopping lists
In addition, the optionally selectable and sometimes mandatory accessories for each product can be displayed and booked on the online rental platform. 
Thanks to the new platform, HKL's rental dispatchers now experience a significant reduction in their workload. The online platform generates all the important information and ensures high-quality inquiries that can be processed efficiently and with a few digital tools. The rental planners now have the opportunity to grow more into the role of customer advisors. The new digital and technical framework creates more time for the individual needs of customers.