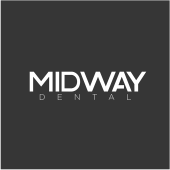 Midway Dental Supply Provides Full-Service Distribution Services Online
Midway Dental Supply is an independent dental supply company that services Indiana, Michigan and Northeastern Illinois. They offer full-service dental supply distribution servicing the dental professional in every aspect of their business.
Live Website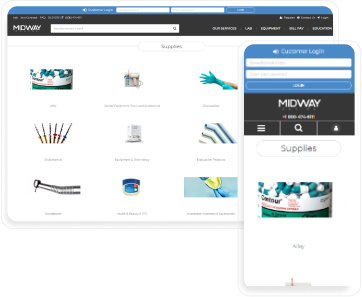 The Challenge
Midway realized that their previous solution was difficult to use and expensive to update with the latest technology trends. Due to its limited functionality, their previous platform had a very low internal adoption rate among their sales and marketing teams. Midway also realized that managing their extensive catalog was inconvenient to update, making it tough to update their catalog and hindering their expansion efforts.
With the rising cost of maintaining their platform, their goal of implementing a modern customer experience with cross-browser responsive interface, advanced search capabilities, and B2C oriented catalog browsing was simply not possible with their legacy platform.
Oro is a wonderful company to work with because they have introduced such a flexible and dynamic web platform for the B2B industry. As a medical supplier, our organization was hard-hit by demand for PPE at a scale at which we have never seen. It was useful for us to create a PPE-specific site to operate additional sales channels out of. Within about 48 hours of submitting a request for such a site with a design, Oro was able to host an example of what we were looking for. Soon after that we went live and began selling on this alternative channel. This not only helped our organization, it sped up the process by which many who needed PPE were able to get it from us.
Keith Cooper
Director of Marketing at Midway Dental
The Solution
OroCommerce along  with our partner, MindHarbor, built a middleware connecting to Epicor P21, which was essential to smoothly transition Midway off their previous platform and into OroCommerce. This connector allowed Midway to migrate data such as product catalogs, existing customers, reward programs, and invoices- without losing any data in the process.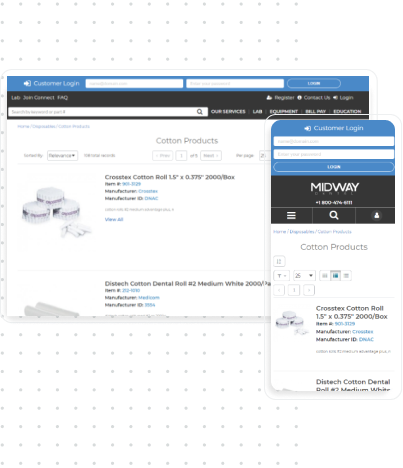 Midway was also able to keep their Epicor 21 ERP with real-time data syncs between their ERP and OroCommerce.
OroCommerce quickly became Midway's main sales channel with traffic growing on a monthly basis. Midway was able to create an easy-to-use dedicated tool for their sales team that enabled them to:
Place customer orders

Negotiate contracts and quotes digitally

Take actions on behalf of their customer

Manage pricing and contracts
Midway was able to grow their catalog from 40,000 SKUs to over 80,000 in one year. They were also able to enable new business processes such as a sales agent portal which allows multiple agencies to perform actions on the frontend on their client's behalf. They implemented a B2B2C portal where partners sale Midway products on dedicated storefront using OroCommerce and its integration to Epicor P21. Overall, with OroCommerce's native B2B features, Midway was able to create a platform that was easy enough for their sales team to adopt, yet robust enough to grow their catalog and implement new business processes for further future growth.
During the Covid pandemic, Midway Dental saw a huge spike in demand for PPE. In order to manage the high demand, they were able to launch a B2C PPE specific site in less than 48 hours thanks to the flexible nature of OroCommerce. This helped Midway launch a new channel and new model within days to manage the demand as well as provide faster service for an item that was largely needed.