Saltworks Continues Their Dedication to Innovation with a Unified B2B and B2C Storefront
SaltWorks, a gourmet salt company in the United States, services both individual consumers and wholesale customers such as manufacturers, restaurants, gourmet retailers, salt mill manufacturers who order in bulk.
Live Website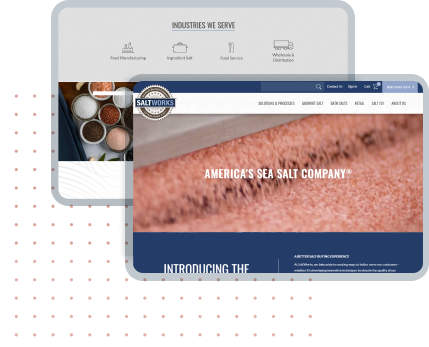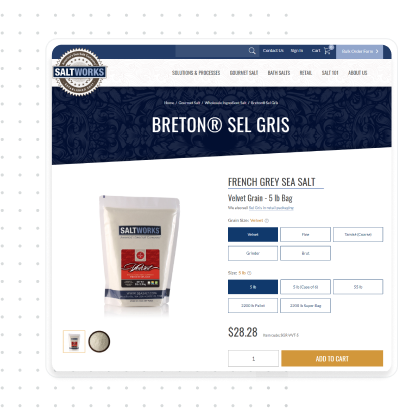 The Challenge
Under their legacy platform, Magento 1, Saltworks found themselves constantly developing workarounds and extensions to provide B2B functionality to a platform that was designed for B2C companies. This resulted in heavy customizations which were costly, complicated, and ultimately ineffective at providing a dedicated B2B experience.
Saltworks decided it was time to find a solution that would be better suited at handling their B2B business with the added possibility of being able to provide a flawless shopping experience for their B2C customers.
After exploring BigCommerce, WooCommerce, and Magento 2 as potential solution providers, Saltworks selected OroCommerce for its out-of-the-box B2B functionality and its B2C-friendly user interface. 
With their legacy platform, Saltworks had to spend both time and money investing in creating essential B2B features, they found that OroCommerce innately provided those same essential features at its core. A few  key features that Saltworks required were:
Robust pricing schemes

Multiple catalog management

Rich content pages
Minor features that were not native to OroCommerce were professionally designed and built for their needs and specifications!
Oro stood out to us because, out of the box, it provided solutions we had fought hard to shoe-horn into our previous platform. The stability and reliability of that as the basis for seasalt.com was incredibly important to us.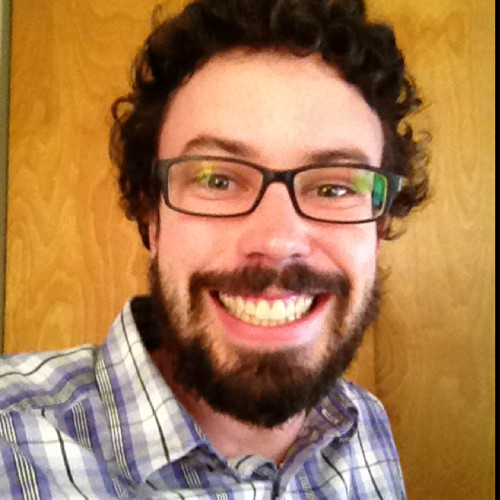 Peter Noonan
Marketing Manager at Saltworks
The Solution
For Saltworks, it was crucial that both their B2B and B2C customers had the same website experience, while also having personalized experiences that reflected their purchasing needs. 
Upon entry of their new storefront, all customers see the same products, rich page descriptions, and product availability. However, if a customer tries to purchase a B2B bulk item, they are shown that the item is unavailable unless they log in with their B2B credentials. With this feature, Saltworks was able to eliminate their separate B2B and B2C backends and frontends to create a unified shopping experience for their customers, as well as an easier to use website management system on the backend.
In addition to creating a smoother website experience, OroCommerce implemented a highly flexible checkout workflow for B2C and B2B customers based on the necessary shipping experience for the user. B2C customers have a typical B2C checkout experience whereas B2B customers have an extended checkout to accommodate LTL, UPS, freight quoting, and self-arranged shipping methods.
With OroCommerce's unique pricing workflows, Saltworks was able to create a multi-layered pricing structure based on customer groups and product attribute-based volume discounts to ensure customers see their contract pricing.
Additional notable key features for Saltworks include:
Amazon cross-promotion:

OroCommerce implemented a unique "Available at Amazon" button to give customers the option to purchase B2C products from their Seller account in Amazon

Rich-content pages:

Product pages have downloadable PDFs with Spec Sheets and product certifications. Product images change according to product type and weight
Now Saltworks has a stable site that provides both their B2B and B2C customers the exact buyer experience they promised.