Testrut, a German Indoor and Outdoor Furniture and Housewares Manufacturer Digitizes With OroCommerce
Testrut is an international distributor and manufacturer specializing in indoor and outdoor products. Based in Austria, Asia, and Germany, they have several international locations, an established sales structure, in-house logistics, and an extensive product range that has led to their successful business growth.
Live Website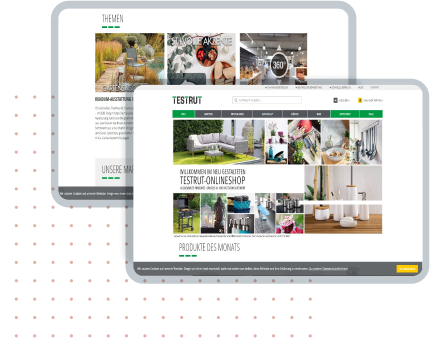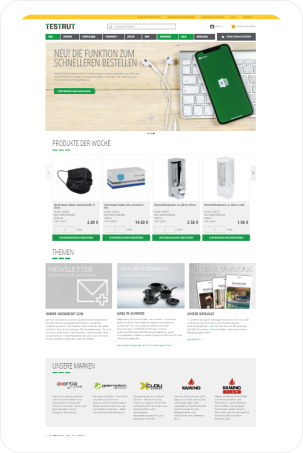 The Challenge
In 2006, Testrut developed a new branch to their business model- a personalized B2B shop to meet the unique demand of their growing B2B customer base.
Testrut knew that in order to start fresh with their business model, it was necessary to replace their previous platform, start from scratch, and find a modern future-proof platform. After considering solutions such as Spryker and Magento, Testrut selected OroCommerce as the clear solution to meet their modernization goals. Their key objectives were to:
     

Improve shop performance and UX design

     

Acquire new international markets and customers

     

Analyze cost optimization

     

Create a personalized B2B shopping experience

     

Automate marketing campaigns & easily run promotions
With their initial goals set, Testrut decided to actively use all their opportunities towards digitization. This meant creating a new digital infrastructure, revamping their SAP, and relaunching their online shop.
Compared to other platforms, OroCommerce was the one that met a high percentage of Testrut's requirements, both with the current version and with future releases.

Nora Winkler
Junior Project Manager at Testrut
The Solution
Out of the box, OroCommerce was able to meet 80% of Testrut's requirements without needing extensive customizations. They also plan to add OroCRM into their OroCommerce bundle for the ultimate B2B experience.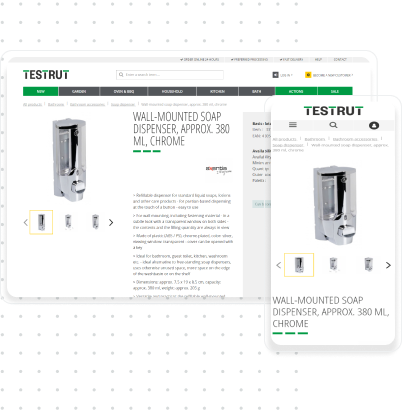 Since both OroCommerce and OroCRM are geared towards the needs of B2B, Testrut is now able to focus on a comprehensive 360-degree view of their customers and their processes.
Some key features implemented were:
     

Corporate accounts with customized impersonation mode

     

Multi-shop & multi-brand

     

Integration of multiple complex price lists from their ERP

     

Quick order forms and order uploads

     

Customer-specific catalogs and pricing
Thanks to OroCommerce's robust workflow engine, Testrut was able to map out their complex customer-specific price structure, approval processes, and corporate accounts all tied neatly into their internal processes.
After their implementation, Testrut reported high customer acceptance rates after their new platform launch.  They also reported positive employee and customer feedback on new and improved features as well as website performance. To this day, Oro performs regular upgrade procedures to Testrut's website based off customer feedback for the best B2B user experience.
More OroCommerce
Success Stories

Cdiscount Pro innovates the industry with an eCommerce solution specifically dedicated to B2B companies and administrations

Leading Global Manufacturer of Protective Footwear Opens Up New Horizons with B2B eCommerce

HKL Construction Machinery: Online Rental Platform for Construction Products Expands With OroCommerce