Get Started With Your
B2B eCommerce Demo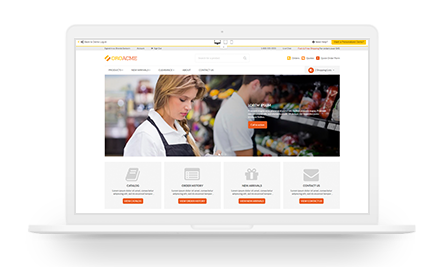 Try out the world's leading B2B eCommerce solution
After signing up for your B2B eCommerce demo, you'll be free to explore and test-drive our software all by yourself.

Your demo has no time limits, interruptions, and there's no need to contact anyone. Get started to see OroCommerce in action.
Sign up for free access to demo
OroCommerce B2B eCommerce Demo Features
Take a tour of the B2B eCommerce storefront
Explore the admin console for sales reps and commerce managers
Build out your corporate accounts hierarchy, set up roles and permissions
Manage product information, inventory, pricing, and attributes
Localize product libraries to your native language and currency
Customize workflows to meet both buyer and seller-facing processes
Manage and track quotes, request for quotes, and purchase orders
Use the CRM to manage leads, track opportunities, and customer activity
The robust functionality and highly customizable OroCommerce platform will be a great fit for our
company`s B2B needs.
OroCommerce has the most robust feature set for the B2B back-end and offers the best B2C customer experience on the front-end.