Get Started with our
B2B eCommerce Demo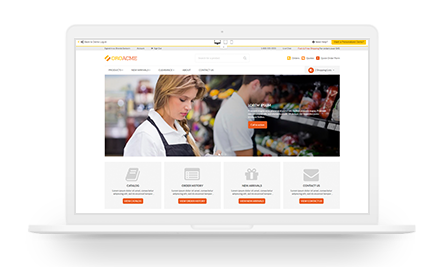 Demo the Unique B2B eCommerce Experience
No need to contact our sales to start the demo. You are free to test and enjoy the experience all by yourself.
No time limits. You will access the demo instantly after you fill out the form and you will be able to access it anytime for as long as you need it.
Sign Up for Free Access to Demo
OroCommerce B2B eCommerce Demo Features
Navigate through our B2B eCommerce demo storefront experience
Dive into our back-end management console for your sales reps and commerce managers
Build out your corporate accounts hierarchy and manage all buyer roles and permissions
Manage product information, product inventory, product pricing, and product attributes across your many catalogs
Try localizing the product to your native language and currency
Customize eCommerce workflows to meet both buyer- and seller-related business processes
Manage and track all sales interactions from organizing Request for Quotes to building official Quotes to finalizing Purchase Orders in a single system
See how our built-in CRM simplifies the management of leads, customers, and opportunities for both online and offline sales channels
The robust functionality and highly customizable OroCommerce platform will be a great fit for our company`s B2B needs.
OroCommerce has the most robust feature set for the B2B back-end and offers the best B2C customer experience on the front-end.
B2B eCommerce is one of Aldo's key strategies for success. We evaluated various solutions and agencies to help us successfully execute on our strategy and vision. After a careful evaluation, it was very clear to us that OroCommerce is the best B2B eCommerce solution...
We chose OroCommerce because it gave us the flexibility and functionality to implement our digital strategy exactly how we wanted it.
We considered many of the most popular eCommerce platforms and OroCommerce was the only solution we found with true B2B functionality, with no patches required, and CRM included in the price. With Oro any customizations requested were possible, anything we asked for, Oro said - "yes, we can do that." We weren't going to get that level of flexibility with anyone else in the market.