B2B eCommerce Solutions for Manufacturers
Digital commerce opens new opportunities for manufacturers across all industries. Just like B2C eCommerce changed the face of retail, early eCommerce or marketplace management adopters in B2B manufacturing will gain major competitive advantages and win market share.
According to the Acquity Group, 94% of B2B buyers already research online before purchasing, and marketing teams are prioritizing digital marketing for manufacturers. And, if you engage in eCommerce for manufacturing, you already know company structures and buyer requirements are complex. Thus, your B2B eCommerce technology must be central to your sales and marketing strategy, align with existing processes, and accommodate future needs.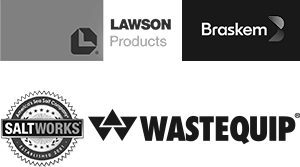 Key Benefits of B2B eCommerce for Manufacturers
IMPROVE CUSTOMER EXPERIENCE
INCREASE SALES
CENTRALIZE YOUR DATA
GO D2C KEEPING B2B
OroCommerce Manufacturer Success Story

Saltworks Continues Their Dedication to Innovation with a Unified B2B and B2C Storefront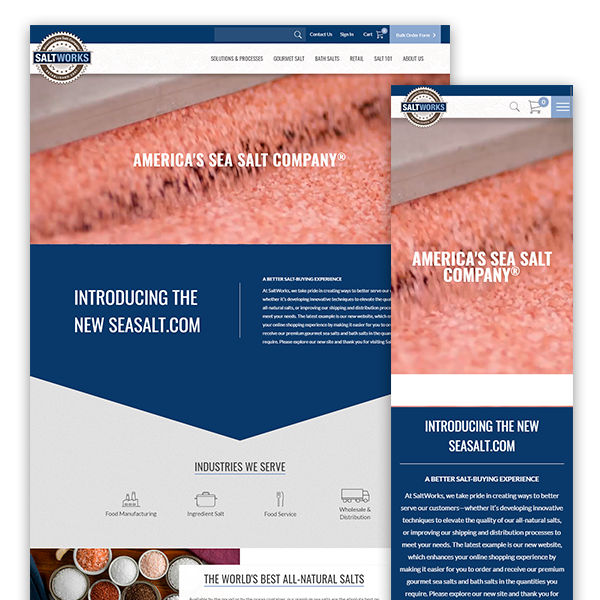 B2B & B2C

Integration

Microsoft GP

ERP Integration

Amazon

Cross-Promotion
Digitally Transform Manufacturing with B2B eCommerce
SaltWorks, a gourmet salt company in the United States, selected OroCommerce for its out-of-the-box B2B functionality and B2C-friendly user interface. Oro's flexibility meant SaltWorks could unify their B2B, B2C, and Amazon operations in a single platform and without disrupting their channels.
Oro stood out to us because, out of the box, it provided solutions we had fought hard to shoe-horn into our previous platform. The stability and reliability of that as the basis for seasalt.com was incredibly important to us.
Reasons Manufacturers Choose OroCommerce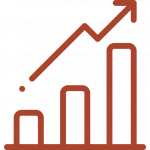 Increase ROI and decrease time to market
Oro lives and breathes eCommerce for manufacturing. Our responsive solutions work on desktop, mobile, and even headless deployments – all the while meeting the most stringent B2B manufacturing requirements. We're transparent about our pricing, which eliminates surprises and gets your eCommerce project on time and on budget.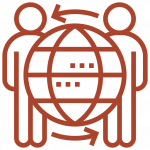 Grow with a 600,000+ community
The open-source movement is a stable, secure and scalable alternative to proprietary software. Oro's ecosystem is made-for-B2B, complete with eCommerce and marketplace management features, and a time-tested community that accelerates innovation through long-term relationships with solutions providers, developers, and customers.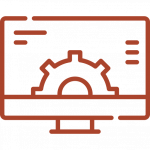 Built for B2B needs out-of-the-box
Instead of combing through B2B plugins for B2C platforms, build an eCommerce store with native manufacturer-specific features. OroCommerce's best-in-class architecture supports multiple online sales portals, product catalogs, and eCommerce models.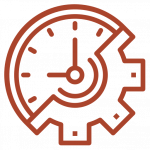 Scales with your business
Manufacturers have varied corporate structures, diverse customers, complex approval processes, and ordering requirements.  Regardless of the structure and nature of your business, we've got you covered. OroCommerce is built to accommodate B2B, B2C and B2B2C selling models.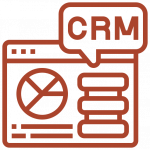 Free eCommerce CRM included
Today's customer expectations are at an all-time high, and manufacturer customers are no exception. OroCRM, a leading CRM system, comes included with OroCommerce. Get a complete, 360° view of your customers, contacts, and leads.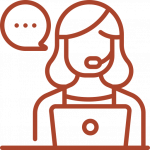 24/7 customer service
Customer support is a priority at OroCommerce, which is why our B2B eCommerce manufacturing clients get 24/7 support, as well as access to our self-service resource library and community.
Reasons Manufacturers Choose OroCommerce
Oro solutions enable digital commerce for manufacturers by offering a B2B-centric eCommerce platform. It comes with B2B features like customer-specific price lists, multiple product catalogs, corporate account structures, quote-to-order purchasing workflows, and more. The platform offers limitless flexibility and can seamlessly connect into key applications like ERP systems, Product Information Management tools, Accounting software, Logistics applications, Customer Relationship Management solutions, and more.
Frequently Asked Questions About B2B eCommerce for Manufacturers
Why does a manufacturer need eCommerce?
Manufacturers produce finished products from raw materials or other suppliers. They're also quickly undergoing digital transformation, and moving into new selling models such direct to consumer (D2C) eCommerce and the B2B marketplace. 
However, modern B2B buyers don't want to use fax, phone, or more recently, even in-person interactions. The majority of B2B purchasing decision-makers are millennials, and they prefer self-service and mobile. In this respect, B2B eCommerce for manufacturers helps improve efficiency, boost customer focus, increase order accuracy, unlock new markets and revenue sources, as well as prepare manufacturers for a successful future.
What is the impact of technology on manufacturing?
Technology allows factories to gain greater visibility into their data to optimize production and enhance operational efficiency, customer focus, and the purchasing experience. 
Furthermore, new generation technologies such as B2B eCommerce manufacturing, Industry 4.0, IoT, AI in eCommerce, headless deployments, B2B sales enablement, agile supply chains are all disrupting the manufacturing industry. They can enable in-time manufacturing, optimize inventorying, shorten deliveries, and improve the customer experience.
How can a manufacturer use eCommerce in 2021?
Manufacturers can use eCommerce to streamline operations, increase revenue, and gain more customers. An online presence helps manufacturers get discovered by new customers, which lowers user acquisition costs. Without a digital presence, manufactures are not only limited by traditional marketing methods; they're also subject to higher upfront costs and ongoing investments if they want to expand.
Manufacturers can also use eCommerce to automate back office activities and take the pressure off sales reps and marketing staff. With a self-service portal, manufacturers can offer their B2B customers personalized product catalogs, pricing, payment, and shipping options. Since their online store is open 24/7, and is accessible on any device, it attracts buyers at all times.
Why do manufacturers hesitate to try eCommerce?
Even today, in the age of digital transformation for manufacturers, many manufacturers stick to manual processes. It's not hard to see why – if you've been copy-pasting orders from Excel sheets into the ERP and eProcurement systems, you wouldn't want to change the status quo. At the same time, these tasks distract staff from critical functions and invite tons of room for error.
Many manufacturers run on tight schedules and manage complicated, resource-heavy processes. While they are great at optimizing these processes, they're not so great at managing transformative change. However, a flexible B2B eCommerce system affords manufacturers even greater visibility, control, and flexibility to improve efficiency and grow their business.
What should manufacturers look for in an eCommerce platform?
When manufacturers start searching for an eCommerce solution, they often start comparing B2C platforms and their B2B features. Not all of these features can accommodate complex product configurations, pricing needs, or approval structures that B2B buyers require. What's more, B2C solutions often don't have the flexibility, connectivity, or deployment options manufacturers need.
As manufacturers grow, their systems must evolve with them. They should be able to roll out new products, catalogs, and webstores. It should be easy to expand to new industry verticals and reach new customers in different markets. Thus, a manufacturing B2B eCommerce platform must support unlimited SKUs, product catalogs, price lists, multiple websites, languages, currencies, and system integrations.
Looking for game-changing industry insights? Explore these resources for manufacturer eCommerce:
Build a great B2B eCommerce team to build a great eCommerce business. Follow these recommendations to build a successful team.
Download the Copy
This customizable RFP template helps you simplify the process of evaluating B2B eCommerce solutions.
Download the Copy
An overview of how B2B organizations can make the right technology and organizational moves to succeed in the future.
Download the Copy