2021 MAGIC QUADRANT™ FOR DIGITAL COMMERCE

Free Gartner 2021 Magic Quadrant Report for Digital Commerce
The 2021 Garnter Magic Quadrant for Digital Commerce is out, and OroCommerce is proud to be ranked first for the B2B Digital Commerce Use Case.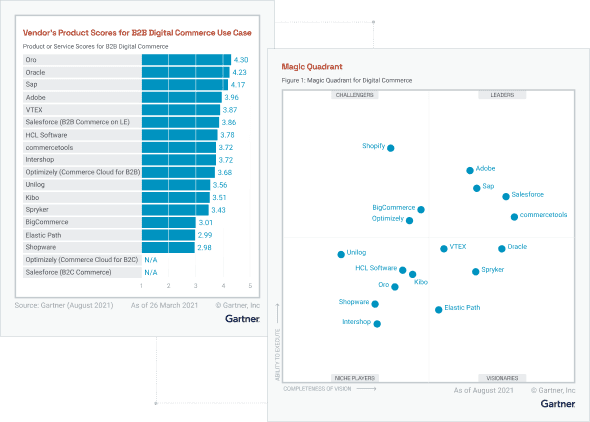 Gartner's 2021 Magic Quadrant for Digital Commerce & Critical Capabilities Report
Magic Quadrant for Digital Commerce is the leading report on global eCommerce vendors. It is accompanied by Critical Capabilities research that explores vendor offerings in more detail. The report includes:
an overview of the quickly-changing digital commerce market and its direction;
an assessment of 17 leading digital commerce platform vendors and their strengths and cautions across various criteria;
comprehensive evaluation criteria and a list of evaluation criteria definitions;
a deep dive into vendor capabilities and how they satisfy specific use cases, such as B2B, B2C, and both B2B and B2C on the same platform. Oro is rated highly for both core commerce and B2B support. In addition to its workflow management tool, its platform has other sophisticated features, such as a pricing and promotion engine, role-based access, and a product assembly visualizer. It includes an easy-to-use catalog management tool and support for complex products.

Fill in the form to get the report: