Experience Unlimited Frontend Freedom and Exceptional
Backend Management
Headless commerce is more than a buzzword, it's how enterprises are creating extraordinary omnichannel customer experiences by uncoupling their content management while maintaining a fully functional eCommerce backend.
Break free from the constraints of your eCommerce architecture and embrace an API approach.
Headless eCommerce lets you deliver at multiple touchpoints, no matter the technology used. Offer your customers progressive web apps, voice-activated assistants, and everything else technology has to offer – all supported by a powerful open-source backend.
What Is Headless Commerce?
Buyers are surrounded by technology at every turn. Headless eCommerce lets you reach customers no matter what device or technology they are using. 
Pick the content management system you need to create the customer experience you want and connect to your backend with an API. When you disconnect the technology driving the customer experience, the options are limitless. It's the ultimate in creative freedom, anchored by a rock-solid backend to drive eCommerce automation and support sales.
Benefits of Headless eCommerce Architecture
A headless eCommerce system positions you to adapt to new technology, scale, and meet the demands of a rapidly changing environment.
Why Choose Oro for Headless eCommerce?
Oro headless eCommerce fuels the growth and digital transformation of brands worldwide.
Powerful Back-End Features
Depend on a backend that embraces the complexity of B2B. Customizable workflows, reporting and pricing engines, and access controls and permission configurations are available right out of the box. Manage an unlimited number of frontend instances from a single backend.
Integration by Design
Oro headless eCommerce integrates by design. The RESTful API ensures you integrate with ERPs, PIMs, 3PL, WMSs, and other common business solutions. The API approach to eCommerce means your front- and backend are open for integration with whatever devices and tech you need.
The Flexibility and Openness of Oro
Every Oro product is open source. We build flexible, modular products that adapt to how you want to do business, no matter your customer base or selling model. And our tech team is committed to helping you achieve your eCommerce goals.
Partners that Share Our Passion for Digital Excellence
Our ecosystem continues to grow. From a community of developers and partners with extensive Oro application experience to a rapidly expanding extension store, you'll find the resources you need to ensure success. All offered by those that share our commitment to quality.
Oro Headless eCommerce in Action – Meet the Animal Supply Company
Animal Supply Company is one of the largest distributors of pet food and supplies in the US. An aggressive growth through acquisition strategy left the company with disconnected systems, digital storefronts, and warehouses. They needed an eCommerce solution that could support multiple selling channels, provide the flexibility to add new digital technology, and fully support their 3PL services. And it had to work with the plethora of ERPs and other legacy systems they had acquired.
Unifying Disconnected Systems
Initially, the OroCommerce platform was deployed with a headless architecture to act as middleware to bring together 21 distribution centers, legacy ERPs, and existing order channels. With this approach, OroCommerce could operate as an order management system and could support Animal Supply's 3PL services in addition to regular stock order processing.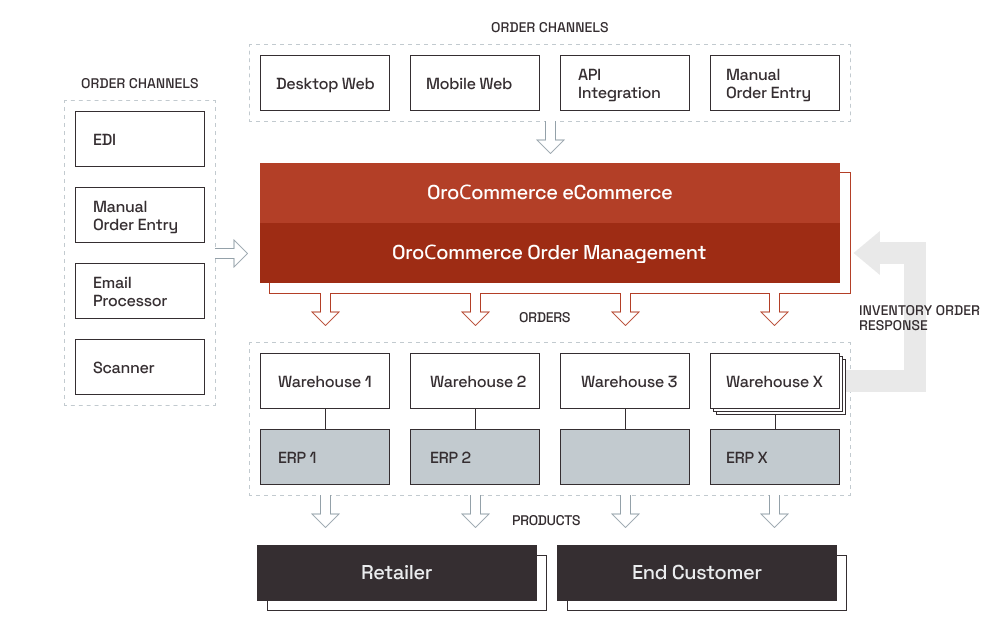 This means customers could continue to use the legacy systems to which they were accustomed while the sales team now had access to a unified backend. Eventually, this architecture enabled Animal Supply to empower each retailer to create their own website or use a website Animal Supply created on their behalf to build their own sales to retail customers. ASC provided a means for their customers to offer online selling without ever handling or processing an order. OroCommerce routes the order to the appropriate warehouse for fulfillment and shares data with the appropriate ERP.
We chose OroCommerce because it gave us the flexibility and functionality to implement our digital strategy exactly how we wanted it.
Growing with Technology
Oro's open API approach allows Animal Supply to add new technology easily as it becomes available. Now retailers can reorder products directly from the shelf by simply scanning a barcode with their smartphone. 
Animal Supply continues to grow by providing its customers with an exceptional buying experience that incorporates new and evolving technology. They remain cutting edge because they invested in a backend that future-proofs the company and allows for rapid iteration and expansion going forward. 
What Makes Oro Different?
OroCommerce is built to conform to the way you do business.
We don't run from complexity – we embrace it.
Commitment to Excellence
Our leadership is made up of proven IT innovators that appreciate the uniqueness of B2B eCommerce. We believe manufacturers, distributors, and wholesalers deserve solutions that provide the flexibility to adapt to any business model or scenario.
Transparency
Open source code and an open API approach to product development. At Oro, we are open and transparent in everything we do. From consultation to product support, you'll find communication clear and direct.
Agile, Flexible, Powerful
Oro eCommerce products put you in complete control. Whether you use headless architecture or take a more traditional route, you'll find powerful out-of-the-box features with the flexibility to easily customize every aspect of the application.
Want to know more about Oro's open approach to code and APIs? Check out these free resources.
API Documentation
Read more about Oro's API. Understand the Oro Web API as well as how the back office API makes all Oro products open to do business the way you want.
Guide to ERP and eCommerce Integration
Headless architecture commonly integrates eCommerce with the ERP. Use this Guide to Mastering eCommerce to ERP Integration to understand the benefits of integration as well as the different strategies you can use.
B2B Integrations
Soon, common B2B eCommerce will require 30 or more applications. Integration requires an understanding of the different methodologies and the apps to implement. Learn more about how Oro products integrate with your tech stack.